1999 Porsche 911 4 Cabriolet
for sale in 90025, California 90025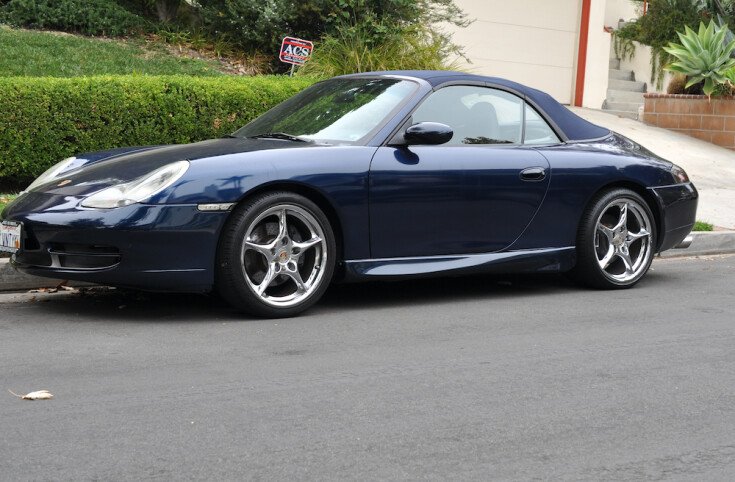 Classic Car Overview
1999 Super Rare Porsche Cabriolet Carrera C2 with

Factory option killer Sport C4 body trim-aeroskirt And again 2 REAR Wheel Drive

C4 Sport trim to regular c2 is like lightning to a lightning bug and has the stunning metropol blue
a midnight blue with metalflake look at times

Rare Carrera 4 Body Trim factory option,but with the preferred 2 Rear Wheel drive

First 6 years leased by a Porsche executive   in Newport Beach 
Loaded  If sold by Nov 24 no smog test needed for Calif. registration transfer

1999 Porsche 911 Carrera  CONVERTIBLE rare option
C4 aero skirt Trim on 2w
 NOTE
1) Blue Book wrong not for Convert;
2) Not C4 Body Trim
& 2 wheel drive
Factory Carrera 4- Aero TRIM price

MSRP $80k
Clean title, rec service receipts Photos incorporated into description as  sole description

Normal range distribution  911 car is 52-70 with

AutoCheck rates this car a stunning 81, now  85
Range 20-30K+ ave. $25k for 1999 911C4  -but 2 WD more collectible

The Market average is hot-up $1000 in 2months!
Prices will soar this spring perfect for buyers-
sale bc I never drive


Killer looking Car.  Dark Metropol blue Paint that pops on the car and has coolest color accents depending on lightingas the Porsche sale guy said to me the color really pops on the car Not the gaudy lighter blue that is too loud

4 Exhaust pipes nice throaty sound-engine all stock, if wind rpm moderately really can hear it wind out,similarly if you shift down early deeper louder growl more than the the new Boxster S  or even when switched to sports/performance
C4 Euro Taillights
Spoiler comes up at freeway speed with switch to keep spoiler up  Have owned the car the last 17years

NOTE the car is sold "AS IS" by a private seller inspect prior to bidding to buy or waive that right Buyer responsible for safety inspection prior to driving

Buyer responsible for ALL fees, taxes,  transfer costs, smog costs/services to meet State smog requirements if needed, etc

Currently car registered and passed smog

No returns
.
You  can also have a mechanic inspect the car in Beverly Hills/Century City by appt. and potential buyers vetted

Have leather wallet with original owner's manual
Not numerous sales of private parties getting rid of problem car and/or dealers fixing it on cheap to flip.
My last Porsche and sports cars had gone to my brother when I changed cars.  
Autocheck rates this car a stunning 81 

Normal range distribution for this regular 911 car is 52-70 with ave. price  $25k for 1999 911
even saw one with 240,000 miles for 20k  So great deal. Low mileage can go to 60k. And this is a super rare Porsche Option of C4  body with 2 Rear Wheel Drive 
Currently I have priced Below the Average normal 911  Want to sell because I don't drive and used as a spare car 
After Lease of new Porsche just use courtesy car if main car serviced  Also need to take an extended vacationing want to sell prior   
And this is a super rare original Carrera with rear two wheel driveAND the Carrera 4 Options trim-I am told fewer than 500 had this option This model you could mix and choose what your car had like bespoke tailoring

Only a handful in Metropol Blue virtually all in California! Plus only 3 owner car in California! no rust or storm/water/flood issues
The C4 body is a stunner and totally outclasses the regular Carreras as an elite sports machine
Have seen similar cars in the 40K+ range   Big Bang for your buck



In general  the flaws seen on exterior is a function of a reflections finish mirror-like
and used iphone
off the paint or photography,  Also used a Nikon -D-90

And using first photos I took at random with Iphone when first got car back.  And most importanly, when car returns will take pictures of from getting the new starter and hydraulics on top repaired-done by Superformance in West LA
Add Photos of the sine qua non: with the  Convertible top down, get looks even on jaded Rodeo Dr.

Awesome lines of C4 the car with the top down!

Both Autohistory and vinaudit NMVTIS ( work/build Sheet LIST as 911 Carrera Cabriolet with CARRERA 4 Trim Factory Option when new out the door Nearly $90k

Best body style of C4 but without the 4 wheel drive many/most prefer Best off Both Worlds
Weird markings on body are reflections, no area  faded paint or weird light spots

Just like you can buy new a turbo body Porsche option without turbo engine

1999 Porsche 911 Convertible NOTE C4 with 2 wheel drive Very RARE Factory Carrera 4- Aero Kit TRIM- normal ave $25k Factory areo side skirts loaded MSRP$80k Clean title, rec service receipts Photos incorporated into the description as the sole car description. AutoCheck rates this car a stunning 81 Normal range distribution for this regular 911 car is 52-70 with ave. $25k for 1999 911 Don't drive why sale

Please contact me with any questions.Have seen similar cars in the 40K+ range Stunning Aggressive Perf. LookPhotos where it looks like paint off merely reflectionslater 1999 Production with

2000 Navigation needs cdKiller looks, head-turner your heart will start beating driving this stud, as the adrenaline and endorphins kick in
Awesome lines of C4 the car with the top down!Dark Metropol blue Paint that pops on the car and has coolest color accents depending on lighting reminds me dark Laguna Blue from my 69 vette

4 Exhaust pipes nice throaty sound-engine all stock, if wind rpm moderately really can hear it wind out,similarly if you shift down early deeper louder growl
C4 Euro TaillightsNOTE the car is sold "AS IS" by a private seller inspect prior to bidding to buy or waive that right. .

Later Production Year and thus has factory Navigation nThough needs a new disc, and no factory recallCar driven lightly and than mainly stored the last 8 years- with weekend trip trips for annual yearly serviced and when smogged Very Strong Car
 NEEDS interior cosmetic, upholstery drivers seat mainly , After storing the headliner has begun to hang from the top-needs fix ,

Convertible top just fixed had new hydraulics
the passenger quarter window just stopped working, passenger Window makes noise like off track mechanic said needs service(believe regulator issue)

Has New starter, , new battery

Just had yearly service change filters, fluids etc put  on computer for any fix  to pass smog

Passes 8/25/21

Have resultsTests on Oil compression   Can be inspected in Beverly Hills/Century City by appt. call Rob 310.503.1267  Cash, wire transfer, cash deposit into my branch of a major us bank any branch
or if your bank has branch in LA Certified check I can cash  No car until complete clearance of funds
Premium Wheels 19"+
CD/MP3 (Multi Disc)
Premium Wheels
Rear Spoiler
Full Leather
Leather
ABS (4-Wheel)
F&R Side Air Bags
Side Air Bags
Dual Air Bags
Navigation System
Premium Sound
Cruise Control
Power Door Locks
Power Windows
Air Conditioning
Aero Kit
Power Steering
Dual Power Seats
Power dual mirrors, with defog

Heated seats drivers not work
AM/FM Stereo  Old School Amp when were made right, took from friends cigarette boat

Litronic headlight with washers
Chrome Alloy Wheels With Porsche Crests
Note have a soft 3 day hold at higher price-but will honor Ebay purchase prior
3 owner car 1st was Porsche leasing manger, Newport Beach-Balboa Island2nd Beverly Hills, present Century City/West LA
NO worries regarding floods, Storms, hurricanes with water damage
Photos, clean title, and service receipts you can have me email you are incorporated into the description as  the sole car description. No photoshop except blur of plate
Can be inspected in Beverly Hills/Century City area by appointment only call Rob 310.503.1267     All else is opinion opinion only and not to be relied on and/or substitute for inspection before the winning bid purchase
Aluminum interior accents, door sills aluminum "CARERRA", larger Sport wheels were chromed, bigger tires,white turbo/s guages looks super cool especially at night super easy to read
normal chipping with age at door edges etc
Runs excellently
Always serviced at German Auto Sport in Santa Monica-just moved to Westside Most recently at Porsche Specialist
These versions go in 40k range.  Killer car with minor touch up tweaks for age: 1 part in visor the mirror cover  need replacement or attached, as does a speaker. Sweet old school metal amp from my friends cigarette boat
The driver's heated seat does not work
Tons of options even  has the lower car door lights great at night when getting out of car or looking for something
Then when car locked lights slowly dim out
Reminds me a dark versions of my 2 favorite colors that I had the  Cobalt blue on my 1983 911 convertibleand the Laguna Blue on my 1969 Corvette 427 convertible
combined with the C4 Trim gives a Dynamic more aggressive performance look with the  twisting, curving, and angles
Virtually same side trim as the Sports Mercedes 2 Door V12 AMG
of side trim/skirt  available only top end option PORSCHE Sports versions 
Similarly better looking than new 911 Carreras, unless similar Sports, Turbo, package
Was main reason I bought this car over a Porsche  only a few years old 
Later Production Year and thus has factory Navigation not available in 1999 Though needs a new disc, and no factory recall
Max options MSRP was over $79k pre-tax! See infra.Pictures are incorporated in to listing- Any description is my opinion only not to be relied on
Car driven  lightly  and than mainly stored the last 8 years- with weekend trip trips for annual yearly serviced and when smogged
Only 3 owners ALL California Car
Had Beverly Hills Porsche License Plate frames,may be on a photo, but in prior service they changed framesif want will get 2 of these frames
The car has recently been serviced and Passed the California Smog Test and registration current and title clean
Autocheck rates this car an 80 well above the 52-70 range
 the ave price of 52-70 range is $25,900This is an outstanding deal
Totally checks out on AutoCheck AND NMVTIS-the National Motor Vehicle Title Information System used by car collectors for a deep information dive with a kind of original build sheet  full report available most comprehensive NO Issues Period is perfect
Note car available for inspection in Beverly Hills Century City by appt.  Selling car because I do not drive anymore and was not driven  much anyway after bought new Porsche
Very Strong Car needs interior cosmetic, upholstery, All seats Original and leather Drivers Seat rips ,though I got by with  seat cover, some  minor tears in back bucket seats  My VIP Detail Said car great just upholstery on Drivers seatand the headliner/top hanging
Was going to redo leather interior and the special Original option  of Porsche Crest on the head rests can be redone if desired   
New starter, Convertible top just  fixed had new hydraulics, new battery
Paid $600+ to do yearly  service  change filters, fluids etc put on computer to pass smog Have results
Tests on Oil compression +coolant system good
After storing the headliner has begun to hang from the top-needs cosmetic fix&
the passenger quarter window just stopped working, other works but will need a regulator a few hundred dollar repair
needs Visor/vanity mirror replaced, CD for navigation, batteries for 2 keys for auto lock/unlock
and cosmetic normal wear things  Reciepts for recent work done
At top European West LA Performance
Most importantly the car runs  excellentlyCar over 20 years old so wear, condition consistent with that age
Payment cash, case deposit in to my bank account, if local will meet at your bank you draw cash or certified check with me present
6-Speed 2D CNVT 6-3.4L Gasoline EFI
911 Cabriolet Carrera  with C4 Trim  Metropol Blue  VIN:WP0CA2998XS655772    
Production Date:06/1999
Odometer: 98500 Exterior Color: Metropol Blue
Tinted Glass Chromed Aluminum/Alloy Wheels
6 Speed Transmission  Air Conditioning
SAFETY Locking Wheels 
Drivers Side Air Bag  Passenger Air Bag  Front and Side impact air bags
Power Steering  Cruise Control  Anti-Lock Brakes Traction control  Power Brakes  Rear Defogger
4 Wheel Disc Brakes, Fog Lamps Intermittent Wipers 
Power Windows  Keyless Entry
Traction Control   Power Locks     Alarm  Stability Control  Power Mirrors Tilt Wheel
Rear Spoiler   Heated Mirrors   Climate Control    Power Convertible,Roof,
Power Headlamp and Washers,
Power Driver and Passenger Seat  Bucket Seats
Power Reclining/Lounge Seats
Power Dual Mirror   Litronic Headlights Traction control, Stabilty control, ABS etc
Appointment to schedule Century City Area-you can have mechanic inspect prior to sale
Call Rob 310.503.1267 or email Rjw@ixionlaw.com
100% payment cleared prior to transfer cash deposit in to a UB  Branch or wire transferpossibly your check that can be cashed at branch of your bank-preferable if meet at your bank branch closest to me
Note Deposit is nonrefundable
Your AutoCheck Vehicle History Report
Report run: 06/29/2021 18:07:37 EDT
1999 Porsche 911 Carrera / Carrera 4
Cabriolet 2D (3.4L H6 MPI)
VIN:
Class:
Country of Assembly: Vehicle Age:
WP0CA2998XS655772 Sport Car - Upper Premium Germany
22 year(s)
This vehicle is eligible for Buyback Protection
Due to the vehicle's history showing no reported major state title brands. View terms and conditions and to register your vehicle.
YOUR VEHICLE AT A GLANCE
53 80 70 This vehicle's AutoCheck Score: 80
Other comparable 1999 vehicles in the Sport Car - Upper Premium typically score between 53-70.
The patented AutoCheck score predicts the likelihood a car will be on the road in 5 years. It compares vehicles of similar age and class based on a scale of 1-100. The AutoCheck score is based on a proprietary model to help you understand a vehicles predicted reliability as it pertains to age, number of owners, accidents and other vehicle history factors.
No State Title Brand Reported No Accident Reported
No Air Bag Deployed
No Other Damage Reported
Other Title Brand or Specific Event Reported No Odometer Problem(s) Reported
Last Odometer Reading:98,303
No Open Recall(s) Reported
Calculated Owners: 3
Owner History
Current Owner
Purchased: 2007
Where: CA
Owned from: 11/30/2007 - Present
13 year(s) 6 month(s)
Previous Owner(s)
Purchased: 1999
Where: CA
Owned from: 08/16/1999 - 11/03/2005
6 year(s) 2 month(s)
Last Owner
Purchased: 2005
Where: CA
Owned from: 11/03/2005 - 11/30/2007
2 year(s)
Vehicle Usage
Vehicle Use: There is indication of the below usage(s) for this vehicle
Personal | Fleet | Rental | Lease | Taxi | Livery | Police | Government | Drivers Ed | Commercial
Major State Title Brand Check
Your Vehicle Checks Out: No major state title brand has been reported by the state Division of Motor Vehicles (DMV). Your vehicle is qualified for the AutoCheck Buyback Protection Program. Terms and conditions. Register here.
On Oct-27-21 at 14:38:48 PDT, seller added the following information:
Used By collectors and specialist to get a work or build sheet-Non Profit
Vehicle History Report
VIN:
 WP0CA2998XS655772
NATIONAL MOTOR VEHICLE TITLE INFORMATION SYSTEM
Report ID: 
#337987082402
Generated: 
2021-10-19 14:10:48 PDT
California
Current
67615 mi
WP0CA2998XS655772
2007-12-04
California
Historical
67615 mi
WP0CA2998XS655772
Junk / Salvage / Insurance Records
This section lists junk, salvage, and insurance records (if any).
Source: NMVTIS 
 No junk, salvage, or insurance records found! 
Accident Records
This section lists accident records from available independent sources.
Source: VA 
 No accident records found!
Theft Records
This section lists active theft and theft recovery records for this VIN. 
Source: VA 
 No theft or theft recovery records found! 
Lien / Impound / Export Records
This section lists lien, impound, and export records (if any).
Vehicle History Report
Purchase The AutoCheck Vehicle History Report
Vehicle Specifications
VIN

WP0CA2998XS6572

Classic Car ID

101644843

Stock Number

N/A

Category

Import Classics

Body Style

Convertible

New/Used

Used

Mileage

98,369 miles

Engine

6 Cylinder

Condition

Finished

Drivetrain

2 wheel drive - rear

Transmission

6 Speed Manual

Exterior Color

Blue

Custom Color

Metropol Blue Premium Paint
Classic Car Buyer's Tools
Suspect Fraud?