1972 Porsche Custom
for sale by sellyoursportscar.net in Royal Oak, Michigan 48067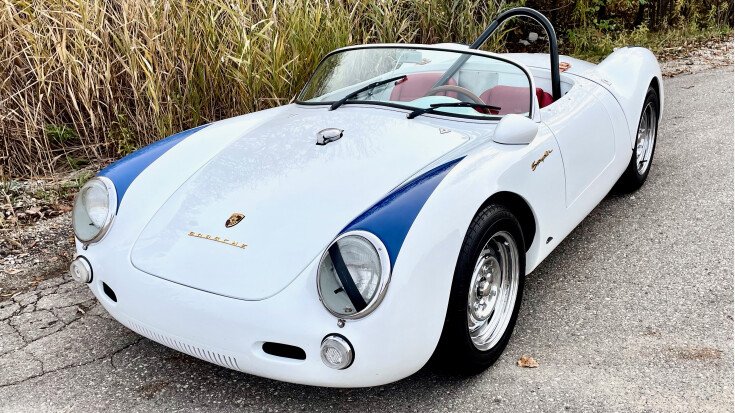 Classic Car Overview
Beck Porsche 550 Spyder Replica
2250 cc Modified Porsche 914 Engine
Porsche 914 5-Speed Transaxle
Serial Number 4722902123
Built 1987 - 1995
Beck No. 111
4,475 Miles
Background
What's behind the550's immense appeal? It was Porsche's first purpose-built race car. It had ahighly successful racing career, earning the nickname "the giantkiller" for its ability to not only dominate its own 1.5-liter class, butto take on bigger, more powerful cars from Ferrari, Jaguar, Aston Martin andMaserati. It had a limited production of just 90 units, about 80 percent ofwhich are known to exist today - all multimillion dollar cars. (Among themissing is 550-0055, in which James Dean lost his life.) As aresult, several manufacturers have been making replicas of this car, the mostnotable being Beck. The car offered here is one of the best versions of itskind.
 History
Originally sold to first owner as a 1987 Vintage 550 Spyder,by Charles Beck Development, Upland, CA, then modified by EF Enterprises. Currentownership is since 2001, and the car is currently titled in Michigan as a 1972Porsche.
General
The original Beck kit consisted of the complete body with anintegral large diameter tubular ladder-type frame very similar to the that inthe original Porsche 550 Spyder. This car then was built over a several yearperiod by EF Enterprises in Knoxvillle, TN, completed in 1995. Ed Zink (ofFormula Vee fame) was a significant contributor to this car's engine andsuspension modifications and development.
Body & Chassis
Several improvements were made to the original Beck design. Thedummy front air scoops were opened and made functional for the new front oilcooler and working ductwork to cool the brakes. A central backbone channelstrengthened the composite floor, housing the rear brake line, throttle &clutch cables and shifter linkage. The cockpit floor was reinforced withaluminum plates. Hatches were installed in the firewall and front bulkhead andcargo space for service access. A larger (16 gal. vs. 8 gal.) fuel tank isinstalled, with a proper and functional center filler and a new pump. The seat shellsand gages are from a Porsche 914. The roll bar is a bolt-in removable, forstreet or track. Lighting is period correct, down to the details of the properoval shaped rear license plate lights.
Engine
The original Porsche 914 1.7L engine was dismantled,rebuilt, and modified, with parts and technical advice from FAT Performance, inOrange CA. Displacement was increased to 2,250 cc, via a 78mm strokercrankshaft, 96 mm Mahle pistons, new Carillo connecting rods and balancing ofboth sets of parts. New bearings, camshafts and followers, as well as valvesprings, guides and pushrod tubes were installed. New, ported Porsche 914 2.0Lcylinder heads were obtained and installed, all resulting in a 9.5:1compression ratio and a bigger, more powerful engine. Fuel/air induction ishandled by TBI (Throttle Body Injection) units that resemble classic Webercarburetors, but provide easier starting and running. Cooling is viadouble-sided Porsche 4-cam dynamically-balanced cooling fan, with a custom builtshroud, and a heavy duty Melling oil pump. The exhaust system is made up of 2in. diameter equal length stainless steel tubes, and is designed to accommodatevarious mufflers and tips.Transmission

The Porsche 914 "dogleg" 5-speed transmission was dismantled,inspected and cleaned, with a new first gear synchronizer installed, and thegear selector mechanism modified for a more positive feel.
Suspension
The front assembly is from a later model VW Beetle, with itsbeam being an integral part of the Beck frame support. A 4130 anti-roll barreplaces the lower torsion bar, a la Zink Formula Vee. Coilover shock absorbersare also used on the front to augment the upper torsion bars. Steering is bythe 914 rack & pinion, configured for zero bump steer. Front brakes are newVW Beetle discs, with 15 X 5.5 in. wheels. The independent rear suspension geometrywas designed by Ed Zink, with new frame components and incorporating an anti-squatfeature, with Carrera coilover shocks, 914 rear disc brakes, and rear wheelswidened to 7 in.
This virtually all Porsche parts Beck Spyder reflects theoriginal well, and more so than most replicas. It has recently been treated toa new battery and starter, and new tires were installed 12/27/21. Included arethe vehicle history, build documentation, detailed tuning specifications,wiring diagrams, driver's manual, tonneau and car covers.
 You could order a new one from Beck, but their currentbacklog is three years. You can have this one now.
Located in Ann Arbor, MI, this Beck 550 Spyder isoffered at
$55,550
Use this link to see the complete photo gallery:
https://www.dropbox.com/sh/f36k8lmacrbwl3k/AAD1-5WCyUmOLJv1t-8ltDhua?dl=0

Contact Conrad at +1.734.645.5778 or email Conrad@SellYourSportsCar.net
Vehicle Specifications
VIN

4722902123

Classic Car ID

101682458

Stock Number

N/A

Category

Kit Cars & Replicas

Body Style

Other

New/Used

Used

Mileage

4,475 miles

Engine

4 Cylinder

Drivetrain

2 wheel drive - rear

Transmission

5 Speed Manual

Exterior Color

White
Classic Car Buyer's Tools
Suspect Fraud?