Mercury

  ›

Marauder

  ›

1963

  ›

1963 Mercury Marauder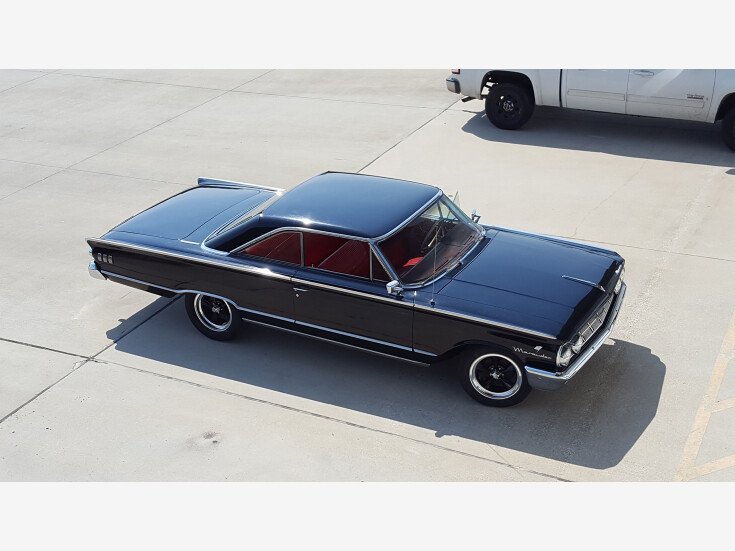 Sponsored by Woodside Credit
Classic Car Overview
VIN: 3Z66Z******
Year: 1963
Make: Mercury
Model: Marauder
Exterior Color: Black
Interior Color: Red
Mileage: 98,000
Engine: 390ci V8
Transmission: 3 Speed Merc-O-Matic

- You can view more photos, video and information on our website:V8vintage.com
- Financing is easily available at jjbest.com, or we offerin-house short term payment options.
- Current NADA Values for this car are as follows: 
Average: $20,385.00 / High: $35,370.00
Vehicle Description:
This is your chance for one of the great performance Mercuryofferings, the 1963 half year release of the Mercury Marauder! This is a greatlooking and great driving Marauder 2 door fastback, cousin to the famous 1963 ½Ford Galaxie fastback only much more rare. This one is unfortunately not an S55427ci edition, but then again it doesn't have the $100,000 price tag either.What you see here is a great survivor with few owners that has had everythingimportant rebuilt and restored. She comes with the powerful Ford 390ci engineand 3 speed Merc-O-Matic transmission, both rebuilt. The body alignment isgreat and the doors, hood and trunk shut beautifully, and the paint has beenredone. The previous owner acquired the car in 1981, and sometime in the 1990s hadthe engine rebuilt, the seats were recovered and the body repainted. The carwas originally white with red interior, but was repainted black at the timethis other work was done. The odometer has 98,000 original miles on it, and wedo not know for certain how many miles are on the engine since the rebuild, butthe transmission was done in 2019 and has only about 2,000 miles on it. Thepaint is just starting to show its age but still shows very well as you can seein the photos. No major defects and no damage. It is amazingly rust free. Noevidence of filler repairs or poor body work, very solid and clean.

This car just as it is now starts right up and drives great!Everything is working and in top shape. The rebuilt engine has a mellow idlewith a racy note upon acceleration through the nickel Sanderson headers & dualFlowmaster exhaust. It cruises easy but will growl and move when you open the throttle.The engine is powerful but easily controllable and has a very smooth idle forjust enjoying a country drive, or a cruise down the freeway at 75mph thanks tothe just rebuilt 3 speed Merc-O-Matic transmission. The car has factory powersteering and factory power brakes as well, making driving enjoyable. A verygreat looking, great driving classic!
Tires are brand new on 17" wheels but we do have the original wirewheels for this car. We also have the original fender skirts and even the'smokers' trim for the window edges that we would like to see stay with thecar. The trim is all in pretty great original condition. This car has beenstored indoors in a private collection. All of the glass is good and worksperfect. The radio lights up but does not seem to work though the speakersappear to have been replaced. The glovebox is in good condition. The steeringwheel is in good condition and the horn operates properly. The interior is ingreat shape. The seats are in near mint condition and very comfortable. Thegauges and lights all work. The weatherstripping is in good condition. The heaterand fresh air vents all work perfectly. The car runs and drives amazing. I havedriven it a lot for testing and pleasure and it is a lot of fun and gets a lotof attention. The car has no mechanical problems. We are confident that youcould drive this car anywhere. For storage it has a battery tender installed inthe engine bay to monitor and keep the battery safely charged at all times,just plug it up when you park it and forget it, dead batteries are a thing ofthe past. This car also comes with a cool matching miniature Marauder keychainso you don't forget which car the keys go to.
This is acomplete original matching numbers big block 63 Marauder fastback. Try to findanother and compare. We are offering a family of Marauders, the first one isshown here, but we also have the first 4 door (1964) and the last Marauder(2003-2004) available if you would like to make an offer on the entirecollection. You won't find a nicer combination of performance and style thanthe Mercury Marauder and it makes for a great collectible or pleasure vehicle.
Here issome additional information about the Marauder marque from Wikipedia:
"TheMercury Marauder nameplate made its debut as a trim package of each of the fourMercury full-size sedans, including the Monterey, Montclair, S-55 (1963 only), and Park Lane. In what would later becomecharacterized by the FordMustang, the Mercury Marauder was introduced as a mid-year model,denoted as a "1963½" model year.
In sharpcontrast to the distinctive reverse-slant "Breezeway" rooflineoption, the Marauder was styled with a sloping notchback rear roofline; an early versionof a fastback sedan, alongwith its Ford Galaxie500/XL counterpart, the roofline of the Marauder wasoptimized to make the large sedan more competitive for stock car racing. Along with the"sportier" roofline, the Marauder trim package included bucket seatsand central console, similar to its Ford counterpart.
For 1964,the availability of Mercury Marauder expanded to four-door hardtops; along withtwo-doors, four-door hardtops also included a fastback roofline.
Sharedwith the rest of the Mercury sedan line, the Mercury Marauder was powered byFord "FE-Series" V8 engines, shared with the Ford Galaxie 500XL andthe Ford Thunderbird. A 390 cubic-inch Marauder V8 was standard, with a 427cubic-inch Super Marauder V8 replacing a 406 V8 in 1964. Along with 3-speed and4-speed manual transmissions, a 3-speed automatic transmission was offered."
Additional Information
Features:
• Rebuilt 390ci Big Block V8
• Rebuilt 3 speed automatic transmission
• Black exterior paint with bright red interior
• Performance Sanderson nickel headers
• Dual Flowmaster Exhaust
• Factory power steering
• Factory Deluxe AM radio in the dash
• Factory power brakes
• 17" stylish wheels and tires
• Original wheels, fender skirts and other trim included
• Near mint bright red Seats
• Beautiful gauges
• On-board battery charger
• Custom hand painted matching 1/64 Marauder keychain
Defects:
• The paint has a few very small age defects (see photos on website)
• The dash has a crack at the speaker, common issue as they age (see photos onwebsite) 
• The hood has been recently repainted with PPG products because somethingspilled on it in storage and bubbled the old paint

Other than the above, the car looks amazing, drives well and gets a lot ofattention. Very fun car to take to the local meet or cruise around town. Wehave driven the car 150 mile round trips into Houston and never had anyproblems. Keep in mind it is 59 years old and not a new car, but it is inamazing condition considering its age. You can hop in right now, drive home andenjoy.

 
We are collectors first,...
We are not just here tosell cars. We are just like you, collectors and lovers of vintage automobiles.We believe vintage vehicles to be a great investment, and one of the only investmentsyou can actually enjoy. We also believe there is a classic car out there to fitnearly every need and budget. From Ferrari to Gremlin every vintage car has aninteresting history and character and can be thoroughly enjoyable.
You can feel confident inbuying a car from us, because you are not just buying an 'old, used car'. Wehave been buying and selling vintage cars now for over 20 years, and arelooking for the same qualities you are in the cars we sell. You can be surethat every vehicle we offer has received a 100 point inspection and is fullyroad tested by experienced technicians. We want every light to work, everyswitch to operate properly and every mechanical feature to be functional. Whilethis is not always completely possible, we will make whatever repairs we can tobring any vehicles we buy up to these standards before we offer it for sale.And we will not sell any vehicle until it is considered 'complete' and we havepersonally driven it ourselves. We expect every vehicle to be a greatrepresentation of its Make/Model, completely functional and street drivable forenjoyment without undue fear of mechanical failure or safety. We are collectorsas well, and hope for the same buying experience you do, a good quality, easilydrivable vehicle.
If you are looking to get into a classic car without spending afortune this would be the opportunity for you. We do consider trades in thespecialty or classic category. We can also discuss payment terms or options. Weare happy to try and make a deal.
Feel free to make offers, and if you haveany questions please message or call 888-716-5333
Vehicle Specifications
VIN

N/A

Classic Car ID

101711725

Stock Number

N/A

Category

American Classics

Body Style

Fastback

New/Used

Great Condition

Mileage

98,000 miles

Engine

8 Cylinder

Condition

Great Condition

Transmission

3 Speed Automatic

Exterior Color

Black
Classic Car Buyer's Tools
Suspect Fraud?