Classic Car Events
Find events for classic car enthusiasts like you
National Sprint Car Hall Of Fame & Museum Win a 2020 Z51 Corvette Stingray
Where:

1 Sprint Capital Place, Knoxville, IA 50138, USA

When:

Oct 07, 2020 - Aug 14, 2021

Donate Today for a Chance to Win this 2021 Z51 Corvette Stingray Who could resist this Elkhart Lake Blue Metallic 2021 Corvette Stingray with the Z51 performance package? The 2021 Corvette Stingray, with the 495-hp 6.2L LT2 V8 engine, along with the 8-speed transmission, is the perfect combinatio...
More Info ›
1967 CHEVROLET CAMARO RAFFLE - Somernites Cruise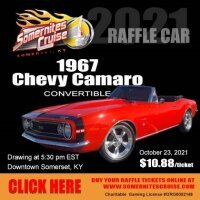 Where:

209 E Mt Vernon St, Somerset, KY 42501, USA

When:

May 11, 2021 - Oct 17, 2021
Drawing to be held on Saturday, October 23, 2021 at 5:30 pm EST
Tickets are on sale now for this 1967 Chevrolet Camaro!!
More Info ›
Win a 1959 Corvette Convertible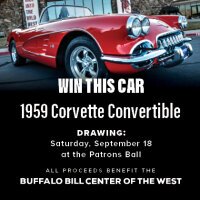 Where:

Buffalo Bill Center of the West - West, 720 Sheridan Ave, Cody, WY 82414, USA

When:

Jun 22, 2021 - Sep 18, 2021
Drawing takes place September 18, 2021.
This year's raffle car is a stunner—a beautiful 1959 Corvette Convertible sporting a brilliant red inside and out!!
More Info ›
2021 FALL BENEFIT CAR RAFFLE - Win Your Choice!
Where:

3603 Victory Pkwy, Cincinnati, OH 45229, USA

When:

Jul 01, 2021 - Nov 18, 2021
Grand Prize Drawing: 2:00 p.m. EST on November 18, 2021
Win Your Choice - 2021 Chevrolet Corvette, Mercedes-Benz E Class or BMW Z4 - Enter Now!!
More Info ›
NSRA presents the 52nd Annual Street Rod Nationals
Where:

937 Phillips Ln, Louisville, KY 40209, USA

When:

Aug 05, 2021 - Aug 08, 2021

ALL VEHICLES OF 1991 AND EARLIER MANUFACTURE ARE WELCOME TO ENTER THE EVENT. The National Street Rod Association proudly presents the 2021 Giveaway Car. One Off Rod & Custom in Middletown, Delaware, is in the process of building a 1932 Hi-Boy Roadster Pickup. The classic, state-of-the-art ...
More Info ›
15th Annual Sturgis Mustang Rally
Where:

12998 SD-34, Sturgis, SD 57785, USA

When:

Aug 30, 2021 - Sep 05, 2021
Events and Activities all week long - Check website for updates.
This annual event is held every Labor Day Weekend in legendary Sturgis, SD. There is no other event like it and you simply don't want to miss it.
More Info ›
British Invasion Show - 30th Anniversary
Where:

Weeks Hill Rd, Stowe, VT 05672, USA

When:

Sep 10, 2021 - Sep 12, 2021
SHOW HOURS: Friday Block Party 6:30pm Saturday 9am-5pm Sunday 9am-3pm
A WEEKEND CELEBRATION AND SALUTE TO THE GREAT BRITISH MOTORCAR AND BRITISH LIFESTYLE!!
More Info ›
AUTOTRADER ECHOPARK AUTOMOTIVE 500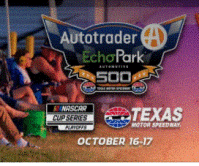 Where:

3545 Lone Star Cir, Fort Worth, TX 76177, USA

When:

Oct 17, 2021 1:00PM
The NASCAR Cup Series drivers put it all on the line in their quest to secure an iconic win in the Lone Star State. The Autotrader EchoPark Automotive 500 is make or break in the Round of 8 for the NASCAR Cup Series Playoffs drivers looking to secure a spot in the Championship 4.
More Info ›
Gasparilla Concours d'Elegance
Where:

5300 W Lutz Lake Fern Rd, Lutz, FL 33558, USA

When:

Dec 03, 2021 - Dec 05, 2021
Friday - DEC. 3rd, 6 pm to 9 pm Saturday - DEC. 4th, 9:30 am to 4 pm Sunday - DEC. 5th, 10 am to 1 pm
Celebrating 100 Years of Automotive Excellence.
More Info ›