‹ Go back
Sandquist Classic Car, Truck, Gas Pump, Sign & Advertising Auction - Live & Online Bidding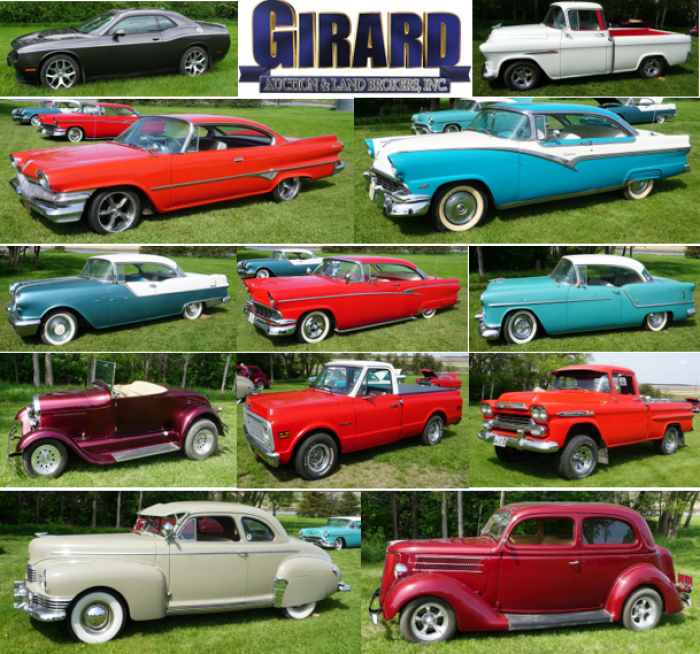 Auction Information
Sandquist Classic Car, Truck, Gas Pump, Sign & Advertising Auction - Saturday August 20th, 10:00 a.m.
Located: Wakonda Legion Hall, Wakonda, SD 57073
Vehicles will sell at 1:00 p.m. sharp!

Featured Vehicles - 1955 Chevy 3100 Cameo Pickup, 6cyl, 3spd on tree, big back window, nice paint, restored & sharp, 1959 Chevy Apache 31 NAPCO 4x4, stock straight 6, 4spd trans, custom wheels & interior, older repaint, 1970 Chevy Custom C-10 Short box Pickup, 350 V8, auto, new paint, performance engine parts, steel bed floor, tonneau cover, great driver, 1960 Dodge Dart Pioneer 2-dr Hardtop; 318 V8, push button shift auto, new interior, new paint, recent overhaul by Brad Harms, custom wheels—super sharp & unique car, 1956 Ford Victoria 2-dr Hardtop, 292 V8, 3spd, newer interior & turquoise paint, 1956 Ford Victoria Customline 2dr Hardtop, V8, 3spd, 4bbl Holley, mild custom, shaved & decked, spotlights & lake pipes, aftermarket AC, believe to be about 50K act. Miles, 1955 Pontiac Starchief 2dr Hardtop, stock V8, auto, repainted, shows 95K miles, 1954 Oldsmobile 88 2dr Hardtop, stock V8, auto, lowered, spinner hubcaps, new paint, includes fender skirts, great driver, 1936 Ford 2dr "Humpback" Sedan Hot Rod, 350 Chevy V8, auto, Custom tan interior, AC, 1929 Ford Model A Roadster Hot Rod, Buick V6, auto, 4bbl carb, sharp, 1946 NASH 2-dr Sedan, 6cyl, 3spd, all stock parts, new paint, good original interior, factory radio, 2015 Dodge Challenger, 6cyl, auto, 45K miles, dark grey, black interior, sunroof, 30mpg, clean and nice and New Whizzer Motor Scooter—brand new, never fired!
Other items include - 20+ Gas Pumps, 200+ Automobile, Gas, Oil, Tire, & related Signs—Large & Small, Original Gas Globes, Tire Stands, Thermometers & more, Unusual Oil cans including South Dakota cans & 5-gal Rocker cans, Hubcap collection & some car parts too!

For more information click on the image above or go to http://www.girardauction.com/. For questions call (605) 267-2421 or email girardauction@gmail.com.
Auction Details
Where:

105 Montana St. Wakonda Legion Hall




Wakonda

,

SD

57073

When:

Aug 20, 2022

-

Aug 20, 2022

Lots begin to close on Saturday August 20th, 10:00 a.m. - Vehicles will sell at 1:00 p.m. sharp!

Auction Organizer:

Website: