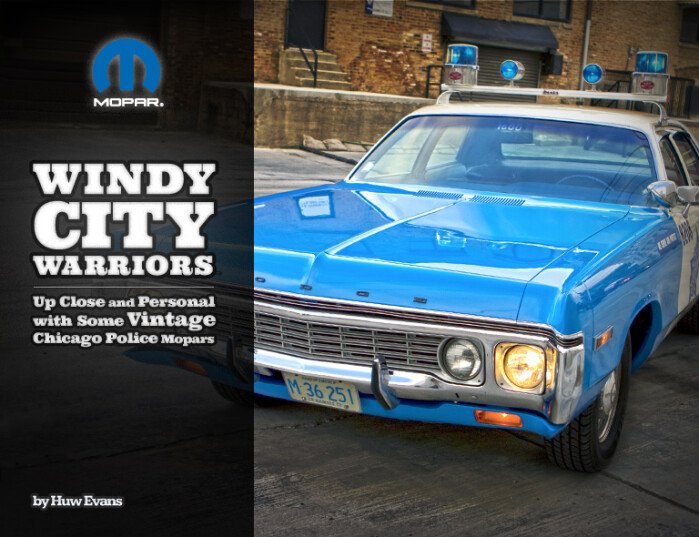 Text by Huw Evans, images by Tracy Stocker and courtesy of Sgt. Greg Reynolds
"It's got a cop motor, a 440-cubic-inch plant. It's got cop tires, cop suspension and cop shocks. It's a model made before catalytic converters, so it'll run good on regular gas." With those famous words from Elwood Blues (Dan Ackroyd), in a certain 1980 film directed by John Landis, the mid-1970s Dodge Monaco sedan achieved everlasting fame. Today, despite a near 20-year hiatus in the police market (prior to the 2006 Dodge Charger) Mopar cop cars still remain some of most loved and celebrated of all police vehicles. From around 1956 until the mid 1980s, Dodge, Plymouth and even Chrysler squads were the most ubiquitous police cars in North America. In fact, the biggest department, the NYPD, used Plymouth and Dodge squads almost exclusively until the rear-drive M body car was finally axed in 1989. Another very large police department, Chicago, was also a major user of Mopars between 1960 and 1978.
In fact, in the final chase scene of The Blues Brothers, which sees Elwood and brother Jake (the late John Belushi) pursued through Chicago, they are pursued by hoards of 1975-78 Dodge Royal Monacos, which were a mainstay of the CPD at the time. When active duty Sergeant Greg Reynolds started on the job in 1986, a number of these old warriors were still in service. Given the size of Chicago, its population, not to mention its harsh climate – hot, humid summers and cold winters – plus miles of potholed and cratered streets, it's a wonder that any car could withstand up to the rigors of such a harsh environment, let alone one in constant use. Add in operation by a huge variety of drivers and passengers, plus frequently dangerous situations, and you begin to see that a car able to withstand such abuse has to be more than a bit special. And for generations of CPD officers, that's exactly what the Dodge and Plymouth squads were. Although long out of service, today these cars have a special place in CPD lore, and, as a result, there are an ever-growing number of them being restored. According to Greg, an avid vintage police car enthusiast, there are now some 16 classic Chrysler squads in the Chicago area, including the one he currently owns – this magnificent 1972 Dodge Polara.
Given his background and where he grew up, it wasn't surprising that Greg became a police officer. "My dad was a cop, and I remember from my youth the full-size Plymouths and Dodges the Chicago Police Department used to operate. I have a picture of my dad standing next to a '66 Plymouth Fury. When I started on the job, I looked for that photo again, as I'd developed an interest in vintage cop cars. Eventually, I came across it, and at that point decided I wanted to build a vintage police car of my own." Thanks to his connections, Greg was able to methodically acquire the parts he needed to put together a police replica. "I spent a lot of time tracking down the right radio, lights, siren and also researched the color scheme of CPD cars and the emblems. Once I had done that, I was able to start looking for a suitable vehicle." His very first one was a 1966 Chevy Biscayne, but a photo that Greg's Lieutenant brought to the station one day sent Reynolds off in a different direction. "We were both into photography," says Greg "and this picture was a staged shot of him standing next to a '77 Dodge Royal Monaco. The atmosphere created by this image was ominous, and it was then that I decided another police car project was in order."
Reynolds managed to track down just the car – a 1977 Dodge Royal Monaco – out in New Jersey. The car was in decent shape, but better still, it was a genuine ex-police cruiser, equipped with a 440ci V-8 and bulletproof TorqueFlite 727 automatic trans. "I went out to New Jersey and drove it back," says Greg. "That one was a lot of fun. The 440 could really smoke the tires, and once in CPD livery, everybody recognized it as the chase car from the Blues Brothers. It was really cool to have a machine that exactly replicated the cars that Chicago PD ran in the '70s. I even got to use it in a photo shoot reenactment of the Blues Brother's chase on lower Wacker Drive and in Daley Plaza for a national publication."
But after a few years, Greg had the itch to try something different. "I have a single car garage, so it means that realistically, I can only own one hobby vehicle at a time." The Royal Monaco was sold (but still remained in the area), and Greg embarked upon his next project – a 1968 Plymouth Fury "This one was a bit special for me, as it took me back to when I was a kid and the CPD used these cars. I found this one in a barn about 500 miles from my house. Like the Monaco, it was another genuine ex-police car that had served in Albuquerque, New Mexico. I actually bought this one sight unseen – perhaps I was a bit crazy, because it wasn't running at the time, but I got a lot of help with this one from [noted police car enthusiast and historian] Ed Sanow. At the time I bought this car, I was also remodeling my house, so Ed was very gracious to have the Fury shipped to his home while I finished the renovations here. Out of all the police cars I've had so far, this one needed the most amount of work. Ed was a huge help – he found a good body shop and upholstery specialist, and I got them to finish the exterior and interior of the Fury. Ed lives about 150 miles from me, so I was really grateful. Once the body and cabin had been restored, I brought the car home and finished it."
The Fury's 383 two-barrel V-8 was rebuilt and installed between the fenders, while replicas of period Chicago Police emblems were made and fitted, along with the requisite light bar and Motorola police radio. Like the majority of CPD cars in service through the late 1960s and early 1970s, the Fury sported light blue paint and off-white front doors and roof. "I ended up spending a lot of money on that car, but felt it was worth it," says Reynolds. "By the time I was finished, that Fury was a joy to own, and, for me, a real trip down memory lane." However, after about five years, Greg found himself with yet another police car project. "The Fury was great, but as they say, anything's for sale at the right price. When it came to this car, one day I literally got an offer I couldn't refuse." So the Fury was sold, and Reynolds set about finding another car to occupy the space in his garage. That's where the Polara you see here comes in.
However, in contrast to his old 1968, this one didn't need anywhere near as much work. "I located this car in California. It was a '72 Dodge Polara, equipped with a two-barrel 360 V-8. The car was in great shape, and I elected to drive it back. So I flew out to L.A., bought the Dodge, and drove it all the way back to Chicago – a distance of some 1900 miles. Out of all the vintage police cars I've owned, this one by far ran the best. On that long drive it was superb – it ran like a charm, all the way." Once the big Dodge was back home, Reynolds went to work, re-trimming the interior with the correct police spec upholstery, adding the light bar, and repainting the car in genuine CPD period livery. "The thing I like about this one is that it really is representative of a car that would have been used for municipal work in the early '70s - it's big, but spartan, and the 360 two-barrel V-8 is a workhorse engine with a decent amount of pickup and relatively (for the era) good fuel economy." And since he's finished it, Greg just loves driving it. "Sometimes you own a car that, for whatever reason, you just love to drive. This [Polara] is like that. The 360 is a great engine, and this one just runs so well. I've driven this car to the New York City Police Museum show twice, and, by the time you read this, will have done so again. That is a spectacular show. It's held in Manhattan and it has grown so much that they've run out of room numerous times. If you're into vintage police and emergency vehicles, it's a must-attend show."
Greg is also very active in the local Chicago area when it comes to showing his vintage police car. "The 16 classic cop cars in the area (including mine) are often involved in certain events that take place in the city throughout the year. One of them is the annual Chicagoland Emergency Vehicle Show, now in its 13th year. Every August, around 250 emergency vehicles from all around the country gather here. It's a very interactive show – we've got helicopter rides, firefighting and SWAT team demonstrations and also simulated emergency situations, including highway accidents. It started off as a local event but grew so much that we had to move it to a new location, some 40 miles west of the city."
Besides the CEV, Greg and the other vintage police car enthusiasts, many of whom are serving or former CPD officers, use their vehicles for charity events and tributes. "Local motorcycle clubs regularly organize runs for charity, in support of the CPD police memorial, and with the blessing of the CPD, we lead the parade through the streets with our vintage squads – it's really a sight to see."
In addition, Greg also takes his Polara to general car shows – often in a group with the other enthusiasts. "In the summer, it's great to get to as many events as you can, and going in a group makes it that much more fun. When you see a whole stream of vintage police cars coming, it definitely turns a few heads."
But even when Reynolds goes solo in his big Dodge, it gets more than enough attention on the street. "It's an experience taking it out. People will turn their heads when they see it go by, and even for me, from behind the wheel, it's like nothing else. You tend to forget how large these C-body cars are, and when I'm driving it I feel a bit like I'm steering the Titanic. But the 360 has got plenty of go, even in a car as big as this, and the thing about these old Mopars, even with the heavy-duty suspension, is that they ride pretty good."
When we asked Greg if he had any plans to sell the Dodge, this is what he had to say. "Based on my previous cars, it would seem like I have a bit of a five-year itch. But this one's going to stay, I think. I just like driving it too much." And the fact that he brought it out on a chilly and windy 22-degree day, just for our photo shoot, says volumes about how much he enjoys the car. "It was cold, but we have fun, and it was a good excuse to drive her."
Acknowledgements:
The author would like to extend a very big thank you to Sgt. Greg Reynolds of the Chicago Police Department for his assistance with this article.
For more information about vintage police cars visit: Copcar
www.copcar.com
Police Car Owners of America
479-253-2364 www.policecarowners.com
Chrysler Central: CPD in the 1960s and 1970s
After New York City, the Chicago Police Department is the second largest in the United States, with over 13,000 officers and almost 2000 additional staff in its employ. It is also one of the oldest, having been founded in 1837. Given the size of the city it polices, not to mention the extreme weather, the CPD has always emphasized purchasing equipment that can withstand the rigors of police work. And when it comes to cars, from 1960 until 1978, only Mopar squads were deemed up to the job. Vehicles from the Chrysler Corporation helped really mobilize the department in the first place.
"Before 1960, the Chicago Police Department had primarily operated foot patrols or used three-wheeled trikes. There literally were only 2-3 cars assigned to each station in the City," says Greg Reynolds, "but that began to change with the appointment of a new Superintendent, Orlando Wilson. One of Wilson's primary objectives at the time was to mobilize the department, which was also given the task of patrolling Chicago's expressway system, in addition to the city streets. With more roads and districts to patrol, that meant more cars were essential, so basically, in terms of equipment, the CPD was never the same again," says Reynolds. And what were those very first patrol cars?
"Plymouth Savoys, except they were two doors," says Greg. But these full-size, no frills sedans were a huge step forward, giving the CPD much needed capability. With more cars, more officers were able to patrol more parts of the city and also respond to calls more effectively. The next year, the CPD procured more Plymouth squads, establishing a pattern that would continue for a number of years. "Our department ended up buying Plymouths every year through 1969, but we also purchased Dodges, beginning in 1961 and (initially) lasting through 1964." The Plymouths in later years were primarily Fury sedans, though a few Suburban wagons were also purchased for canine patrol. But in contrast to modern vehicles, which are loaded the gills with computers, radar equipment and other features, back in the 1960s, police accessories consisted of little more than lights, siren and Motorola radio. "The cars were fairly basic," says Reynolds. "They were ordered to CPD specs, with the engines specified. Through 1969, all our regular patrols cars were equipped with slant sixes. V-8s were only used for traffic and highway work. The cars would literally come in, we'd install the equipment, put on the emblems and they were pressed into service.
By the early 1970s, things were changing. Chicago had witnessed a turbulent end to the 1960s that culminated in race riots in the wake of the Democratic Convention in August 1968. As a direct result of that, officers and their cars were equipped with shot guns, and in 1972, radios gave way to portable walkie talkies which the officers carried with them. The department also switched its allegiance to Dodge Squads, and Greg's 1972 Polara faithfully recreates the cars used during that era. 1972 also witnessed the introduction of a staple police car accessory for CPD machines – the now famous Mars Light bar. Developed by the Mars Light and Signal Company, it would become standard fitment on CPD squads through 1986, the year that Sgt. Reynolds joined the force. For 1974, the big C-body Chrysler Dodge and Plymouth cars were redesigned with smart, angular exteriors – the last to bear the signature of stylist Elwood Engel. It was these cars that would help CPD Dodges achieve everlasting fame. "The 1974-78 full-size Dodges were some of the most comfortable and powerful squads the CPD ever had," says Greg. "Many were equipped with 440s, so they were fast and highly suited for highway and traffic duty. In 1976, they were also the first Chicago Police cars to be fitted with air conditioning, and at that time, it was a very big deal." But although the big Dodges were rugged, fast and popular, they did have a few shortcomings. "As a big city police department, Chicago had to patrol some of the older areas of town, which had narrow streets. These Dodges were big cars, riding on 121-inch wheelbases and measuring almost 228 inches long. They didn't have a great turning radius, so on the narrower streets they could be a handful, especially if you were responding to a call or had to maneuver quickly." Nevertheless, they proved durable, some remaining in CPD service for a decade. "When I joined the force in '86, we still had some of these cars in use," recalls Greg. Given the punishment that regular police work dished out, not to mention Chicago area streets (the cars weren't rust proofed for winter), 10 years in service back then was quite a remarkable achievement.
1972 Dodge Polara Police Patrol Car Dimensions
Length: 220 inches
Wheelbase: 122 inches
Weight: 095 pounds (approx.)
Engine
Type: V-8 Construction: Cast-iron block and heads
Valvetrain: OHV, two-valves per cylinder
Fuel system: Carter two-barrel carburetor
Bore & Stroke: 4.00-inch x 3.58-inch
Compression ratio: 8.8:1
Displacement: 360 ci
Max Power: 175 bhp @ 4000 rpm
Driveline
RWD, TorqueFlite three-speed automatic transmission
Body/Chassis
Steel unibody four-door sedan
Suspension
Front: Independent with short/long arm, longitudinal torsion bars and tube shocks
Rear: Live axle, multi-leaf springs and tube shocks
Steering
Power assisted re-circulating ball
Brakes
Front: Disc
Rear: Drum
Published Sep 15th, 2017
More Related Vehicles
More Classic Car News & Article Categories:
Related Articles
The no-frills Savoy two-door sedan was home to another engine of considerable repute, the infamous 413 Max Wedge, a Super Stock monster block Chrysler introduced in the spring of 1962.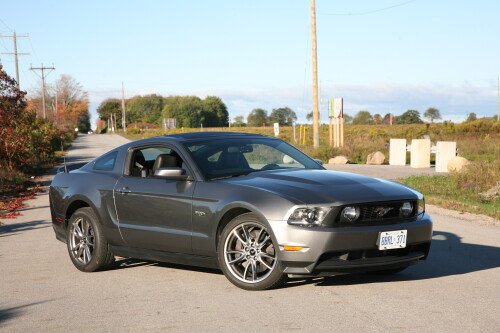 Through much of the 80s and 90s, an era that some traditionalists still consider a somewhat lackluster era for exciting automobiles, the mighty Ford Mustang 5.0 stood out from the crowd. The 5.0 Mustang was a car that could easily run deep into the 11 second range through the quarter-mile.
Related American Classics
Advertisement
×
Windy City Warriors