‹ Go back
Why Your Classic Car Deserves a Specialist's Touch
Perhaps you found the car of your youth. Or you're going through a midlife crisis. Or maybe your dearly departed aunt left her old Rolls-Royce to you in the will. Or perhaps it's a case of all three. The fact is you now have a Classic Car that requires a bit more TLC than a brand-new model. What will you do to help maintain it and have it purring as though it just drove out of the showroom?
A classic car can be any vehicle over 20 years old. Chances are your local dealer might not be the best place to take that 1960s-era Rolls-Royce Silver Cloud or classic International Harvester Scout. We talked to several automotive specialists in the West Palm Beach, Florida area to find out why it's a better bet to have your pride and joy looked over by them.
Francis Warwick is the proprietor of Lea Francis Automotive. In business for more than 40 years, he specializes in classic cars that were born no later than 1980. He brings a level of trust and efficiency that's becoming hard to get in today's market. His clientele includes people who could and would do it themselves but are finding it impossible to come up with the parts these days. "Frankly, the concept of people working on their cars has rolled over. They just aren't doing it anymore," says Warwick.
"I can't tell you why people come here in the first place, but once you have proven yourself, people just keep coming back, so trust is a big factor," says Warwick.
Warwick describes a typical scenario, where an owner will take his car to a dealership and hand it to a service writer, who may not even know how to change a tire; the service writer takes the car to the technician, and the owner won't know what the technician's doing or what it will cost until the car comes out the other end. "In my case it's a long process, one that's taken 40 years, where they have come to respect you and they know you won't cheat them," he said.
While it's not unusual, some of his customers buy online. One bought a Jaguar XKE sight-unseen on eBay Motors that was listed as "Complete." After it was delivered directly to Warwick's shop, an inspection revealed it was totally together except for the matching-numbers engine and other parts, which were sitting on the front passenger seat. He called the new owner and said, "Um, you might want to come down to take a look at your car."
While Warwick handles nearly everything, others like Pompeo DiFranco work in a niche segment. DiFranco is the operator of Palm Beach Prestige Auto Services. In business for 37 years and with cumulative experience of over 160 years, his shop specializes in Ferrari, Maserati, Mercedes-Benz, and Rolls-Royce models.
Unlike dealer technicians, who are trained on current models, specialized shops have the time for the due diligence required in finding the proper parts that an older, more special car may require. Specialized technicians have the resources to search for new old stock, remanufactured or salvaged parts, while dealers will generally stock parts of vehicles that are no more than 10 years old from their current model year. Some longtime specialty technicians can boast of having worked on some of the cars when they were new!
Most of DiFranco's customers are owners of European cars that are just off warranty. Ferraris are the shop's mainstay, with a daily parade of F40s, Enzos and 330 GTC models filling the stalls. He suggests a new buyer go for a vehicle that's already restored rather than buying a bargain fixer-upper for a little up-front money but with a high-dollar restoration cost on the backside.
Sidney Vallon of Palm Beach Classics echoes the need for specialists. "Dealers don't work on old cars. Having a specialized shop that deals with classic Mercedes-Benzes, we do it every day." His firm handles everything from the Mercedes 190 SL to the 230-250 SL Pagoda, 280 SL, and 300 D Adenauer, among others, on a regular basis. "Since we do it often, we are not learning on the client's time or dime. That's a big problem with some shops who will say bring us your car, and then will go to the computer to see how the job is done and in the process cost you extra money to do the job," he said. "We specialize in a certain kind of vehicle, we've done it so many times, and we won't waste your time or money."
A specialty garage will know where to get the parts, and in some cases will have many of them in stock. Vallon's shop receives parts from Germany every other day. "Because it is important to our clients, we try to use the same parts as those specified by the manufacturers. In some cases where we are servicing older cars, it is necessary to go to high-quality reproductions or salvaged parts, or, in some cases, we even rebuild the parts ourselves."
Published Mar 8th, 2023
More Classic Car News & Article Categories:
Related Articles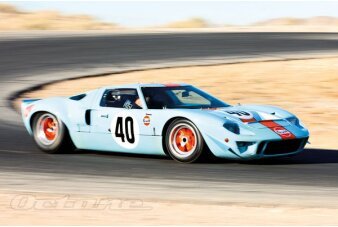 While every factory Ford GT40 is special, some are more special than others.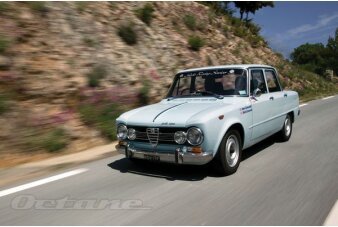 For the Linwoods historic rallying seems to come naturally.
×
Why Your Classic Car Deserves A Specialist's Touch