‹ Go back
What Almost Was: The Alfa Romeo Zeta 6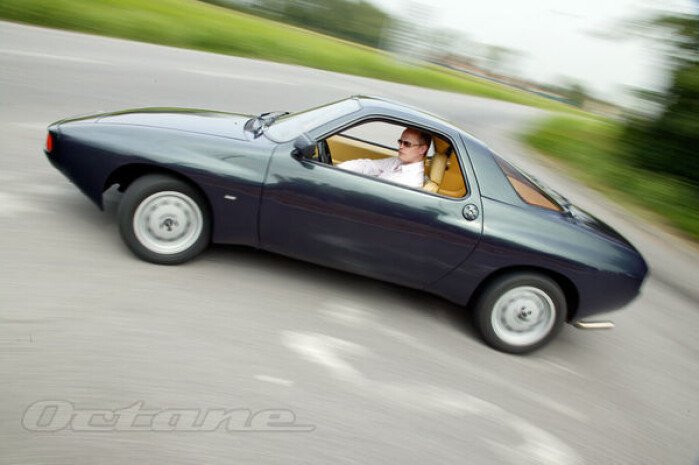 Honestly, who thought this was a good idea, a door handle without an actual handle? Instead there's a small sprung disc with fingertip-sized hollows. Twist to the right and the corresponding clicking sound signals either the door opening or the dislocation of something important, because by now your wrist is at an unnatural cant. Even without being told, you know this could only be 
a Zagato product; a car about which you have to take the mad with the maddening.

However, with the Alfa Romeo Zeta 6, the Milanese styling house actually reined in its customary whimsy. So often its designers pushed the boundaries, only to have them pushed back again as they met customer resistance. 
Many of its designs, now considered iconic, were negatively received in period but this intriguing device wasn't among them. Comedy door handles aside, it's in the realm of the normal, and demand was very real. Sadly, that wasn't sufficient for it to make the leap from prototype to production car.

Alfa Romeo is a marque with as many hits as misses in its back catalog but the car you see here didn't get the chance to exist in either camp. For a brief, tantalizing moment in the early '80s, it seemed the Zeta 6 might just become a range-topper. But no, the firm's penury damned it to obscurity as the suits in Arese chose instead to make a 'Sud-engined Nissan Cherry. Yes, really. And there wasn't the money to do both.

Yet as history tells us, the Arna wasn't a big hit with the Alfisti, or anyone else for that matter. As for the Zeta 6 – well, in so many ways it was precisely the sort of car the marque faithful had been praying for. It also marked a return to form for Zagato, providing evidence of its still-flickering genius as it, too, faced extinction. The 1970s hadn't been kind to either automotive grandee and, as the '80s dawned, they could only try to claw back some of the ground that had been denied them.

Zagato in particular was in dire straits. Its Terrazzano di Rho facility had expanded during the 1960s as the firm made the leap from small series coachbuilding to mass-production. However, the following decade would see manufacturers begin to build niche products in-house, which resulted 
in many once-famed couturiers being left out in the cold. By the 
mid-70s, Zagato was barely ticking over, with subcontract work for Pininfarina, the occasional Bristol 412 body build, small runs of golf carts 
and armour-plating saloon cars just about keeping the firm afloat.

Elio and Gianni Zagato, whose father Ugo had founded the renowned carrozzeria back in 1919, were eager to maintain the familial link with Alfa Romeo that had resulted in so many celebrated collaborations.

They were also keen to re-establish the firm's reputation as a player in the design community, its credibility having waned somewhat. That said, a sense of insularity still prevailed as the firm avoided the sharply creased wedge ideal that was then oh-so-hip among car stylists. When an artist's impression of the 'AZ6 Sperimentale' project appeared in the motoring weeklies in early '79, the preliminary sketch promised something altogether more rounded. Shortly thereafter, a plaster model was displayed at a Milan trade show, the amorphous outline being free of spoilers and suchlike.

Alfa Romeo was suitably impressed to fund the project through to the prototype and evaluation stage. However, it also hedged its bets, bankrolling Bertone to come up with its own take on the theme, with Zagato's offering being based on a GTV6 platform and its rival on the larger Alfa 6 saloon. 
Fast-forward to March '83, and the styling houses revealed their wares at the Geneva Motor Show to mixed reviews. Bertone's Delfino, penned by Marc Deschamps, wasn't unattractive but it wasn't much else either. It fully embraced the origami styling fad and wouldn't have looked out of place on the same stand five years earlier. By comparison, the Zagato car, now known simply as Zeta 6, was largely met with acclaim.

Sure, hacks couldn't resist making comparisons with the Porsche 928, even if similarities were at best superficial, but the majority highlighted its lack of adornment and the muscularity suggested by its blistered arches. In his review of the show's stars for Road & Track, the erudite Doug Nye wrote: 'The once-honoured name of Zagato showed a welcome return to real car styling after years of playing around with weird putt-putt city cars and armoured sedans… I hope the Zeta 6 marks the return of Zagato to the ranks of what might be called a serious styling house.'

Just how close Alfa Romeo came to putting the car into production is open to debate, but according to some Zagato insiders we canvassed it was touted at board level as a potential 'halo' car. However, the firm's zero-capital existence ultimately counted against it, as overtures from Ford were batted away in favour of a buy-out from Fiat that finally went through in 1986. Zagato, we're told, also downsized its ambitions and looked into making the car itself as a coachbuilt offering, but nixed the idea on cost grounds.

If nothing else, the Zeta 6 served its purpose in underlining that Zagato was still in the game, the link with Alfa Romeo remaining in place during the '80s via commissions to build prototypes such as the Z33 Free Time and mid-engined Alfasud Sprint 6C before the Il Mostro SZ production car emerged at the end of the decade. The firm also enjoyed relative prosperity on landing the contract to build the Maserati Biturbo Spider, as well as Aston Martin's Victor Gauntlett and his Livanos family backers buying a major stake when the Newport Pagnell marque initiated a new strain of Anglo-Italian exotics.

And shipping tycoon Peter Livanos owned this particular car until five years ago. Only two were completed, the other being retained by Alfa Romeo for its now-closed factory museum, while a third bare shell exists in Holland. Our car spent much of its early life in London, its current owner Corrado Lopresto acquiring it after being approached by broker Simon Kidston. 'He phoned me and said I have a car for you,' recalls the likeable Lopresto, surveying the other 50 or so one-off or penny-number Alfas, Lancias and Fiats in his Milan collection. 'I couldn't say no. I have since kept it original. 
It hasn't been restored.'

It looks like it, too, this fully functional prototype being nicely mellowed but far from scruffy. All the trademark Zagato styling cues are here, most obviously the subtle double-bubble roof treatment and deep side glazing that intrudes into the roofline to hint at the Panoramica line of styling studies from the late '40s/early '50s.

There's little extraneous tinsel, no spoilers or pop-up headlights, and deformable plastic panels in place of separate bumpers. Even the corporate Alfa grille is scaled down to fit its narrow aperture. In line with Elio Zagato's one-time mantra, the Zeta 6 looks as though the aluminium skin has been stretched taut over all four wheels. The only real decorative flourishes are those peculiar doorhandles. '[Current company principal] Andrea Zagato told me they came off a safe,' says Lopresto. We don't doubt him.

This styling study isn't exactly beautiful – it appears a bit push-me, pull-you from some angles – but the car's outline 
is an appealing one nonetheless. As it's a prototype, build quality is variable. Panel fit isn't uniform, and the base of the passenger-side door sits some way proud of the sill, but 
that's to be expected.

Inside it's every inch an early-80s Alfa but the kink in the middle of the windscreen is a giveaway that it's a Zagato product. The soft, oatmeal-coloured leather is attractive, the front seats supportive and comfortable, but those in the back are token gestures at best: a small child cooped up there with a headrest in front and chunky B-pillar beside them is unlikely to remain quiet for long. Especially as there's zero legroom.

Predictably, the pedals are offset to the right, with the throttle almost butting against the transmission tunnel, but you soon acclimatize. Once 
up and running, it's much like any other GTV6. The clutch is either in 
or out; there's no room for slippage. It also sounds glorious, the 2.5-liter 
all-alloy V6 being one of the classic engines of the past 40 years. 
The transmission that came free with the GTV6 is notorious for becoming slack with age but there are no such issues here. The transaxle set-up aids weight distribution and, driven with tempered enthusiasm, the Zeta 6 
feels nicely balanced.

However, when tested in Autocar five years after it was built, there was 
a degree of criticism concerning this car's steering. Much of this was down to the use of spacers, required to move the wheels further out to fill 
those bulging arches (the Speedline alloys are bespoke). They're still there, yet some way south of ten-tenths it tracks perfectly. On the debit side, ventilation is poor: even with the Alfa 33-sourced penny-flaps open you feel like an oven-ready chicken. And, as is customary with anything remotely exotic from this period, the top of the dashboard is reflected directly onto the windscreen.

But really, truly, you can forgive the Zeta 6 just about anything. It represents all that is great about Zagato, being both future-orientated for its day and alluringly quirky as a time-expired styling study. It ticks so many boxes, the underrated Giuseppe Mittino having produced an outline that still has the power to intrigue if the number of points, smiles and nods of validation received during our photo shoot are anything to go by. Yet it isn't overtly flashy, which is also the sign of a great Alfa.

As to the question of whether or not it would have succeeded as a production car, it doesn't really do anything any better than a regular GTV6, so you have to wonder. But as a small-series coachbuilt Alfa Romeo, it could surely have enticed a few hundred discerning customers. Sadly, its timing was out for both cash-strapped parties. It's never easy to take risks when there's no safety net. 



Specifications: 1984 Alfa Romeo Zeta 6
Engine 2492 V6, SOHC per bank, Bosch L-Jetronic fuel injection
Power 154bhp @ 5500rpm
Torque 152lb ft @ 3200rpm
Transmission Five-speed manual transaxle
Steering Rack and pinion
Suspension Front: wishbones, torsion bars, telescopic dampers, anti-roll bar. Rear: de Dion axle, coil springs, telescopic dampers, anti-roll bar
Brakes Discs, inboard at rear
Weight 1080kg (est)
Performance Top speed 130mph (est)
Published Dec 7th, 2015
More Classic Car News & Article Categories:
Related Articles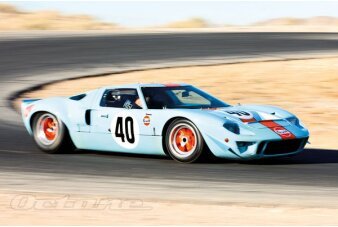 While every factory Ford GT40 is special, some are more special than others.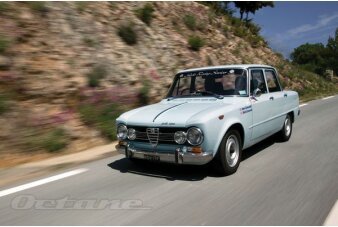 For the Linwoods historic rallying seems to come naturally.
×
What Almost Was: The Alfa Romeo Zeta 6