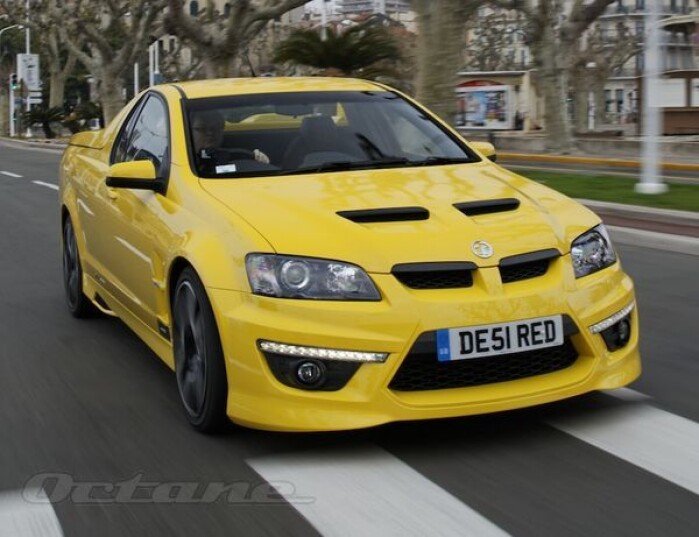 (Editors note: even though the Vauxhall VXR8 Maloo is not for sale in the U.S. we thought our readers might like to see what is available on the other side of the pond.)

Over the past ten years, the VXR brand has slowly established itself as the bad-boy performance badge for people who are looking for something a little ragged than the usual European opposition. Of course, this reputation for wildness has been ably assisted by the addition of the Monaro in 2004 - a badge-engineered Holden that ticked all the muscle car boxes, but without the annoyance of LHD and awkward servicing.   

Since then, the Monaro established itself as an old-school hotrod, honest and capable of running with cars double its price. Since 2007, when the coupe became a four-door saloon (and dropped its Monaro nameplate), it's offered more bangs for your buck than anything remotely comparable produced in Europe. A new addition to the VXR range is the Maloo (so-called after the Aboriginal word for thunder), a two-door pick-up that combines the front end of the saloon with the capacious loading bay of established Australian 'Utes'. These muscle-utes prove distinctly popular in their homeland - so much so that there's a race series for them, but as a concept in the UK, the Maloo is a unique proposition. So Vauxhall's hope that it's going to sell 50 in total really is a shot in the dark. We shall see.

For £51,000 you're basically paying for a 425bhp 6.2-litre V8 strapped into a pick-up that's 50kg lighter than the saloon it's based on. Performance is predictably rapid, with a 0-60mph time of 4.9 seconds and a top speed of 155mph. Is there any other pick-up that comes close? But then, this isn't what the aggressively styled Maloo is all about - it's an attention grabber. And a 'car' not for the faint hearted, as everywhere you take it, you're going to get stared and pointed at.

On the road, it'll capture your attention, too. When stoked into life, there's a bass soundtrack that is capable of rattling crockery in the next village, and blipping the throttle just encourages the boisterous. Once underway, it's as playful as you want it to be. Yes, if you're aggressive with the throttle, it will kick out its (lighter) back-end, but as it's such a responsive control, it'll be up to you when that happens. And as for outright acceleration, your senses will be dominated by noise and deliberate gearchanges you'll make. Yes, the six-speeder is weighty in both its clutch and change, but it's accurate, and you'll never wrong slot.

Otherwise, it's a balanced handler, with accurate steering and tidy turn-in. It's joggly at the rear when unloaded, and that's through necessity, but we'll forgive it this for the sheer fun of driving the thing. Inside, it's what you'd expect - well screwed together, but hardly a quality item. But, again, does it need to be? This is not what the Maloo is all about.

It is practical, and for those in the outback, there's plenty of room for sheep or barrels in that 1208-liter load bay. There's a lockable cover, too - and a rip-chord inside just in case anyone gets trapped inside. Although we can't imagine many hi-jackers using such an outrageous machine… The attention from the rear diffuser and quad chrome tailpipes, as well as those 20in wheels make keeping a low profile absolutely impossible.

Do we like the Maloo? How could we not. It's packed full of the character of the country of its origin, and it's an absolute hoot to drive. Would you choose it over a similarly priced Jaguar XF or Land Rover Evoque? Of course not on any rational grounds. But then, the Maloo is wonderfully, totally irrational - and in a world that's becoming ever more straitened, it's a joy to see that at least one manufacturer is still raging against the man.



Price: £51,500

Engine: 6.2-liter V8

Transmission: Six-speed manual, rear wheel drive

Power: 425bhp

0-60mph: 4.9 seconds

Top speed: 155mph

Economy: 21mpg

CO2: 320g/km

On sale: Now
Published Dec 7th, 2015
More Classic Car News & Article Categories:
Related Articles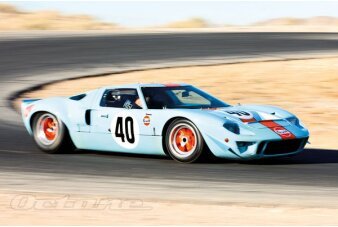 While every factory Ford GT40 is special, some are more special than others.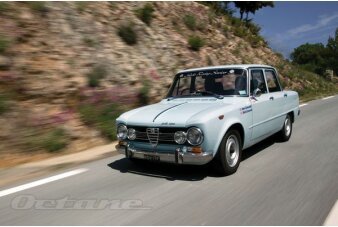 For the Linwoods historic rallying seems to come naturally.
×
Vauxhall VXR8 Maloo