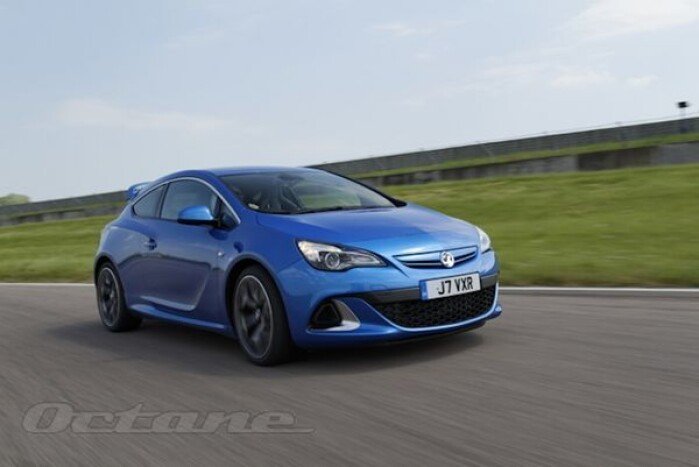 (Editors note: even though the Vauxhall Astra VX is not for sale in the U.S. we thought our readers might like to see what is available on the other side of the pond.)
This is the most powerful and most rapid Astra ever, with 280bhp from its 2.0-liter, direct-injection, turbocharged engine and the ability to reach 60mph in 5.9 seconds (and a speed-limited 155mph). That power figure makes it the most potent of the current crop of hot hatchbacks, including the 270bhp Golf R with its V6 engine, and the 295lb ft of torque cements the thrust victory authoritatively.
But such figures are of little use unless the energy they represent can be channelled usefully to the road, and that has not always been a hot Astra's strongest point. With their surges and their verge-finding torque-steer they have tended more to thuggery than finesse, which is fun for a while but eventually wears you down.
This time, there are clever tricks which should keep this in check. There's a Drexler mechanical limited-slip differential, which partly relaxes its locking effect under deceleration, and there's a so-called HiPerStrut (that was hard to type) front suspension in which the MacPherson strut doesn't turn but a separate hub carrier does, on an axis further outboard than it would otherwise be. Thus tractive effort is more even across the wheels and more evenly distributed within the front tyres' contact patches.
Lighter brakes by Brembo, a 10mm-lower ride than the regular turbocharged Astra GTC, springs stiffened by 30 per cent, a thicker front anti-roll bar, firmer bushes and new calibrations for the adjustable-range Sachs dampers complete the chassis changes.
Does it work? The VXR certainly looks promising with its giant under-bumper air scoop and, if you order the optional Aero kit (£995, upping the total from £26,995 to £27,990), a biplane rear spoiler, curvy sill covers and 20in wheels. That's a fairly giant wheel size, as is the standard 19in fitment. That they don't look ridiculously huge shows just how corpulent today's so-called compact hatchbacks have become. To put it into some sort of historical perspective, this Astra is as long as a 1960s Austin Cambridge.
There's an encouragingly crisp, deep note from the exhaust as you fire it up, although nothing particularly distinctive about the detailed aural signature. There seldom is, nowadays; as recently as a decade ago you could still sometimes identify a Vauxhall, a Ford, a Volkswagen, a PSA product by the sound it made, but no more.
The VXR certainly goes well enough, though. After a short wait for the turbocharger to get going it launches itself onwards with a heady whoosh, the whoosh ceasing suddenly at 6500rpm when there seemed more to come. An ankle-flex suffices for most overtaking, although the gearchange is neat enough when needed.
As for the traction, it's extraordinarily good. Even on a wet, bumpy road the VXR hauls itself with single-minded focus out of corners as you pile on the power, just a vestige of torque-steer remaining to remind you which wheels are handling the drive. I like that; it makes the Astra feel alive.
Set to Standard mode, the dampers let the suspension 'breathe' while controlling the body's movements. In this mode the VXR feels beautifully poised as you hare along a wet, undulating backroad, with the harshness expected from the 20in wheels entirely failing to materialise. Sport mode makes it unnecessarily choppier to no advantage in precision, while the 'extreme' VXR mode is all but unusable on normal roads. It's for dry racetracks only, I feel, and Vauxhall does expect many owners to use it for exactly that. On wet tracks, incidentally, you can get the tail a surprisingly long way out when trail-braking into a bend before the lenient stability system gently reins you in. I hadn't expected that.
Dislikes on my part are few. The thick windscreen pillars obscure the view around tight corners. The brakes are over-servoed and snatchy. There's no proper handbrake, just one of those annoying, fiddly electric switches which gives less control and no feel. I have vowed never to buy a car fitted with such a device, which is a shame because I otherwise like this Astra a lot. It's slightly madder than Ford's new Focus ST, and manages to keep the good parts of previous hot Astras' personalities while civilising away the bad ones.
Talking of previous Astras, I also sneaked drives in a Mk1 GTE and a 16-valve version of the aerodynamic-looking Mk2. The Mk1 proved surprisingly torquey once I had heaved hard enough on the heavy, short-travel throttle, but loose and slow-witted in the steering. That's why a Golf GTI was always better. The radio was tuned to an AM pop station, by the way, the fades and curtailed frequency response proving rather nostalgic.
And the Mk2? I'd forgotten what an eager, torquey thing that 16-valve engine is, the one known in the tuning world as the 'Red Top'. The Astra's light weight helped, of course (the new one is a good 400kg heavier), but the rest of the car was also much better than I remembered with a poise and precision to its movements which I'm sure weren't quite there when new. Modern tyres and a new set of dampers had helped this one, but it was a very pleasant surprise
Published Dec 7th, 2015
More Classic Car News & Article Categories:
Related Articles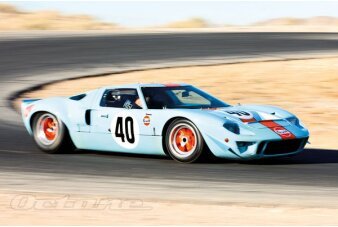 While every factory Ford GT40 is special, some are more special than others.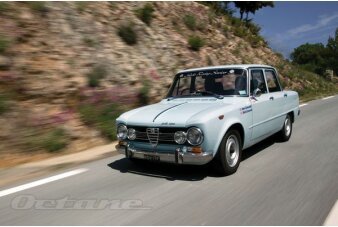 For the Linwoods historic rallying seems to come naturally.
×
Vauxhall Astra VXR