‹ Go back
Turning Point: 1948 Ferrari 166 Spider Corsa
His advice served to implant the very notion he wished to dispel. 
As wind swelled and blustered, and malignant clouds drenched us with glacial rain, the snapper's helpful 'Don't stall it' didn't have quite the desired effect. All that was missing was '…again'. But, then, attempting a 27-point turn aboard a 60-year-old racing car on a super-steep jetty leaves you with plenty to think about, not least the close proximity of the steering wheel to your favorite body part and the need to baby the heavily burdened clutch. What is clear is that this one-of-a-kind Mille Miglia veteran doesn't like being moved about – especially on wet cobbles.

Ferrari 166 Spider Corsa '0121' deserves better. This extraordinary machine has had a storied existence, featuring prominently in early marque lore as a works entry before its competition career was extended via a new, sexier bodyshell and hotter engines. Think of it as an evolution of a legend and you'll be partway there. This was, after all, only the ninth car to bear the surname of Enzo Ferrari and the sixth example of the 166 strain: the very model that established the marque's footing on the international stage.

Having maintained Alfa Romeo's frontline involvement in motor sport via his eponymous scuderia, only to see it effectively snatched from under him in 1939, Il Commendatore had bigger fish to fry – he would 
manufacture his own car. There was, however, one obstacle to him doing this: under the terms of his severance deal, Enzo was barred from building cars under his own name for a further four years. Undeterred, but embittered, he established Auto Avio Costruzioni to create a new sports car.

But as Europe descended into the hell of war, the goal 
of taking on the world from Maranello suddenly seemed 
a long way off. Just two Touring-bodied Tipo 815s were made, using Fiat 508C chassis as a basis. Both led the 1500cc class of the 1940 Mille Miglia, only to retire. Ferrari's dream would have to wait a while longer.

With a small but capable team behind him, Enzo began work on a new car as soon as Milan was liberated, and 
this time around it bore his moniker. A new 1.5-liter V12 
was designed by Gioacchino Colombo (whose earlier 
credits included Alfa's Tipo 159 unit) and tested in 
September 1946. In March the following year, the initial prototype was running under its own steam. Two months later, Ferrari the marque scored its maiden race win in only its second start as Franco Cortese triumphed in the Rome Grand Prix aboard a 125 Spider.

By early 1948, and following an intense period of troubleshooting, the 125 gained an engine capacity hike to 1995cc (from 1497cc) and morphed into the 166. This model would establish Ferrari as a major player in topflight motor sport, claiming that year's Targa Florio and Mille Miglia for starters. And in November 1948 the marque was first represented at a motor show: on display in Turin was a 166 Inter coupe' and an open 166MM (for Mille Miglia), the 
latter being better known by the barchetta (little boat) moniker. Its glorious outline by Touring would in time become enormously famous, covering all manner of Ferraris – and not just 166s.

However, the car you see here wasn't clothed by the famed Milanese coachbuilder, despite the obvious visual signifiers. It was originally completed in May 1948 with cycle-wing bodywork by Carrozzeria Ansaloni, and made its works debut in that month's Bari Grand Prix, driven by Ferdinando Righetti. The car failed to finish, but recorded its first podium finish in only its fourth start when Count Bruno Sterzi claimed the runner-up spot in the August '48 Circuito di Pescara behind the Maserati A6GCS of Giovanni Bracco.

And sometime factory Ferrari driver Bracco would feature prominently in the car's narrative. After racking up further results in its debut season, and having also received its first engine transplant, the car was acquired by the colorful Piedmontese for the '49 season. Bracco, who is best remembered for his remarkable victory on the sodden '52 Mille Miglia (while allegedly fortified by vast quantities of brandy), found great success in his new purchase but theirs was a trying relationship. His first year with the car resulted in podium positions at every meeting, Bracco being crowned the national hillclimb champion in '49. However, the 166 reputedly proved temperamental to work on, earning the unfortunate nickname Il Chiodo di Bracco – or just Chiodo, the literal translation of which is 'nail'.

Away from hillclimb action, Bracco also took in the March '49 Giro di Sicilia and the following month's Mille Miglia, partnered on both occasions by future Carrera Panamericana victor Umberto Maglioli. At the end of the season, Chiodo moved on again, this time to another name that would feature heavily in Ferrari's formative years, Count Vittorio Emmanuelle Marzotto. It would be the first in a long and sometimes illustrious line of Maranello products fielded under the Scuderia Marzotto banner. The nobleman, one 
of textile magnate Gaetano Marzotto's four racing sons, 
re-registered the car with the Vicenza plate VI18132 and couldn't resist giving it a makeover.

The Marzotto brothers would in time become well-known – infamous even – for their many unusual Ferraris, such as the sensational 212 roadster by Alfredo Vignale and less lovely Carrozzeria Fontana offerings such as the Uovo (Egg) and Carreto Siciliano (Sicilian Cart!) shooting brake. Paolo Fontana in effect became the family's automotive couturier, his Padua bodyshop's maiden offering being the second body to clothe Chiodo, much of which remains intact to this day. Entered for the April 1950 Targa Florio, Giannino Marzotto and wingman Marco Crosara abandoned the race to come to the aid of stricken rival Fabrizio Serena di Lapigio. For this event, and the Mille Milgia that followed, the 
car was officially listed as a '195S' or '195S Barchetta 
Fontana', some historians theorising that the numerical part corresponded with another engine upgrade to 2.3 liters.

And it was on the Mille Miglia where Chiodo excelled, 
as Vittorio Marzotto and metal shaper Fontana finished ninth overall with the car wearing the race number 722, a figure made legendary by Stirling Moss on the same event five years later. And, having accrued further victories in hillclimbs that season, the Ferrari received another remodel for 1951 with the addition of a fastback hardtop, fixed windscreen, external doorhandles and a change of color to silver. The car may have been long in the tooth but it remained competitive at local level: with a displacement of 2080cc, it finished third in that year's Giro di Calabria in the hands of brothers Carlo and Guido Mancini. It rounded out the year in the Modena Grand Prix when driven by Froilán Gonzáles, the 'Pampas Bull' claiming sixth place overall.

Into '52 and Chiodo was still game, with Franco Comotti placing sixth, if last, in the high-attrition Syracuse Grand Prix. However, following Scuderia Marzotto's closure that year, the car passed to former Alfa racer Martino Severi before being fielded for various wealthy Romans. Among them was Francesco Matrullo, who drove it on the 1955 Targa Florio, the car's last recorded start in period. By this time Chiodo had undergone further procedures, with some 150mm having been removed from its wheelbase.

Fast-forward to 1970 and the car was discovered by aficionado Corrado Cupellini in Rome; the hardtop had been removed but the Fontana body remained on the original, if abbreviated, chassis. Cuppellini acquired it along with a 166 engine from the Marzotto brothers' F2 Ferrari '116MS'. Two years later it moved on again, and in 1976 the car was lightly restored and run in the '77 Mille Miglia retrospective.

The current Californian owner acquired Chiodo in the late '90s while it was midway through another restoration, with the intention of saving the body, chassis and the F2 engine. He planned to return the Ferrari to its most celebrated configuration, that of its second Mille Miglia run in 1950. Work began in the mid-2000s, with Giannino Marzotto helping fill-in various missing details along the way. The frame and body were revived by Curtis Patience of Portland, Oregon, with much of the 1950 aluminium being salvageable despite the period surgery.

The F2 engine, meanwhile, was rebuilt by Patrick Ottis of Berkeley, California; on the dyno it was tested at 190bhp at 6000rpm. The restoration was completed by Phil Reilly & Co of San Rafael in January 2012 and the car is set to go on the block at RM Auctions' Monaco sale in May.
Now, in the altogether less glamorous environs of
 deepest Essex, Chiodo couldn't look more out of place. It 
is, however, a joy to behold, with its newly reinstated race numbers and purposeful stance. From a front three-quarter view it appears much like a regular Touring-bodied 166MM, right down to the portcullis grille and 'moustache' that 
forms around it. Only the slight step at the leading edge of 
the nose gives the game away that this is something 
different. Even viewed in profile, the wing line and signature creases that run along the flanks are pure Touring but 
the shapely rump is dissimilar. It's much shorter for 
starters, the lack of overhangs front and rear serving to emphasise this further.

Once inside, it's as stark as you would expect, the vast wood-rimmed steering wheel ensuring Le Mans-type starts could be a problem for anyone above even average height; there really is no graceful means of entry as you try to thread your legs 
in place. The seats are remarkably comfortable, as you 
would hope of an endurance veteran, although you sit bolt upright as is par for the course. While there isn't much in the way of cabin furniture, the level of detailing here is exquisite, not least the amber switches and shift lever knob with its Roman numeral delineations. The large tachometer dominates the lesser gauges which, tellingly, don't stretch as far as a speedo. This is a racing car.

Turn on the fuel pump, press in the key, thumb the starter and you're left in no doubt: what follows is the sort of fanfare that redefines your understanding of loudness. Even if you've had past experience of 166s, this F2-spec engine on open pipes is something else. Spectators' eyes widen, their mouths forming shapes that don't require lip-reading skills to comprehend. It sounds amazing, all pop and fizz with just a little furious spitting thrown in for good measure.

Once into open countryside, and given sufficient room, Chiodo electrifies. You have to work at it, the hardy five-speed 'box requiring you to double-clutch up and down the gears as expected, the steering being initially leaden but lightening discernibly at speed. What truly astounds is the way the car just picks up and goes. There's a free-spinning quality to the two-liter V12 but you don't have to wait for 
the revs to rise before it launches you to the horizon; the power isn't all at the top end. The whole experience is dominated by the almighty clamour from out back, which 
is utterly intoxicating.

That said, there isn't the duality of character that you get with, say, a Jaguar C-type. You could conceivably drive this car to the supermarket but the unyielding clutch would ensure that you would be hobbling on arrival. Quite rightly, it's happiest at speed. Unfortunately for us, monsoon conditions and Olympic-size puddles eventually end play; stiff-upper-lip masochism counts for little when you're mindful that every other road user seems intent on getting a snap of the idiot in the comedy cap with their cameraphones.

You emerge from Chiodo slightly stunned, a little overwhelmed and utterly smitten. That, and with the suspicion that 'Nail' is nowadays an unfitting moniker. Surely 'The Hammer' would be more appropriate. 

Thanks to RM Auctions, www.rmauctions.com, which offered the Ferrari at its Monaco sale on 11-12 May 2012. The car sold post sale for €1,010,000. Also, thanks to vehicle solutions specialist InCarNation, www.incarnation.co.uk.



Specifications

1948 Ferrari 166 Spider Corsa

ENGINE 1995cc V12, SOHC per bank, triple Weber downdraft carburetors
POWER 190bhp @ 6000rpm
TORQUE 140lb ft @ 7000rpm (est)
TRANSMISSION Five-speed manual, rear-wheel drive
STEERING Worm and nut
SUSPENSION Front: transverse leaf spring, lower wishbones, lever-arm dampers. Rear: live axle, semi-elliptic leaf springs, lever-arm dampers
BRAKES Hydraulic drums
WEIGHT 650kg (est)
PERFORMANCE Top speed 140mph (est)
Published Dec 7th, 2015
More Classic Car News & Article Categories:
Related Articles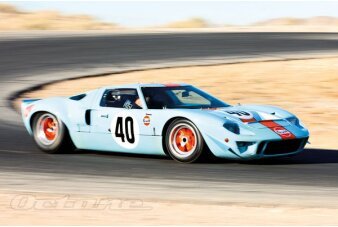 While every factory Ford GT40 is special, some are more special than others.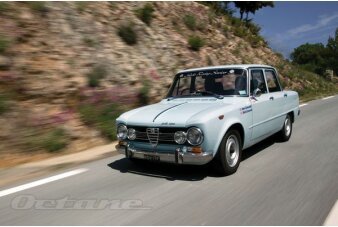 For the Linwoods historic rallying seems to come naturally.
×
Turning Point: 1948 Ferrari 166 Spider Corsa