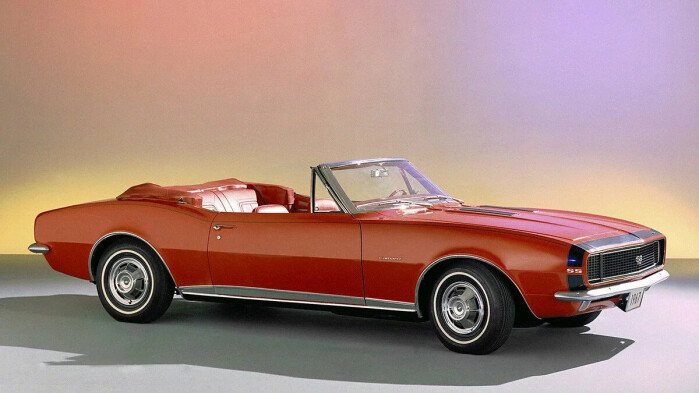 Table of Contents
What are the best classic cars ever made?
Since the introduction of the automobile, a select few cars have made their mark in automotive history as timeless classics. Definitive of a genre or era, these models gained notoriety through popular culture or became mainstays in automakers' lineups. Whether owned and maintained by a very lucky few or mass-produced models kept alive by a cult following, the cars listed below are the best 15 classic cars today.
#1 Aston Martin DB5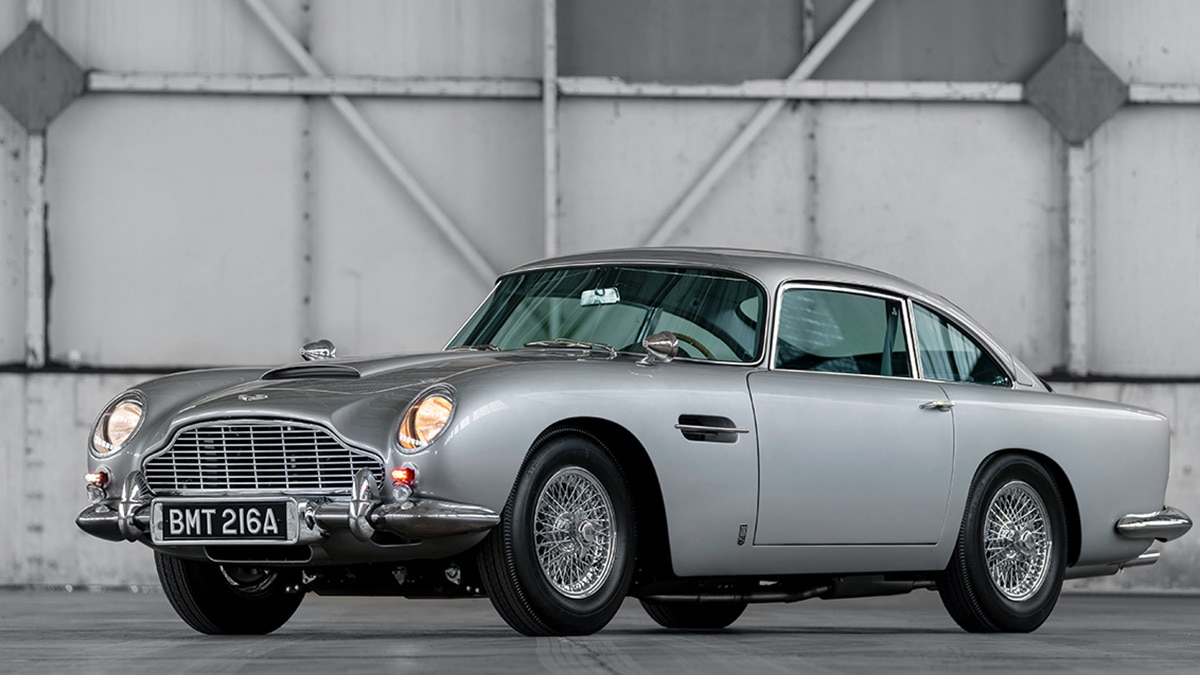 Aston Martin DB5 Model Years and History
Founded in 1913, Aston Martin is a British manufacturer of sport and grand touring cars. Every Aston Martin is built by hand in Warwickshire, England, maintaining a tradition carried on by fellow UK-based brands like Morgan, Bentley, and Rolls Royce. While limited-production vehicles have seldom proved profitable for Aston Martin, the brand maintains an incredibly high level of cultural cache thanks to a fictional secret agent named Bond… James Bond, who first drove an Aston Martin DB5 in the 1964 film "Goldfinger." Aston Martin models have been a staple in the second-longest-running film franchise in history.
The Aston Martin DB5 was produced from 1963-1965. It was powered by a new-at-the-time alloy 4.0 Liter inline-6 which made between 282-325 horsepower. Top speed was rated at 145 mph, and the DB5 had a 0-60 time of eight seconds. While the Aston Martin DB5's performance was quick for its era, its comfort and styling are what made it stand out from other GT cars of its day. Milan-based coachbuilder Carrozzeria Touring Superleggera designed its iconic body and produced 1,059 units.
The Aston Martin DB cars are the most emblematic of the brand, owing their existence to businessman David Brown, who took ownership of the financially beleaguered company in 1947, adding his initials to the models produced under his ownership, starting with the 24 hours of Spa winning DB1 and ending with the DBS of 1967. The "DB" moniker was later revived in 1994 with the DB7 and has continued with the DB9 and DB11. The DB11 is still in production today. See Aston Martin DB5 models for sale.
Aston Martin DB5 Price
How much is an Aston Martin DB5? It is probably safe to say that most of us won't ever be able to afford one. On the low end, a DB5 in need of a lot of work is probably valued at around $600,000 while a fully restored, orginal version might cost as high as $3,000,0000. In 2019, a DB5 sold at auction for $6.3 million. Even the new, limited-production DB5 "Goldfinger" continuation cars, of which only 28 will be built, were sold for $3.4 million each.
#2 BMW 2002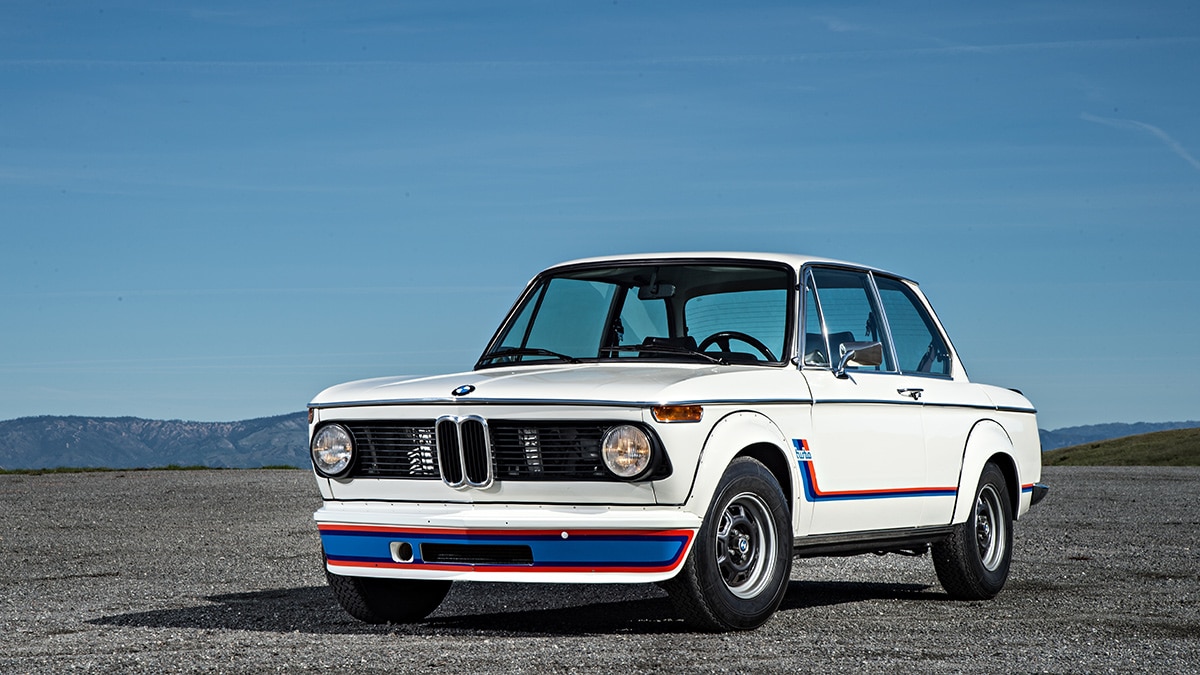 BMW 2002 Model Years and History
Built from 1966-1977, the BMW 2002 is considered the precursor to the modern BMW 3-Series. Showcasing a new design language called "Neue Klasse" (New Class), the BMW 2002 featured a distinct beltline with a curvature throughout, with iconic round head and taillights, earning themselves the nickname "roundies" amongst its fans.
Available as a 2-door "sedan," with a limited number of convertibles built by coachbuilder Karosserie Baur, BMW made many improvements to the 2002 during its production run. Fuel injection replaced the carburetor set up, and in 1973, a turbocharged model was introduced, becoming the first turbocharged model from BMW. While BMW 2002 production was high, approaching 400,000 models, the turbocharged units are rare, with just 1,672 made. With many models still on the road, and some even used for period racing, it is a desirable and accessible classic car today. See BMW 2002 models for sale.
BMW 2002 Price
How much is a BMW 2002? Pricing can vary from as low as $12,000 to upwards of $65,000. The model years from the 1970s tend to be higher than the late 1960 model years.
#3 Chevrolet Camaro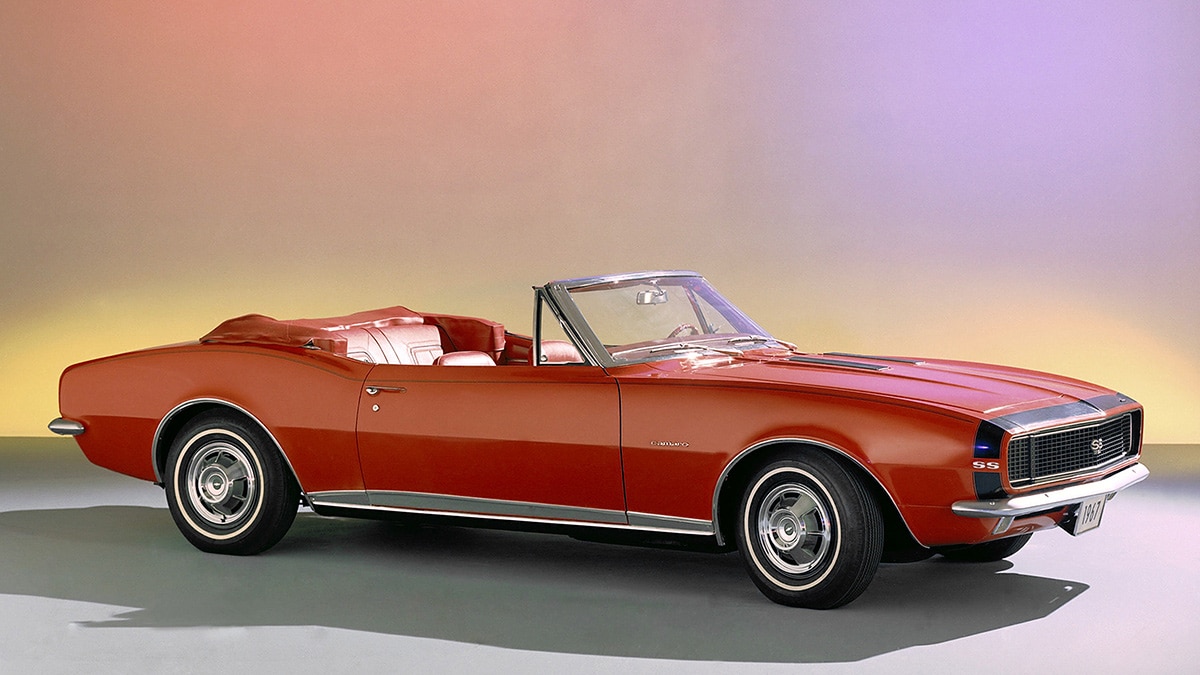 Chevrolet Camaro Model Years and History
Competition is stiff amongst American automakers, and what one Big Three automaker has is not without a response by another, and the Chevrolet Camaro is no exception. The Chevrolet Camaro debuted as an entry-level sports car in 1966 for the 1967 model year in direct competition with Ford's Mustang, creating a fierce rivalry that exists to this day. Combining a light chassis with increasingly brute automotive muscle, the Camaro and Mustang rivalry created the Pony car genre.
Briefly leaving production from 2003-2009 and revived in a retro-modern take on the first generation, the original Camaro is an automotive icon Chevy built from 1967-1969. From the factory, the Chevrolet Camaro was heavily customizable with ten different engines available ranging from a 3.8L 230 cubic inch inline-6 to a massive 7.0L 427 cubic inch V8, an engine we know today as the ZL1.
In addition to multiple engines, desirable packages with performance and visual upgrades were available for the Chevrolet Camaro. These appearance and performance upgrades came in the form of RS, SS, SCCA-ready Z/28 packages, solidifying a branding scheme that continues today. See Chevrolet Camaro models for sale.
Chevrolet Camaro Price
How much is a Chevrolet Camaro? Looking at only the first-generation years from 1967 to 1969, pricing can be as high as $400,000 for vehicles such as the Camaro ZL1, which made our list of the best muscle cars ever made. On the low end, a running first-generation Camaros can be purchased for $35,000 or less. When we looked at the prices of actual listings on our site, the widest selection of 67-69 Camaros was priced in the $50,000 to $85,000 range.
#4 Chevrolet Corvette C2 Stingray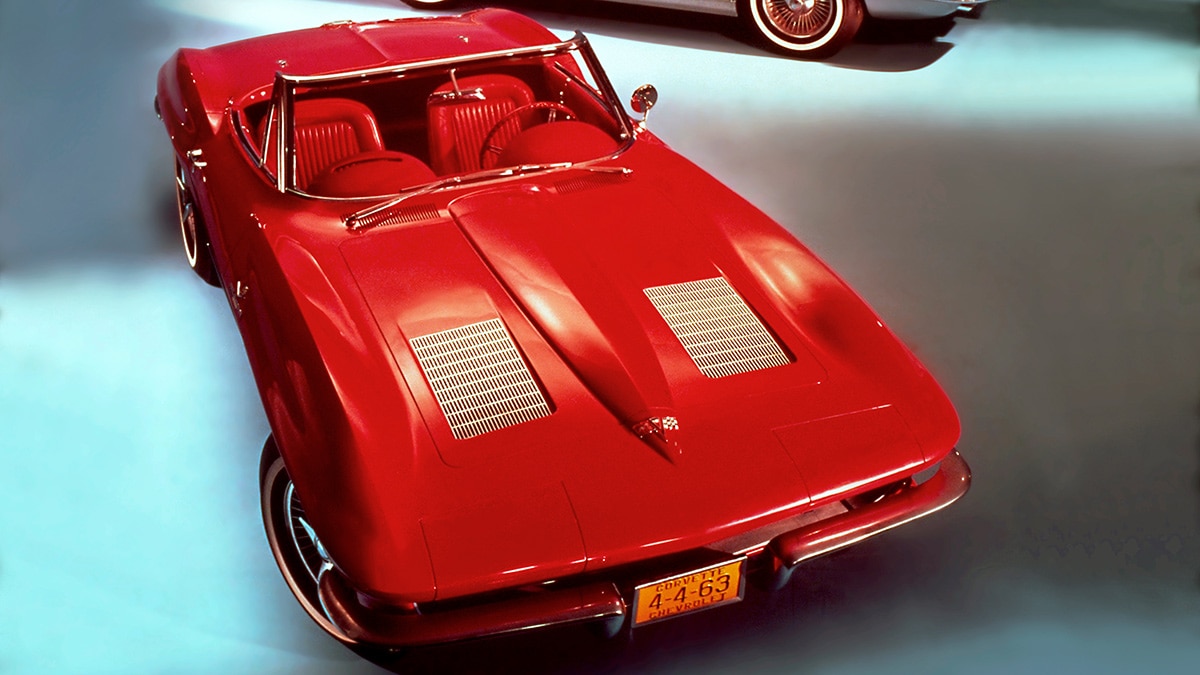 Chevrolet Corvette C2 Stingray Model Years and History
The 1950s were the heyday of the 2-seater sports car. British brands like Austin Healey, MG, and Jaguar were dominant on the race track and popular on American roads. Wanting a piece of the action, Chevrolet took the 2-seater roadster and gave it distinctive American flair, creating what is considered to be America's (first) sports car, the Chevrolet Corvette.
First available in 1953, just 300 fiberglass-bodied cars were produced in its first year, with over 1/3rd of the models left unsold on dealer lots. Only painted white and powered by the Blue Flame inline-6, the earliest Corvette produced 150 horsepower. Two years later, Chevrolet upped the ante by upping the output to a 265 cubic inch V8 producing 195 hp. Two more years later, power increased to 283 hp. It wasn't until the second generation, dubbed the "Stingray," that the Corvette started to produce remarkable performance.
While the first Corvette generation was loaded with 1950s design attributes, the second generation car evolved into the Corvette we know today. Debuted in 1963 and designed by Larry Shinoda, the Corvette (C2) Stingray used a wind tunnel in its creation, drawing inspiration from the aerodynamic 1959 Sting Ray race car and the 1961 Mako Shark concept car, which teased the C2 Corvette's restyled front end. Built from 1963-1967, the C2 offered a 327 cubic inch V8 producing 250 hp as standard, with an optional 396 cubic inch V8, and big block 427 V8 producing 390 and 425 hp, respectively. See Chevrolet Corvette models for sale.
Chevrolet Corvette C2 Stingray Price
How much is a Chevrolet Corvette C2 Stingray? Isolating to only the 1963 – 1967 model years, you can find a C2 Stingray for $50,000 on the low-end but for $75,000 you'll find one in decent shape. If you're seeking a show or premium tier car, you'll need to budget $90,000 to $150,000. We found several rare C2s which had undergone a frame-off restoration priced between $200,000 to $450,000.
#5 Datsun 240Z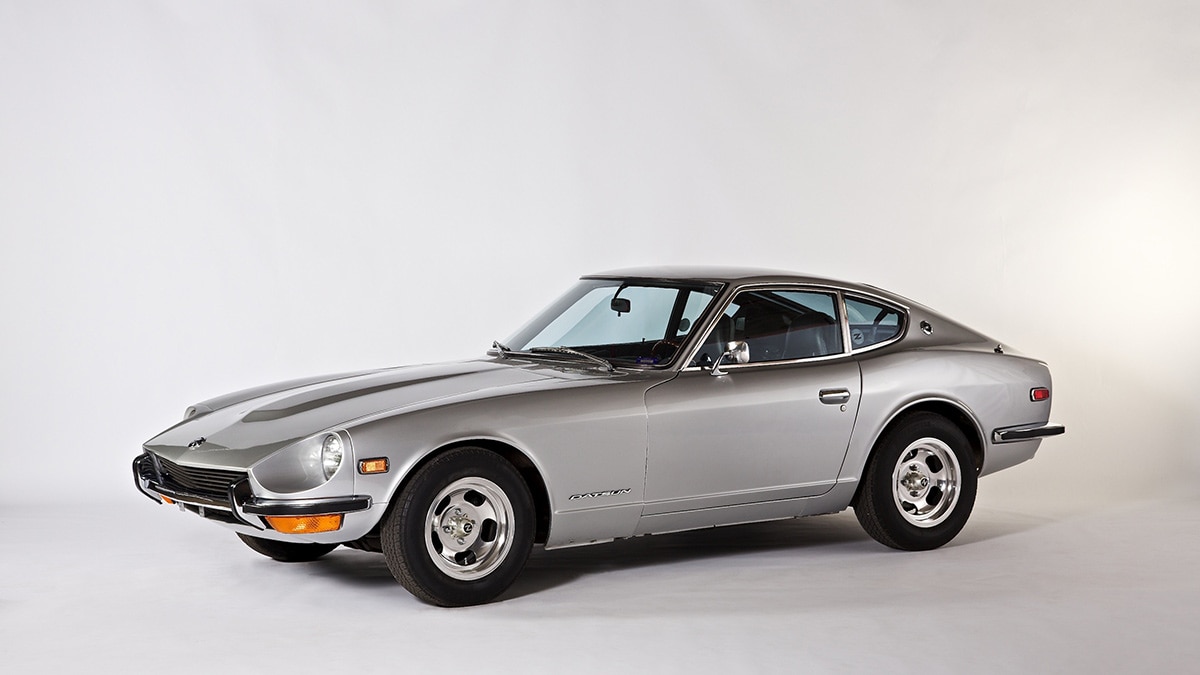 Datsun 240Z Model Years and History
Built from 1969 to 1978, the Datsun 240Z is one of Nissan's most significant models. Seeking to compete with British and European sports cars of the time, the Datsun 240Z focused on build quality and handling over outright power seen in American muscle cars. It was first powered by a 2.4L inline 6-cylinder engine, with a 2.6L and 2.8L power plants later on the Datsun 260Z and 280Z. The Datsun 240Z set a benchmark for Japanese sports cars and created a highly competitive genre amongst Japanese automakers that has been popular since. See Datsun 240Z models for sale.
Datsun 240Z Price
How much is a Datsun 240Z? If you're looking for a high-quality example, we'd suggest budgeting between $45,000 to $90,000. You can get a serviceable 240Z for around $30,000 to $40,000 but it most likely will require some work.
#6 Dodge Charger
Dodge Charger Model Years and History
While pony cars like the Ford Mustang and Chevrolet Camaro dominated the small and sporty segment, the '60s and '70s were also home to mid-size performance cars such as Chevrolet's Chevelle, Pontiac's GTO, and the Dodge Charger. Available to the public in 1966 and bearing a taillight design mimicked on its contemporary, the Charger was intended as a roomier competitor to the pony cars, which had rapidly risen into favor at the time. Sales were mediocre in its first two years of production. Outsold by muscular stablemate the Plymouth Satellite, the Charger didn't fully gain traction until a 1968 refresh when over 96,000 models were sold. Powered by a range of available V8 engines, notable power plants were the 440 cubic inch Magnum and the 7.0L Hemi V8. Dodge sold only 500 Hemi-equipped models in 1968. See Dodge Charger models for sale.
Dodge Charger Price
How much is a Dodge Charger? The second generation, made from 1968 to 1970, is among the most popular years of the Charger with most of these commanding a price between $75,000 to $150,000. If we were serious about buying a Charger, we'd budget around $110,000. An R/T version with a Hemi can easily go for $200,000 or more. If you're looking for a project car or one that needs a little TLC, you can find some priced as low as $55,000.
#7 Ferrari Testarossa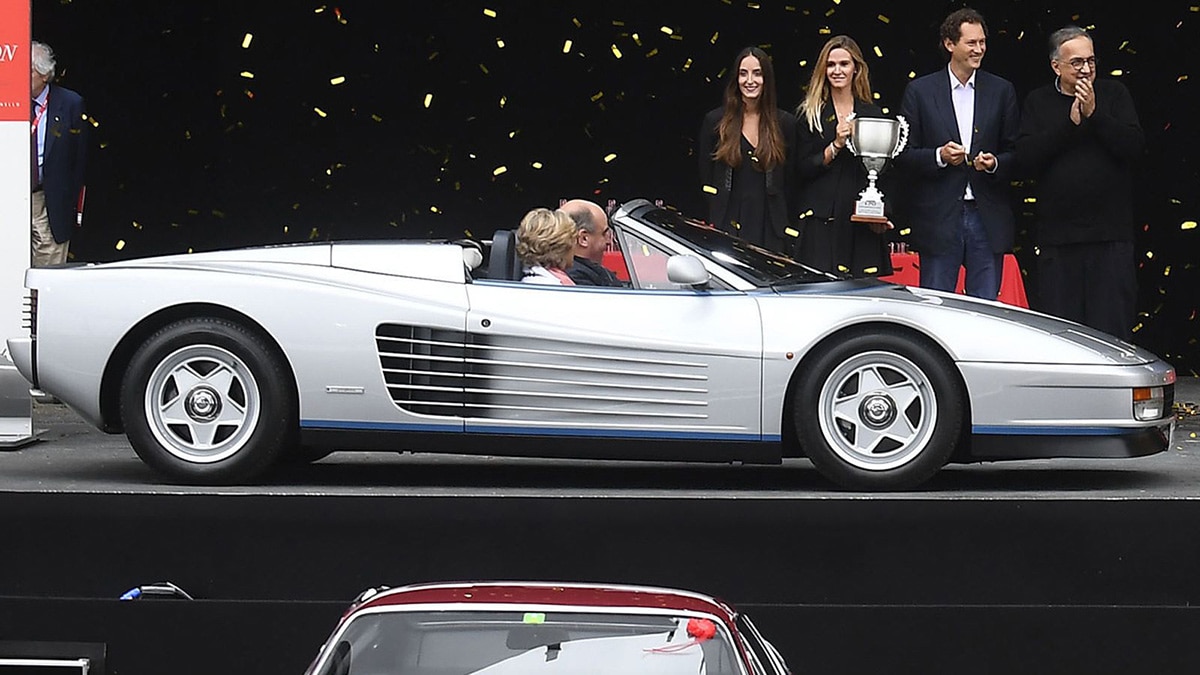 Ferrari Testarossa Model Years and History
The Ferrari Testarossa is widely recognized as one of the most iconic cars of the 1980s. Screen credits from "Miami Vice" and celebrity ownership, from Sir Elton John to Michael Jordan to Mike Tyson, helped bring Ferrari into the mainstream. The popularity of the Ferrari Testarossa led it to become one of Ferrari's most-produced models, with just under 10,000 models built. While that number may seem low for a mainstream automaker, until that point, Ferrari produced cars in much lower numbers, such as the Ferrari Dino 206/246 with just under 4,000 models, or 308 GT4 with 2,828 models made. See Ferrari Testarossa models for sale.
Ferrari Testarossa Price
How much is a Ferrari Testarossa? On the high end of the pricing scale, a 1984 – 1996 Testarossa will cost you between $180,000 to $200,000, possibly more. A high mileage Testarossa will still cost around $130,000. If the car is priced for less than $100,000 it is going to be a project car in need of a lot of servicing and repairs.
#8 Fiat 124 Sport Spider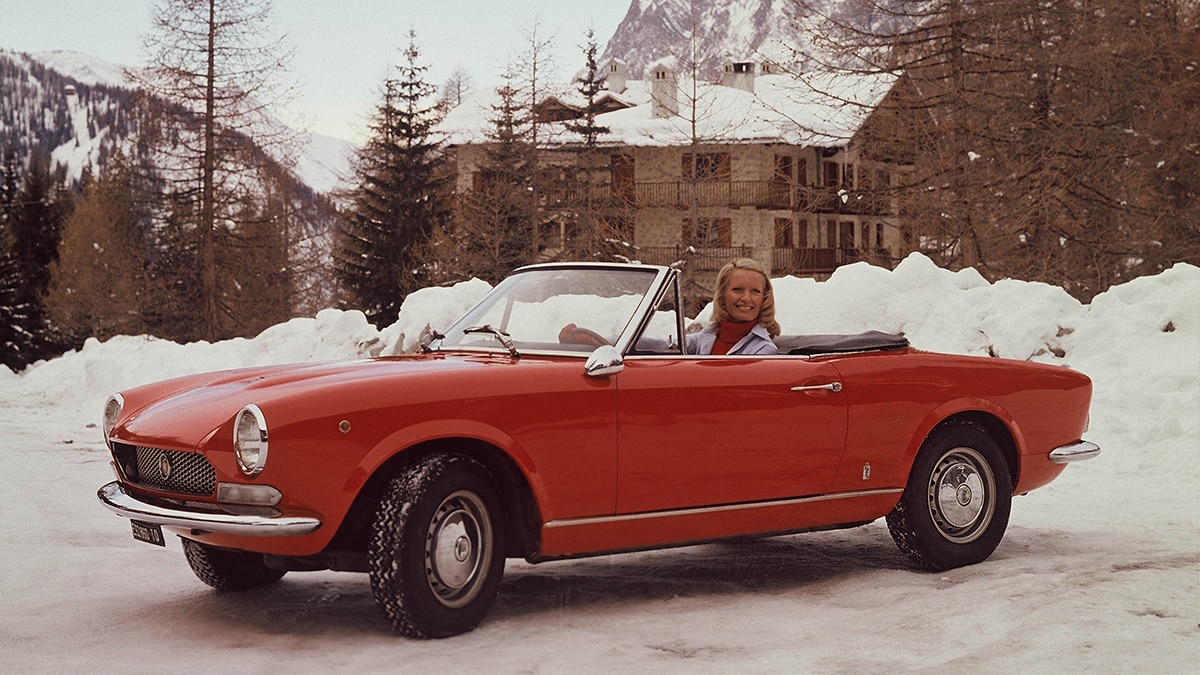 Fiat 124 Sport Spider Model Years and History
Fiat is Italy's largest automaker, known for building affordable mass-market vehicles in a country famous for exotic cars and stylish design houses. The Fiat's 124 started life as a utilitarian workhorse. When Fiat handed it over to Italian coachbuilder Pininfarina, American-born car designer Tom Tjaarda transformed the everyday sedan into a handsome convertible called the Fiat 124 Sport Spider.
Starting production in 1966, the Fiat 124 Sport Spider reached the United States in 1968 and continued production until 1985, making it one of Fiat's longest-produced cars, long outliving the conventional 124 it was based on. When Fiat acquired the Abarth tuning house in 1971, they teamed up to create the Fiat Abarth 124 Rally, which dominated the European Rally Championship, winning the cup in 1972 and 1975, solidifying the 124's status in motorsport history with iconic Abarth iterations with a heritage black-painted hood appearing on the recent Miata-based modern iteration of the Abarth Fiat 124 today. See Fiat 124 Sport Spider models for sale.
Fiat 124 Sport Spider Price
How much is a Fiat 124 Sport Spider? Looking only at the 1966 to 1985 model years, on the low end of the price scale, you could buy a decent 124 for around $15,000; we even found working cars that weren't "project" cars for just under $10,000. The higher end of the price scale will be cars selling for $25,000 or more.
#9 Ford Model T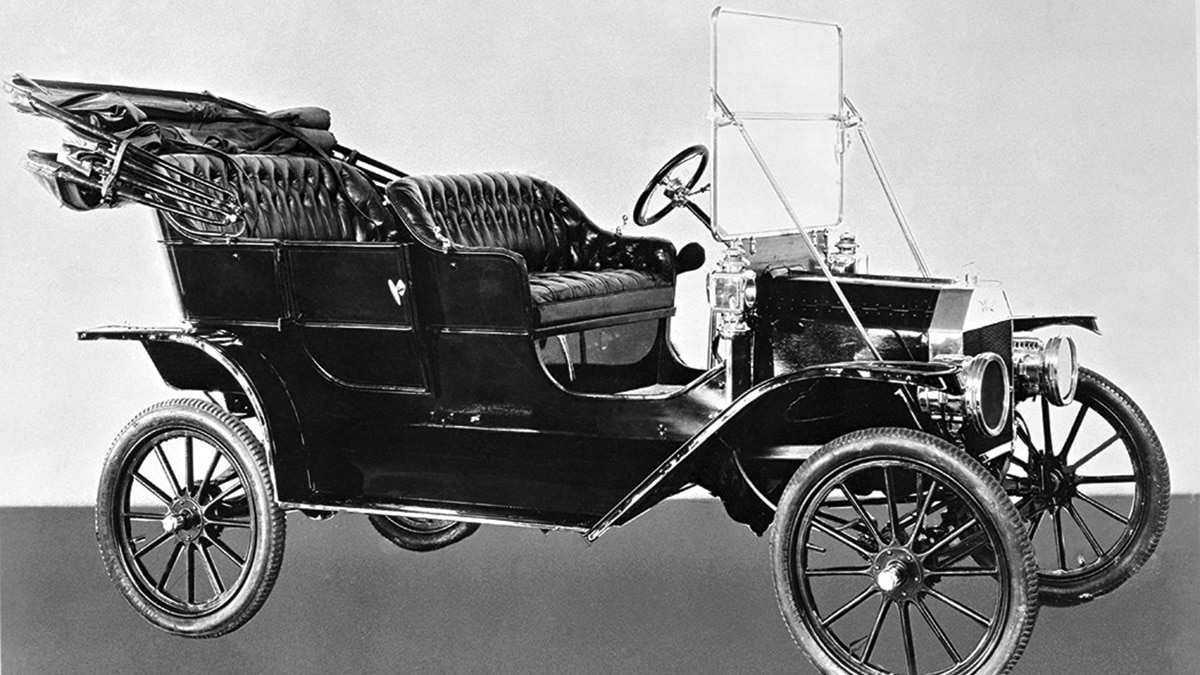 Ford Model T Model Years and History
The Ford Model T is the most important car of the 20th century. First produced in 1908, the Ford Model T was the first widely available and affordable car. Until that time, cars were built in limited quantities and priced beyond the average person's means, but Henry Ford sought to change that with the Model T.
Ford revolutionized how cars were built by implementing a production line system to the automobile. By the end of its production run in 1927, Ford could produce between 9,000-10,000 Model T cars and trucks in a single day. A total of over 15 Million Model T examples were produced, making it one of the most popular cars in history and responsible for creating the affordable automobile. See Ford Model T models for sale.
Ford Model T Price
How much is a Ford Model T? Pricing will vary greatly depending on whether you want a modified, hot rod-esque Model T or an original but restored version. Most of the Model Ts we found for over $40,000 have been greatly modified while the traditional versions were asking between $20,000 and $30,000. Along the way, many of these vehicles have been lowered, chopped, stretched, flamed out…you name it so there is something for everyone out there.
#10 Ford Mustang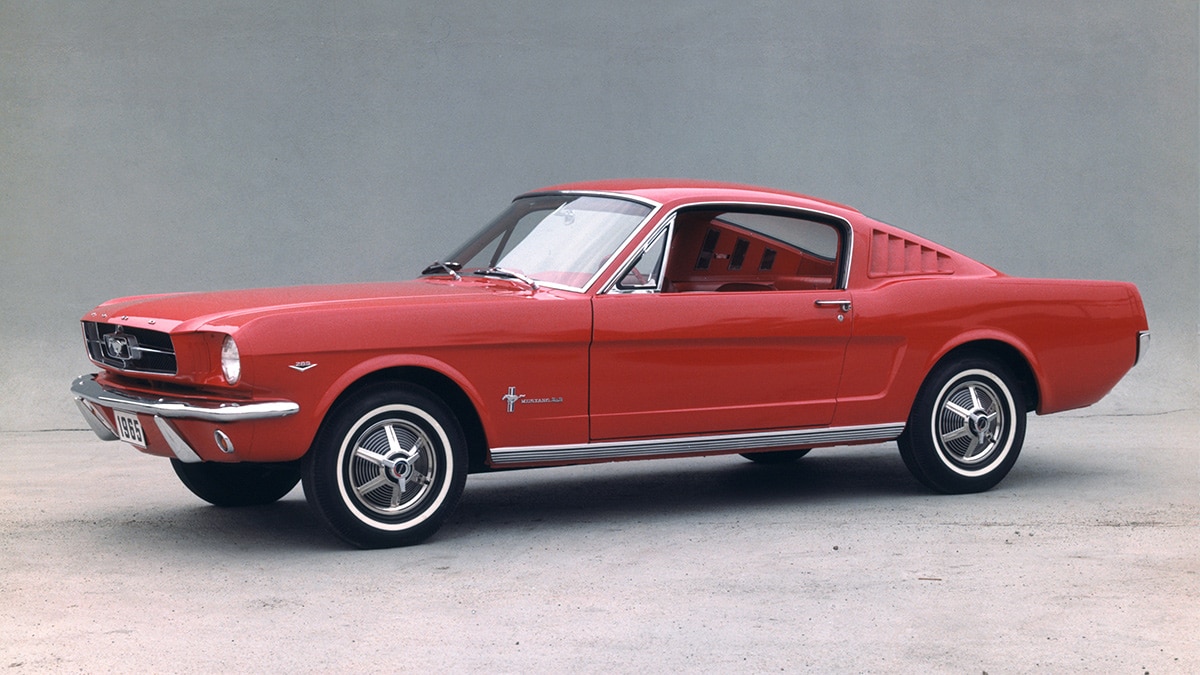 Ford Mustang Model Years and History
Muscle cars wouldn't exist without the Ford Mustang. First on the scene in 1965 and still in production today, it is one of Ford's most significant models and their only car sold in the US today. Designed as a compact sports coupe slotted under the Ford Falcon, it became a runaway success with over 680,000 Mustang models sold in its first year alone.
Initially offered with an economical 2.8L inline-6 from the Falcon, a 4.3 L (260 cu in) V8, and the top-of-the-line 289 cu in V8 producing 210 hp were also available at an additional cost. By 1967, the Mustang became closer to the car we know today with greater power, including a big block 6.4L V8 and a monstrous 7.0 L V8 known as the Cobra Jet, making an appearance on the Carroll Shelby tuned GT500.
Today, the retro-inspired Ford Mustang shares a striking resemblance to the original built from 1965-1969, with new models referencing historic Mustangs such as the Cobra GT350, GT500, and Mach 1 models. See Ford Mustang models for sale.
Ford Mustang Price
How much is a Ford Mustang? Looking only at the first generation (1965 – 1973), on the low-end, your project Mustangs are going to be priced for $20,000 or less. If we were to set a budget, we'd focus on the $45,000 to $85,000 range as we found the widest variety of solid vehicles at this price point. The top-end of the price range varies from $100,000 to upwards of $400,000, with Ford Mustang Boss 429s often commanding the upper tier of that range. Of course, a Shelby GT Mustang from that era can reach a price ranging from $1 - $3.5 million.
#11 Jaguar E-Type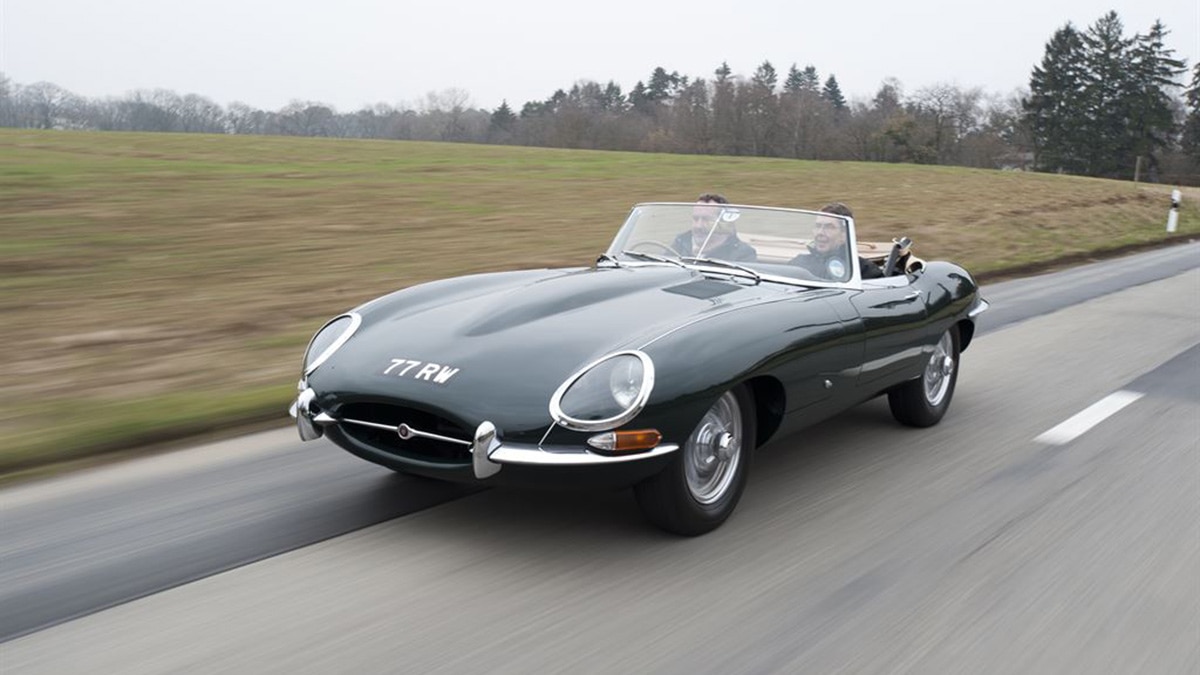 Jaguar E-Type Model Years and History
The popularity of motorsports in the 1950s and '60s inspired quite a few vehicles, and the Jaguar E-Type is one of the most iconic and popular. Based on Jaguar's sleek 1955-1957 LeMans-winning Type D, the E-Type combined racecar performance with an elegant touring package. Built from 1961-1975, the Jaguar E-Type was first available as a 2-seater coupé and convertible, with a 2+2 version later introduced in 1967.
First powered by a 3.8L inline-six, engine size was increased in 1965 to a 4.2L inline-six propelling the Jaguar E-Type from 0-60 mph in under seven seconds. In its final years, Jag fitted a 5.3L V12 from 1971-1975. The Jaguar E-Type's ample power called for disc-brakes and an independent rear suspension, which were big advancements for the time. While a total of over 72,000 E-Type cars were produced, today they are highly desirable collectibles, with Jaguar even producing a small number of electric-powered E-Type models for a very lucky few today. See Jaguar E-Type models for sale.
Jaguar E-Type Price
How much is a Jaguar E-Type? The low-end of the E-Type price range is around $80,000 and cars below the price point could require a substantial amount of interior, mechanical, and exterior work. Between $115,000 and $165,000, you should expect a decent-to-good, matching numbers car. E-Types priced at $185,000 and above should be of outstanding quality including full restoration examples. When we did this pricing analysis, we found a few low mileage, fully restored E-types on our site listed asking as much as $225,000 to $250,000.
#12 Lamborghini Countach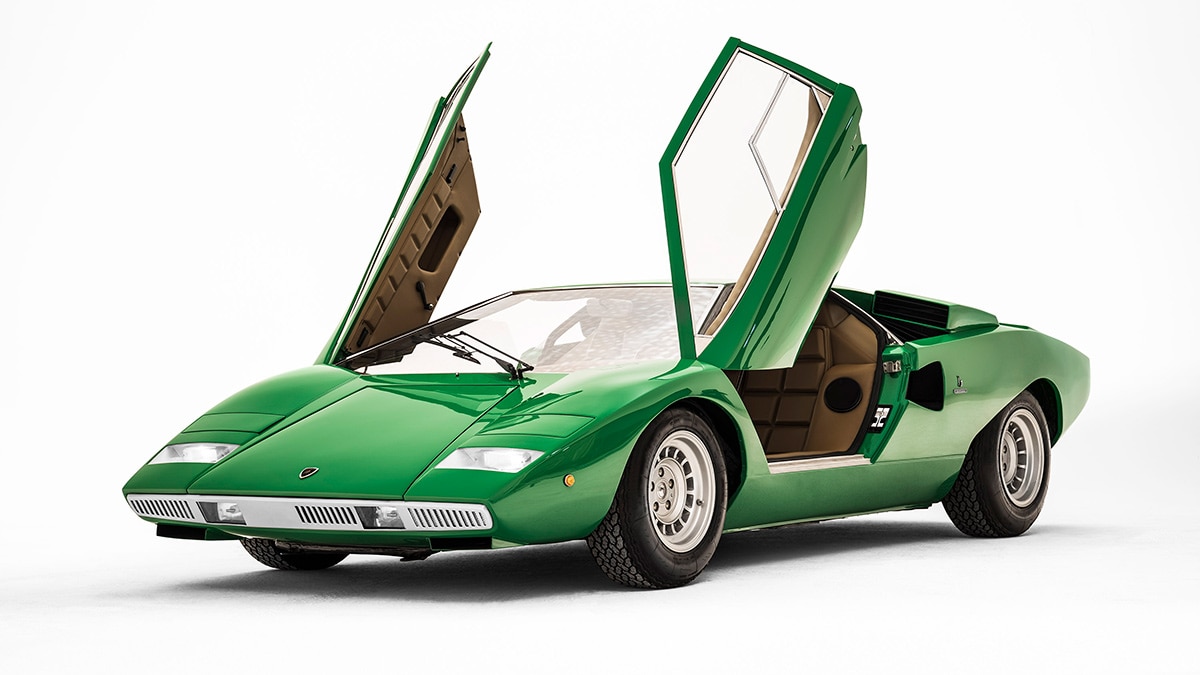 Lamborghini Countach Model Years and History
The Lamborghini Countach is an iconic supercar built by Lamborghini from 1974 to 1990. Penned by Italian design house Bertone, the Countach exemplifies the sleek, wedge-shaped automobile that started to appear in the 1960s with the Lamborghini Miura, influencing others such as the BMW M1, Lotus Esprit, DMC DeLorean, and DeTomaso Pantera, among many others.
Powered by a mid-mounted V12, the Lamborghini Countach was essentially a street-legal race car, capable of going from 0-60 in 4.7 seconds with a top speed of 183 mph. In addition to record speeds, the Countach is the most iconic Lamborghini, holding the record for longest-produced supercar by any manufacturer, not just by Lamborghini. Despite being the longest-produced supercar, The Countach exists in such limited quantity that just 2,049 cars were made over sixteen years, making them ultra-rare collectibles. See Lamborghini Countach models for sale.
Lamborghini Countach Price
How much is a Lamborghini Countach? Given that there were only around 2,000 Countachs made between 1974 to 1990, expect to pay a premium. Prices can range from as low as $300,000, like the 1989 25th anniversary version with just 2,245 miles which sold for that amount at a 2017 Sotheby's auction, to over $1.4 million. If you're a serious buyer, we would budget at least between the $500,000 to $800,000 price range. Looking at publicly available production figures, we'd anticipate pricing to be higher for those years with lower production numbers.
#13 Mercedes-Benz 300 SL Gullwing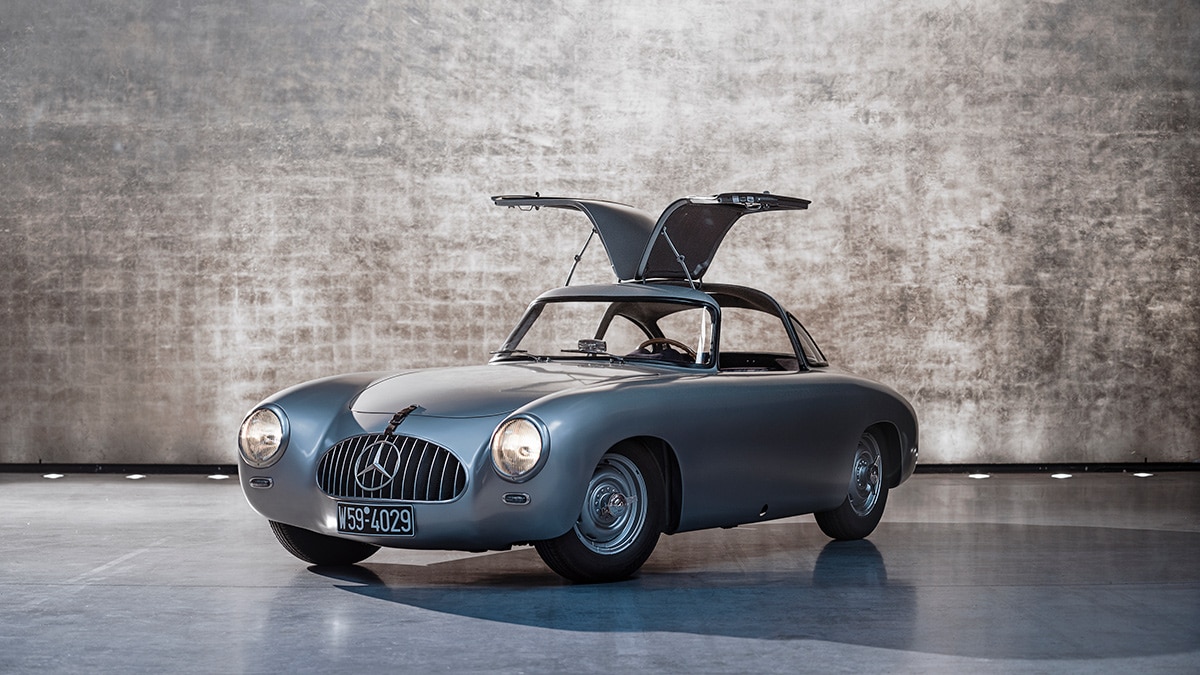 Mercedes-Benz 300 SL Gullwing Model Years and History
Introduced in 1954 as a street-legal version of Mercedes-Benz's 1952 300 SL race car, the 300 SL Gullwing inspired the SL (for Super Light) models still in production. What made the 1954 300 SL unique were its upwards opening doors, a design compensation for the abnormally tall door sills created by a tubular steel frame underpinning the chassis. Contoured to the body, the 300 SL's doors resemble a seagull in flight while opened, earning it the "Gullwing" nickname. These top-hinged doors were the first of their kind on a mass-production vehicle.
1,400 Gullwing coupes were built from 1954-1957 before the 300 SL evolved into a more conventional convertible format, continuing production until 1963, completing its run with 1,853 examples produced. While limited in production, the 300 SL Gullwing inspired the more affordable 1955 190 SL, of which Mercedes produced over 25,000. The Mercedes-Benz SLS AMG revived the Gullwing door in a striking design styled after the original Super Light. See Mercedes-Benz 300 SL models for sale.
Mercedes-Benz 300 SL Gullwing Price
How much is a 1954 – 1957 300SL Gullwing? Expensive. Very expensive. In May 2022, a private seller listed his 1956 Gullwing for sale on our site for $1.825 million but we've seen them go for as low as $500,000 and over $5 million for harder-to-find versions.
#14 Porsche 911
Porsche 911 Model Years and History
The Porsche 911 is a sports car that traces its lineage directly to the first modern car, the Volkswagen Type 1 Beetle. Designed as a successor to Porsche's 356, a sporty, upmarket version of the Volkswagen Type 1 Beetle, the Porsche 911 used the same rear-engined, air-cooled format from 1963 until 1998, long after other automakers switched to a more modern, water-cooled engine. Though no longer air-cooled, the Porsche 911's engine is mounted behind the rear axle, a trademark format still used today. Unlike many exotic cars that only see occasional use, the Porsche 911 has a reputation for reliability, and many owners use their 911's as daily drivers.
Offered with a 2.0L air-cooled flat-6-cylinder engine throughout its first generation from 1963-1973, power increases became available in its second generation with a 2.7L engine making an appearance in highly sought after Carrera RS models, and a turbocharged 3.0L engine appearing in 1975, a first for Porsche. While a convertible model wasn't available until 1982, a misinterpretation of U.S. safety regulations brought us Targa models with an intact b-pillar and removable hardtop from 1968 onwards. See Porsche 911 models for sale.
Porsche 911 Price
How much is a Porsche 911? Prices for a 911 can be all over the map which is mainly attributed to its standing as having one of the longest production runs of any sports car on the market combined with its reliability. Air-cooled versions especially the model years of 1994 – 1998, still command a premium price among Porsche enthusiasts, and recent GT and Speedster versions can cost between $400,000 and $900,000. However, we think you can find the widest selection across many different generations of 911s if your budget is between $75,000 to $125,000. On the low end, a cheap 911 (1999 – 2002) can be found for around $25,000. If you're a serious buyer, you may want to read our article on everything you need to know about buying a used Porsche 911.
#15 Volkswagen Beetle (Type 1)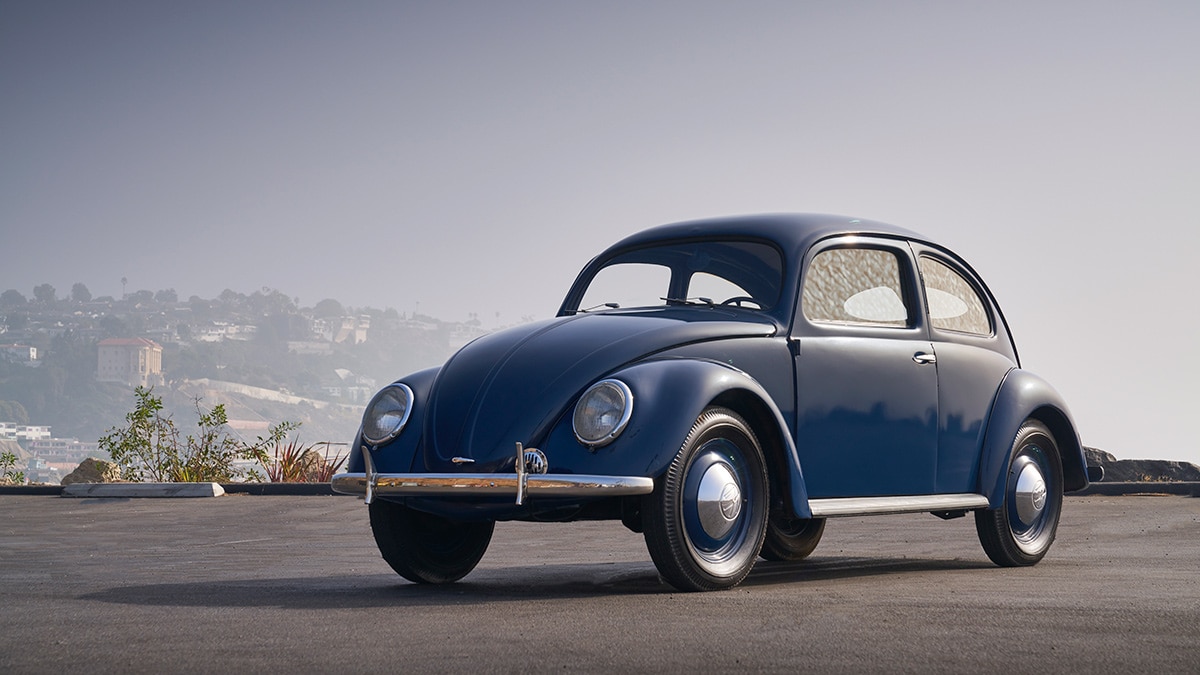 Volkswagen Beetle (Type 1) Model Years and History
Debuted in 1938 but not available to the public until 1945, the Volkswagen Type 1 is considered the first car of the modern era. While it's widely known that German Dictator Adolf Hitler ordered the creation of the Volkswagen Beetle, few were actually produced until after World War II, when the occupying British Army revived the Wolfsburg, Germany plant. Impressed by Volkswagen's plans for the Type 1, the British Army oversaw Volkswagen production initially for their own uses, then started producing civilian cars in 1947, ultimately returning ownership of Volkswagen to Germany in 1951.
The Type 1, widely known as the Beetle (Käfer in German), holds the record for longest production of a single-generation vehicle ending in 2003, ending its run as the most-produced vehicle, with over 21,500,000 models made, beating out Ford's Model T at 15,000,000. (The Toyota Corolla has since surpassed it.)
The Volkswagen Beetle featured a rear-mounted, air-cooled flat-4 engine, a format that became widely adopted throughout Volkswagen's line-up. The Beetle's affordability and popularity forced other automakers to follow suit, with Renault, Fiat, and even Chevrolet's Corvair producing air-cooled, rear-engined offerings.
Initially offered with a 1L air-cooled engine boasting a meager 25 hp and a 0-60 mph time of 27 seconds, the Volkswagen Beetle made up for lack of speed with efficiency, boasting an economical 35 mpg. Displacement eventually grew to 1.6L, making 60 hp. The durability of Volkswagen's air-cooled flat-four and inexpensive maintenance costs allowed the Beetle to be built and sold in many markets, gaining a strong foothold in Brazil and Mexico. Each country carried on Beetle production until 2003, long after it had stopped elsewhere. See Volkswagen Beetle models for sale.
Volkswagen Beetle Type 1 Price
How much is a VW Beetle Type 1? Looking at actual listings from our site, we found many mid-1960s to mid-1970s priced between $12,000 to $25,000. Premium examples in that same year range were selling for around $30,000. Any Beetle under $8,000 should probably be considered a "project car" although there are always exceptions to this rule. The most expensive Beetles we found were those with a $30,000 or more asking price.
Top 15 Classic Cars
Aston Martin DB5
BMW 2002
Chevrolet Camaro
Chevrolet Corvette C2 Stingray
Datsun 240Z
Dodge Charger
Ferrari Testarossa
Fiat 124 Sport Spider
Ford Model T
Ford Mustang
Jaguar E-Type
Lamborghini Countach
Mercedes-Benz 300 SL Gullwing
Porsche 911
Volkswagen Beetle (Type 1)
Published May 18th, 2022
More Classic Car News & Article Categories:
Related Articles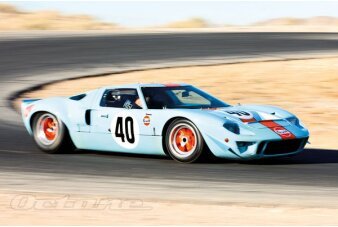 While every factory Ford GT40 is special, some are more special than others.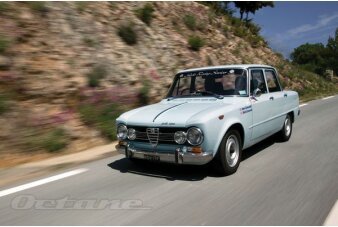 For the Linwoods historic rallying seems to come naturally.
×
Best Classic Cars Ever Made