‹ Go back
Thundertaker: How Hot Rods Save Lives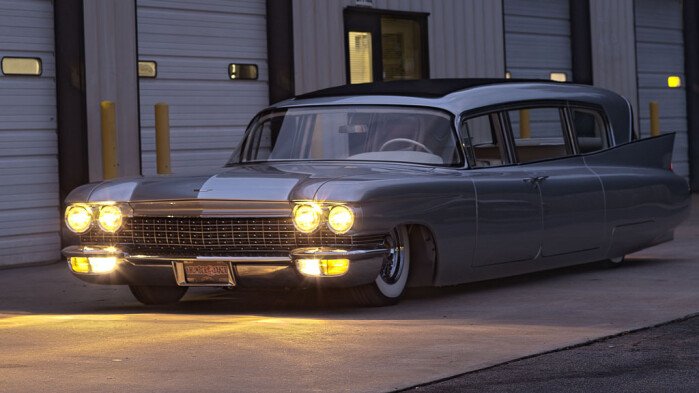 Bryan Fuller made a pistol gesture with his right hand and held it to the side of his head. He simulated recoil and, splaying his left hand on the other side of his head, mocked a gruesome exit wound from an imaginary bullet.
The Fuller Hot Rods founder and owner munched Mexican food and described his brief, post-college stint in corporate America. With a few words and a bit of graphic sign language, Fuller gave an exaggerated explanation that the suit-and-tie life wasn't for him. He had a degree in Biology with a Chemistry minor, but his heart was elsewhere. He'd been building hot rods since he was in eighth grade. The gesture was hyperbole, perhaps, but the point was clear: to follow a path that was insincere to his passion for fabricating beautiful and creative cars and motorcycles might have sent Fuller to an early grave.
Fuller would in fact end up riding in a hearse at a relatively youthful age, but not as a passenger of the cold and stiff variety. His customer, a man of means with a penchant for all things macabre, brought a very rough 1960 Cadillac hearse to Fuller Hot Rods for custom work in 2008. Fuller promptly pitched him a few ideas for bringing it, ahem, back to life.
"Everything about six inches down was rotted out," Fuller explained. "But everything from there up was pretty good. It was pretty much complete. The owner has four kids, and he wanted to be able to take his kids to the beach or out to dinner. So I pitched him a few ideas, one of which was something simple: make it run and stop, maybe even put a quickie crate motor in it, then paint it flat black – a basic hearse job. Or…"
Fuller laughed. His client obviously eschewed the "basic hearse job" pitch and instead went for his wildest design. Thundertaker, as Fuller calls his creation, is special indeed. A new chassis, a powerful crate motor, a chopped body fitted with an enormous cloth sunroof and a totally custom interior stacked with the latest audio and video components make Thundertaker a clear departure from the simple idea that Fuller first proposed.
Based on a long-wheelbase commercial Cadillac chassis, the Superior Coaches hearse originally came with GM's X-frame, which limited the build. It prevented Fuller from lowering the vehicle, he explained, as it left no room for exhaust under its low floorboards. And although Fuller said the X-frame provides a comfortable ride, he deemed it too flexible for this application. In its place, Fuller fitted an aftermarket Morrison chassis, the longest of its kind. The team channeled the Caddy's body to fit over its new structure.
To that, Fuller added disc brakes and airbags at all four corners and a triangulated four-link setup with a 9-inch Strange rear end out back. Under the hood, they dropped in a Chevrolet Performance Parts 454-cubic-inch V8. Engine accessories were powder-coated in gloss black for a subdued but clean look.
Modifications to the body follow a similar formula, creating proportionality without looking extreme. Fuller and his crew chopped the roofline 5-1/2 inches, transforming the tallish hearse rear section into a sleeker, more wagon-like shape. The massive cloth sunroof, measuring 80 inches long, stretches nearly the length of the passenger compartment. Fuller also exaggerated the tailfins and added lower fins beneath the turn signal and reverse light housings, which now provide enclosures for a pair of exhaust pipes on each side.
Inside, Fuller and his team were really able to craft something special, nearly from scratch. He invited the owner in to learn more about his desires. "The one thing he specified that he wanted was armrests," Fuller said. "It's funny. You never know what guys want."
The client's children made their requests, too, and Fuller was happy to accommodate them. He added a partition screen fitted with a pair of flat-panel displays and packed a PlayStation under the rear seat. A booming sound system that includes three 12-inch woofers and three component speaker sets was also fitted, giving Thundertaker its play-on-words name.
The stripped-down, casket-roller interior consisted of aluminum panels fitted to the door panels and headliner, so Fuller had what he calls an "interior in white" as his starting point. His vision was a period Cadillac limo look, executed with a combination of leather, original Cadillac upholstery and a range of period Caddy trim pieces.
Fuller took a one-day trip to his home state of Texas to visit Honest John's Caddy Corner. There he found speaker grilles from 1957 and 1958 models, trim pieces from a '62 and armrests from a 1964 car. Door pulls for the under-seat compartments, stainless upholstery trim and the switch for the electrically operated partition are all period Cadillac.
With the help of Jerry Price of Price Upholstery, Fuller finished the door panels, seats and floor. "We found white leather and silver patterned upholstery that would be in a late 50s Biarritz. We found the leftover of that original material. That [part of the build] was really fun, and if you look at the interior, it really looks like a period car. The carpet is correct, the material is correct, and I like to think the style is correct."
Discussing Thundertaker, Fuller smiled and laughed often, revealing his enthusiasm not only for this particular car, but also for the work of his team at Fuller Hot Rods and his chosen career path. "We have a great crew," he said. "We all enjoy the craft, and these guys figured it out younger than I did." Their devotion is obvious, and Thundertaker is a perfect example. Others may have considered the rotting '60 Cadillac hearse too far gone to save.
Fortunately, its owner recognized its potential, along with the potential of Fuller and his crew to bring it back to life. Because Fuller pursued his life's passion years before the hearse's owner arrived on his doorstep, he was ready for that moment. "I'm not someone who wants to suffer through my life," Fuller said. "I'd rather starve or be poor and enjoy what I do than be miserable and wealthy."



To see how the Thundertaker came together check out the article below:




Under The Gun: The Thundertaker
Fuller Hot Rods puts on the pressure to get their 2012 SEMA show car completed.
Published Dec 7th, 2015
More Classic Car News & Article Categories:
Related Articles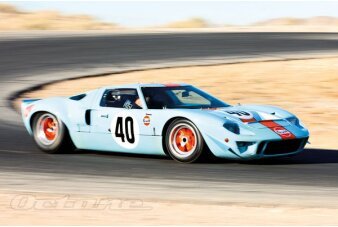 While every factory Ford GT40 is special, some are more special than others.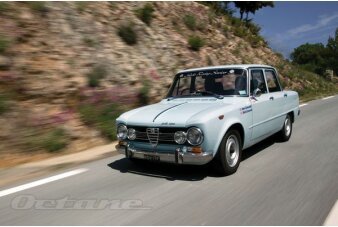 For the Linwoods historic rallying seems to come naturally.
×
Thundertaker: How Hot Rods Save Lives