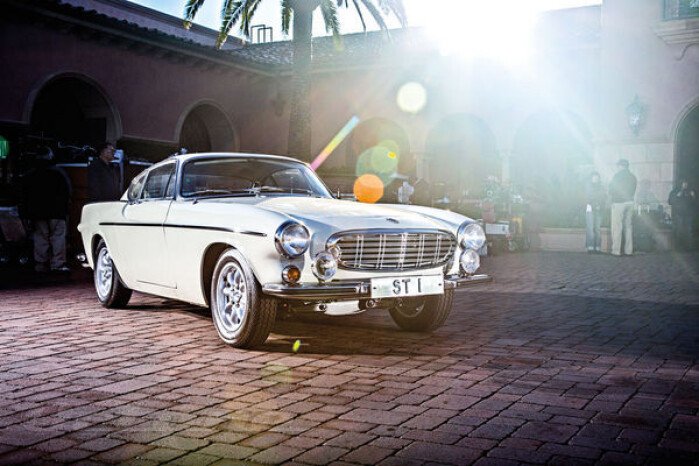 The modern-day Cold War spy flick phenomenon began with James Bond, of course, but there were numerous spin-offs for big and small screen. Among the TV versions were The Avengers, The Man from U.N.C.L.E, The Persuaders, Mission: Impossible and one that any spy-loving product of the '60s will remember fondly: The Saint. It starred an uber-dapper (pre-Sir) Roger Moore as the main character, Simon Templar, a bit of a Robin Hood-like righter of wrongs. Templar was British, cultured, principled, loved the ladies and – as required – always saved the day.
It was The Saint, which aired from 1962 to 1969, that paved the way for Moore's ascension to the role of James Bond, which he played post-Templar from 1973 to 1985. Before Bond's hypertrick Aston Martin DB5 appeared in Goldfinger (which arguably saved the marque from another bankruptcy), carmakers weren't all that tuned in to the value of product placement. Moore was said to fancy a Jaguar for Templar (and himself), but Coventry would have none of it. Production supervisor Johnny Goodman suggested Moore should consider the sporty new Volvo. He felt it would do the job for both the star and The Saint.
Three different 1800s were used throughout the show's production life. The first was a 1962 P1800, built at the Jensen factory in England before Volvo took production in-house. It was registered 71 DXC and, according to Rolling, the Volvo Club of America's magazine, was used in the first 26 episodes. It was replaced by a 1964 model (now dubbed 1800S), registered 77 GYL. This car received some updates – most likely in 1965 – to keep up with changes Volvo made to production cars. It appeared in 59 more shows. Two new 1800s joined The Saint in 1967: one, registered NUV 647E, was Moore's personal driver. The other, NUV 648E, was the TV star – and it's the car you see here.
It was used for the rest of the life of the series, sexed up with a pair of auxiliary driving lamps up front, Minilite magnesium alloy wheels, and a two-spoke wood-rimmed steering wheel. A small fan was installed in the back to help keep things cooler inside when the car was filled with stage lights. Otherwise, the right-hand-drive 1800 was stock, including a manual transmission with overdrive. That famous ST1 license plate? A made-for-TV prop.
All this occurred before the days when manufacturers provided star, stunt and courtesy cars, plus support vehicles, to the movie producers at no cost – often including handsome sums to have their products written into the script. The producers paid for each of the 1800s, although Volvo was supportive and also supplied parts for a stage buck used for certain filming sequences. In terms of time on screen, the Saint Volvos logged way more minutes than any of James Bond's vaunted Astons. It's hard to find an episode that doesn't show the dashing Templar slipping in and speeding off to save the world – or at least a leggy female. In the episode Invitation to Danger Templar is both driver and passenger. In The Frightened Inn-Keeper our hero machine gets blown up.
After eight seasons – 118 episodes in all – production came to an end, the show became a cult favorite, Roger Moore joined the world of 'shaken, not stirred', and NUV 648E was sold into private hands. And if Bill Krzastek wasn't born to own the Saint Volvo, he certainly ascended to the role. The engineer-turned-schoolteacher from Virginia was among countless teenagers who grew up watching The Saint on late-night TV in the 1960s. 'This happened to be a TV show my father also liked, and we'd watch the adventures of Simon Templar and his Volvo together. Decades later, we'd watch videotape re-runs of the show when he came to visit. My father is deceased now – I've always cherished those times.'
The car remained in England after its life on set and served as everyday transport for a series of owners from 1969 to 1994. It was then acquired by Peter Nelson's Cars of the Stars Museum in the UK. Krzastek knew of its whereabouts, but had no idea it would ever be available. The museum was closing its facility in Scotland, and some of the cars went up for sale, including this one. Why would Nelson sell such a prized piece? Simple: he had another Saint Volvo – the 1964 car – and felt he didn't need two.
Krzastek had the car inspected, and the news was mixed. It was authentic and complete, but had been smashed in the nose and repaired poorly, with body filler everywhere. A full restoration was required and wouldn't be cheap. But this Saint fan was not to be deterred; after some negotiation on the £40,000 asking price and the refinancing of his house, Bill Krzastek became the nervous but proud owner of NUV 648E.
The refurb was undertaken in England by Volvo enthusiast and restorer Tony Davey. The goal was a complete yet sympathetic job that would preserve as much of the original car as possible. It was stripped clean and the body put on a rotisserie-type jig. There was better news inside, as much of the interior was reusable, including the well-patinated but sound leather seats in which Moore and countless actresses sat so many years before.
Particularly interesting are the new Minilite wheels. The magnesium originals were brittle and unsafe for road use (Krzastek keeps one in the boot) and Minilite had long since discontinued the style the Volvo wore in the 1960s, but it wanted to support the project and came up with a new set of aluminum alloys that closely replicated the originals, then machined the center edges of the spokes to make them look as correct as possible.
On completion NUV 648E was shipped to America and given a proper coming-out party – appropriately enough during a Volvo press conference at a show in Orange County, California, announcing the brand's newest two-door convertible hardtop coupe. It's beautifully made. Window frames, door handles and other bits are thickly chromed; the dash trim is aluminum; the doors close with a reassuring thud. Krzastek and Davey took the right approach with the restoration: there remains just enough patina for it to feel broken-in and legitimate.
The 1780cc overhead-valve four-cylinder wears dual carbs and is rated at 108bhp. Fresh from an overhaul, this one (not the original, but Bill has since found and acquired the matching-numbers engine) is quieter than others we've heard and thrums softly through its dual chromed exhaust tips. While not as rev-happy as a sonorous Alfa twin-cam four, it's much less agricultural than an MGB or Triumph TR motor. The exhaust burble hardens under throttle, and the happy drone mixes well with a slight intake roar from the side draft SU carbs.
And why can't all manual shifts feel like this one? The lever is short, dainty almost, but the action is quick and direct, and overdrive is engaged easily via a stalk on the steering column. There's lots of glass, yet the greenhouse is fairly squat so the feel of the cabin is airy and cozy at the same time; it must have been a chore for the tallish Moore to slide into and out so raffishly.
Once in, however, legroom is more than adequate. Visibility is hampered by the dash-mounted rear-view mirror, a lack of outside mirrors, and the notion of driving a right-hooker in left-handed traffic, but the Volvo is comfortable and, in persona, a cross between pure sports car and compact GT. It doesn't turn in or respond as quickly as a contemporary Alfa GTV, but it's communicative enough and rides beautifully. The engine churns at speed but quietens when you engage overdrive.
A movie set at a posh five-star resort in Northern San Diego County, California, is awash in fabulous cars and pretty girls. Tall, slender and darkly handsome 36-year-old British-born actor Adam Rayner comments that 'the old Volvo is still the coolest car here' – impressive considering its cast mates include a crisply new McLaren MP4-12C Roadster, a Cadillac CTS-V Coupe, a Mercedes-Benz SL550, and a grumbling Shelby Cobra replica. We're on set for the filming of the latest reincarnation of The Saint. This production is a privately funded made-for-TV movie pilot, to be shopped in the hopes of being picked up as a series by a major TV network. Big-game action film play-caller Simon West is on to direct, Rayner is cast as Simon Templar, and the script includes small roles for the most popular and beloved Saint, the now-85-year-old Sir Roger Moore.
Does the appearance on set of Krzastek's wonderful little Volvo mean that the new-age, reborn Simon Templar will be flying retro in his 46-year-old motor? Executive producer Brad Krevoy explains: 'The 1800 plays a role in Simon's past, but we are currently negotiating between at least two premium luxury brands to see who provides The Saint's new ride.'
Moore ably backed-up his television portrayal of Simon Templar by following in the footsteps of Sean Connery and George Lazenby into the role of James Bond; Daniel Craig entrenched himself as a steely, modern James Bond with outstanding performances in Casino Royale and Skyfall yet someday will age beyond the character. So who could replace him? Speculation is rife already. If Moore's persona and performance were good enough to lead him into MI6, then why not the handsome and affable Rayner (pictured driving the Volvo) as the next Bond? He looks great in a suit and has now had some practice in a jet-setting spy role. Pay attention, Ms Broccoli and Mr Wilson.
Published Dec 7th, 2015
More Classic Car News & Article Categories:
Related Articles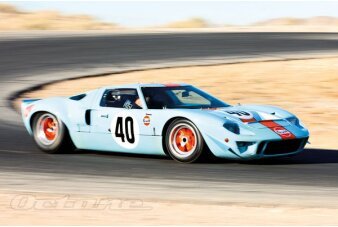 While every factory Ford GT40 is special, some are more special than others.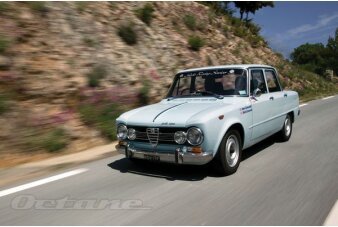 For the Linwoods historic rallying seems to come naturally.
×
"The Saint" 1967 Volvo P1800S