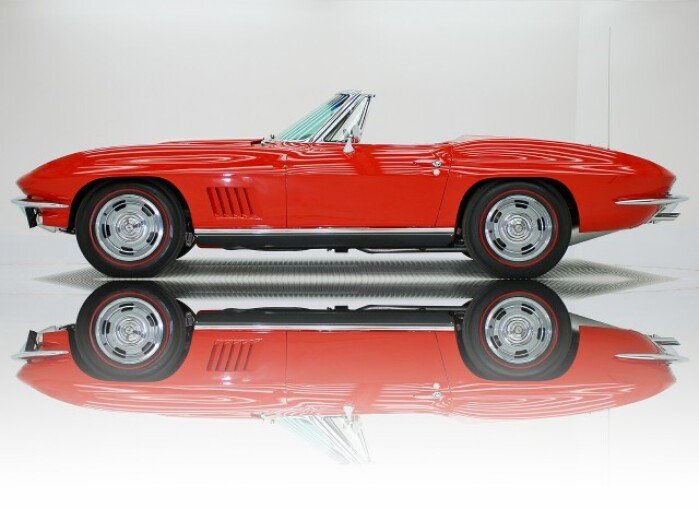 By Joe Babiasz, photos courtesy of Volo Auto Museum.
The 1967 Corvette wasn't supposed to happen. GM's Chevrolet division planned to replace the C2 Sting Ray with the coke bottle styled C3 Stingray. However, testing at the GM's proving grounds found issues with the new Corvette. Engineers found that at about 120 mph, the front end was lifting 2.25 inches above the static level, while at the same time, the rear end was lifting .5-inch. It became clear that major changes were needed before launching the C3, and a decision to delay the program for 12 months was made. The styling department was given the task of squeezing one more year out of the second-generation Corvette.
At first glance, it appeared that there were few changes for 1967. Body revisions included replacing the three horizontal front fender air vents with five air vents that were designed with a slight tilt. The Corvette hood emblem, a mainstay since 1964, was deleted–leaving just one external Corvette emblem on the decklid. The front fender "V" emblem with twin flags designating a small-block that resided under the hood was also banished. Wider six-inch wheels replaced the 5.5-inch rims of the prior year. Wheel covers were replaced with tastefully styled steel wheels featuring bright trim rings and tasteful center caps, and for an additional $263.30, customers could opt for a set of bolt-on aluminum wheels. Other changes included a revised front fascia emblem just forward of the hood, and a restyled fuel filler door. Backup lamps were moved from the inner taillamp to a centrally located position just above the license plate opening. The biggest visual change, however, was the "Stinger" hood that was part of the 427 cubic-inch engine package. The large rectangular opening in the scoop appeared to be able to suck in massive amounts of fresh air. Unfortunately, the hood opening was for appearances only. Topping off the masculine look was a "427" emblem on each side of the scoop, advising the world what was underneath.
Inside, the Corvette continued to evolve. The most noticeable change was moving the park brake handle from the lower dash panel to the center console. Dash control knobs were rounded off, and the hood release handle was repositioned. The inside door locks were moved 11 inches forward for easier access. Comfort options included Four-Season air conditioning, power steering and brakes, power windows, whitewall or redwall tires, and a removable vinyl roof in either body color or covered in black vinyl.
Powering the 1967 Corvette was a garden variety of Chevrolet's best. Two small-blocks were offered, rated at 300 and 350 horsepower. While they moved the two-seater along quite well, power-hungry buyers had a cache of big-blocks to choose from. The 390-horsepower L36 version of the 427 cubic-inch V-8 carried over from 1966. New for 1967 was a Tri-power version of it that bumped horsepower up to 400. The advantage of ordering either of these powertrains was the ability to order air conditioning due to their mild cams and moderate compression.
For those needing insane power, the L71 was available. This powerhouse was the Tri-power version of 1966's 425-horse, solid lifter, 11.0:1 compression ratio 427. Power was now pegged at 435.
Those weight-conscious people with an extra $368.65 to burn could put their Corvette on a diet by ordering the L89 aluminum heads. Not only did they lighten the front end by 75 pounds, the heads incorporated larger 1.84-inch exhaust valves, yet Chevrolet rated the L89 at the same 435 horsepower as the cast-iron-head engine.
As usual, Chevrolet saved the best for last. In the spring of 1967, the infamous L88 was made available. It was, without a doubt, a pure race engine designed for use in a production vehicle. Rated at a laughable 430 horses, it put out more like an incredible 560–and with a compression ratio of 12.5:1, this beast ran only on 103-octane fuel. The solid lifter cam lifted valves 0.559 inches and had an overlap of 136 degrees. An 850-cfm Holley carburetor rested on top of a special aluminum intake manifold. An aluminum cross-flow radiator did its best to keep the engine cool. A cold air intake at the base of the windshield pushed air into the engine compartment. Buying one of these purebred racers required some sacrifices. It was compulsory to order extra cost items including a K66 transistor ignition system, G80 posi, and the C48 radio and heater delete option. The only transmission was the noisy Muncie M22 "rock crusher" four-speed. Clearly, this wasn't a car to take to the grocery store, and only 20 L88 Corvettes left St. Louis.
The 1967 Corvette is considered the most-loved Corvette ever produced. The combination of classic C2 styling, along with an incredible array of powertrain and comfort options, makes it one of the most desirable Corvettes ever. Not bad for a car that was never supposed to be made! Volo Auto Museum was able to secure one of the rare 427 Tri-Power cars for their collection. This particular car has undergone an intense restoration with a 5" thick binder of documentation to prove it.
PULL QUOTE:
For those needing insane power, the L71 was available. This powerhouse was the Tri-power version of 1966's 425-horse, solid lifter, 11.0:1 compression ratio 427. Power was now pegged at 435.
Fuel For Thought
Considered to be the best-looking C2
Rear axles ranged from 3.08:1 to 4.56:1
Lift-off hardtop available for $231.75
80% of trannies were a four-speed manual
L88 compression was a staggering 12.5:1
Specifications
Number built
– 8,504 (coupe), 14,436 (convertible)
Construction
– Body-on-frame
Engine
– (2) 327 cubic-inch V-8s, (5) 427 cubic-inch V-8
Power/Torque
– 327 V-8s, 300 horsepower, 360 lb-ft torque, 350 horsepower, 360lb-ft torque, 427 V-8s, 390 horsepower, 460lb-ft torque, 400 horsepower, 460lb-ft torque, 435 horsepower, 460 lb-ft torque, 435 horsepower, 460 lb-ft torque (L89), 430 horsepower, 460 lb-ft torque (L88)
Transmission
– Three-speed manual, four-speed manual, two-speed automatic
Suspension front
– Independent with unequal-length A-arms, coil springs with tubular shocks and anti-roll bar
Suspension rear
– Independent with transverse leaf spring and transverse struts, with halfshafts and trailing arms
Steering
– Saginaw re-circulating ball, turning radius 41.6 feet
Brakes
– Four-wheel disc
Length/width/height
– 175.2/69.6/49.8 inches
Wheelbase
– 98 inches
Weight
– 3,260 lbs.
0-60mph/quarter mile
– 4.7 seconds, 13.6 seconds at 105 mph (Car and Driver, May 1967)
Top speed
– 142 mph (Car and Driver, May 1967)
MPG
– 9-13 mpg
Price
– $4,240 (convertible), $4,388 (coupe); Today – $62,066 - $105,030
Engine
– No other powertrain can claim the accolades of the small- and big-block Chevy engines. Pound for pound, they were some of the most powerful and reliable engines built. And aftermarket parts are not just available, but also less expensive than the competition.
Handling
– The Corvette handled extremely well with the small-block, and well with the big-block engine. Chassis engineers allocated extra time to design larger stabilizer bars and revise spring rates to make the big-block Corvette as nimble as its lower-horsepower version.
Strong Points
Excellent investment
Neck-snapping performance
Restoration parts available
Most sought-after year
Weak Points
Can have frame rust issues
High restoration costs can exceed value
Purchase price can be prohibitive
Must choose between driving and staring at it
Vehicle Category
While many rare big-block cars are trailered to events, a surprising number of vintage Corvettes are driven on a semi-regular basis.
Websites
www.corvettemuseum.com
www.corvette1967.com
www.thel88corvette.com
www.corvetteforum.com
Books
Chevrolet Corvette 1963-1967 by William Burt
Corvette 427: Practical Restoration of a '67 Roadster by Don Sherman
Corvette Sting Ray 1963-1967 by Tom Falconer
Corvette Fifty Years by Randy Leffingwell
Review
Its lines were pure beauty, its engine options were plenty, and its owners were thrilled. The accidental C2 1967 model was a hit, and it is still considered to be the most desirable model year in Corvette's history.
Published Oct 16th, 2017
More Related Vehicles
More Classic Car News & Article Categories:
Related Articles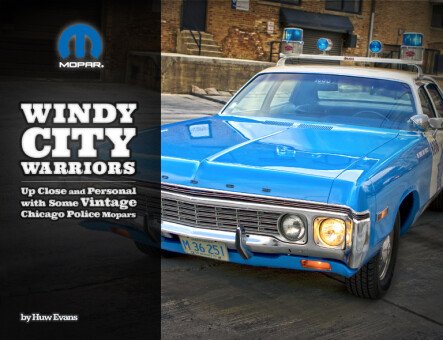 From around 1956 until the mid 1980s, Dodge, Plymouth and even Chrysler squads were the most ubiquitous police cars in North America. In fact, the biggest department, the NYPD, used Plymouth and Dodge squads almost exclusively until the rear-drive M body car was finally axed in 1989.
The no-frills Savoy two-door sedan was home to another engine of considerable repute, the infamous 413 Max Wedge, a Super Stock monster block Chrysler introduced in the spring of 1962.
Related American Classic Cars
Advertisement
×
The Most Desirable Corvette Ever?