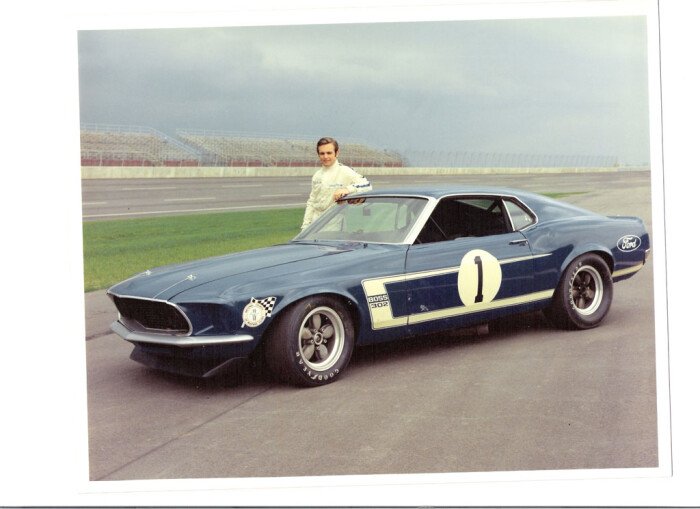 This fall marks 42 years since Parnelli Jones and George Follmer turned off the engines in their Boss 302 Mustangs after winning the 1970 Sports Car Club of America Trans-Am professional road racing series. It was the culmination of the Ford Motor Company's Total Performance Program of the '60s, where the company competed in and won every major national and international motorsports contest. It is not the end of this story as today enthusiasts enjoy their1970 Boss 302 Mustangs in a number of ways.
The Boss 302 program is a tribute to Semon E. "Bunkie" Knudsen's philosophy, "Build what we race and race what we build!" Bunkie Knudsen was a true car guy and engineer who when he took over as General Manager of Pontiac Motor Division in 1956 and emphatically stated, "You can sell an old man a young man's car, you cannot sell an old man's car to a young man." Knudsen with his handpicked team transformed Pontiac into the third selling brand behind Chevrolet and Ford by injecting his philosophy in the division's products. The result was the "Tin Indians" dominated NASCAR and NHRA as well as the youth market. After being promoted to the lead Chevrolet Division, his enthusiasm for fun, youth-oriented automobiles also created an atmosphere for engineers like Vince Piggins and stylists like Larry Shinoda to create high-performance option packages like the Camaro Z-28. Shinoda was a creative genius who produced the 1963 Corvette Split window coupe and the Mako Shark. He also was involved in a big way in designing Bruce McLaren's all conquering SCCA Can-Am sports racing cars. One of Shinoda's last assignments at GM was the design of the D-80 cold air induction hood for the 1969 Camaro.
After losing a power struggle for the Presidency of General Motors to Ed Cole, Knudsen left GM and was offered the Presidency of Ford Motor Company by Henry Ford II, who expected to be appointed to Hubert Humphrey's cabinet should the latter win the 1968 Presidential election.
When he moved to Dearborn, Bunkie Knudsen was adamant about his commitment to factory-backed motorsports. Unlike GM who was supposed to be out of racing, Ford was not and Knudsen was in his element.
Naturally upon his arrival at Ford, Knudsen also brought along a number of his people from GM, including Larry Shinoda. Larry was put in charge of Ford's Special Design Center where he worked some very talented stylists, Bill Shannon, Dick Petit, Harvey Winn and Ken Dowd. The team worked closely with the Special Vehicles, (racing) engineers like Chuck Mountain, Ed Hall and Bill Holbrook.
With the team in place they were faced with a huge challenge. After winning the SCCA Trans-Am Championship in 1966 and 1967, Ford lost the 1968 title to the Penske Racing prepared Z-28 Camaros. The Shelby Racing prepared Mustangs could out handle and out break and when they built the new 302 Tunnel Port engines, could out run the Z-28s. Problem was Ford insisted the engines be built by the Cleveland engine plant, an insane way to build racing engines. As a result they blew over 60 engines during the course of the season and lost the title to Chevrolet. Shelby Racing Trans-Am Team Manager Lew Spenser told me years later: "The team can change six engines during the two-day weekend, but eight engine changes where out of the question as the team was physically not able to change that many engines in the required time period."
The loss of the Trans-Am championship did not go down well at Ford World Headquarters. After dominating motorsports for the last five years, Ford Mustang teams had been beaten and that was a situation that had to be rectified at all costs. In the '60s; "Winning on Sunday, selling on Monday" was a way of life at Ford, by 1969 Mustang had many competitors in the market place and a winning image was not an option.
Upon his arrival in Dearborn, Bunkie Knudsen was brimming with performance ideas that would beat his former bosses at GM. He wanted cars that were winners on the track and street versions that were just as unbeatable on the street. The first carline to receive his attention was Mustang. Although the 1969 line was fairly well set by the time he arrived, Knudsen wanted changes and assigned Larry Shinoda the task of enhancing the styling. Forever the engineer, Knudsen told his people that he wanted the best
Published Dec 7th, 2015
More Classic Car News & Article Categories:
Related Articles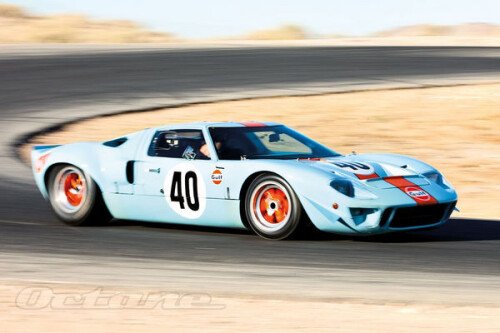 While every factory Ford GT40 is special, some are more special than others. The dazzling example featured here, chassis GT40P/1074, earns bonus points for at least three reasons..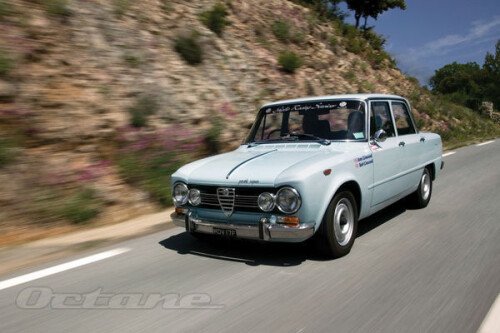 Not long after their first event together, Bob bought a standard road-going 1968 Alfa Romeo Giulia Super, and had it restored by Classicarco in Manchester. We spend a pleasant afternoon tossing it around the French countryside for Martyn
Advertisement
×
The Ford Boss 302 Mustang Program