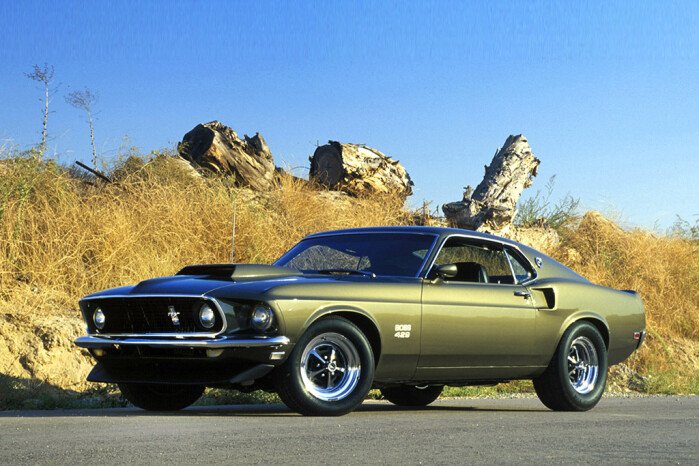 Author: Karl Brauer
Table of Contents
What Are The Best Muscle Cars of All Time?
I think the most fascinating aspect of the American muscle car is how its "cool factor" refuses to fade. Before the 1960s, there were street rods, hot rods and customs, and while those vehicles still have fans, they've never possessed the kind of widespread, multigenerational appeal enjoyed by the Detroit-designed, V8-powered, American coupes and convertibles built between 1964 and 1971.
Ask 20 muscle-car aficionados to identify the "best" muscle car of all time and you'll get 20 different answers. But if you ask those same 20 folks to name the top 5 or 10 muscle cars, you'd see a surprisingly consistent list. That's because the traits that made a muscle car great were universal: power, styling and personality. The cars that have held up, both in terms of market value and iconic status, are the models that most successfully integrated these traits into one head-turning, tire-burning package.
Fifty years later, all of these top-10 muscle cars will cause a stir at your local Cars & Coffee. And not just from the old-timers who remember them in dealer showrooms, but from kids a quarter their age and everyone in between. Here are the top 10 best muscle cars ever made, listed in alphabetical order.
#1 1970 Buick GSX Stage 1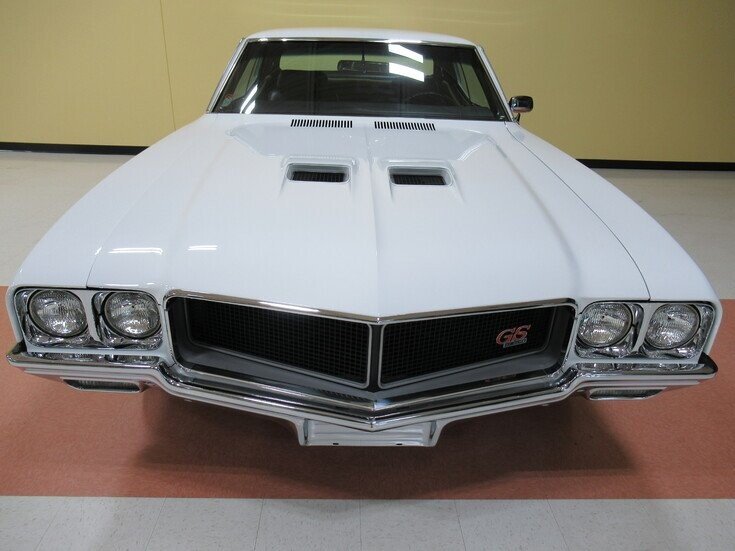 This matching numbers 1970 Buick GS Stage 1 has had a frame-off restoration. $130,000. Boo Boo's Garage.
1970 Buick GSX Stage 1 History, Engine, and Price
Long before Buick was the darling of a skyrocketing Chinese car market (which helped the division survive GM's 2009 restructure, while Pontiac died), the luxury brand was making high-end muscle cars with plush interiors and powerful engines. The top Buick muscle car grew out of the existing "GS" performance line and was dubbed GSX in 1970. The "Stage 1" version added more performance bits to its 455 cubic-inch V8 engine, resulting in 360 horsepower and 510 lb-ft of peak torque. The horsepower figure was inaccurately low to avoid rising insurance rates, but the car's street performance was dead-on, pulling quarter-mile times that would rival Hemi-powered cars of the era. Only 400 were made, and today you'll pay up to $200,000 for a mint-condition 1970 GSX Stage 1, though cars with flaws can be had for half that amount.
Find a Buick Gran Sport for sale
#2 1969 Chevrolet Camaro ZL1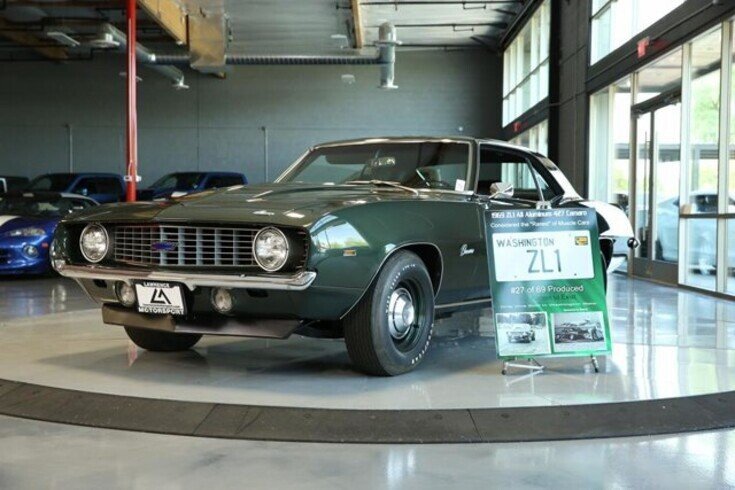 Lawrence Motorsports in Arizona is selling this 1969 Camaro ZL1 for $400,000.
1969 Chevrolet Camaro ZL1 History, Engine, and Price
As a reaction to Ford's massively successful Mustang, the Chevrolet Camaro quickly found its own following after hitting showrooms in 1967. By 1969, the performance race was escalating between every domestic car company, and Chevrolet didn't want the Camaro left behind. The 1969 Camaro ZL1 was limited-production model meant to take on the fastest street machines of the day. It came with a rare and exotic all-aluminum 427 V8 engine rated at 430 horsepower. Chevrolet only made 69 ZL1s because the cost of the engine translated into an expensive MSRP at the time (over $7,000). Of course, if you find an original ZL1 at that price today, you should scoop it up, because the market value for one is close to 10 times that amount, or around $600,000 for a version in top condition.
Find a Chevrolet Camaro for sale
#3 1970 Chevrolet Chevelle SS454 LS6 Convertible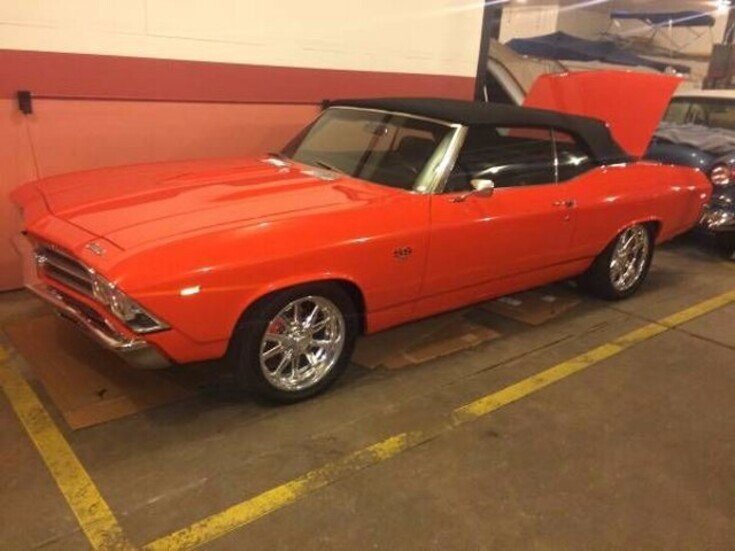 This is an award-winning 1969 version of the SS. $115,000. Classic Car Deals, Michigan.
1970 Chevrolet Chevelle SS454 LS6 Convertible History, Engine, and Price
A classic trait of the classic muscle-car era was the wide range of engines available on almost every model. Chevrolet was no exception, providing several engine sizes and states of tune in its midsize muscle car, the Chevelle Super Sport (or SS for short). But in 1970, the top-doge Chevelle was unleashed, wearing the name Chevelle SS454 LS6. The "LS6" designation meant a unique carburetor, camshaft and exhaust system that boosted the 454 cubic-inch V8 to a stated 450 horsepower (and probably closer to 500 horsepower when not trying to trick insurance companies). This ultimate Chevelle was offered in coupe or convertible form, making it easy to get high-speed wind in your hair. The limited number of convertible LS6s makes them pricey in today's market, costing over $250,000 for the best versions.
Find a Chevrolet Chevelle for sale
#4 1970 Dodge Challenger R/T Hemi Convertible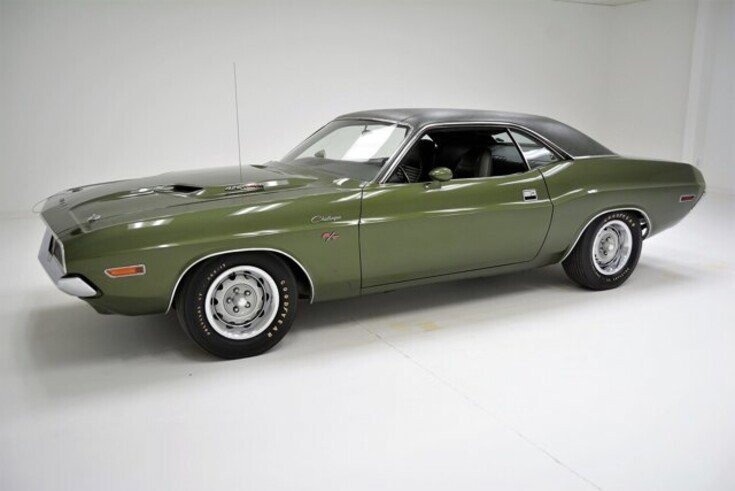 Coupe version of a 1970 Dodge Challenger R/T Hemi. $350,000. Classic Auto Mall, Inc in Pennsylvania.
1970 Dodge Challenger R/T Hemi Convertible History, Engine, and Price
Most muscle-car fans will readily acknowledge that 1970 was the pinnacle year for this era of performance cars. Insurance costs and emissions requirements rose as horsepower figures plummeted starting in 1971, but Dodge went out with a bang when it produced a dozen 1970 Challenger R/T convertibles powered by the famous 426 Hemi engine. Many of these cars also sported the equally famous "Shaker" hood scoop poking through the engine cover to reveal the Hemi's lumpy idle as the engine rocked back and forth. Rated at a ridiculously pessimistic 425 horsepower (to once again avoid insurance costs), the 426 Hemi was a pure race engine detuned for the street, but it still made closer to 500 horsepower. It will take several hundred thousand dollars to buy a genuine Hemi Challenger. And one of the 12 original convertibles? Try a million.
Find a Dodge Challenger for sale
#5 1969 Dodge Charger Daytona Hemi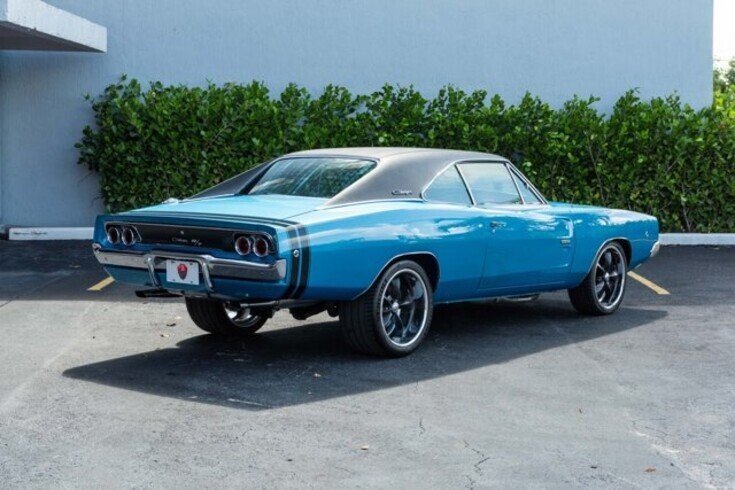 This 1969 Charger R/T has a 426 Hemi can be yours for $200,000. The Barn Miami.
1969 Dodge Charger Daytona Hemi History, Engine, and Price
Once upon a time, NASCAR racing was also known as "stock car" racing because the cars were actually pretty close to the cars sold at your local dealership. The 1969 Dodge Charger Daytona embodied this relationship by wearing a large rear wing required to homologate its use on Dodge's NASCAR entries. The Daytona also leveraged a pointed nose cone with flip-up headlights to help slice the air at 200-plus mph. Dodge only built 503 Charger Daytonas in 1969, and only 75 of those had the same 426 Hemi engine used in the NASCAR racers. Despite the low production number, dealers had trouble finding 503 buyers willing to drive such a flamboyant design on the street. Today, the cars are a bit more desired, with the rare Hemi versions selling for almost $800,000.
Find a Dodge Charger for sale
#6 1969 Ford Mustang Boss 429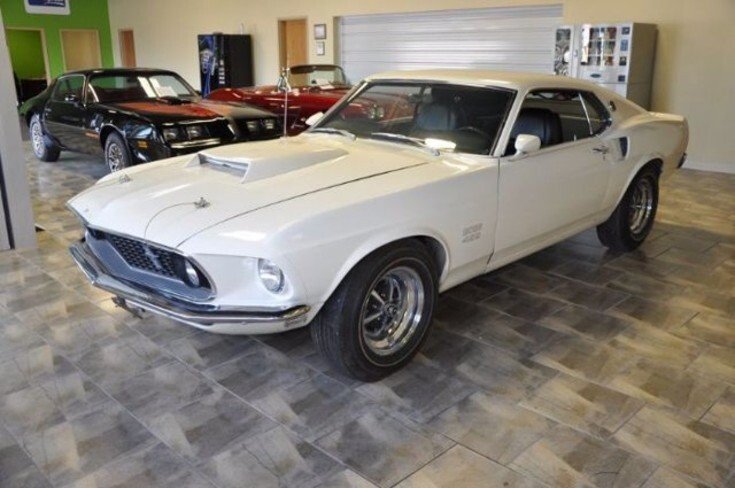 This Boss Mustang is available for sale by Classic Car Deals for $395,000.
1969 Ford Mustang Boss 429 History, Engine, and Price
The same NASCAR relationship that created the Dodge Charger Daytona also created the Ford Mustang Boss 429. While the Mustang wasn't a NASCAR racer, the overhead-cam Boss 429 engine was Ford's choice NASCAR engine in 1969 and 1970. To homologate it for racing, Ford had to sell some to the public, but NASCAR didn't specify which model the engine appeared in. Ford chose its iconic Mustang over its Torino NASCAR body, and the Boss 429 Mustang was born. Fitting the large engine under the Mustang's hood required serious modification to the Mustang's front suspension, but Ford persevered, and 857 Boss 429s were produced in 1969. The engine's massive head porting actually didn't work very well in street tune, but that hasn't stopped these Mustangs from shooting to over $400,000 in value for original or properly restored versions.
Find a Ford Mustang for sale
#7 1970 Oldsmobile 442 W-30 Convertible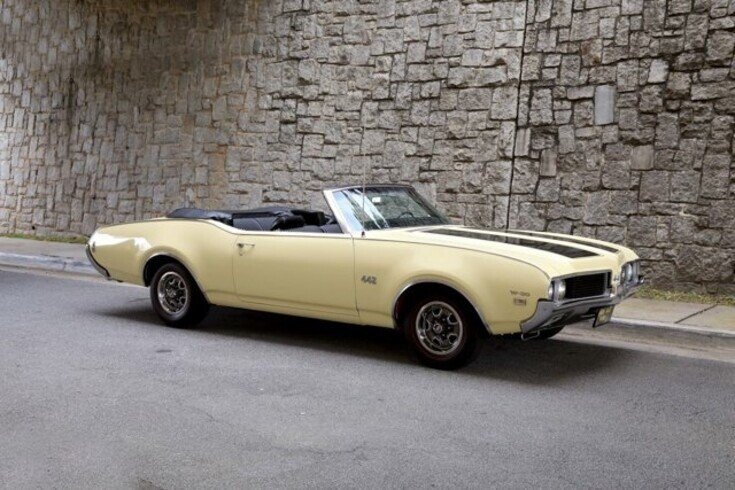 Since its frame-off restoration in the early '90s, this well-documented 442 W-30 has been driven fewer than 8,000 miles. $110,000. Motorcar Studio.
1970 Oldsmobile 442 W-30 Convertible History, Engine, and Price
Oldsmobile as a brand died in 2004, but decades before it passed it offered several killer muscle cars at the height of the muscle-car era. The top dog was the 1970 442 W-30 convertible, a curvaceous muscle car powered by a 455 cubic-inch V8 rated (conservatively) at 370 horsepower. The W-30 package added several performance-enhancing elements, including a cold-air induction system, a high-lift camshaft and free-flow exhaust ports, to an already powerful engine. You could get the W-30 performance package in drop-top form, though only 264 were produced. The limited-production number has elevated demand for these 442s, with super-clean versions costing over $250,000.
Find an Oldsmobile 442 for sale
#8 1971 Plymouth Hemi 'Cuda Convertible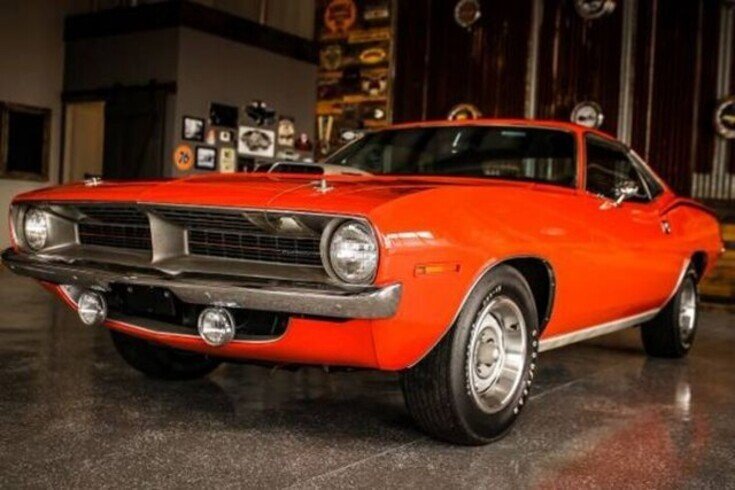 Unrestored coupe version of the Hemi Cuda. $510,000. Classic Car Deals.
1971 Plymouth Hemi 'Cuda Convertible History, Engine, and Price
The high-performance muscle car was fading fast by 1971, but a few holdouts kept things interesting while adding a dose of in-your-face style. Plymouth's answer to Ford's Mustang was the Barracuda, with performance versions going by the shortened "Cuda" moniker. In 1971, the 'Cuda featured a one-year-only quad headlight grille along with the iconic "Shaker" hood scoop and optional billboard graphics on the rear quarter panels. This was the last year for the Hemi and the convertible option in the 'Cuda, but 11 models were built with both features checked on the order sheet. These ultra-rare 1971 Hemi 'Cuda Convertibles typically lead the market in terms of value, and currently they demand a lofty $3-plus million dollars on the rare occasions when they come up for sale.
Find a Plymouth Barracuda for sale
#9 1970 Pontiac GTO Judge Ram Air IV Convertible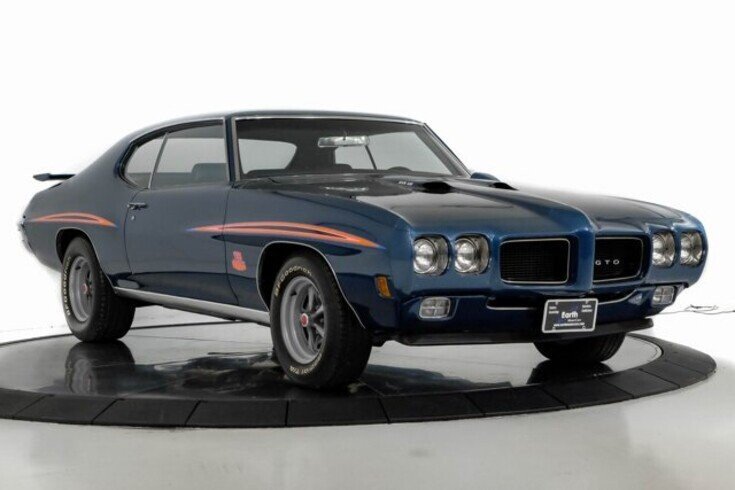 Frame off restored coupe version of a 1970 Pontiac GTO Ram Air III. The IV model looks very similar. $110,000. Earth Motorcars.
1970 Pontiac GTO Judge Ram Air IV Convertible History, Engine, and Price
Pontiac arguably started the muscle-car phenomenon with its 1964 GTO, a midsize coupe with a large 389 cubic-inch engine normally reserved for full-size Pontiac models like the Bonneville. By 1970, the GTO's optional engine size had grown to 455 cubic inches, but the most powerful and desirable engine that year was the 400 cubic-inch Ram Air IV. This engine used unique heads, high-compression pistons and a specific camshaft to bring everything together. Underrated at 370 horsepower, the Ram Air IV was one of the most carefully engineered performance packages of the time, giving it a street rep on par with Chrysler's Hemi and Chevrolet's 454 LS6. Soft-top versions of the GTO Ram Air IV are even rarer than the coupes, as reflected in their market value of nearly $500,000.
Find a Pontiac GTO for sale
#10 Shelby Mustang GT500 KR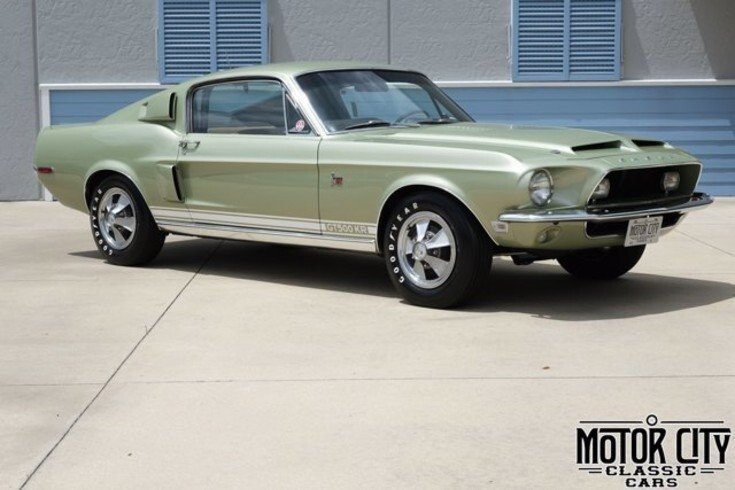 1968 Shelby Mustang GT500 KR. Motor City Classic Cars, Florida. Price unlisted.
Shelby Mustang GT500 KR History, Engine, and Price
No muscle-car list is complete without at least one entry from the enigmatic Carroll Shelby. While initially successful on the global racing stage with his mid-1960s Cobra sports car, Shelby found a much wider audience when he began upgrading Ford's high-volume pony car. By 1968, the Shelby Mustang was actually produced entirely by Ford, with little input from the man whose name it bore. But that hasn't kept the 1968 Shelby Mustang GT500 KR from becoming one of the most coveted muscle cars of all time. Powered by a 428 cubic-inch engine wrapped inside an attractive 1968 Mustang body, the "KR" in GT500 KR made for a limited-production version with extra performance and luxury features. While it was offered in convertible form, it's the coupe that really shows off the '68 Mustang's perfect proportions. Top examples go for around $200,000.
Find a Shelby GT500 for sale
Published May 18th, 2022
Frequently Asked Questions About Muscle Cars
What is a muscle car?

The term "muscle car" describes a high-performance, American car from the 1950s through the early 1970s. These cars are typically 2-door V8s with rear-wheel drive and a lot of horsepower. Power was more important than handling, but this improved with later generations of muscle cars. The creation of the first muscle car was in 1949, and the 1950s saw several great muscle cars. But it was in the 1960s when the love for these vehicles exploded. Muscle cars came in various sizes:

Pontiac GTOs

represented medium size cars, the

Chevrolet Impala SS

represented full size cars and Pony and compact size cars were the

Chevy Camaro SS

and

Ford Mustang GT

.

What is the fastest muscle car?

What is the best muscle car?

The best muscle car is up for debate. It depends on your needs, likes and dislikes. With muscle cars, there are eras, body styles, performance, number of doors, features and handling options to choose from. Look through

our Muscle Car listings

to determine likes and dislikes.
More Classic Car News & Article Categories:
Related Articles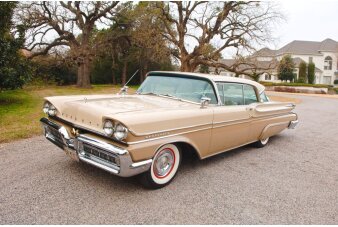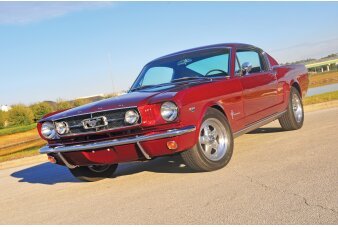 Mustang's third body style emerges.
Related American Classic Cars
×
The Best Muscle Cars Ever Made