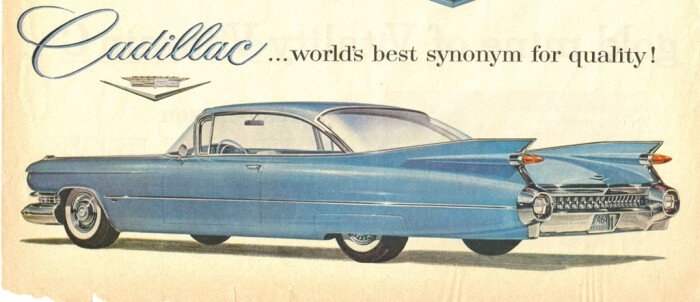 Images courtesy of the NAHC Detroit Library and the GM Media Archives.


1959

By 1959, things began to get a little dicey for Chrysler, with its "sporty" Plymouth division losing some of its styling luster. The front end, with twin peaked headlamps and a massive grille, looked heavy. Things weren't any better in the rear, with a donut-like appendage resting on top of the deck lid and Jetsons style tail fins.

Dodge took the word "strange" to the next level, with headlamp openings that began on the side of the front fenders and continued toward the middle, nearly meeting at the center. The rear end styling didn't fare much better. Twin tail lamps protruded rearward just below a shortened fin that failed to reach the rear of the vehicle. Clearly, it wasn't one of Dodge's finest moments. Dodge, however, excelled with its interior appointments, showcasing swivel bucket seats and handsome seat coverings.

Ford took a big step in the right direction with its Galaxie model. The two-door hardtop copied the roof design from last year's retractable roof. Ford went back to large, circular tail lamps deeply frenched into large pockets that resembled rocket exhaust. A tasteful V-shaped molding ran across the rear.

GM softened things up a bit for 1959. Chevrolet looked fresher, with headlamps positioned within the grille giving a lower and wider look. The rear end was sharpened up with nearly horizontal tail fins and large cats eye tail lamps. It was a dramatic improvement from 1958.

Pontiac brought in the wide track look using a thin split grille and a long, low look. Twin tail fins, slightly tipped at an angle, were stylish but not gaudy.

Oldsmobile should be given kudos for unsurpassed styling for the model year. The combination of its widely spaced headlamps and slowly sloping side feature line illustrated a well balanced look.

Buick, fighting off a very bad year in 1958, looked totally new. The gaudiness was gone, replaced with handsomely canted headlamps and tail fins.
Published Dec 7th, 2015
More Classic Car News & Article Categories:
Related Articles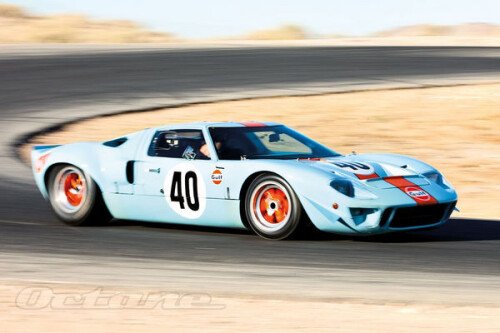 While every factory Ford GT40 is special, some are more special than others. The dazzling example featured here, chassis GT40P/1074, earns bonus points for at least three reasons..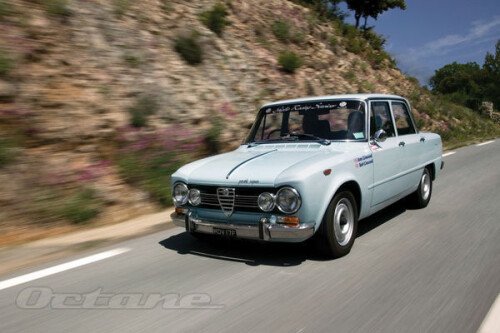 Not long after their first event together, Bob bought a standard road-going 1968 Alfa Romeo Giulia Super, and had it restored by Classicarco in Manchester. We spend a pleasant afternoon tossing it around the French countryside for Martyn
Advertisement
×
The 1950s Timeline: Year 1959