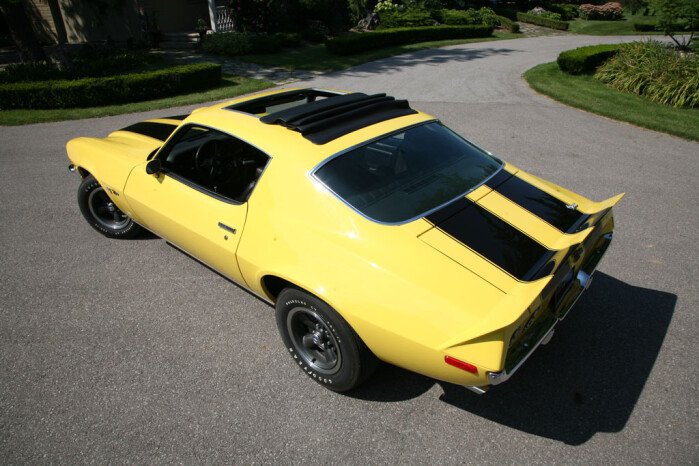 It might have endured a troubled birth, but when it was introduced in February 1970, the second-generation Camaro signified a new direction for Chevy's ponycar. Offered in just a single body style (at a time when other rivals, notably the Mustang/Cougar and E-body Chrysler twins, offered at least two), it made the rest of the field look decidedly old fashioned by comparison. Styling was the work of Jack Humbert and Bill Porter, under the direction of then VP of Design William L. Mitchell. Although it embodied European touches, particularly in the shape of the prominent grille, headlights, flanks, and rear fascia, the new car polarized opinion–some loved it, some hated it. Some so-called "experts" were already sounding its death knell, even as the first examples rolled off the Norwood and Van Nuys assembly lines amid an 18 month United Auto Worker's strike. However, this new Camaro would go on to enjoy the single longest production run of the breed, lasting through the 1981 model year. But even though many trials and tribulations were ahead, in the spring of 1970 performance was still very much the in thing. The new Camaro sounded it, with the perhaps the most enticing and certainly the most tractable Z28 package yet seen.
Thanks to rule changes within the Sports Car Club of America's Trans-Am class, which now allowed manufacturers to use de-stroked engines for the series, the street version of the 1970 ½ Z28 featured a new, larger engine, a 350 small-block V-8 dubbed the LT-1, which was shared with that year's Corvette. Utilizing a strong bottom end with four-bolt mains and a forged steel crank, plus new rods, pins, and forged 11.0:1 compression pistons, it was a serious performer. A low profile aluminum intake manifold and sizeable Holley 780-cfm four-barrel carburetor were also part of the package. However, thanks to a milder cam with less lift and reduced duration, the new small-block V-8 was not only advertised with more horsepower (360 hp versus 290) than the 1967-69 version, but was also considerably more tractable, with a greater spread of torque across a wider rpm range.
Transmission choices were a Muncie four-speed manual, or a Turbo Hydramatic three-speed auto (a first for a Z). Meanwhile, a redesigned front suspension, with a much improved short/long arm setup, standard front and rear roll bars, and power front disc brakes were utilized. A new steering box mounted further forward and incorporating a revised control valve system made the 1970 ½ Camaro Z28 the most fun to drive yet, not to mention the quickest of the breed in showroom trim. Handsome 15x7-inch Chevrolet Super Sport wheels with gunmetal centers, along with Goodyear Eagle Polyglas 60-15 tires, rounded out the rolling stock upgrades.
Compared to a 1969, the cabin of the new Z was a lot sportier with much improved front bucket seats, low dash, integrated console, and an available sporty, thick rimmed steering wheel. Ordering the Z28 option also required Regular Production Order U14 which included full, dash-mounted instrumentation and a clock, angled towards the driver.
On the outside, the new car came with either a standard nose, which included a full width bumper and parking lights mounted below it, or it could be ordered with RPO Z22, the Rally Sport Package, which ditched the full-width unit for twin bumperettes and round turn signals mounted inboard of the headlights, which exaggerated the car's forward thrusting snout. 1970 ½ Camaros were offered in 15 different exterior colors, but Z28 models were distinguished by black or white racing stripes that ran over the hood and rear deck and a standard rear deck spoiler. The spoiler is an interesting one, for during the 1970 model year, the original small rear spoiler was changed for a much larger piece and a fairly prominent front unit arrived along with it, defining elements which enthusiasts have come to differentiate between early- and late-build cars that season.
A TRUE ONE-OFF
Going a step further was the infamous Hurst Sunshine Special, the car you see on these pages. Built as a Daytona Yellow-on-Black 1970 ½ Z28 RS with the three-speed automatic transmission and a 4.10 rear end, it was ordered by noted Michigan based drag racer Dick Jesse. The car was delivered to Merollis Chevrolet, on the corner of 8 ½ mile road and Gratiot Ave in East Detroit, in May 1970. Given the options it's safe to assume that Jesse ordered the car primarily for quarter-mile duty, but before it got the chance to turn a wheel in anger, Hurst Performance stepped in, asking Jesse if he could loan the car to them for development work. At the time, Hurst was working on a couple of new items designed for GM performance cars, and the Camaro seemed like a suitable candidate. The first was a new design of an automatic/stick shifter. Jesse's Z28 was thus given a new sport handle, fabricated from four different manual Hurst units and a new console. This operated much like the then-current Hurst dual-gate found on Oldsmobile 4-4-2s, allowing the transmission to be either left in Drive, or via the gate, hold the tranny in a single gear for better acceleration runs.
The second item was a sliding fabric sunroof. By the early 1970s, thanks to items like Astro flow-through ventilation and much-improved window sealing, American buyers were showing an increasing preference for closed-roof cars (part of the reason the new Camaro came only as a tin top). However, a steady aftermarket business in offering sliding sunroofs had sprung up, so Hurst and GM decided to get in on the action. As a result, Hurst decided to modify the roof panel on Jesse's Z28 and install a sliding fabric sunroof that operated via a crank mounted close to the rearview mirror. To help prevent excess buffeting at speed when the roof was open, a flip-up air deflector was also installed at the front. With these modifications, the Daytona Yellow Z was now dubbed the Hurst Sunshine Special Z28, and received special 'H' emblems on the front fenders and glovebox. Although the fabric sunroof was never offered as an option on the Camaro it was available on select GM cars beginning with the 1971 model year, most notably the Buick Apollo and Oldsmobile Omega X-body compacts.
With the Hurst modifications completed, Jesse's Z28 was then loaned to Chevrolet's Engineering department for high performance and aerodynamic testing, primarily with the goal of making Zs more competitive in Trans-Am racing. This included fitting experimental front and rear spoilers to the car to improve downforce; rebuilding the LT-1 engine and installing a taller final-drive ratio for better top-end speed. However by that stage, GM was on a verge of pulling out of Trans-Am racing and the modifications ended up stillborn. The rear spoiler design (in slightly different form), was adopted on production late 1970-71 Z28s. The Hurst car's prominent experimental front spoiler remained on the vehicle when it was returned to Jesse, and is one of only six such designs ever produced (the regular 1971 Z28 front air dam is of a different design and also smaller).
On January 28th, 1971, the unique Hurst Sunshine Special was sold to Alan D. Jones, who traded a 1969 Corvette for it. Jones, an engineer by trade, kept the car for a couple of years and even drag raced it. With the 4.10 gears it posted low-14 second e.t.s on the couple of occasions he made it to the track. In 1973 the car was sold again, and by 1980 was starting to look worse for wear. Fortunately, a guy by the name of James Ostrand stepped in and decided to put the one-of-a-kind Camaro away in storage for five years, which helped prevent the car from deteriorating much further. In 1988, a doctor, Michael Cruz, came across the Hurst Z28, listed for sale on a Detroit bulletin board.
Recognizing just how rare and significant the Daytona Yellow Z was, he negotiated a deal with the then-owner to completely restore the car to its former glory, right down to the subframe. Once completed, the Sunshine was shipped out to the West Coast, where Cruz kept it at his base in Mission Viejo, California for the next decade. Cruz later sold it and the car migrated north, first to Oregon and then Washington State. In the last decade it came back east to the Great Lakes, and at present is part of the Legendary Motorcar Collection in Halton Hills, Ontario.
The one-of-a-kind Z is pretty much in the same condition it was in when delivered to second owner Alan Jones in 1971. Getting behind the wheel is quite an amazing experience. The low dash and wraparound windshield offer superb visibility (even the small back window doesn't impede). The thick-rimmed steering wheel is a delight to hold, and the seats are surprisingly supportive (especially compared with 1969 Camaro chairs). Upon turning the key, the LT-1 small-block roars to life. It's loud, but blip the throttle and even on modern pump gas, it feels quite civilized for such a high-compression engine. Move the shifter into Drive, and the car feels like it wants to jump forward. The short rear gearing means that it's easy to get right into the powerband and under acceleration, the Z behaves like a scalded cat. The sound is sensational and the torque is plentiful. Although it's now 40 years old, what's most surprising is the car's handling. Even riding on reproduction Polyglas tires it feels very, very stable, with nice turn in and very little understeer. The braking system, thanks in part to the standard front discs, is superb by muscle era standards; no wonder buff book writers waxed lyrical about this Z28 upon its debut. And perhaps it's testimony to how good this car actually was that, despite a couple of hiccups along the way, the second-generation Camaro would endure through some of the darkest and most difficult times in the American automotive industry. By the late 1970s, Z28s still offered genuine performance sizzle via a 350 V-8 and handling suspension. Not only that, but they were selling in record numbers amid a market generally gone sour on hot cars. There's no question then, that even a mere decade after it's introduction, the 1970 ½ Camaro Z28 was an undisputed modern classic–an accolade that's even more relevant today. As for the Hurst Sunshine Special, it represents the ultimate expression of a car that was the baddest homologation Trans-Am racer Chevy ever built.
1970 ½ CAMARO Z28 RS HURST SUNSHINE SPECIAL
VIN: 124307N535193
BUILD DATE: 04E (APRIL 1970)
PAINT: 51 (Daytona Yellow)
INTERIOR: 711 (standard Black)
BASE PRICE (1970): $2,727
TOTAL LIST PRICE (1970): $4,307.90
OPTIONS:
Z28 (Special Performance package $572.95)
Z22 (RS appearance package $168.55)
A01 (Soft Ray tinted glass $37.95)
B37 (Color-keyed front and rear floor mats $11.60)
C50 (Rear window defroster $26.35)
D34 (Visor vanity mirror $3.20)
D35 (Exterior sport mirrors – left and right $26.35)
D55 (Center console with floor shift $59.00)
G31 (Special rear leaf springs – included with RPO Z28)
G80 (Positraction rear axle $44.25)
J50 (Power front disc brakes $47.40)
K02 (Temperature controlled fan – included with RPO Z28)
M40 (Turbo Hydramatic three-speed automatic transmission $ 290.40)
N40 (Variable ratio power steering $105.35)
T60 (Heavy-duty battery $15.80)
U14 (Special equipment package $84.30)
U63 (AM pushbutton radio $61.10)
V01 (heavy-duty radiator (included with RPO Z28)
ZQ9 (4.10:1 performance axle ratio $12.65)
ZJ9 (Auxiliary lighting group $13.70)
Z21 (Style trim group – included with RPO Z22)
PERFORMANCE:
0-60 mph: 6.5 seconds
Quarter-mile: 14.5 seconds at 98 mph
Top speed: 119 mph
Stopping distance: 256 ft (80-0 mph)
*Source: Car Life magazine, May 1970

The heart of the 1970 ½ Z28 performance package was the new LT-1 350 V-8. Rated at 360 horsepower it packed a serious punch, making this the most bloodthirsty Z28 of the classic era.


 
This view, taken through the open sunroof, shows the interior to good effect. Full instrumentation came courtesy of Regular Production Order U14. Note the steering wheel, which is actually a Firebird item, with a special Hurst center cap.


 
15x7 Chevrolet Super Sport wheels and massive F60-15 Polyglas tires were a new fitment on 1970 ½ Camaro Z28s.

 
 
Here you can see the unique front spoiler, a result from the car's days of testing in the wind tunnel at the General Motor's Tech Center. Made from ABS flexible plastic, it was originally designed as a homologation piece for Trans-Am racing.


 
Pictured from the rear, the Hurst Z28 shows off its prominent rear deck spoiler. The backup lights were actually part of the Z21 Style Trim Group, which came with the RS option.


 
Only a single body style was offered on the second-generation Camaro. Even today it still looks timeless and elegant, blending the best of American and European design.


 
At a glance the Hurst Sunshine Special looks like any other Daytona Yellow Z28 until you notice the large fabric sunroof, which rolls back via a roof-mounted crank handle. Although the Hurst sunroof never made it to production on the Camaro, a variation of the design was used on other GM cars in the 1970s.
Published Dec 7th, 2015
More Classic Car News & Article Categories:
Related Articles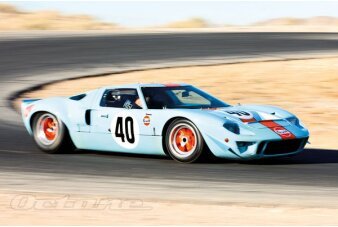 While every factory Ford GT40 is special, some are more special than others.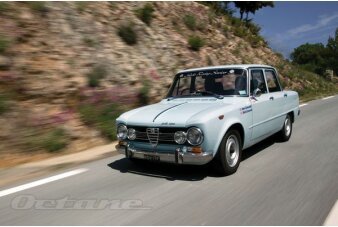 For the Linwoods historic rallying seems to come naturally.
×
The 1 Of 1 Hurst Sunshine Special