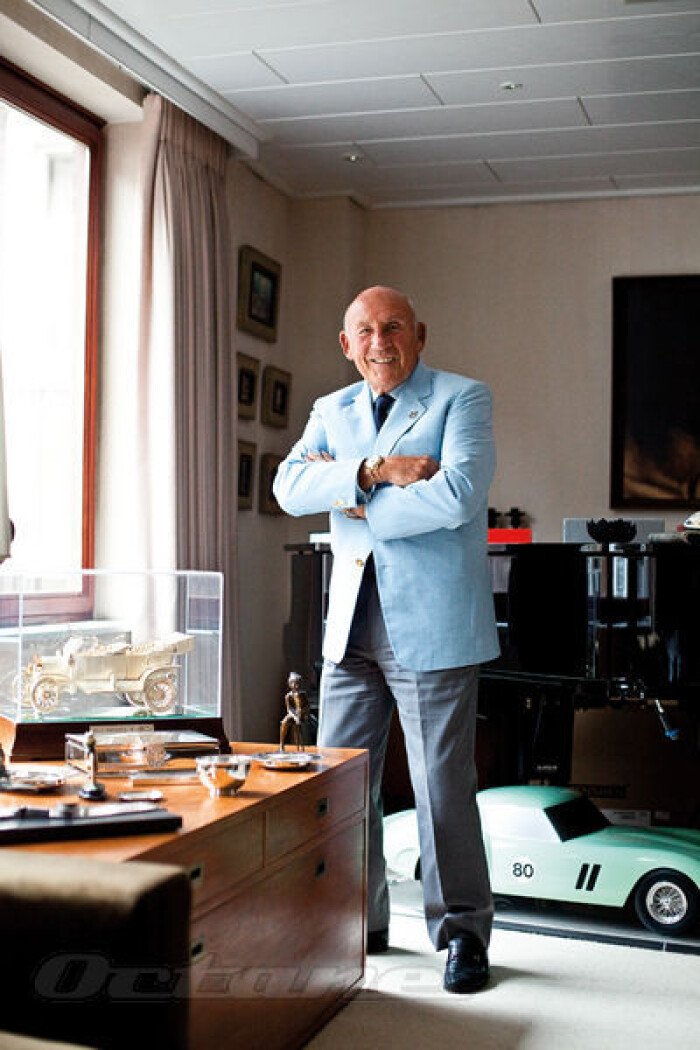 With 30 seconds to go, I press the doorbell of Sir Stirling's Mayfair home, the fine house he designed and built from scratch on a bombed site half a century ago. His liking for precise punctuality was noted long ago and his PA lets us in immediately. So far, so good.
Sir Stirling Moss is so well known that I'm determined to use my allotted hour to fill some odd little gaps in the story. Getting straight into unknown territory, I ask him about his first accident, when the back tire let go on his Morgan three-wheeler. What really happened?
Moss smiles and explains that before he was 16 he applied for his licence, giving his correct date of birth. They simply processed it and sent it back, so naturally he didn't wait for his 16th birthday to use it. It must have been just after the end of the Second World War, Stirling was in the lanes somewhere near Bray, in Berkshire, and he adds that he had his ferret with him, in a box in the back.
When the rear tire burst, the Morgan's tail swung out, up the bank, and the car toppled over. He can't remember whether it went right over but it wasn't a fast accident and there was very little damage. His greatest concern was not for himself: 'The ferret, when I got him out, had a little smudge of oil on his nose – God knows where that came from – but he was OK, I was OK and the car was OK.'
I switch to his flight back from Dundrod in 1950, after that famous victory in the RAC Tourist Trophy, so that he could be at Brands the next day to race the Cooper-Norton 500. There was nothing like EasyJet then. What was involved?
The TT finished at about five or six o'clock and Stirling went straight to Belfast airport to catch the scheduled flight to Northolt. He believes the aircraft was a BEA de Havilland Dragon Rapide biplane. He must have felt fantastic on that flight, I have always thought, so I ask whether the full significance of what he'd achieved dawned on him then.
No, he says that came later because he was just so happy with the race. It had been wet all the way, assisting him to get the best out of the Jaguar XK120 and never taxing its weak point, the drum brakes. He was also thrilled to have driven at Dundrod, which he decided was a really super circuit.
On significant early career steps, Stirling mentions the 1953 Swiss GP, where he was quickest in the wet in the Friday qualifying session with his Maserati 250F. That was the moment, reckons Stirling, when the Formula 1 world started to take a real interest in him.
Long before that, however, he was launched into a schedule of European travel and events that must have seemed out of this world in the immediate post-war era of austerity and rationing. By 1951, he was winning in Formula 2, in sports cars and still in 500 racing. He was only just past 20; his friends must have found it astonishing and I wondered how he coped.
Stirling agrees that he was still very young but it was all handled easily thanks to John Heath of the HWM team, who managed everything. They had to go abroad to find the best races and, with Stirling in the team, HWM was able to get better start money.
From 1952, Stirling appointed his friend Ken Gregory to be his manager. Gregory's part in Stirling's subsequent success was crucial, without doubt, but it's time for another silly question. To save hotel bills, Stirling had ordered a new caravan to tow around Europe behind his XK120 Coupé and he'd had it fitted it out with every expensive mod con. It did not last long.
He and Ken were driving down a hill in Belgium, with Ken at the wheel, when the caravan detached itself. Ken was alert enough to get the Jaguar out of the way as the caravan overtook them on the inside. After several spectacular rolls, high in the air, it ended up totally wrecked and, thanks to the four dozen eggs they'd loaded inside, a terrible mess. I ask Stirling who had attached it and whether it had been secured properly?
He answers by saying that, because the caravan tended to swing around, he'd fitted a stabilizer, which worked quite well. Something went wrong with that, apparently, so we must assume that neither of them was to blame.
As Stirling put it, his father and Ken Gregory worked behind his back, negotiating with Maserati and Mercedes-Benz on his behalf. Stirling readily acknowledges that, without Ken's bold management and his dad's guidance, his career would have been set back and possibly 'stumped'.
Stirling and Ken shared a flat in London then and I reminded him of an anecdote from Ken's book Behind the Scenes of Motor Racing. Ken, who had a day job as well, wrote: 'I was in bed and asleep after a particularly hard day, when at about two o'clock in the morning Stirling came in. He clumped into the kitchen, which was next to my room, and barged into tables and things, making sufficient noise so that I couldn't possibly go on sleeping. Then he poked his head round the door, and said, "Ken, are you awake?" I said, "Yes, I'm awake." And he said, "Will you get me a tube of toothpaste in the morning?"'
Ken claimed he decided there and then to get a flat on his own, so I ask Stirling for his side of it. Obviously very amused, he says: 'I don't remember that but I'm sure he was right. With me around, Ken would break out in a rash and get a bit hyper.' He laughs again. 'Yes, I'm not an easy person to live with.'
With BRM in 1952, Stirling drove the V16 in the Ulster Trophy at Dundrod and I put it to him that I cannot imagine a more daunting prospect than having to race that car on such a lethal, genuine road circuit. What was it really like to grapple with the thing in Ulster, 59 years ago?
With a grim smile, Stirling recalls it was the only occasion in the BRM on which he passed Fangio, adding that Fangio was spinning backwards at the time. As an extremely patriotic young man, Stirling considered it a great honour to drive the British BRM, but at Dundrod, he says: 'It was scary, absolutely scary.' The tremendous slack in the steering made it very difficult to stay in a straight line. He adds: 'The brakes were terrific, the gearbox was super but the car was not nice at all and Dundrod, as a circuit, was about the worst place you could go with it. You were always juggling with the steering. It was awful, really awful, and I was so pleased when it went out.' The night before the race, BRM had switched cars because Fangio had had a problem. 'That wouldn't have worried me,' said Stirling with smile. 'Had they decided not to put me in the race at all, I'd have been thrilled.'
Stirling wasn't the first celebrity to exploit product endorsement but he probably pioneered a more professional attitude in that respect as far as racing drivers were concerned, particularly with Craven A cigarettes, Lucozade, Trico and Nenette. There was also an amazing in-car cigarette dispenser, which intrigued me.
'It was a fantastic thing,' says Stirling: 'You just pushed it and the cigarette dropped down in a tray, lit for you. I don't remember advertising that but I certainly had it in my Standard Ten. It was a very good gadget.'
Next, another little matter that's puzzled me for years: in the 1954 Silverstone Production Touring Cars race, Stirling was delayed at the start when the Jaguar MkVII's engine apparently would not start (see feature, page 80). Was that deliberate? Legend suggests there were team orders for Ian Appleyard to win that race. I ask Stirling for the truth, once and for all.
He laughs again, declaring bluntly: 'I don't remember anything about that, but one thing is certain: if they'd told me to be second to Ian Appleyard, I'd have told them to stuff it. I had nothing against Ian but I just wouldn't do that.' That clears that up, then.
Moss really made his mark in F1 by leading the 1954 Italian GP. After a straight fight with Fangio's Mercedes, Moss pulled away in his Maserati. Although his car failed, that performance was a terrific career boost, especially noted by Mercedes-Benz. Fangio won the race and in his 1986 autobiography, co-written with a journalist, is quoted as saying that Stirling would have won that GP if he himself had backed off a bit. That seemed unfair because it was only a simple broken pipe from the oil cooler that stopped Stirling's car. I wanted to know how that comment from Fangio strikes him now.
Stirling, a bit puzzled, replies: 'I wouldn't think he would lower himself to say that. Fangio was a great man and I don't think he would have criticised another driver unless he had caused a shunt.' We agreed that Fangio's writing colleague might have used a little licence there.
It prompts a further thought from Stirling, namely that he could beat Fangio in sports cars but not in F1. When Stirling asked Fangio why he thought that was so, Fangio replied that he liked to see his wheels. Stirling says that he still doesn't understand what Fangio meant because your focus is way up the track when you're racing and you don't look at your wheels. Stirling's logic there seems impeccable to me, so that difference between them remains a puzzle.
Still on Fangio, I have to bring up the old chestnut of whether he allowed the young Englishman to win the 1955 British GP. It has been discussed endlessly over the years, I know, but when the subject comes up nobody mentions what Fangio apparently said in that 1986 book. It says there that, the night before the race, the Mercedes team fixed it for Stirling to win by lowering the gearing of Fangio's car. How, I wondered, would Stirling react to that?
Even as I speak, Stirling starts muttering: 'I doubt it, I really doubt it. I find it really difficult to believe that. After the race, I did ask Fangio, "Did you let me win that race?" And he replied, "No, no: it was your day." I did a bad start but caught him up and got past when he was baulked by a backmarker. Then I just drove flat out.' Stirling laughs again, adding: 'At the last corner I went as fast as I could, got my foot flat down and then waved him past, knowing full well he couldn't do it.'
That was in 1955, and Moss was on peak form. Major wins included the Mille Miglia in May and the British GP in July – and then, I noted, he raced a 948cc Standard Ten in a saloon car race at Oulton Park in August. Autosport described his driving of the little Standard as amazing but, as it still seems rather improbable, I ask him what it was all about.
That Standard, I learn, was his own car. He was at Oulton Park racing another car and he just decided to drive in the saloon car race for fun. It definitely was not, he laughs, a works entry – as some claimed.
Next: the Nassau Speed Week of December 1955, when Ken Gregory had been called in as Clerk of the Course to bring some sense of order to that chronically chaotic meeting. There was pandemonium from the Americans when Ken announced that there would be a Le Mans start. They wanted time to do up their seatbelts and the drivers' briefing was getting out of control when, according to Ken, Stirling came to the rescue with a pacifying speech. He said that they would only lose a few seconds, that the Le Mans start was the safest way and he was sure they all agreed that safety was the most important thing. What are his views now?
Again, Stirling says that he didn't recall the incident but he is quite unrepentant in his traditional attitudes. He makes that clear: 'I have never been a believer in seatbelts. I saw a man die at Sebring when he turned his car over, it caught fire and they couldn't pull him out.'
Something that has puzzled me for a long time is what exactly it was that made the Vanwall handle so badly at the German Grand Prix on the Nurburging in 1957, so soon after Stirling's brilliant win in the British GP at Aintree. And then, just two weeks later, he seemed to have no trouble in winning at Pescara. Had some fundamental improvements been made to the Vanwall during that fortnight?
Stirling explains that, unlike the 250F, the Vanwall never handled well anywhere. It had good brakes but the gearbox was lousy and the engine had flat spots at first. It was almost undrivable at the 'Ring, says Stirling, because that circuit was like a road and not a very good one in those days. Nothing was changed for Pescara, where the circuit was smooth and fast, and the car wasn't too bad. He admits that Colin Chapman did improve the Vanwall but insists that it was never a good car to drive. It was quite fast, it did the job, it won the title but it was never a nice car in Stirling's view. Simple as that.
According to reputation, Stirling always preferred understeering cars but my guess is that's a rather simplified version of the truth…
'Yes, it is,' he says and there was no need to finish my question. 'Now, looking back on it,' he says, 'I actually prefer oversteer. Understeer can be easier but it's not so responsive. That's where the SLR [Mille Miglia winner] was so good. You could adjust it.' Stirling never liked cars that understeer and then roll into oversteer but we all know that he had the ability to drive anything to its absolute limit, however it handled.
In the wet, he invented a special technique, faking a momentary bit of extra oversteer as he entered the corners, passing a message to anyone behind that it was more slippery than they thought – but he was back on the power, having thought it all out, before they knew what was happening. More than wanting to be World Champion, he wanted to be seen as the man to beat, and that he most certainly did achieve.
Quick question: in Ken Purdy's book (1963) Stirling is quoted as saying he was frightened of the future. What exactly did that mean? The simple answer comes straight back: 'I'm frightened of death. I don't want to die. There are still too many things I want to do.'
Many years ago, Stirling said to me that if he were 17 now he'd think twice about starting a driving career because there's 'too much competition, boy.' Does he still feel that way?
He would start racing but what he liked about his time was that it was dangerous. As he puts it, when you're 17 or 18 you like to do dangerous, stupid things. That was an important ingredient to him. Motor racing was a dangerous sport and he liked it that way. The worse the conditions got, the more it played into his hands. Today's drivers are the losers, to his mind, because they are not brushing their wheels against rock faces and precipitous drops. In his day, he felt that he was playing a game, putting in his highest bid and risking his life, and that's what he found so rewarding.
Thanks to Porter Press, publisher of the Stirling Moss Scrapbooks, www.porterpress.co.uk.
Published Dec 7th, 2015
More Classic Car News & Article Categories:
Related Articles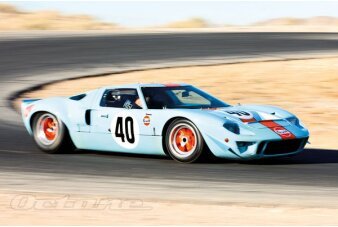 While every factory Ford GT40 is special, some are more special than others.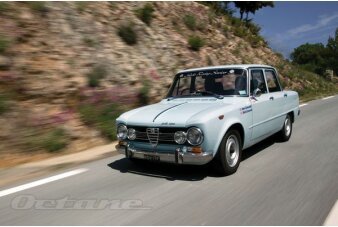 For the Linwoods historic rallying seems to come naturally.
×
Stirling Moss Speaks