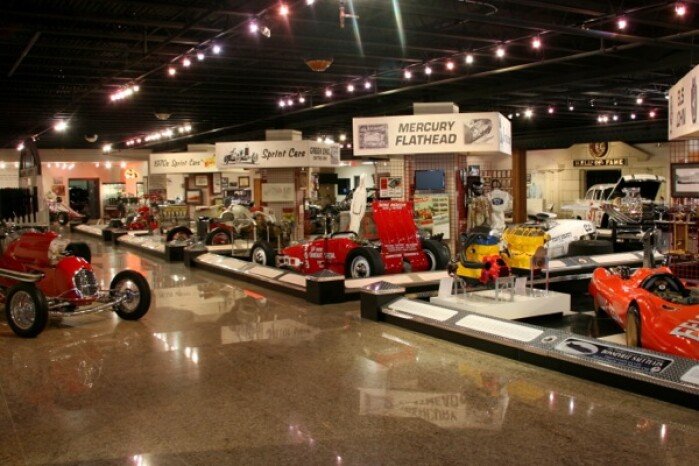 Text by Damon Lee

When you've spent nearly 60 years selling racing and street rod parts for a living, what do you do for fun? If you're "Speedy" Bill Smith, you collect more racing and street rod parts – plus cars, engines, toys and every other form of automotive artifact you can imagine. Then you share that collection with fellow car enthusiasts in one of the most spectacular automotive museums anywhere.

The Smith Collection Museum of American Speed is "Speedy" Bill Smith's monument to the pursuit of performance. Located in Lincoln, Nebraska, the three-story, 135,000 square-foot facility is appropriately situated next to Speedway Motors – the business Smith founded and has run since 1952. The success of Speedway Motors has no doubt allowed Smith's collection to grow to its current scale, but his quest to preserve the artifacts of automotive performance is a passion that predates the business.


An Early Appreciation
Smith learned early the value of hard work. As a teenager in the 1940s, he earned spending money and learned about cars by buying, fixing and selling Model T Fords. His wheeling and dealing turned up a few pieces of early speed equipment – including a Hal overhead-cam conversion for a Model A engine. Smith admired the ingenuity and engineering in the Hal piece and quickly developed an appreciation for early speed parts manufactured by other aftermarket pioneers, like Robert Roof, Rajo and Riley.

"When you consider what those guys did, it was really amazing," Smith says. "They didn't have much money or the backing of some big corporation, but they had the desire and resourcefulness to create products that made mass-produced engines more powerful and efficient. These guys literally laid the groundwork for the entire performance aftermarket industry."

Smith's appreciation was more than academic – he put his performance interests to the test on local dirt oval racetracks. A short stint racing motorcycles led Smith to some seat time in roaring roadster racers, but, ultimately, he found his niche as a car builder and owner. He spent most of his spare time during high school and college pursing his racing interests.    


Mixing Business and Pleasure
Though he studied to be an educator at Nebraska Wesleyan University, "Speedy" Bill ultimately followed his passion for performance by opening Speedway Motors. Using a $300 loan from his wife, Joyce, Smith started the business in a humble 20x20 foot building near downtown Lincoln. The city was not an ideal geographical locale for a speed shop, but Smith managed to steadily grow the business. His racing efforts gave Speedway Motors much-needed exposure and even some cash earned by winning races. Additional growth came by offering mail-order service to customers beyond the city and state borders.

Campaigning race cars and promoting Speedway Motors took Smith to all corners of the country in the ensuing decades. In those travels, he managed to unearth many more treasures to add to his collection. "Back in the 1950s, '60s and '70s, a lot of these old parts and engines were considered obsolete junk," Smith says. "People were throwing some of this stuff away. But I could see the historical value and significance in these items. I felt it was important to save and preserve them so we would have a record of where the industry came from."  

As Smith's stockpile of engines and parts grew, his collecting became more deliberate. Scouring national classified ads and attending auctions were now part of the game. He and Joyce began making the annual pilgrimage to swap meets like Hershey and chased countless leads, hunting for rare parts and cars. A network of friends kept their eyes and ears open for clues to even more elusive treasures. News of Smith's growing collection eventually spread to other racers and collectors who would often offer up their own artifacts. The more he collected, the more Smith mastered the art of being in the right place at the right time.


Creating a Museum
Though bits and pieces of Smith's collection ended up on display in the Speedway Motors showroom, a good portion of it was tucked away in warehouses and storage facilities. "Speedy" Bill and Joyce knew their treasures deserved a better fate. In 1992, they formally established the Smith Collection Museum of American Speed as a non-profit corporation with 501(c)(3) status. The museum initially took shape in a portion of the Speedway Motors warehouse, moving to its current location in 2000, when the company relocated to a new corporate campus in west Lincoln.

It's difficult to describe in words the Smith Collection's true scope. It covers the full spectrum of racing and hot rodding, from the earliest days of automotive competition right up through the current era. There's a strong focus on technology, as the museum boasts the world's largest collection of vintage and exotic racing engines (600 and counting), not to mention an entire room devoted to the great racing engines of Harry Miller and Fred Offenhauser. A spectacular selection of race cars – including the Johnny Lightning Lola-Colt Indy car and David Pearson's Woods Brothers NASCAR Mercury – helps to illustrate where many of the engines once resided.

There's more than just racing engines and cars, though. In the room known as Bill's Garage, you'll find a variety of street rods, a 1930 Model J Duesenberg, and one of the handful of Tuckers ever made. A walk up to the second floor brings you to a fantastic display of Model T cars, engines and accessories, plus exhibits showcasing Midget race cars and Flathead Ford V8 engines and accessories.

The museum's collection of more than 500 vintage pedal cars also begins on the second level, spilling up onto a third story packed with all manner of automotive toys and games. Mix in displays of vintage lunch boxes, autographed guitars and automotive-themed album covers and you've got a spectacle that holds something of interest for just about everyone. Guided tours of the museum take a little more than two hours, but most car enthusiasts could spend two days in the place and still not soak everything up.

The accompanying photos offer a quick glimpse into "Speedy" Bill and Joyce Smith's amazing collection, but there's nothing that matches the thrill of experiencing the Smith Collection Museum of American Speed in person. The museum is open for weekly tours on Fridays at 2 p.m. from October through April; from May through September there are daily 2 p.m. tours Monday through Friday. Admission for all tours is just $10, and the museum is also available for special club and group events throughout the year.


Source:
Museum of American Speed
www.MuseumofAmericanSpeed.com
402-323-3166



Stepping into the expansive Smith Collection Museum of American Speed is like tracing a timeline of racing and hot rodding in the United States.



The Miller Gallery showcases the dominating racing engines built by Harry Miller and Fred Offenhauser. An exploded view of a dual-overhead-cam Studebaker V-8 Indy engine – designed by Miller's Leo Goosen – is one of the highlights.



The Johnny Lightning Special is one of the more memorable Indy cars of the past four decades. Driven by racing greats like Al Unser and Sammy Sessions, the car had a total of seven USAC National Championship wins in four years of competition in the late-1960s and early-1970s.



Flathead Ford V-8s were the predominant hot rod engines in the 1940s and 1950s and are well represented in the museum. Shown here is a huge selection of the many aftermarket intake manifolds made for Flatheads, as well as some of the performance cylinder heads.



Two examples of great Ford V-8s sit side-by-side – a fuel-injected, Ardun-head Flathead, and a 1964-vintage SOHC 427 "Cammer" engine.



A trio of T-based hot rods greets visitors in Bill's Garage. Among them are a clone of Ed Roth's famous Outlaw, the Total Performance Tangerine T, and the original Red Baron show rod.



Ever wonder what a well-equipped race shop looked like in the late 1920s? This display offers some insight, with a 1929 Indy racer as its centerpiece.



Among the many engines in the Indianapolis pit area is this 1930 Duesenberg single-overhead-cam example.  



In addition to "putting America on wheels," the Ford Model T helped create the automotive aftermarket, as evidenced by the museum's large collection of T accessories.



The museum's extensive collection of pedal cars and automotive toys is nothing short of incredible.  



NASCAR fans are sure to recall the famous finish of the 1976 Daytona 500, when Richard Petty and David Pearson tangled on the last lap. This is the restored Mercury that Pearson limped across the finish line to victory.



A realistic Midget racing display depicts Kansas City's Olympic Stadium in the late-'40s, with an orange Offy-powered Kurtis Midget (right) battling an Elto competitor.



The history of hot rodding is tied largely to dry lakes racing done in modified Model T roadsters like this 1923 built by Art Gerrick in the early 1950s. It's powered by a Model T engine with a Rajo head and Winfield carbs.



"Speedy" Bill Smith and his wife, Joyce, are seen here in the museum's Indy pit area with their four sons (from left), Clay, Carson, Craig and Jason. Each family member is involved in the Speedway Motors business, as well as the Museum of American Speed.=
Published Dec 7th, 2015
More Classic Car News & Article Categories:
Related Articles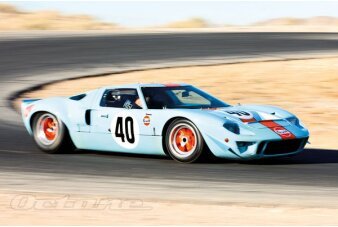 While every factory Ford GT40 is special, some are more special than others.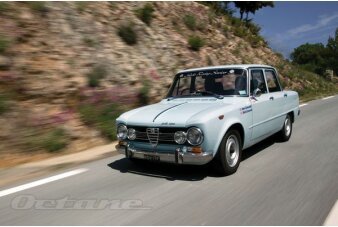 For the Linwoods historic rallying seems to come naturally.
×
Speeding Through History