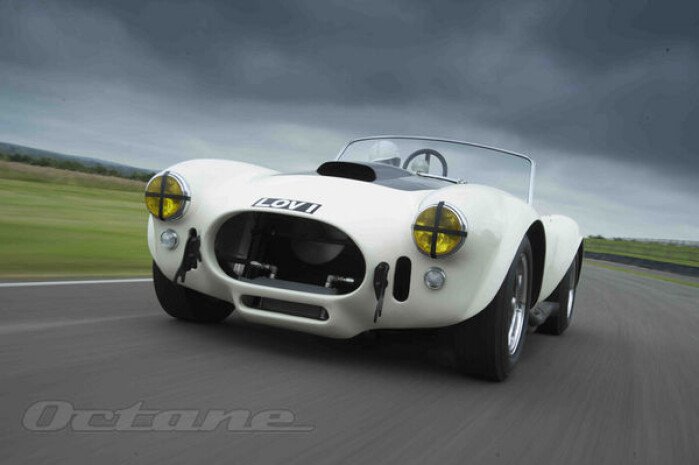 There's no way that's going to pass the Noise Test,' says the chap in the paddock at Goodwood Motor Circuit. Privately, we think he's probably right. Squatting among a host of modern track-day cars a few days before the Festival of Speed, this brute of a 427 Cobra looks exactly like what it is: a relic from a different age, when – as the old saying goes – sex was safe, and motor racing was dangerous.

Still. There's no way we're going to be allowed onto the track for photography without having a decibel meter run over it first, so we trundle the Cobra over to the testing area, where one marshal brandishes the meter while another consults his clipboard and looks thoughtful as the race-spec 427 side-oiler V8 is run up to three-quarters of maximum revs. Then faces clear and we're given the thumbs-up. Amazingly, it's passed. It's right on the limit, but we're going to be allowed on track.

Strict instructions to keep the noise down mean there won't be much in the way of full-bore acceleration or sideways cornering pictures today. But the chance to circumnavigate Goodwood in a genuine race Cobra is a rare one and we're not about to abuse the privilege.

You'll notice from the pictures that this Cobra is right-hand drive and wears the British registration 'LOV 1'. That combination is a dead giveaway about who owned it in the 1960s, for LOV 1 was the instantly recognizable plate that adorned a succession of race cars and demonstrators for Graham Warner's dealership The Chequered Flag. 'It was on an Armstrong-Siddeley that we'd taken in part-exchange,' recalls the sprightly Warner, whose memories of those days are still vivid. 'We passed it from one car to the next, until I finally sold it in the 1990s.' It hasn't adorned the Cobra for decades, but the car's current owner, Henry Pearman of E-type Jaguar and historic Group C fame, couldn't resist sticking the plates back on just for our track session.

Graham Warner remembers the Cobra well. 'We owned an ex-Tommy Atkins 289 Cobra and had been campaigning it quite successfully,' he explains, 'but then I found out that Paddy McNally had a 7-liter Cobra for sale. He was asking quite a lot for it, but Paul Pycroft – who had raced his modified Jaguar [SS100] at Goodwood just after the war – put in some money, perhaps 20%, because he wanted to do some hillclimbs with it on the Continent, and we bought it together. I only drove it once myself, up the M4, and remember it as being a very docile car.'

The Cobra that Warner had acquired was chassis CSX 3006, one of just 16 sold to privateers in the first half of 1965. These big-block Cobras were intended to take the fight to Ford's increasingly competent rival, the Chevrolet Corvette, in the FIA's GT class, since the 289 was now at the limit of its development, but there was a problem: Shelby had completed only 51 of the 100 examples required for homologation when the FIA inspectors came a'calling on 29 April 1965. They had already thrown out Ferrari's 250LM for the same reason and were not inclined to make an exception for the Americans. All of a sudden, Shelby had no need for the remaining 49 chassis that he'd ordered from AC Cars, and he cancelled his order.

But then the FIA threw a curveball. In June 1965 it created a new class, Competition GT, for which the 427 Cobra was eligible – but in so doing it pitched the Ford GT40 in direct competition with the Ford-powered Cobra. The GT40 programme meant a lot more to Carroll Shelby than the Cobra did by this point, so to keep the Blue Oval happy he agreed that he would only sell the 427 to private entrants and would not field any 'works' entries. But take-up for the relatively expensive Cobra was slow. Orders for a further three competition cars were received, bringing the total to 19, while the remaining 34 chassis (which included two prototypes) were built up into 'street' versions and cannily marketed as the fastest street cars ever built. Not surprisingly, these thinly disguised race cars – which were dubbed 427 S/C, for Semi-Competition – are now rather desirable machines.

It's worth remembering that the 289 and 427 versions of the Cobra were very different cars, and not just under the bonnet. The chassis of the 427 used beefier tubes than its predecessor, and was wider to clear the bigger engine. Most importantly, the rear suspension was now a four-link coil-over-damper arrangement rather than the semi-elliptics that had been inherited from the AC Ace, which meant it could be fine-tuned for racing.

The engine was not Carroll Shelby's first choice, however. He would have liked to use the Ford 390 V8 but was forced to settle for the heavier 427 because the NASCAR teams had first call on the 390. Thinwall casting helped keep the 427's weight down, but the design of the new Cobra was a compromise from the start – it was drawn up with a wheelbase three inches longer than the 289's, but when Ford's man Bob Negstad arrived at AC to oversee build of the prototype, he found that AC had taken delivery of chassis tubes cut to the same length as the 289's because it got a better deal on the price! So the 427 Cobra ended up as a car with 150 more horsepower than the 289, and wider of track front and rear, but on the same 90in wheelbase. No wonder it could bite with the rapidity of its namesake if provoked. Yes, it was capable of reaching 100mph from rest in under nine seconds – the difficulty was keeping it in a straight line while you did so.

Chassis CSX 3006 was billed to Shelby American on 31 December 1964 and commissioned on 25 January 1965 to be built for one William G Freeman of Muncie, Indiana. Mr Freeman specified metallic blue paint with gold stripes and it was duly delivered through Hi-Performance Motors of Los Angeles for 00 – plus another 25 bucks for a shoulder harness. Freeman did a couple of races with the car, then took it with him to France when he was offered a racing contract there. He didn't race the Cobra but stored it in France, and it was bought by The Chequered Flag in the spring of 1966.

This is where 3006's life suddenly became a lot more active. It was converted to right-hand drive and painted Wimbledon White with a gloss black bonnet and bootlid, and entered for various races at Goodwood and Brands Hatch, and in Austria. And in that brief but intensive season, it achieved a notable victory: first overall in the Ilford 500 at Brands Hatch on 8 May 1966, driven by Bob Bondurant and David Piper. It is, reckons Graham Warner, the only outright victory in an FIA international race ever achieved by an 'open' Cobra, including in the USA.

Motor sport historian and Octane contributor Doug Nye remembers that day well. 'I was press officer at that meeting, a weekend job I was doing to boost my meagre stipend from Motor Racing magazine. We'd had the tragedy of practice the previous day, when Tony Flory crashed Neil Dangerfield's Cobra at Paddock and was killed instantly.  

'I remember Brands was grey and cold that day and the rain relentless. The BRSCC decided it would last six hours or 500 miles, whichever mark came up first. "Pipes" and Bob Bondurant only covered 464 miles, conditions were so bad. Chequered Flag ran two Cobras, the 7-liter and a 4.7 for Roy Pike and Chris Irwin. Peter Sutcliffe's red GT40 and Innes Ireland's pale blue one led very briefly, before the former burst an oil pipe and then Innes got off-line trying a clever move at Stirling's Bend and he spun onto the infield, where the car just got bogged down. He was soaked and very defensive when he got back to the pits. Colonel Hoare – the car's owner – wasn't too impressed.

'Such a long race always takes on a shape of its own, and in the wet Roger Enever and Alec Poole got into second place in, of all things, a hardtop MGB. They deserved enormous respect for that. But all this time "Sooters" and David Hobbs had been hurtling back through the field in their delayed GT40, and they just nipped out the MGB before the finish, to take second place.  

'I vividly remember the big 427 Cobra popping out from behind the trees at Druid's Hairpin, lap after lap, cornering like a thrupenny bit with bursts of throttle. It just had so much grunt once they had found grip that it left everything for dead on the straights, while David and Bob Bondurant were good enough to carry a lot of speed round the twisty bits. Those blokes did a phenomenal job. It was only a medium-league non-Championship race, but there were some heroic drives that day.'

CSX 3006 competed in various other events that season, including the Austrian Sports Car Grand Prix in September, but as Warner says: 'Group 4 was falling out of favour and there were very few races that were available for it. David Hobbs drove it in the Martini Trophy at Silverstone later in 1966, for which we had an alloy hardtop made – the windscreen normally acted like an airbrake, but the hardtop added 6mph to the top end! We put the 427 up for sale at the end of '66 along with the 289, and I think we got a couple of thousand for them. They were good cars, but not easy to sell on.'

The 427 was campaigned sporadically in the UK by subsequent owners before it was sold back into the USA in the late '70s. At some point it was converted back to left-hand drive and its mechanical parts were extensively overhauled in the early 2000s, before it underwent a comprehensive body restoration at Legendary Motorcar in Canada, which returned it to authentic 1966 race specification. That meant changing it to right-hand drive – again! – and repainting it in the 'Flag's white-with-black-bonnet combo.

Parked beside the picket fences at the southern end of Goodwood's pit straight in 2012, the Cobra looks like the perfect time-warp. Drives like it, too. From the moment you turn the key and fire up the big V8, this car just feels right. It's obviously immensely powerful – we're talking the thick end of 600bhp here – but it sounds almost civilised for a 7.0-liter motor running sidepipes, and even the idle is not as ragged as you'd expect.

The shift lever is offset towards you by the massive transmission tunnel, which also forces your feet over towards the right side of the footwell. First surprise: the clutch is quite light. Next surprise: so is the steering. This fearsome car has so far seemed remarkably friendly.

As we trickle onto Goodwood's circuit for a couple of laps, the temptation to mash right foot to the floor and hear that V8 bellow and feel your spine shoved to the front of your ribcage by the acceleration – which is what you just know will happen – is almost overwhelming. Keeping the revs down is frustrating, but it does prove that the Cobra will pull from almost any engine speed, even one that's way out of the lower end of its comfort zone. Sometimes it gets a little recalcitrant, a little jerky, but it will always come through for you.

Four days after our photoshoot, the Cobra's owner Henry Pearman has the chance to work it just a little harder, by doing demonstration runs up Lord March's drive at the Festival of Speed. So, Henry, what was it like?

'A total revelation!' he exclaims, his excitement infectious down the phone line. 'It was so easy to grandstand off the line and do racing starts by dropping the clutch at 3000rpm, spinning the rear wheels and then feathering the throttle slightly to gain traction. The IRS puts the power down without any vices – talking at the Festival with [US classic car dealer and racer] Bruce Canepa, who has driven plenty of Cobras, he told me that the 289 is a lot harder work in race-spec, because it's always fighting with its chassis.

'It's an amazingly docile car. The steering is so light, and on its Dunlop racing tyres it turned into Molecomb nice and crisply, without a trace of understeer. It's a fast car that doesn't feel fast, if that makes sense – just a joy to drive.'

A snake whose hiss is worse than its bite? Emphatically not. But it's good to know that this Cobra won't bury its fangs in you without a little provocation first.    

Thanks to Alan Brewer and the marshals at Goodwood Motor Circuit, and to Henry Pearman of Eagle, www.eaglegb.com and www.historicporsche.com. 


Specifications

1965 SHELBY COBRA 427

Engine 6997cc all-iron Ford FE-series side-oiler V8, OHV, four-barrel Holley carburettor
Power 564bhp @ 6200rpm (dyno tested in this car)
Torque 525lb ft @ 4700rpm
Transmission Four-speed manual, rear-wheel drive, Salisbury LSD
Steering Rack and pinion
Suspension Independent by coil-and-wishbone, telescopic dampers
Brakes Discs all round
Weight 975kg
Performance Top speed 160mph. 0-60mph 4.3sec
Published Dec 7th, 2015
More Classic Car News & Article Categories:
Related Articles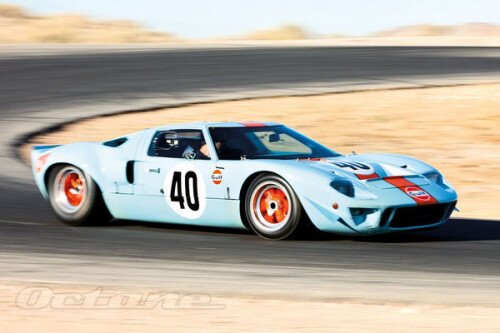 While every factory Ford GT40 is special, some are more special than others. The dazzling example featured here, chassis GT40P/1074, earns bonus points for at least three reasons..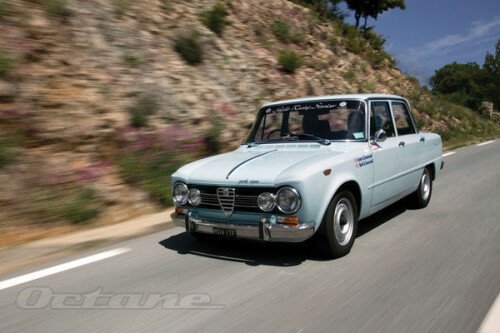 Not long after their first event together, Bob bought a standard road-going 1968 Alfa Romeo Giulia Super, and had it restored by Classicarco in Manchester. We spend a pleasant afternoon tossing it around the French countryside for Martyn's camera, Bob and I swapping the wheel like two duffers on the practice green trying out the same putter.
Advertisement
×
Shelby Cobra 427