‹ Go back
RM Autions Tops $35 Million At 2014 Amelia Island Sale
RM Auctions, the official auction house of the world renowned Amelia Island Concours d'Elegance, continued its record-setting 2014 auction calendar this weekend, achieving the company's best-ever Amelia Island results at its 16th annual sale with a total of $35,947,500 and 97 percent of all lots sold. This represents a 34 percent increase over 2013 sale results while bidders hailed from 18 countries around the world with 20 percent representing new clientele.
The well-established sale lifted the gavel on 91 exceptional vehicles perfectly matched to the Amelia Island Concours venue, setting no less than seven world auction records before a standing-room only ballroom that exuded excitement for the diverse roster of cars crossing the podium. Top sale honors went to "Malcolm's French Mistress", the ultra-rare 1937 Delahaye 135 Competition Court Torpedo Roadster offered from a half century of ownership as the jewel of the esteemed Pray Collection. One of only two surviving short chassis examples and the only surviving example with its Géo Ham body tag, the showstopper achieved a world-record $6,600,000 to become the most valuable car ever sold during the Amelia Island weekend.
Additional top lots among the 16 offered from the Pray Collection include the impeccably pure 1958 BMW 507 Series II Roadster, which garnered a record-shattering $2,420,000, and a superbly authentic 1961 Ferrari 250 GT Series Cabriolet, which also sold very well at $1,760,000. Also joining the Pray Collection at the top of the sale list is the desirably equipped 1957 Mercedes-Benz 300 SL Roadster, originally owned by Hollywood actress Natalie Wood, which brought a fantastic $1,842,500.
"We could not be happier with the results of our 2014 Amelia Island sale," says Gord Duff, Car Specialist, RM Auctions. "Despite the weather, our fantastic selection of cars and stylish presentation were showered with rave reviews from our international clientele. The Pray Collection certainly achieved the value it deserves, and we're truly honored to have offered such an incredible group of cars for a family who have been friends of RM for decades."
"The Pray family is thrilled with RM's sale of Malcolm's collection," adds Philip Richter, family friend and trustee for the Pray Collection. "The tireless efforts of the entire team enabled a result that greatly exceeded all expectations. RM was the natural choice for the Pray Collection because their enthusiasm, professionalism, and attention to detail are traits that so reflect both the business and personal values of Malcolm Pray himself."
Additional very notable sales of the day include a highly original and beautifully presented 1972 Ferrari 365 GTB/4 Daytona Berlinetta which sold for a strong $781,000, along with a show-condition and rally-ready 1939 Aston Martin 15/98 Short Chassis Open Sports which sold for an outstanding $616,000, well above its presale estimate. Also deserving of special mentions are a 1974 Iso Grifo 7-Liter and a 1972 Ferrari 365 GTC/4 which both generated spirited bidding battles and world auction record prices to sell for $440,000 and $335,500 respectively.
RM Amelia Island - Top Ten Sales:
1. Lot 167 1937 Delahaye 135 Competition Court Torpedo Roadster $6,600,000
2. Lot 152 1958 BMW 507 Series II Roadster $2,420,000
3. Lot 122 1957 Mercedes-Benz 300 SL Roadster $1,842,500
4. Lot 162 1961 Ferrari 250 GT Series II Cabriolet $1,760,000
5. Lot 174 1934 Duesenberg Model SJ Convertible Sedan $1,567,500
6. Lot 179 1965 Shelby 289 Cobra $990,000
7. Lot 147 1965 Shelby Mustang GT350 R $984,500
8. Lot 171 1928 Bugatti Type 37A Grand Prix $962,500
9. Lot 163 1937 Bugatti Type 57C Roadster $902,000
10. Lot 135 1932 Packard Twin Six Individual Custom Convertible Sedan $840,000
Published Dec 7th, 2015
More Classic Car News & Article Categories:
Related Articles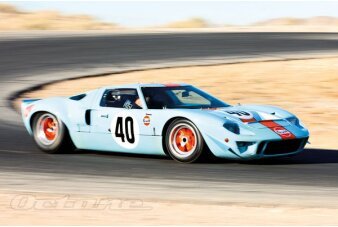 While every factory Ford GT40 is special, some are more special than others.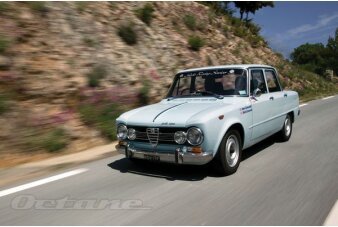 For the Linwoods historic rallying seems to come naturally.
×
RM Autions Tops $35 Million At 2014 Amelia Island Sale