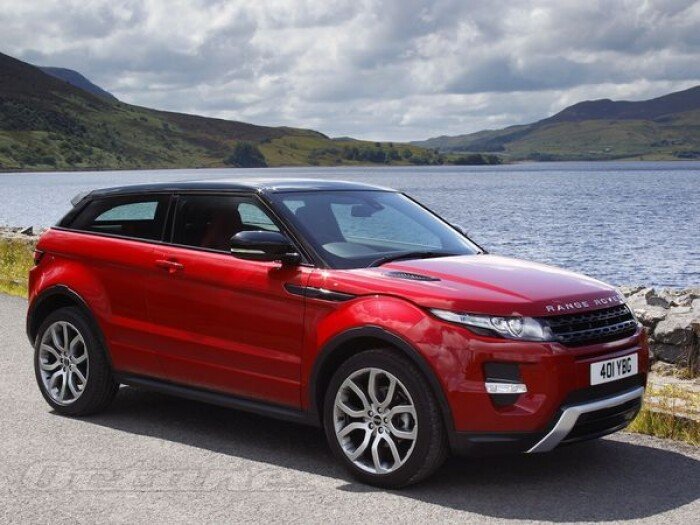 I have to admit, I was a bit sceptical about the Range Rover Evoque. The name, for a start. Just what does it, er, evoke? And how come Range Rover is now a marque? Not to mention all that guff involving Victoria Beckham. How can a company as, well, practical as Land Rover be marketing a new car around somebody who's famous mostly for being famous? Where's the talent? What's the point?
And then I had a brief drive in the base-model diesel, with front-wheel drive. Even my initial incredulity about pricing softened when I realised that the minimum cost of roughly $45,000 gets you something this refined and special-feeling, with great spec too: heated seats, leather, climate control, Meridian sounds, they're all yours, and the five-door's fairly useful too. This or a BMW 320d Touring as your company wheels? Not so tough a choice, actually.
Now we're testing the range-topper and the pricing thing is heightened. It's $65,000 as a three-door, and this one had seven grand in options added, including a largely pointless three-grand seating package. The optional perches look fab but are too narrow across the base, too broad across the squab. Oh dear, form over function. In a Landie.
And is a Ford Mondeo's 2.0-litre turbo four enticing enough at this price level? Outputs of 237bhp @ 5500rpm and 251lb ft at 1750rpm should help, but can it impress when hooked up to a six-speed auto-box? And just what is this anyway? Time to see if a hot hatch on stilts (which, I think, is what it's basically trying to be) can impress.
Climb aboard and hunt out that starter button, rather awkwardly plonked to the left of the instrument binnacle. The Jag-style cylindrical transmission selector rises up from the console and Ford's Ecoboost fires, its ever-so-slightly boomy nature subdued just enough to maintain mystique.
It's actually a pretty smooth engine, not so couth as to con you into thinking it's a big six, but swingeing around the tacho while shifting the hefty (1640kg) four-wheel-drive with alacrity – performance figures of 0-60mph in 7.1sec and top speed of 135mph certainly ring true. Turn the stereo up loud to drown the (albeit muted) Ford sound effects and, yes, you'd be convinced this is 3.0, maybe 3.2 liters, rather than a force-fed 2.0-liter four. It winds out really nicely, kicking in with a bootful of torque from the off and not letting up until you do.
The transmission really helps too, seeming to know what gear you want to be in, holding on rather than shifting up and, in S mode, holding lower gears when you back off, giving a degree of engine braking. The paddleshifters work precisely and quickly too, though you don't really need to bother with them much.

All of which would count for little if the thing's a dynamic mess. Plainly it is not. Yes, you sit high, Range Rover high, so you feel a little bit detached from the road, but the Evoque does its best to keep you in touch.
For a car whose centre of gravity must be somewhere around your armpits, its body control is astonishing. It corners pretty much flat, responding with supermini-style immediacy to the helm and scything its way through. There's not much in the way of help from the back end; it's four-wheel drive, but don't mistake it for something that's going to light up its rear tyres. Instead it feels like a really well-sorted front-driver. A hot hatch on stilts? Definitely. And very impressive with it.
The ride feels very firm, but that soon translates into iron control over undulations rather than needless harshness. It gets better the faster you go, conjuring 1980s Peugeots to mind in the way it smooths out gnarly British B-roads. Good on motorways too, where the flat ride combines with that well-suppressed engine and near-non-existent wind noise to make the Evoque a supreme cruiser. JLR's chief engineer Mike Cross has been hard at work here; in fact, this feels more like a Jaguar product than any Land Rover I've driven before. There's certainly a touch of the XF in the way it follows the contours of the road without ever quite imposing them on you.
Any niggles? A couple, only one of which concerns the dynamics, and it's the steering. While accurate and mostly linear, it suffers at the straight-ahead from a slight reluctance to deviate from course; almost as if there is some magnetic attraction to keeping straight. It's fine when you're trying hard, but it's noticeable enough to annoy when you're making those little tweaks at low-to-medium speeds, denying the steering that final sheen of subtlety.
While those with families would spec a five-door, the seat-tipping mechanism is clumsy enough to annoy even empty-nesters who hardly ever use the rear seats. And trim quality takes a nosedive the further back and lower down you look; biggest offenders are the shrouds over the lower seatbelt anchor-points in the B-pillar bases, and the back of the centre console box. None has a place in the $45k base model, let along this near-$80k range-topper. Details, but still a let-down. There's also a sense of twittery trim over bumpy roads that you'd never suffer in a German premium SUV or coupe.
Which beings me to another point: I'm not sure what rivals this car. Maybe it's unique, as are a couple of other modern-day marketing-led products. It's hugely fashionable, anyway, and certainly not as pointless as I'd feared. If you can live with 25mpg fuel economy (which, realistically, is all you'll get) then, yes, this is the pick of the Evoque range: it's a genuine thrill to wind out past 6000rpm, with torque on tap all the way. That $65k asking price is a lot, mind.
How about one of those base-spec Evoques and a second-hand Porsche Boxster with the change? Yes please.
Published Dec 7th, 2015
More Classic Car News & Article Categories:
Related Articles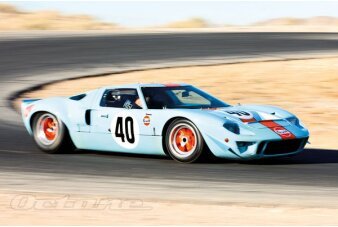 While every factory Ford GT40 is special, some are more special than others.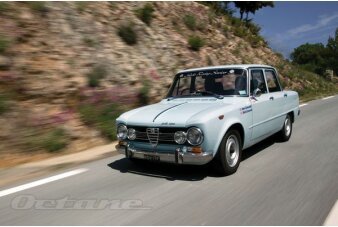 For the Linwoods historic rallying seems to come naturally.
×
Range Rover Evoque Dynamic