On 13 September 1964, the sole airworthy example of an RAF Bristol Bulldog biplane – one of only two remaining in the world – crashed while it was being demonstrated at the Farnborough Air Show. The engine cut out at the top of a loop, and it stalled into the ground. Fortunately, the pilot, Ian Williamson, survived with no more than cuts and bruises, but the aircraft was comprehensively wrecked.

This tragic event of nearly half-a-century ago was a wake-up call to the heritage industry and an early example of the classic dilemma: if something is unique and irreplaceable, do you carry on using it for the purpose it was designed for, or do you shut it away in a museum forever, where it will remain safe, but also cold and inert?

As a former archaeologist, I've always had a fascination with the business of preservation and restoration – deciding when to preserve something in its present condition, and when to improve it for aesthetic or practical reasons. The debate is ongoing; a call to the British Museum revealed that a statue of the god Hermes is about to have its missing nose replaced for the first time. The nose has been absent for as long as the statue's been in the Museum, but it's now been decided that the lack of it distracts too much from the sculpture's appearance, and so it will be restored.

In that case, the restoration will fall within easily defined limits. Very often, it's not that simple. How far do you go in restoring an object to 'as new' condition? Where do you draw the line between preserving an artefact as it is now, and bringing it back to a pre-existing state – one 
that, in the case of a building, a competition car or a World War Two aircraft, may be very different from the form it exists in now?

Take, for example, the Bentley Speed Six 'Old Number One', winner of both the 1929 and the 1930 Le Mans 24 Hours races. During its intensive competition career it was heavily rebuilt, particularly after a horrendous crash in the 1931 Brooklands 500 Miles, and by 1933 there was literally nothing left of the 1929 car except a few miscellaneous fittings. This led to a crucial court case in 1989, when the owner Edward Hubbard sued a potential buyer, who had pulled out of the purchase on the grounds that the car was no longer Old Number One.

The judge found for Mr Hubbard, reaffirming the now-famous concept of 'continuous history' – there was a recognizably direct lineage between the car's 1929 form and the way it existed in 1989. But to attempt to restore it to its 1929 condition would have been ludicrous: it would have entailed replacing almost every part of the car.

And that's the trouble with cars, or aircraft, or indeed buildings: unlike Roman sculptures, they evolve while they're in use. Even assuming that a car, any car, is not crashed in the way that Old Number One was, it's physically impossible for it to remain completely original. Cars are all about driving, and that means that parts wear out or deteriorate with use. Here's the historian Doug Nye's take on the subject:

'Cars are in truth an assemblage of consumables [which] range from filters, belts, spark plugs, brake linings or pads to bearings and crankshafts, maybe even crankcases and cylinder blocks too. If the collector is unlucky, these consumables grow to include engine crankcases, blocks, bodywork, eventually suspension components, and perhaps ultimately even the chassis – the core of the car's identity – itself.'

Doug postulates that in enjoying ownership of a car, the collector is effectively consuming his possession, just as much as the connoisseur of vintage wines. 'The ultimate result of this progressive consumption is that our car as an historical artefact, embodying as it would the original craftsman's art and the accrued evidence, the bumps and scars and marks, left by its life through time – is erased.'

This is leaving aside entirely the question of whether it's right to expose a significant car to the hazards of competitive driving. For a race or rally car, that's the sole reason for their existence; you can't appreciate the essence of a Jaguar D-type until you've heard its straight-six at full yowl and seen it drifting around Goodwood in the hands 
of someone like Win Percy. But operating any machine brings inherent risks, and those risks are massively increased when a car is being used in competition. Human error or mechanical failure will always be a possibility – as the chicane at Goodwood proved at last year's Revival Meeting.

If a car has no great historical significance or rarity, most of us would agree that racing it is an acceptable risk; in fact, it can be viewed as benefiting the preservation movement, because cars that need new parts and repairs keep the specialists in business. It's a very different situation with, say, a former Le Mans winner – or the only original Bristol Bulldog aircraft.

Doug Nye says he's not against racing historically significant cars – rather that he's uncomfortable with it. And his opinion that by using a car, we consume it, raises another difficult question: when do we decide to restore a car rather than preserve it?

Preservation is not a new idea, by any means – German scientist Friedrich Rathgen published the first Handbook of Preservation in 1898 – but it's only comparatively recently that it has migrated outside the museum world and been embraced by the private collector. Although America has always been considered the land of the automobile, until very recently a classic car that had survived in original but slightly tatty condition would almost invariably be considered a prime candidate for restoration. The result would be shinier and smarter, but not necessarily an accurate reflection of what the vehicle was like when first built.

In recent years the concept of preserving a vehicle as it was originally built, along with all the scars inflicted on it by the passage of time, has become very 'in', with Pebble Beach introducing its now hugely popular Preservation Class in 2001. But a handful of far-sighted collectors have been leading from the front for some time now – Dr Fred Simeone, Miles Collier and Peter Mullin being three of the most influential.

Miles Collier is so passionate about the preservation of automobiles as artefacts that he hosts international symposiums at his museum in Naples, Florida. Interviewed by Octane for issue 82, he declared: 'If a vehicle doesn't need restoring, then don't restore it. The interpretative quality of a restored car is negligible, and needless restoration is tantamount to vandalism.'

It's a subject that's dear to the heart of Peter Mullin, too. The Mullin Automotive Museum in Oxnard, California, has the finest collection of Art Deco automobile masterpieces in the world; many of them have been restored to concours condition – his Voisin C-25 Aerodyne won Pebble Beach last year – but there are several Bugattis, the one-time reserve collection from the Schlumpf museum, that have been left 
in barn-find condition. 'They have such tremendous history,' Peter told Octane. 'It's amazing how visitors gravitate to them.'

There is one particular Bugatti in the Mullin collection that encapsulates the whole 'restore or preserve' debate at its most extreme – the famous Type 22 Bugatti that was raised from the bed of Lake Maggiore in Switzerland in July 2009, and subsequently auctioned at Rétromobile in January 2010. Peter Mullin bought the car and has put it on display, unrestored but preserved, in his museum, with subdued lighting that gives an underwater effect. The underbidder at the auction, it is believed, intended to fully restore the car – something that horrified Peter.

'This car signifies the conversion of the automobile to art,' he explains 'It's a form of sculpture finished by mother nature, analogous to a Greek bronze that's been dredged up from the sea in a fishing net and is missing its head or an arm. It has an incredible patina: one half preserved by lying on its side in the mud, the other half corroded by the water. We looked at displaying it in a glass case, with the air replaced by an inert gas to preserve it, but the advice of a specialist from LACMA [The Los Angeles County Museum of Art] was to coat it in a special lacquer instead.

The corrosion of metals, and how to arrest its progress, is a subject that's still taxing scientists today. The Ancient Greeks knew rather more about this than their 19th century successors: when the Parthenon was built in Athens in 447-438BC, its blocks of marble were joined together with concealed H-shaped iron clamps, which were sheathed in lead to keep moisture out and prevent rust. When restorers reconstructed the now-ruined temple in the 1800s, they omitted the vital lead sheathing – and rust consequently split the marble blocks.

As we've already seen, there are points of contact between the world of restoring/conserving historic aircraft and that of historic cars; dealing with corrosion is, of course, absolutely fundamental for an ageing aircraft, especially since an increasing number of WW2 'warbirds' are being recovered from underwater locations. One of the most exciting recent discoveries is a 1940 Dornier Do-17 bomber, found lying inverted in the Goodwin Sands of the English Channel. It will be raised in the Spring of this year and preserved by the RAF Museum Cosford, a leading specialist in this kind of work.

Tim Wallis is manager of conservation at Cosford: 'We regard preservation and restoration as two intersecting curves on a graph,' he explains. 'In terms of deciding whether an aircraft can be made to fly again, we have to determine how much would have to be replaced, but we also have to consider the individual circumstances of the aircraft.

'In the case of warbirds, the relevant aviation authorities in the UK and USA apply very strict regulations to anything that will fly again, and usually they will insist on the main wingspars being renewed. That work is very invasive. Add to that requirements for modern radio equipment, upgraded undercarriage and so on, and you can see why the number of recreations rather than restorations is increasing – there are a number of wealthy collectors across the globe who are bankrolling such projects.'

It's easy to see the parallels between WW2 warbirds and historic racing cars. As time goes on, we're likely to see fewer 'genuine' historic machines on track, and more exact replicas – such as the amazing Crosthwaite & Gardiner recreation of a Mercedes-Benz W125, featured in last month's Octane. One wonders how much longer the Lancaster bomber that's the star of the Battle of Britain Memorial Flight will be allowed to thrill earthbound spectators with the awe-inspiring growl of its four Merlin engines as it motors overhead. At what point do you decide that its survival, albeit a static one, for future generations is more important than the vivid images – and consequently, the heightened awareness of airmen's sacrifice in WW2 – its operation conjures up for present ones? 
Published Dec 7th, 2015
More Classic Car News & Article Categories:
Related Articles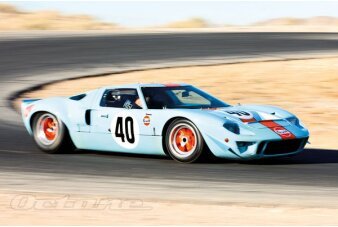 While every factory Ford GT40 is special, some are more special than others.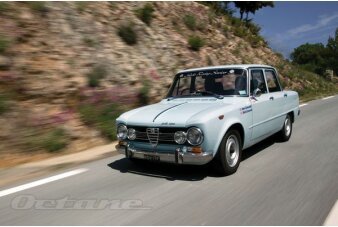 For the Linwoods historic rallying seems to come naturally.
×
Preservation Versus Restoration