‹ Go back
Old Factories: Hudson Jefferson Avenue plant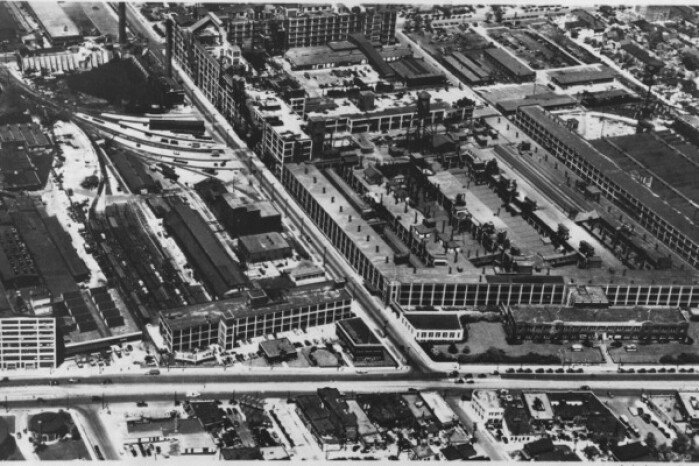 Text by Joe Babiasz, photos courtesy of the NAHC


Automotive historians tend to concentrate on the Big Three when writing about the emergence of the automotive industry. Many smaller companies, including those who produced vehicles for many years, lacked representation in their achievements. Hudson Motor Car Company, a firm that produced vehicles for nearly 50 years, has had little written about its participation of the evolution of the auto industry. In an effort to compete with the Big Three, Hudson worked arduously to assemble high quality vehicles.

Eight men of vision and keen business background organized the Hudson Motor Car Company on October 28, 1908. This exceptional group consisted of J. L. Hudson, R. B. Jackson, Hugh Chalmers, H. E. Coffin, F. O. Benzer, Roy D. Chapin, J. J. Brady, and Lee Counselman. Their vision was to build a high quality car that would sell for less than $1,000. Work immediately began and by February 24, 1909, the design for the Hudson Model "Twenty" was agreed upon. With that agreement, all partners incorporated the firm under Michigan laws.

The first Hudsons were built in a leased building previously used by the now-defunct Aerocar Company. It encompassed 80,000 square feet of floor space, and was typical of early automotive factories. Five hundred men were hired and using $20,000 in capital, the first Hudson, a Model 20 roadster, rolled out of the factory on July 3, 1909. The car became an instant success, selling over 4,000 units during its first year. After 16 months, net sales amounted to $3,980,999. Production and sales continued to grow, and the Hudson partners quickly realized that expansion was needed.

Early in 1910, 22 acres were purchased at the corner of Jefferson and Conner Avenue in Detroit for $48,400. The new factory would cost an additional $500,000. Original floor space was 172,000 square feet. The facility was designed by the prestigious Albert Kahn, a well-known architect of commercial buildings in Detroit and elsewhere. His reinforced concrete design allowed additional buildings to be built outward and upward as necessary, something Hudson demanded. After the first year it was clear that additional floor space was needed, and an additional 128,000 square feet of production space was added to keep up with demand and to produce the new Model 33.

Buyers continued to line up, requiring Hudson to once again add additional floor space to the factory. Models now included the 33, a five-passenger open car, and Model 54, America's first medium-priced, six-cylinder car. In 1912, the Hudson roadster became the first low-priced car to go 60 miles per hour. By 1914, the Hudson Six-Forty was added to the model list, and that year Hudson began putting six-cylinder engines in all of their vehicles.

1915 became a pivotal year for Hudson. Their new Super-Six engine was displayed at the New York Auto Show. It featured the first fully balanced crankshaft that improved the smoothness of the engine, and allowed it to increase its maximum rpm. The change increased horsepower from 48 to 76. Demand for the Super-Six was so great that production reached over 26,000, necessitating another round of expansion. Floor space was increased to 847,000 square feet.

Sales grew, and Hudson's new body styles kept the public content. In 1920, Hudson developed an entirely closed car at an open-car price. At the time, most closed cars sold for up to $1,000 more than open cars. Hudson was banking on the low price to continue the rise in vehicle sales. The buying public's response was so great, Hudson had to triple production and double the floor space of the Jefferson Avenue assembly plant.

By 1925, Hudson was the third-largest carmaker in the nation behind Ford and Chevrolet. Additional models including the Essex were designed. As sales continued to grow, so did the Jefferson Avenue plant. Employment grew along with plant expansion. By 1929, over 300,000 vehicles rolled off of Hudson's assembly lines. Unfortunately, the depression had a negative impact and sales fell to 114,000 in 1930 and 57,000 in 1931.

In 1932, Hudson phased out the Essex nameplate, a part of Hudson since 1919, and replaced it with the Terraplane brand name. The new brand was highly marketed by Amelia Earhart. During the rest of the 1930s, Hudson developed many improvements to their vehicles including exceptionally large interior spaces, powerful engines, and column-mounted shift levers. In 1940, independent front suspension was added to the Hudson lineup.

The 1940s brought major changes to Hudson's Jefferson Avenue assembly plant. Employment grew to 17,000 and until the war started, Hudson continued to deliver high-quality vehicles at an attractive price. During the war years, the Jefferson Avenue plant ceased auto production from 1942 until 1945 in order to manufacture war materials like aircraft parts, naval engines, and anti-aircraft guns. The Hudson "Invader" engine powered many of the landing crafts used during the D-Day invasion of Normandy.

Detroit was a much different city by the late 1940s. Population grew, as did automotive-related businesses. Other auto firms and suppliers including the Continental Engine Company, Budd Body Company, Chrysler Corporation, and the Dodge Main Assembly Plant surrounded the Hudson plant. Close by were the Packard and Studebaker plants. Detroit had become the epicenter of automotive production.

Unlike many manufactures of the time that simply assembled cars using parts from other companies, Hudson's Jefferson Avenue plant manufactured a majority of components for their vehicles. By the late 1940s the plant encompassed 1,934,000 square feet within 23 buildings. Everything from axles and rear end gears, sheetmetal, engines, and transmissions were manufactured at the facility. Other buildings incorporated research and experimental laboratories, engineering, personnel, and executive offices. Surprisingly, Hudson offered no employee parking. Employees were on their own to find street parking, sometimes requiring them to rent a garage at a nearby house in order to guarantee a nearby spot.

By 1947, Hudson produced its three-millionth vehicle and was getting ready to ramp up for their new 1948 step-down design. Unlike other domestic cars, the "step down" Hudson provided much-improved interior room. The new styling was based on Hudson's Uni-Body design. This design put the occupant's location between the lowered frame area, offering additional headroom and improved handling. The "step down" design was an enormous success. Employment grew to 30,000, and by 1948 sales were 142,454, an increase of 38 percent over 1947.

During the early 1950s, Hudson continued to have a good following primarily due to the combination of the step-down body and the new Twin-H powerplant, a 308 cubic-inch, six-cylinder engine developing 170 horsepower. It was Hudson that was perhaps most known for providing the first factory race engines, with their 7-X powerplant. Under the direction of Vince Piggins–who later went on to fame working for General Motors–a "severe duty" or "police package" allowed customers to up the power to an unheard-of 220 horsepower. This engine went on to help Hudson win many stock car races in the early 1950s.  

By 1952–and with other manufacturers now having new body styles and overhead valve V-8 engines, Hudson's sales began to crumble. By the end of the 1953 model year, sales were a mere 66,000. The company was bleeding red ink, and cash reserves were running low. It was clear that the company could not keep up with the Big Three, and a move was made to find a company to merge with.

On January 14th, 1954, in an effort to stay alive, Hudson merged with Nash-Kelvinator to become American Motors Corporation. In 1955, Hudson production moved from the massive Jefferson Avenue factory in Detroit to a facility in Kenosha, Wisconsin. During this time, Hudson became, in essence, a re-badged Nash. On June 25th, 1957, the last Hudson rolled off the assembly line.

During 47 years of existence, Hudson made a name for itself as a high-quality car for the masses, and the folks at the Jefferson Avenue plant were responsible for most of them. Today, all of the buildings are gone and the land is used as a Chrysler assembly plant parking lot–a sad ending to a wonderful automobile.
Published Dec 7th, 2015
More Classic Car News & Article Categories:
Related Articles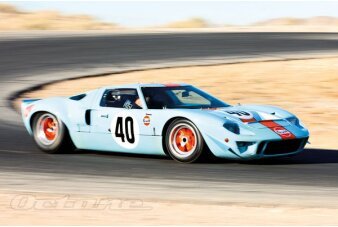 While every factory Ford GT40 is special, some are more special than others.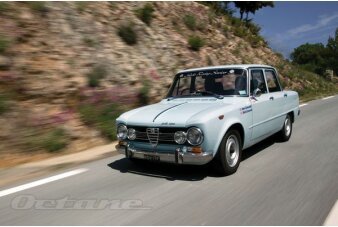 For the Linwoods historic rallying seems to come naturally.
×
Old Factories: Hudson Jefferson Avenue Plant