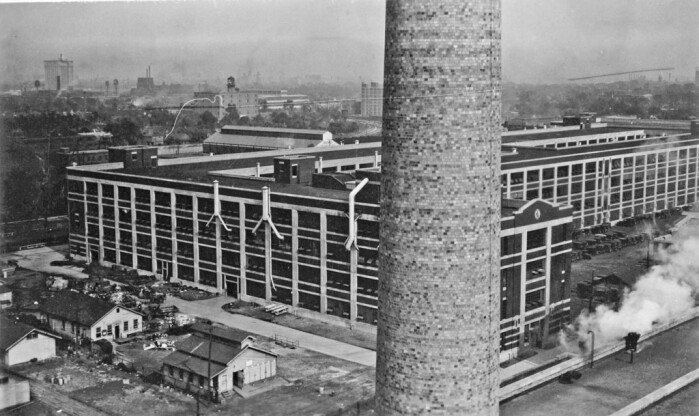 Photos by the NAHC and GM Media Archives

The name Cadillac is synonymous with a car that represents world-class quality and reliability. From the company's humble beginning in 1902, Cadillac motorcars became the benchmark for all other car manufacturers. First organized by Henry M. Leland, an automotive pioneer, Cadillac was named after the French explorer who established a settlement in Detroit in 1701. Cadillac always symbolized high quality and had an unmatched reputation that originated with Leland's insistence on precision manufacturing processes. It was in fact Cadillac that introduced interchangeable parts to the industry in 1908. The company went on to become part of the General Motors Corporation in July 1909 and, because of its heritage and high quality, enabled GM to maintain its position as the number one automobile company in the world.

Early in the twentieth century, Cadillac's assembly operations took place at a factory in the New Amsterdam district of Detroit. With the burgeoning growth of the automobile business, it became clear that a new and larger facility was much needed. Statistics showed that between 1920 and 1930, the number of registered vehicles grew from nine million to 25 million. Forty-seven acres of land was purchased on the corner of Clark and Scotten Street. The site was chosen primarily due to its proximity to all major rail lines. The Dupont Engineering Company of Wilmington, Delaware was chosen to design the facility.

Construction began in 1919 and was completed in 1927. The four-story building encompassed 2.5 million square feet and included an administration building, a manufacturing facility, and an assembly building. It was considered to be the most modern automotive factory in the world.

The Clark Street plant was designed as a typical assembly plant of the 1920s. Vehicle bodies were produced elsewhere, either by a custom body builder–or in the case of Cadillac–the Fleetwood body plant, later to become Fisher Body plant #18. It was located about three miles from the Clark street plant and was connected by a rail line that transferred the bodies to their final assembly location at Clark Street. Clark Street was designed to be an assembly plant, but by 1923 GM decided to add a foundry to cast engine blocks and other components.

By the time Clark Street opened, domestic auto production was going at full speed. Cadillac was positioned to grab as much of the luxury car market as possible, but within two years, the depression hit and sales plummeted. After several rough years, sales began to increase and Clark Street was working two shifts to keep up with demand. By 1936, the plant was producing nearly 50 percent of all luxury vehicles in America.

Cadillac continued to build world-class cars for several more years, but the bombing of Pearl Harbor in December 1941 put a stop to vehicle production. Like many other manufacturers, Cadillac began manufacturing engine parts for the P-38 "Lightning", P-39, and P-40 fighter aircraft. In February 1942, Cadillac started production of the M-5 tank, just 55 days after shutting down vehicle production. Cadillac was now in the midst of the war effort, and the Allies were relying on their commitment to precision assembly.

After the war, automotive production resumed. Americans were hungry for new products and Cadillac was willing to provide them. Clark Street was again readied for automobile production. Like most post-war cars of the mid 1940s, Cadillac was primarily a warmed-over 1942 model. But by 1948, Cadillac was ready for a revolutionary new look. Designed by Harley Earl, the 1948 Cadillac tail fins resembled the Lockheed P-38 "Lightning" fighter plane. America's first overhead valve V-8 engine came out of the Cadillac Clark Street plant with 331 cubic inches and an incredible 160 horsepower. The public was in love with Cadillac. General Motors celebrated Cadillac's Golden Anniversary in 1952, and more sales records were set. By 1958, Cadillac produced their two-millionth car. In the 1960s Clark Street grew again, with a fifth-floor paint shop added to the facility. In November 1963, a second assembly line was added for increased production. It now encompassed four million square feet of space.

In the 1970s the auto industry had its peaks and valleys. Cadillac sales continued to be strong until the oil embargo of 1974, at which time the plant went to a one-shift mode. After the dust settled, Cadillac sales once again grew, and production ramped up to support customer demand.

By the early 1980s, Cadillac's Clark Street plant became a bigger part of GM. It wasn't strictly a Cadillac assembly plant, but a Cadillac, Oldsmobile, and Chevrolet plant. It was also building police cars and taxicabs. General Motors was now consolidating platforms to optimize costs. The Cadillac name and assembly plant became, to many, just another GM plant. The uniqueness was gone as well as the perception of a precision, quality automobile. It marked the beginning of the end.  

After many years, the marriage between the community and the Cadillac plant came to an end. For years, more than 50 times each weekday, a tractor-trailer carrying seven new Cadillac bodies exited the Fisher Body factory for a short trip to Clark Street. On December 18th, 1987, the trucks stopped rolling. The last Fleetwood Brougham was delivered to Clark Street. In the end, many of the 3,000 workers who staffed the facility would be out of work. Cadillac production moved to the new Poletown assembly plant several miles away.

Peak employment at Clark Street had, at one time, exceeded 12,000 employees. Those employees not only built Cadillacs, but purchased local commodities, ate at the local lunch counter, bought a beer or two at the local bar, and in general kept the area alive. No longer would this be possible with the move to the new plant. No longer would locals be able to rely on the good folks exiting the turnstiles to give the area an economic boost. Clark Street was dead–and for the most part, so was the neighborhood.

After vehicle production moved, only the engineering offices and a chrome-plating department continued to be active at Clark Street. The plating operation was discontinued in March 1993 and the engineering building followed, closing in March of 1994. At that time General Motors offered the engineering facility and a parking lot to the Detroit Board of Education. The 130,000 residents living within the three-square-mile area surrounding the plant would have their lives changed forever. In March of 1994, the last 150 workers were laid off as the facility closed the doors to the tool room; the plants last remaining operation. A skeleton crew of about 100 were left behind to remove machinery. Most employees felt that while they did the best they could, Clark Street lasted longer than they had expected. Most had raised families with their paychecks and many had built strong friendships while working at the plant.

The Clark Street plant was part and parcel to many innovations. The V-12 and V-16 engines, all-weather, closed-body cars, the first high-compression, overhead valve V-8 engines, the first car to offer a tilt and telescopic steering wheel, and the first domestic car to have an electronic fuel injection system were a result of Cadillac engineering.

Over the years, millions of buyers put their hard-earned money down to purchase the one and only domestic premium car of its time. With the demise of the Clark Street plant, a large part of Detroit went with it. Corner stores, local bars, and mom and pop retail facilities closed. Real estate values tumbled, and the area was destined to become another blighted area of the city. But for many years, General Motors helped local communities with the support of a very successful plant and product. Those who were fortunate enough to have worked at Clark Street knew what a blessing it was to have lived the American dream–putting in a hard day's work for decent pay, a dream that without General Motors would not have been possible. Nearly 800 households had a member of their family working at either the Fleetwood or Clark Street plant.

Today, Cadillac is turning over a new leaf with exciting products sold worldwide. Unfortunately, it's impossible for those products to be produced at Clark Street. Today, the same 47 acres are a weed-filled memory of historic Detroit.
Published Dec 7th, 2015
More Classic Car News & Article Categories:
Related Articles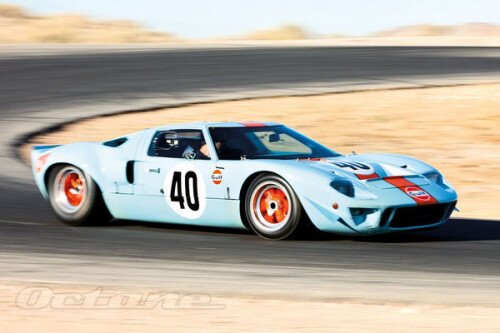 While every factory Ford GT40 is special, some are more special than others. The dazzling example featured here, chassis GT40P/1074, earns bonus points for at least three reasons..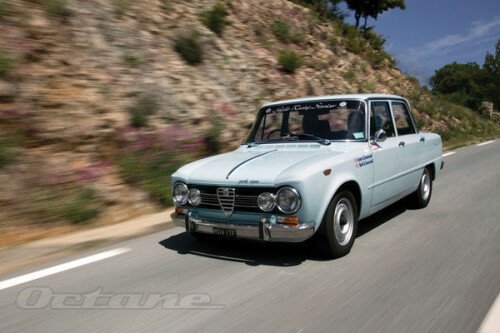 Not long after their first event together, Bob bought a standard road-going 1968 Alfa Romeo Giulia Super, and had it restored by Classicarco in Manchester. We spend a pleasant afternoon tossing it around the French countryside for Martyn's camera, Bob and I swapping the wheel like two duffers on the practice green trying out the same putter.
Advertisement
×
Old Factories: Cadillac's Clark Street Assembly Plant