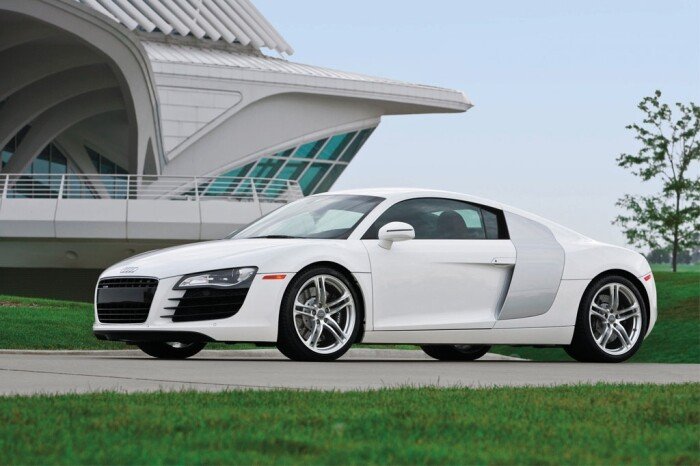 Pros: Slick styling coupled with refined German car engineering; an everyday supercar; sophisticated performance satisfies techy gearheads.
Cons: Styling not wild enough for some; fresh competitors make the R8's platform seem dated; usability hampered by confined quarters.
From the pint-sized A3 to the plus-sized A8, Audi has been enjoying a renaissance of trendy style and forward thinking technology. No vehicle in their current stable epitomizes that spirit more than the R8, a swoopy two-seater that sets the pace for the rest of the lineup.
Introduced in 2006, the Audi R8 has spun off into several variants: a V8-powered 4.2 ($114,200), 4.2 Spyder ($127,700), V10-powered 5.2 ($149,000), V10-powered 5.2 Spyder ($162,700), GT ($196,800) and GT Spyder ($210,300.) Though performance varies significantly between the models-particularly between the V8- and V10-powered versions and the stiffer, lighter weight GT variants-all Audi R8s are graced with a strong road presence and numerous underpinnings shared with their corporate cousin, the Lamborghini Gallardo.
Comfort & Utility
Though big on comfort when compared to other cars in this six-figure segment, the Audi R8 is still a focused sports car with practical compromises made for the sake of performance. Seats are supportive yet comfortable, and the cabin, though spatially tight, features Audi's outstanding electronics interface and ergonomics.
Behind-the-seat storage only measures 3.18 cubic feet (though Audi claims it's big enough for a pair of golf bags), while the trunk barely breaks that skimpy figure, with 3.53 cubic feet of additional volume-not much at all for a weekend getaway or even a heavy-duty grocery run.
But in terms of everyday usability, the Audi R8 offers more flexibility than many cars in its class. Magnetic ride control offers compliant damping during city driving, which switches to a stiffer response for canyon carving.
A $2,100 convenience package available on 4.2 models adds a rearview camera; hill hold; and auto dimming and heated/folding side mirrors, as well as additional storage options. MMI navigation runs $2,200, while additional add-ons include numerous features designed to enhance the R8's trim and appearance.
Technology
Much of the R8's technology is focused on endowing it with enough performance to make it among the top competitors in its class, and the core of that philosophy lies its aluminum spaceframe chassis. The lightweight underpinnings help it achieve a curb weight as low as 3,605 pounds, in V8 form. While the optional 6-speed R tronic sequential transmission enables clutch-free shifts, it has also received its fair share of criticism thanks to its sometimes-jerky cog swaps.
The usual repertoire of high-end performance features are available for the R8, from carbon ceramic brakes to bigger V10 engines. Extending to the powertrains are techy features like an aluminum block, reinforced with silicon crystals in the V10 for added strength, as well as more visible items like available full LED headlights ($3,500.) The Spyder models also feature trick details like the world's first seatbelt-mounted Bluetooth mic for wind noise reduction.
Performance & Fuel Economy
The performance of the Audi R8 lineup ranges from potent to extreme, depending on powertrain and package options. The base models are powered by a 4.2-liter V8 producing 430 horsepower and 316 lb-ft of torque-not a huge stable of ponies based on today's elevated standards. But mated to the lightweight chassis and the choice of a 6-speed manual or a 6-speed R tronic transmission, the V8 is good for 0-60 mph times of 4.4 seconds in hardtop form, or 4.6 seconds with the Spyder variant.
Step up to the 5.2-liter V10, and output leaps to 525 hp and 391 lb-ft of torque. Acceleration quickens to 0-60 mph times of 3.7 seconds for coupes and 4.0 seconds for Spyders.
The top-level GT model churns 560 hp and 398 lb-ft of torque from the 5.2 liter V10, enabling it to hit 60 mph in 3.6 seconds and an ultimate top speed of 199 mph in the coupe. The GT Spyder accelerates to 60 mph in 3.8 seconds and can reach a top speed of 197 mph.
All R8 models are equipped with all-wheel drive, and the Quattro system can send up to 30% of the available torque to the front wheels. The V8 coupe can hit a top speed of 187 mph, and the V10 model ekes out a terminal velocity of 196 mph. Impressively, the V10 engine only weighs 69 more pounds than the V8. Quattro all-wheel drive helps expedite off-the line sprints, while Audi magnetic ride automatically adjusts dampers, with driver-adjustable Sport and Normal modes.
EPA estimates range from a low of 11 mpg city to a high of 21 mpg highway, making it abundantly clear that R8s are far more focused on acceleration and top speed than fuel efficiency.
Safety
Although the R8's aluminum spaceframe only weighs 463 lbs, the structure is reinforced with protective side beams and large crumple zones for impact absorption. In the event of an accident, the R8's body is designed to divert energy away from the passenger compartment while protecting occupants with dual-stage front airbags and knee airbags, as well as seat-mounted head and thorax side airbags.
In addition to the R8's structural engineering, the sports car boasts the usual array of electronic stability and traction control systems, as well as hefty 8-piston front and 4-piston rear brakes.
Driving Impressions
Climbing into the Audi R8 doesn't present the same sense of drama as, say, a gull-winged Mercedes-Benz SLS or a scissor-doored Lamborghini Aventador (remember, the R8's corporate cousin is the slightly tamer Gallardo). But that doesn't stop the R8 from feeling special, even if it shares certain interior cues with more pedestrian Audis. Especially when equipped with the $6,500 Titanium package, which offers piano black trim, Alcantara, and leather inserts, this two-seat sports car takes on a more premium feel.
Each flavor of R8 offers ascending levels of commitment to performance. While the V8 models feature strong acceleration and a controlled ride, the V10 ups the ante with more brutal grunt and stiffer suspension. The low-volume GT variants go even further, with racecar-like levels of stiffness and thrust.
All R8s handle exceptionally well with quick steering, instant turn-in and tenacious grip thanks their all-wheel drive Quattro systems. Mid-mounted engines also aid the cause with mass centralization that helps the R8 rotate easily, and its brakes are prodigiously endowed for the task of stopping, especially when equipped with the optional $9,900 carbon ceramic setup.
Though responsive, satisfying and capable, the primary gripe with R8 drivability lies in the single-clutch R tronic transmission, which adds $9,100 to the base price. Slow and jerky in automatic mode, the automated manual doesn't quite come into its element unless it's driven hard. While the three-pedal manual's gated shifter exudes an evocative visceral experience with the metal-against-metal clank of aluminum, drivers averse to using their left foot might want to wait until the lineup inherits a smoother dual-clutch transmission.
Other Cars To Consider
Lamborghini Gallardo
This kissing corporate cousin of the Audi R8 offers an Italian interpretation of the mid-engine German car, with flashier bodywork, more finely finished interior bits and a growlier exhaust note. The V10-powered super coupe starts at about $190,000 in rear-wheel drive layout, putting it on par with the R8's GT model.
Porsche 911 Turbo
Though the updated 911 has yet to produce the inevitable Turbo spinoff, the forced induction variant of the 997-series is still a potent competitor when it comes to bang for buck. Starting at $137,500, the 911 Turbo reaches 60 mph in a fleet 3.5 seconds, and all-wheel drive enables copious grip. But while its silhouette is iconic and familiar, the R8 is an arguably rarer, more exotic offering sure to turn more heads.
Mercedes-Benz SLS AMG
Starting at $189,000, the SLS offers a snarling, naturally aspirated 6.2 liter V8 capable of launching it to 60 mph in 3.7 seconds. This is quite possibly the most compelling counterpoint to the Audi R8, with its distinctive gullwing doors and outstanding performance. Going head to head with the R8 Spyder is the SLS AMG Roadster, a $196,100 alternative to the German ragtop.
Published Dec 7th, 2015
More Classic Car News & Article Categories:
Related Articles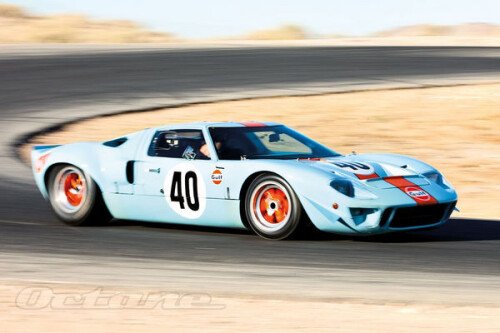 While every factory Ford GT40 is special, some are more special than others. The dazzling example featured here, chassis GT40P/1074, earns bonus points for at least three reasons..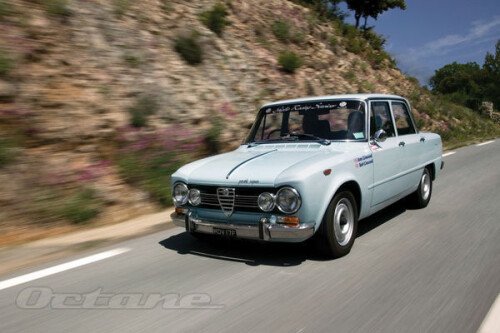 Not long after their first event together, Bob bought a standard road-going 1968 Alfa Romeo Giulia Super, and had it restored by Classicarco in Manchester. We spend a pleasant afternoon tossing it around the French countryside for Martyn
Advertisement
×
New Car Review: 2012 Audi R8