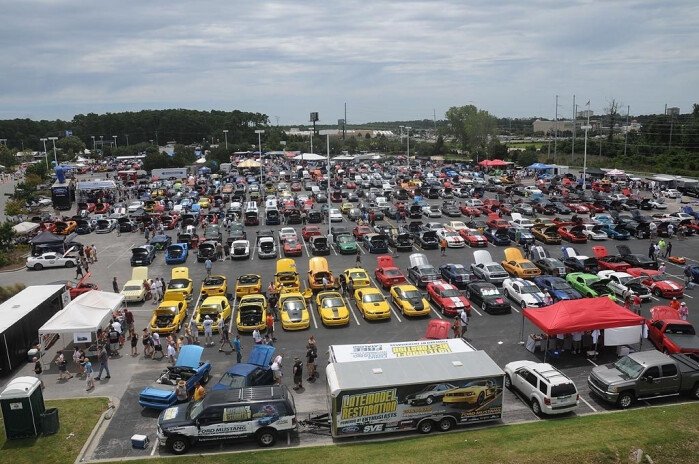 Photography Austin C. Craig, Keplinger Designs


For the past ten years Mustang enthusiasts have been traveling to Myrtle Beach, South Carolina for a multi faceted event called Mustang Week. The whole idea for the event started when five friends who shared their love of Mustangs and their condos at Myrtle Beach decided to have a car show. You see, Mike Clay, Rodney Melton, Scott Morgan, Brad Worley and the late Bill Jones all vacationed in Myrtle Beach with their families during the third week of July. They all enjoyed the beach, plus all the attractions the area has to offer and thought why not a have a gathering of Mustangs. Their idea was that Mustang owners could bring their cars and families, spend the morning at the beach or in the many shops and attractions in Myrtle Beach, then attend a Mustang show or activities during the afternoon and evening.

The Mustang Week idea was a good one and the event grew over the years as Mustang enthusiasts and their families enjoyed the friendly Mustang Week staff and an atmosphere where Mustang owners could meet new friends and renew old friendships. The performance aftermarket found a similar reception and the number of companies that are sponsors and exhibitors, reads like the who's who of Mustang performance. Ford dealers, Palmetto Ford located in Charleston, South Carolina and Palmetto Ford in Rocky Mount, North Carolina have been sponsors for the last few years and like all the Mustang Week sponsors, have found Mustang Week to be a prudent and rewarding investment.

This year Mustang Week attracted enthusiast from 32 states, over 2,600 Mustangs of all vintages and over 10,000 spectators. But the numbers do not tell the whole story; Mustang Week is exactly that, this year starting on Monday, July 16th with a Meet and Greet and the last event on Saturday July 21st where 2,600 Mustangs enjoyed a cruise in at the Myrtle Beach Mall.

The event began with a pre-event VIP party at Ridemakerz who hosted a party at the location on the beach where 100 lucky people won a basic stock car ride just for attending. Ridemakerz features all kinds of model cars and the tools for enthusiasts to build their own trick ride. Mustang bodies are a popular choice and the final product can very artistic.

Never resting on their laurels, the Mustang Week staff came up with another winner for the official meet-n-greet; the Palace Theater located at Broadway on the Beach entertainment complex was the ideal location to officially begin Mustang Week. There was plenty of parking and it was noted that scores of vacationers could be seen checking out the impressive lineup of over 600 Mustangs as they passed by. This year Vaughn Gittin, the only American to win a D1 Class Drift Event two times was on hand with his Falken Tire, Monster Energy, and Ford Racing Mustang signing autographs. The meet-n-greet ended at 4:00 PM, providing the participants with the choice of an evening at the beach or the opportunity to see, at a special Mustang Week discount, the Broadway show, Le Grand Cirque Adrenaline at the beautiful Palace Theatre.

On Wednesday the action moved to Myrtle Beach Speedway, a facility that hosts modified stock car races and other events. At the speedway Mustang Week participants enjoyed testing their skills in an autocross and later a burnout contest. Over 265 Mustangs and 1,800 spectators enjoyed the action at Myrtle Beach Speedway that included Vaughn Gittin putting on quite a drift show in his Mustang.

One of the many enjoyable things about Mustang Week is the fact that enthusiasts get the opportunity to drive their Mustangs. On Thursday all roads let to Darlington Dragway, a pleasant hour or so drive from the beach. The facility is perfect for this type of event and is reminiscent of drag racing facilities of the 1960s; it is well kept, easy to navigate and has a good drag strip. Over 200 owners had a blast testing their Mustangs and Shelbys. It was a very pleasant evening of drag racing.

The car show was sold out as people registered online months before the event. Whatever Mustang is your favorite, there is a great chance you will see it at the Mustang Week car show. Once again, the talented and super friendly Mustang Week staff makes the car show a fun event for participants and spectators alike. The Hooters restaurant located right adjacent to the show is great place for lunch. The Myrtle Beach Mall also offers a great place to shop, eat and relax next to the car show. The show featured 600 Mustangs with another 2,600 in the outlying parking lot.

The week long event concluded on Saturday with a cruise-in from noon to 6:00, which featured the car show award ceremony at 3:00.

This was my first Mustang Week it will not be my last. Next year's dates are July 15-20, 2013. It is a week no Mustang enthusiast should miss.



Mustang Week attracts Mustangs of every vintage, pictured here are three generations of a 2004 Cobra, 2013 GT500 flanked by a 2008 Shelby GT500.



Many Boss 302 and Mustang GT participants enjoyed the action at Darlington Dragway.



A Shelby GT500 does a burnout, later turned a low 12 second run.



A Fox Body and current Mustang GT prepare to run the 1320. There were a large number of Fox Body Mustangs participating in all the Mustang Week activities.



Fastlane Motorsports, one of the many Mustang Week sponsors brought their wicked, turbocharged Mustang with a trick carbon fiber look paint scheme. It is a nine second Mustang.



This well turned out, heavily modified Fox Body turned low 11 second quarter mile times.



This beautiful 1971 Mustang was extremely well detailed and featured a built 429cid engine.



Keith Keplinger, (L) owner of Keplinger Designs, a leading performance advertising agency and George Ciamillo, owner of MGW ltd. Shifter Company, take time out from the car show.



The author's 2012 Mustang GT is pictured in the MRT Performance display after driving 863 miles to Mustang Week from South Florida.



An outstanding example of the very popular Mustang Fox Body was one of many at Mustang Week. The attention to detail is in every area of this Mustang is first class.



Many companies installed parts during the Mustang car show, here Scott Hoag (L) MRT Performance CEO and MRT Technician, Joshua Marchyok, install an MRT front splitter on a 2012 Boss 302.



This wildly modified Mustang seems ready for just about any encounter that it might find itself in.



The Ford Motor Company Mustang exhibit featured a Mustang an interactive display where enthusiasts could build their own 2013 Mustang with all the Ford options and accessories.



Mustangers in line to sign up for a cool Mustang tee shirt at the Ford exhibit.



The Lethal Performance booth was a popular place with these lovely ladies signing posters during the car show.



The Ridemakerz remote control display was popular with Mustang enthusiasts of all ages.



This beautiful 1969 428 Cobra Jet Mach 1 was ordered with the very rare shaker hood scoop delete option.



One of the outstanding Mustang displays was Paul Nemoga's 2008 GT and trailer. The trailer idea occurred when Paul found a 2010 Mustang body-in white and asked his friend Kirk Mowry if he could cut the car in half and make a trailer. Kirk did a fantastic job.



The Ford Racing display was one of three Ford Motor Company sent to Mustang Week and featured the latest Ford Racing Performance Parts.



The overhead view of the Mustang Week car show with all the Mustangs in the middle with sponsors and exhibitors set on the perimeter of the event.
Want more Ford content? Check out our Ford Enthusiast Headquarters!
Published Dec 7th, 2015
More Classic Car News & Article Categories:
Related Articles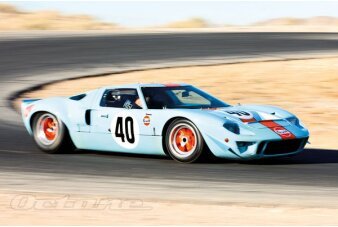 While every factory Ford GT40 is special, some are more special than others.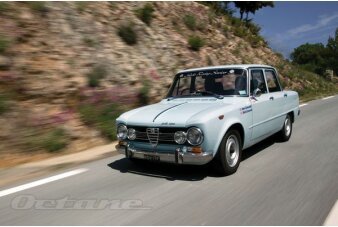 For the Linwoods historic rallying seems to come naturally.
×
Mustang Week 2012