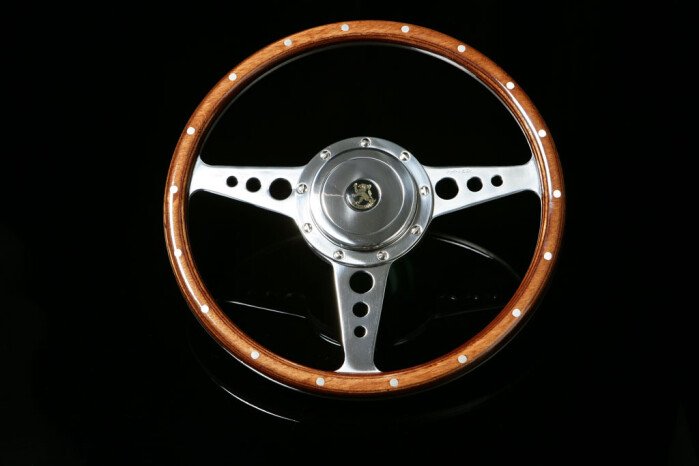 Photography Courtesy of Moto-Lita Ltd
It's one of the most used items on your classic Mustang or Ford. It's responsible for keeping your vehicle on the road and the direction you take. We're talking of course about the humble steering wheel, an item which; like the tires on which your car rolls is absolutely essential to its operation. But, when was the last time you paid much attention to it? Go to any classic car show, cruise night or even auction and you'll no doubt see plenty of iron on display that feature nicely done interiors, let down by a tatty steering wheel. But it doesn't have to be like that. Today; there are quite a few companies from which you can order a brand new, custom steering wheel tailored to your classic, or have the original restored to showroom condition. One of the best known outfits in this burgeoning cottage industry; is British based Moto-Lita Ltd.
Since 1957, proprietor Simon Green has been crafting and restoring steering wheels for sports, racing and what are now termed classic cars. And while there are those who like to point out how much the world has changed a lot, a quick tour of the Moto-Lita workshops reveals that some things haven't. Here is a place where craftsmanship and attention to detail take precedence. The love and time lavished on each steering wheel made here is reflected in a continuing strong demand for the company's products. Recently, AutoTrader Classics got a chance to speak with Simon about his company's success and, even today, how the interest in classic cars and demand for handcrafted steering wheels for them continues unabated.
ATX: Simon; thanks for talking with us today. You've been manufacturing steering wheels for a long time. Tell us how you originally got started in this business.
SG: In the early '50s, I was an apprentice with John Cooper & Son, at their old facility in Surbiton, Surrey, just outside of London. Back then, John was building 500cc race cars and one of the jobs I had was making steering wheels for them. I later got offered a job at Connaught Engineering and then went to work for Hersham and Walton Motors, who were making some cutting edge race cars at the time. In 1956 one of the proprietors of HWM, Baron John Heath, crashed in the Mille Miglia and later succumbed to his injuries. After that the business went south rapidly, but because I'd gained so much experience with Cooper, Connaught and HWM, building quality racing car steering wheels, I could see there was a market in doing the same for road cars, using an aluminum skeleton and a wood rim, so I branched out on my own and formed Simon Green Ltd. I set up shop in an old shed in Esher, Surrey and started making them, under the name Moto-Lita. My very first customer was Stirling Moss' father, Alfred who ordered two steering wheels.
ATX: From what we understand, there was a ready market for aftermarket steering wheels and the business expanded quite rapidly during the '50s?
SG: After placing ads in Autosport magazine and getting ever more inquiries for race-quality steering wheels for road cars I could definitely see I was on to something. As demand increased we needed more space for manufacturing, so I looked for a new location. I found a property on Brighton Road, in Surbiton, on the outskirts of London.
ATX: But things were about to get even busier right?
SG: That's correct. As orders took off, I got a couple of friends to help me build steering wheels. By 1964 we'd expanded again and moved operations down the road to an old factory and four cottages, which we used as our workshops. The early '60s were a very exciting time in the car business and we became the official supplier for Aston Martin – the DB3, DB4, DB5, DB6 and DBS models all came with Moto-Lita steering wheels straight from the workshops in Newport Pagnell. In the early '90s we were again approached by Aston to make a steering wheel for their new Vantage supercar.
ATX: For our readers here in North America, you've also done quite a lot of steering wheels for classic Ford products in this part of the world too, correct?
SG: Absolutely. Our connection with Ford, in particular Shelby Cobras and Mustangs goes back a long way. Around about the same time as we secured the Aston contract, I was commissioned to supply AC cars in nearby Thames Ditton with steering wheels for their Ace and Cobra roadsters. Carroll Shelby was actively involved with AC at the time, since he was purchasing the cars and installing American Ford V-8s in them to go racing stateside in Sports Car Club of America sanctioned events. He liked our steering wheels so much that Moto-Lita wheels were fitted to his Shelby Mustangs when he started building them in Torrance, California, in the fall of 1964. Today, even though we make a lot of wheels for British and European cars, Italian, French and German, we also have a steady demand for steering wheels from classic Mustang and Shelby enthusiasts; particularly relating to 1964½-1968 models. And a lot of our customers for those particular steering wheels are in the United States.
ATX: When did you move to your current location?
SG: As the '70s progressed and we took on more export orders, we felt that we needed new premises that better suited our operations. At that time it was getting harder to find good craftsmen in greater London and we needed more space, so we moved nearby the Thruxton Motor Racing circuit in Hampshire in 1979. It was at this time that we also changed the name of the company from Simon Green Ltd, to Moto-Lita, to better represent our steering wheel brand.
ATX: Considering the advances in technology and the advent of airbags, has that affected the demand for classic car steering wheels?
SG: It's interesting you mention that because, from our perspective it hasn't really changed that much. These days we do find that most of our orders are for custom wheels for classic road cars, race cars and increasingly speed boats. Even though airbags have been around for more than 20 years in mass-market vehicles we still have more than enough demand for traditional steering wheels and so far haven't really felt the need to produce or service airbag equipped units.
ATX: Is there one particular part of the world where demand for classic steering wheels is strongest?
SG: Not really-enthusiasm for classic cars today is truly international in scope and we have customers in the Far East, Scandinavia, the Americas, Europe, pretty much everywhere. There is a big demand from your part of the world, but from our perspective; overall, there isn't a single market that really stands out, which I think is very interesting.
ATX: Can you give us a little background into the process of manufacturing a classic car steering wheel?
SG: At Moto-Lita, we can either do standard, pre-made wheels or custom ones, but the process starts off the same, with the rim and spokes formed from a single piece of metal, which is then shaped and polished. From there we can go one of several ways. On our MK III range we use traditional ply to form the actual wood rim surface over the aluminum skeleton. If the rim uses a veneer finish, we roll the veneer on a drum, which is then is machined to form a rim over the skeleton. For leather steering wheels, a rubber rim is fitted over the aluminum and the wheel is sent off to our leather shop where the leather is stitched over the rubber. For our standard wheels, the process takes about a dozen man-hours from start to finish, for custom wheels it can be any length of time, depending on the customer's requirements and budget. For racing car wheels, we use the same basic design as for our road car steering wheels, but they don't incorporate horn controls we don't drill the hub or spokes, since the owner will often do that to fit his/her particular car. When we're building steering wheel for Marine applications, we follow the same process as for the road car items, but ad lacquer to the rim surface (if it's wood) and also anodize the hub and spokes to protect it from the ravages of salt.
ATX: You're also quite happy for classic car owners to send their old steering wheels to you for refurbishment, correct?
SG: Yes. If we receive a wood-rimmed steering wheel, it's sanded down to bare wood and lacquered and the metal polished to look as good as new. For leather steering wheels the rim is usually stripped and re-trimmed, we can also anodize the spokes and hub for longevity, since a lot of enthusiasts like to drive their cars and want the appearance of a "new" steering wheel to last as long as possible.
ATX: Tell us about some of the motorsport greats you've supplied steering wheels to?
SG: We've managed to build up quite a following with our steering wheels over the years and we've supplied them to race teams, including Indy car outfits March, Lola and Penske. Rally drivers Paddy Hopkirk and Timo Makinen also had them installed in their winning Mini Coopers in the '60s. Stirling Moss has also been a great customer and also a big supporter of ours over the years. I can't thank him enough.
ATX: In the last decade or so, there's been a huge rise in the number of knock-off products in the automotive parts business­–has it been the same for aftermarket steering wheels?
SG: Absolutely, there are a lot of cheap steering wheels on the market today that imitate what we produce but just aren't made with the same level of quality. As a result they can often deteriorate and fail within months. Genuine Moto-Lita steering wheels have the name marked on the front of the spokes. If it's an OEM wheel that we've made, the vehicle manufacturer's logo will be the front and ours will be on the back of the spokes. If a wheel claims to be produced by us and has neither of these identifying marks, then it is not a genuine Moto-Lita product.
ATX: Besides steering wheels, there's also another business that specializes in leather jackets, right?
SG: Yes, it's called Aviation Leathercraft. About 35 years ago; I was looking for a genuine World War II leather Flying Jacket for my own, personal use. I used to be a pilot, so I approached Irvin, original manufacturer who used to make them. Being in a cottage industry I ended up talking to them about manufacturing and was able to actually get permission to produce their jackets once again under license. We've offered them ever since. Currently we supply official jackets for RAF Aircrew as well as various Air Police and Air Ambulance services. We also do USAF style M2 jackets, as well as leather flying and driving caps, along with goggles. As with the steering wheels, it's become a worldwide business for us.
ATX: Here in the United States, there's been a lot of talk about the recession and how it's affected the demand for perceived "luxury" goods, including items related to classic cars. What's your viewpoint on all this?
SG: In Britain, we've also been hit hard by the recession, but at Moto-Lita, our business has so far remained rather robust. At present we're making and selling around 500 steering wheels a week, which for a cottage operation like us, that still uses a lot of traditional labor-intensive methods to produce our end result, means that we're still rather busy. Honestly, our biggest issue right now is trying to keep up with demand!
Editor's Note: Special thanks to Simon Green and Carolyne Connolly at Moto-Lita Ltd for their help with this article.





Since 1957, each Moto-Lita steering wheel has been hand made. Here the aluminum skeleton is finished on a lathe in the metal room, ready for the wood rim to be added.



In the mid-'60s, Simon Green was contracted by AC Cars Ltd, of Thames Ditton, Surrey to manufacture steering wheels for their AC Ace and Cobra Sports cars. It wasn't long before a Texan by the name of Carroll Shelby got involved.


 
Simon started manufacturing his own steering wheels in 1956. Here is a vintage photo of the original prototype from which originated a very successful business.


 
After starting out in a shed, Simon moved to larger premises in 1959, leasing a building on Brighton Road in Surbiton, Surrey, not far from where he used to make wheels at John Cooper & Son, some eight years before.


 
Besides wood rimmed steering wheels, leather trimmed items are also popular with customers. Shown is a standard 14 MK 4 wheel with horn controls. These retail for £109.75 in the UK, which translates to roughly $320 US.


 
Once the aluminum skeleton has been finished, wheels that are to be trimmed in wood are sent off to the wood shop. Here they can be finished in traditional ply, which is then shaped, sanded and smoothed or a veneer finished added; using a rolled drum, which is machined to form the outer rim.


 
One of the most popular wheels offered by Moto-Lita is the traditional '50s style four-spoke, seen here trimmed in leather.


 
At the Moto-Lita workshops, it's almost as if time has stood still for the last 50 years. Traditional crafting techniques reign supreme and top quality workmanship goes into every steering wheel-a major reason that Simon Green's products are highly sought after.


 
Besides custom wheels, Moto-Lita can replicate classic OEM wheels like this Jaguar XK-E rim or restore your old one to good as new.


 
Race car steering wheels were what Simon cut his teeth on in the early '50s and today, are still a big part of the business. Besides Shelby in the '60s, in the United States, Moto-Lita has supplied the March, Lola and Penske Indy car builders with steering wheels in over the years.
SOURCE

MOTO-LITA LTD
United Kingdom
011 44 1264 772 811
www.moto-lita.co.uk
www.flying-jacket.com
Published Dec 7th, 2015
More Classic Car News & Article Categories:
Related Articles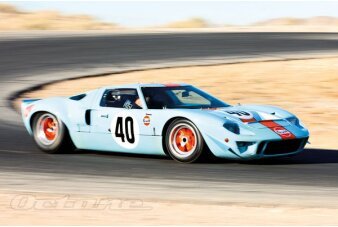 While every factory Ford GT40 is special, some are more special than others.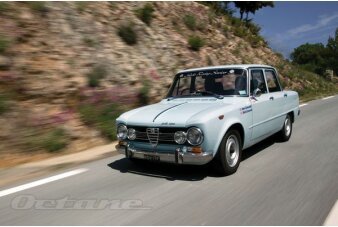 For the Linwoods historic rallying seems to come naturally.
×
Moto-Lita Wooden Steering Wheels