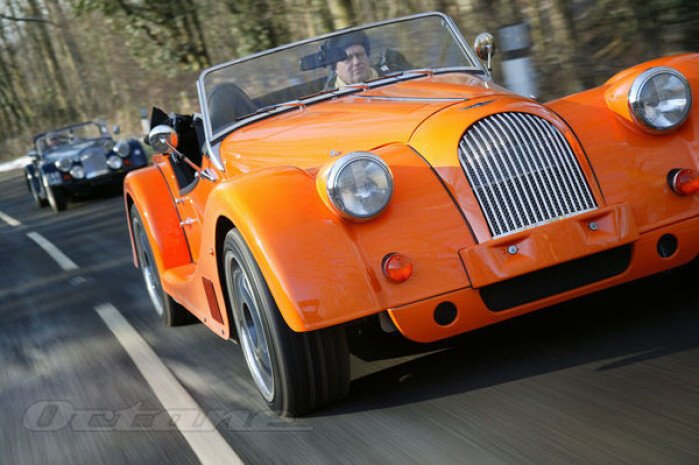 We're pulling away from a roundabout on the ring-road of a Midlands town. It's Sunday evening and the road is empty, and we're out cruising in Morgan's new Plus 8. 'Does this thing have traction control?' asks my car-mad passenger, who's a keen vintage racer. So I floor the accelerator. The four tail-pipes bellow a V8 battlecry, and the back of the car immediately steps sideways as the tires give up the fight. And we're in third gear at the time. No response is necessary: if there is traction control fitted to this Morgan, then it ain't up to the job.
Hooligan behaviour, certainly, but the Plus 8 has always been that kind of a car. The 3.5-liter Rover original of 1968 was the classic combination of a big engine in a light car, and this 4.8-liter BMW-powered reincarnation takes that simple formula to the extreme. You don't have to be a mathematical genius to work out that 367bhp in a car weighing 1100kg equates to considerably more than 300bhp per tonne. Fortunately, there's much more to the new Plus 8 than simply an excess of power.
The Rover-engined Plus 8 stayed in production a surprisingly long time, and remains Morgan's single biggest-selling model – about 6000 cars. The first prototype (which used a Buick version of the V8 that Rover was then still evaluating for its own cars) was finished in February 1967, and the final production cars were built in March 2004, to be superseded by the radical new Aero 8. Along the way it evolved through 3.9- and 4.6-liter engine capacities, switched from SU carburetors to Strombergs and then to Lucas fuel injection, and grew physically wider. But what didn't change was the Plus 8's raison d'Ϊtre: 911 Turbo-humbling acceleration allied to steam-engine torque. OK, so the ride quality was old-school Morgan – the suspension was as old as the company itself, consisting of sliding pillars at the front and a leaf-sprung live axle at the rear – but, really, who cared?
All this changed at the end of the millennium, though. By now well into its fourth decade of production, the Rover engine could no longer handle the environmental and technical demands of the 21st century. And Morgan itself, stung by ill-informed media snipes that it was perpetually backward-looking, wanted to reinvent itself. It did that in a suitably dramatic way by announcing the BMW-engined, Chris Lawrence-developed Aero 8 roadster at the Geneva Motor Show in 2000.
For many, though, the Aero 8 was a step-change too far. Enthusiasts loved the performance but were much less convinced by the cross-eyed looks. I remember the feelings of misgivings I experienced on seeing a pre-launch example at the factory, and I wasn't in the position of having to decide whether to spend $75,000 for the privilege of owning one. In truth, it didn't look that bad – but the Morgan hardcore knows what it likes and likes what it knows, and for them the Aero 8 was like a Picasso portrait hung in a gallery previously stocked with Gainsboroughs.
So, for 2012, the company has followed the route many would have preferred to see it take in 2000. The chassis is essentially Aero 8, with the latest development of BMW's N62-series V8, and it's clothed in Morgan's now-familiar Superformed aluminium panels; but the style is unmistakably traditional, albeit funked-up with very 21st-century Italian alloy wheels and, on this example – the 2012 Geneva show car – lurid orange paint.
Initially, we were disappointed not to see the side-exit exhausts that are an option on the Aero SuperSports coupe'. That disappointment didn't last long. To put it simply, the Plus 8 makes the most glorious, spine-tingling, melodious, inspiring and, yes, loud V8 music you've ever heard. It's never coarse and you can keep the decibels down if you need to, but the noise alone makes the $125,000 asking price seem halfway palatable.
The good news is that there's a lot more to like about the Plus 8 than just the sound it makes. We've already hinted at its performance; well, the acceleration is literally breathtaking, in that if you squeeze the throttle hard, the resultant shove in your back is enough to expel the air from your lungs – or so it seems. The quoted 0-60mph time is 4.5 seconds and there's so much torque that it scarcely matters which gear you're in at the time.
As for top speed – Morgan claims 155mph, presumably with the (double-lined) hood up for aerodynamic reasons, although we'd guess that a Plus 8 with no additional spoilers front or rear would be getting pretty exciting well before then. Hood down, we can confirm that the Plus 8 remains quite civilised into three-figure speeds; it's a bit breezy around the back of your neck, but that's what scarves are for.
At 5ft 9in across – that's 1751mm in the new money – the new Plus 8 is a whole foot wider than the 1970 original shown in our pictures, and that translates into a cockpit that's perfectly comfortable for modern humans who have, shall we say, benefited from a more substantial diet than previous generations. There's plenty of legroom, although – on this left-hand-drive car, at least – the limitations of fitting a cockpit between two running boards mean that there's no space for a clutch footrest. Sensibly, Morgan has retained the original car's dashboard layout that has the speedometer and rev-counter located in the middle of the dash, so taller drivers don't have to duck down in order to read instruments obscured by a steering wheel rim. That's a major irritation on the Aeromax and SuperSports, and while the central location works fine, we'd love to see Morgan introduce a head-up display projected onto the windscreen – there's your next challenge, chaps!
Beneath the bespoke alloy panels and between the Aero 8-derived suspension lies 4.8 liters of BMW's finest V8, bolted to a six-speed BMW manual gearbox or, if you prefer, a six-speed ZF automatic. The manual 'box is lovely to use, being light and sweet-shifting, and clutch and brakes are just as pleasant; the latter feel very progressive and powerful, and you don't notice them in normal driving, which is the best compliment you can pay. Oh, and there isn't any traction control. We checked.
If we have any criticism of the steering – less a criticism, more an observation – it's that it's initially slightly lazy to respond but then sharpens-up quickly, such that you can over-input if you're not anticipating it and make allowance accordingly. But since this is a prototype car, straight out of build and generously entrusted to us with virtually zero miles on the clock, it would be unfair to read too much into this – we remember all too well our drive back from Italy in the prototype Aero SuperSports, whose alarming high-speed wandering tendencies turned out to be due to a batch of faulty track rod ends with insufficient tolerances…
And that brings us to Morgan's bΪte noir for so many years – particularly in relation to the original Plus 8 – the ride quality. Be not afraid. The new car doesn't rearrange your internal organs the first time you encounter a bit of broken tarmac. OK, the ride is on the firm side, but it never gets uncomfortable and it would be very acceptable in any performance car, never mind a Morgan. You could very happily drive this Plus 8 a long distance and would emerge stirred, but not shaken.
That's rather less true of John Spencer's 1970 Plus 8, a well-campaigned car that was owned for many years by Jeremy Holden, of accessory retailer Holden Vintage & Classic. Both Autocar and Motor tested a similar Plus 8 when new; the former declared that the ride was 'decidedly uncomfortable over second-class roads', while the latter said, 'On grade two surfaces, the ride is so bad that roadholding suffers more than do the passengers.'

These days, we'd be more forgiving of a 40-year-old classic than contemporary road-testers were of a then-new car, and any current owner will accept the odd jar and rattle as all part of the Plus 8's character. That 3.5-liter Rover V8 up front brings with it a lot of goodwill, and its laidback, effortless behaviour far outweighs the more vintage aspects of the car's design. Early Plus 8s like this one had the high-compression version of the Rover engine, which could push the car to 60mph from rest in 6.7sec and on to over 120mph, but the performance is delivered in quite a mellow fashion; whereas the new car is all sound and fury, popping and crackling on the overrun in a delightfully menacing way, the old car seems mild in comparison.
Then again, maybe it's just that this example has had a hard life. In Jeremy Holden's hands, it did the first Monte Carlo Challenge in 1990 – 'blasting across snow-covered plains was the best thing ever,' he recalls fondly.
Regardless, this early Plus 8 still has more than adequate performance, and a dab of the throttle is enough to send it squirting past slower traffic at will. There's a soft, liquid quality to its exhaust note and it never becomes really aggressive; this laid-back character is quite relaxing and almost at odds with the macho image conveyed by the roll-over bar and competition roundels. And the early car has one advantage over the 2012 version: significant stowage space behind the rear seats. Useful when you're doing, say, a rally to Monte Carlo.
In the late '60s, when Morgan was experimenting with the new Rover V8, there wasn't yet a manual gearbox available from Rover that could cope with the engine's power and torque, so Morgan went down the really vintage route of using a separately mounted Moss 'box that was connected to the engine by a short torque tube. Its shift quality was never much liked and from late 1971 it was superseded by Rover's new manual 'box from the 3500S. Later still that would be displaced by the SD1 five-speed LT77 transmission, and finally the R380 five-speeder used in the Range Rover. John's car has had the SD1 'box retro-fitted, and it suits the car perfectly – in fact, coupled to the original short Moss gearlever, it actually feels nicer to use in the Morgan than in its Rover application.
With 11-inch Girling discs up front and only 900kg to arrest, stopping is never going to be an issue with the original Plus 8. Interestingly, though, the steering displays the same kind of quirkiness as the new car's, although in a slightly different way. The new car turns in easily, then sharpens up rapidly; the old one suffers a slight time lag between you turning the wheel and it reacting to the command. John says he has the tire pressures set at 22psi, which seems on the low side, but Jeremy later confirmed that this is the factory's recommended figure for normal driving, so either the tires have more sidewall flex than usual or there's some play in the steering… Plus 8 steering is usually regarded as being pretty accurate, if rather heavy – Autocar said that you had to acclimatise to steering 'from the elbows rather than with the fingertips'.
When Morgan finally had to put the original Plus 8 to sleep in 2004, it was left with a gap in its range between the 2.0-liter Ford-engined Plus 4 and the recently launched, and much more expensive, Aero 8. It found an answer, of sorts, by slotting Ford's 3.0-liter Duratec V6 from the Mondeo ST220 into its traditional Roadster chassis; but although that resulted in a perfectly good car, whose power output was very similar to the outgoing 4.6-liter V8's, it never seemed to capture the imagination in quite the same way. Perhaps one reason was that the modern, high-revving Ford engine showed up the ride and handling deficiencies of the ageing Roadster chassis in a way that was less noticeable – or, rather, more acceptable – when it was fitted with the massively torquey and characterful Rover V8.
Now we have a new Plus 8, riding on a modern chassis and with a 'proper' V8. But the enormous strides Morgan has taken to make it fit for the 21st century come at a price. A Plus 8 will set you back $125,000, including tax. Considering that it's based on the Aero 8, which had a list price of $100,000 at the end of production in 2010, that's not unreasonable; however, the Aero 8 looked like no other car, whereas the Plus 8 essentially looks like every other Morgan made since the early 1950s.
Morgan, though, hopes that the Plus 8's revived traditional style will win back wealthy buyers who were alienated by the 'out there' appearance of the Aero 8. As one insider muttered to us: 'It's the car we should have made in the first place.' Anyone with lingering doubts about whether it's worth the asking price should try driving it. Or, just as important, listening to it.
Thanks to John Spencer, Jeremy Holden, and Derek Magrath and son Joe.
---
SPECIFICATIONS
1970 Morgan Plus 8
Engine Rover 3528cc V8, OHV, two SU HS6 carburetors
Power 160bhp @5200rpm
Torque 210bhp @ 2600rpm
Transmission Moss four-speed manual (this car Rover LT77 five-speed manual), rear-wheel drive
Steering Cam and peg
Suspension Front: sliding pillars, coil springs, telescopic dampers. Rear: underslung live axle, semi-elliptic leaf springs, lever-arm dampers
Brakes Discs front, drums rear
Weight 900kg
Performance 0-60mph 6.7sec. Top speed 124mph
2012 Morgan Plus 8
Engine BMW 4799cc V8, DOHC per bank, 32-valve, electronic fuel injection and engine management
Power 367bhp @ est 6300rpm
Torque 370lb ft @ est 3400rpm
Transmission Six-speed manual or ZF six-speed auto, rear-wheel drive
Steering Rack and pinion
Suspension Front: lower wishbones, cantilever upper arms, Eibach coil springs over Koni dampers. Rear: double wishbones, fully floating Eibach coil springs over Koni dampers
Brakes Vented discs
Weight 1100kg
Performance 0-60mph 4.5sec. Top speed 155mph
Published Dec 7th, 2015
More Classic Car News & Article Categories:
Related Articles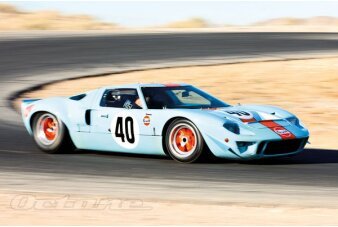 While every factory Ford GT40 is special, some are more special than others.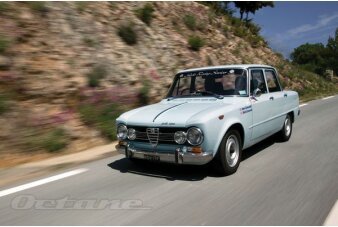 For the Linwoods historic rallying seems to come naturally.
×
Morgan Plus 8