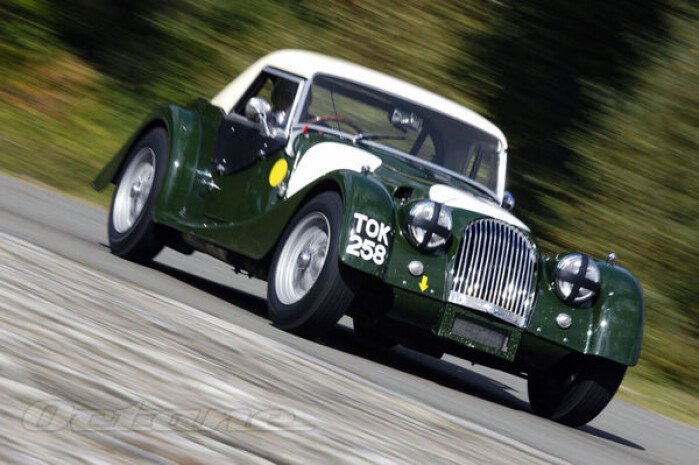 Audacious under-hood transformations are a time-honoured British tradition. There are uplifting yarns woven around Buick's V8 suddenly appearing in a stately Rover, about Cosworth's BDA pumping up the humble Ford Escort shopping car, and Ford's small-block V8 turning the pretty AC Cobra into a fire-breathing monster. The Morgan Plus 8 is another case in point, of course, but those tweedy tearaways at Malvern Link got into hot-rodding a whole lot earlier than that.

Phrases like 'a recipe that is almost startling' and 'remarkable acceleration and a high cruising speed' (from The Autocar magazine) are not readily identifiable with the earliest four-cylinder, four-wheeled Morgans; they tended to be more about pootle than power. But that was the critical reaction in 1951 to an engine transplant that created a first for Morgan: a potent performance car.

Until this point, small-capacity Coventry-Climax, Ford and Standard engines had provided what HFS Morgan deemed sufficient urge for his sports cars, but the Plus 4 of 1950 had a throaty 68bhp of power on tap thanks to the shoehorning-in of the 2.1-liter engine from the otherwise dreadful Standard Vanguard. It was the old boys' network in action, as HFS and Standard's boss, Sir John Black, had once been apprentices together on the former Great Western Railway.

But here also was a fascinating early example of how a small British company, when cannily run, could outsmart the big guns.

Morgan must have witnessed the export debacle for the Morris Minor, when early cars sent to the USA were found to be too feeble to tackle the hills of San Francisco, irrevocably damaging all sales prospects. If Morgan was going to sell cars in the USA – and that was the only way to get allocations of steel to make them with – then they had to be up to the job.

That's why the Plus 4, with its ability to sprint from 0-60mph in 18sec – believe it, hot stuff 70 years back – and tickle 85mph, not only had a reinforced chassis frame but was subtly longer and wider, better to accommodate the already broader beam of the well-fed American motorist. It's also why a decent set of big Girling hydraulic brakes was included.

The Autocar, with music to Morgan's ears, found that the Plus 4 could easily cope with a 16% gradient in top gear at 30mph. Today, Worcestershire; tomorrow, the world!

Well, almost. It wouldn't be long before other sports cars, notably the Austin-Healey 100 and Triumph TR2, would render the Plus 4's abilities, however manfully delivered, a decidedly vintage experience. As Bob Meakes, a lifelong devotee who knows everything there is to know about taking an early Plus 4 to pieces and putting it back together, says: 'It is the real Morgan, but it's very, very crude engineering – blacksmith stuff. That's what we all love about it, of course: the archaic-ness! Remember, though, that the four-wheelers were always optimised for 50:50 front:rear weight distribution. To do that, Morgan made its own bellhousing to keep it balanced, so it didn't matter really where you positioned the engine. The gearbox is the datum point in the driveline.

'The appeal of the car, really, was the flexibility of the engine. I understand that HFS thought it was a bit too big and powerful, but you can do almost everything in top gear, because it has so much torque. And the Moss four-speed gearbox is a dream. Well, sort of. Once it's mastered, that is…'

After the TR2-spec 2.0-liter engine arrived in 1953, with power up by a third, and the elegant, more windcheating cowled frontage was in place, extra potential was unleashed. The most spectacular exponent of that was Chris Lawrence, who crowned an exalted racing career at the wheel of Plus 4s with the pinnacle of Morgan's four-cylinder achievements: a win in the 2.0-liter GT class at Le Mans in 1962 with a car famously registered TOK 258. The numberplates were absolutely vital; not only did the car average 94mph, never need an unscheduled pit stop, and roar across the finish line at 4pm on Sunday (literally, as the exhaust was fractured), but it also drove both to Le Mans and back again.

During the rest of the 1960s, the marque sauntered along its gentle path towards venerability rather than vehemence, arrested only in 1968 when the Plus 8 burst onto the scene and the Plus 4 petered out.

There then followed a period during which the Ford- (4/4) and Rover-powered (Plus 8)Morgans were, if not chalk and cheese, then mild cheddar or fiercely ripe Stilton. The third option of a rich and zingy dolcelatte joined the cheeseboard in 1985 when Fiat power hauled the Plus 4 name back out of the history books.

Morgan folk, at the time, would have been pretty suspicious of such a foreign entity. Dave Philpott, the Fiat guru at the Morgan Sports Car Club, is fulsome in his admiration of Aurelio Lampredi's 2.0-liter twin-cam, while agreeing that the perception lingers. 'It's a nice engine, and anyone who takes these things to pieces can immediately tell it's well engineered. Yet everyone assumes that just because Fiat cars fall to pieces then so do the engines. But that's not the case at all.'

Indeed, he rates it as slightly sweeter and more responsive than the 2.0-liter Rover engines that replaced it after Morgan's Italian dalliance. 'The gearbox is a bit truck-like,' he adds – which is where the subsequent, Rover-powered Plus 4s score far better – 'but it's pretty strong.'

The Plus 4 was in abeyance once more between 2000 and 2005. That's a long time for an iconic brand name to be absent but, once the radical Aero 8 had established the Morgan Motor Company as officially An Anachronism No Longer, there was the breathing space to revisit the Plus 4. The first-ever Ford-powered Plus 4 was unveiled in 2004, heralded as a 'marriage of a reliable four-cylinder engine with plenty of torque and the traditional values of a classic British sports car'.

We all savour the recent evolution of things at Pickersleigh Road. Devotees also love how, really, the fast four-cylinder cars are as robustly, defiantly, wonderfully the same as ever they were.



PLUS 4: A history
Always more than the sum of its parts
1950: The Plus 4 heralds a new era of Morgan as a performance machine, and actually replaces the 4/4 for five years. A stronger chassis with a 4in longer wheelbase provides the bedrock for the 2088cc 'wet liner' overhead-valve, four-cylinder engine from the Standard Vanguard mated to a Moss four-speed gearbox. You can have two- or four-seater sports or two-seater drophead coup? bodywork, all widened by 2in. With 68bhp at 4300rpm, acceleration is vivid, and top speed is 85mph.
1952: Morgan wins the Team prize on the RAC Rally, with Plus 4s continuing their consistently solid showing in everything they contest.
1953: Triumph's 1991cc TR engine, a vastly improved version of the Vanguard lump, arrives. It has 96bhp and the effect on the Plus 4 is electric – top whack leaps to 96mph and a massive 5sec is shed from the 0-60mph sprint, at 13.3sec. We greet a cowled radiator and headlamps flared into the front mudguards.
1954: Civilised Plus 4 Drophead Coupe four-seater is offered. Briefly.
1955: As the Triumph TR2 morphs into the TR3, the Plus 4 gets a corresponding 5bhp power hike, but restricted engine supply sees Morgan reintroduce the 4/4 with sidevalve Ford engine for less press-on customers.
1960: Front disc brakes now standard, and Chris Lawrence's menu of engine tune options (bespoke crankshaft, gas-flowed head, twin Weber carbs) in the new Super Sports offers 125bhp in an aluminum body on standard wire wheels: a 120mph machine. Running up to his Le Mans victory in 1962, Lawrence campaigns the Plus 4 vigorously in Europe.
1961: The 2.1-liter TR4 engine now gives 105bhp.
1964: Plus 4 Plus – an interesting foray into glassfibre bodywork and coup? styling – has twin Stromberg carbs and controversy aplenty. Only 26 people want one. Chris Lawrence's aerodynamic SLR Morgan begins a chequered career in sports car racing before a 1966 write-off caps it.
1965: Main focus on the Plus Four Competition is its special Derrington exhaust system.
1969: The Plus Four is quietly pensioned off.
1981: Morgan is spooked by the end of Ford's Kent engine production into choosing Fiat's 1584cc twin-cam for the 4/4, with matching five-speed gearbox. Then Ford says its new CVH engine is available, with Sierra rear-wheel drivetrain. So both were eventually options, with a five-speed Ford transmission by '83.
1985: Plus 4 rides again! Rather than rip up its Fiat agreement, Morgan switches to fuel-injection 1994cc Supermirafiori twin-cam and five-speed 'box for a feisty, 122bhp halfway-house between 4/4 and Plus 8. Widened mudguards house a unique combination of standard wire wheels with low-profile tyres. For the first time in 50 years, there's a three-car Morgan range.
1987: The Plus 4 is axed again, as Fiat's twin-cam four becomes obsolete, but…
1988: …a year later it's back, all-British with Rover's 1995cc M16 fuel-injection engine and five-speed gearbox. With 138bhp, it's the most powerful four-cylinder Morgan ever and can sprint from standstill to 60mph in a very lively 7.7sec. And this time there's a four-seater option too.
1992: Plus 4 upgrades to 134bhp Rover T16 four-cylinder spec.

2000: The end of Rover's T16 sends the Plus 4 into another temporary hibernation.
2004: Thanks to Ford's 1994cc Duratec, the Plus 4 is revived with a power hike to 145bhp. It's yoked to a Mazda five-speed gearbox. Top speed 118mph; 0-62mph in 7.5sec.
2011: The Plus 4 SuperSports is a limited edition festooned with evocative design touches, Minilite alloys, a sports exhaust, adjustable dampers and a 200bhp engine. Only 60 of 'em, all right-hand drive, six retro colors, and a rolling salute to that epic Le Mans achievement 50 years earlier.
Published Dec 7th, 2015
More Classic Car News & Article Categories:
Related Articles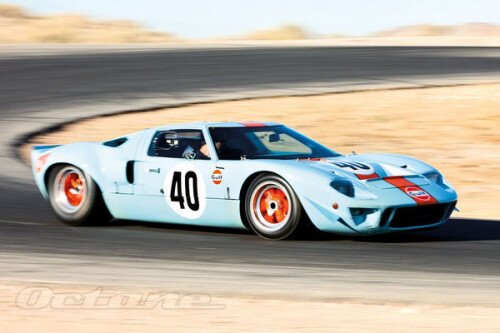 While every factory Ford GT40 is special, some are more special than others. The dazzling example featured here, chassis GT40P/1074, earns bonus points for at least three reasons..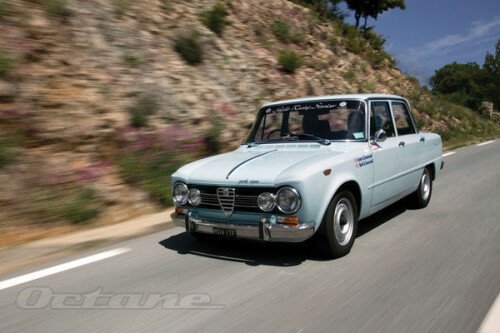 Not long after their first event together, Bob bought a standard road-going 1968 Alfa Romeo Giulia Super, and had it restored by Classicarco in Manchester. We spend a pleasant afternoon tossing it around the French countryside for Martyn's camera, Bob and I swapping the wheel like two duffers on the practice green trying out the same putter.
Advertisement
×
Morgan Plus 4