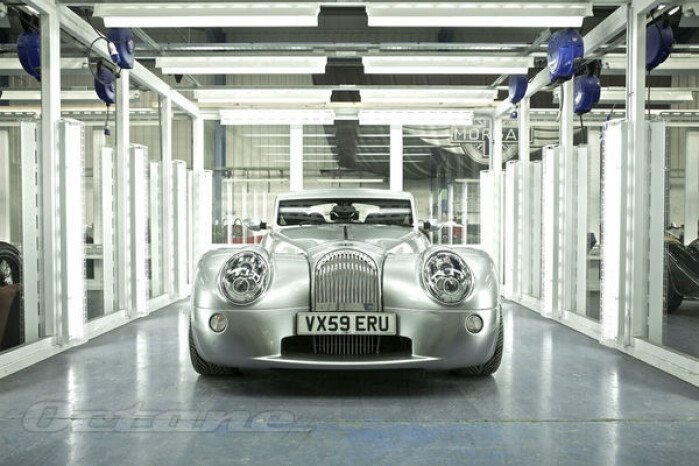 For so long it appeared as though the world had changed but nobody 
at Morgan's Pickersleigh Road factory had noticed. Backtrack to the end of the last millennium and the Malvern firm was seen by many as a venerable but largely irrelevant remnant of Britain's motoring past – the irony being that it was still very much alive. It's just that in terms of relevance, the rest of the motor industry gave up heeding the marque roughly around the time that Brooklands closed.

And then along came the Aero 8. Anyone who visited Morgan's stand at the 2000 Geneva Motor Show will no doubt recall the large number of engineering types huddled around the unclothed chassis – a Chris Lawrence-conceived affair comprising extruded aluminium and BMW V8 power. While it certainly didn't pander to the mainstream, the Aero 8 was clearly pushing for new frontiers. And then the sheets were pulled off the complete ensemble and jaws hung low in unison. The outer wrapper was altogether trickier to get a grip on and quite a few Magic Marker types were quick to label it a missed opportunity.

However, this leftfield roadster's subsequent success more than validated the go-it-alone approach. The car you see here consolidated it. The Aeromax arrived in production form in 2008 and continued from where the Aero 8 had left off, carving its own singular niche as a design statement. Both futuristic and retro, outrageous yet classical, it was much more than just an Aero 8 
with a hardtop. For one thing, it was the first Morgan for aeons to have been actually styled. Newly incumbent art boy Matt Humphries produced a silhouette unlike anything else in Morgan's back catalogue. Fixing the donor car's squint was perhaps the greatest blessing of all.

Setting aside Chris Lawrence's SLR racers, and Jane Morgan's one-off 
Plus 8 coupe, there had been only one prior attempt at a fixed-lid Morgan as a catalog model. The Plus 4 Plus is fascinating today but in the 1960s it 
was considered an abomination by the marque faithful. The Aeromax, by contrast, succeeded wildly in appealing to the old guard, but also to wealthy individualists who otherwise wouldn't have looked twice at a Morgan – which in many ways was the point of the exercise.

Morgan, you see, has lately become something of a boutique brand, the Aeromax being at the vanguard of the large-deposit-upfront approach to model development. At $165,000 a pop, and with production limited to a mere 100 cars, it provided a pointer to Morgan's future direction without distracting from heartland models. What is remarkable is that Humphries was still a student at Coventry University when the car was conceived.

The genesis of the project was a one-off created for Prince Eric Sturdza. 
A descendant of Moldavian royalty, and more recently the president of Barings Bank, this former tennis professional was, and remains, a huge Morgan fan. In recent years he has bankrolled the marque's irregular forays into international motor sport, so it's fair to say that he had clout when it came to requesting something that bit more haute couture. Inspired by renderings produced by Humphries while on work placement in Malvern, the resultant creation debuted at the 2004 Geneva Motor Show. Not that you could actually see it: the car was on a corner of the stand, hidden from all bar the chosen few – big-money types sufficiently smitten to demand replicas.

Subsequent media coverage saw Morgan further deluged with interest, but in reality the production car emerged a far less angular machine than the coachbuilt original. Even now, two years after production ended, it still looks fresh. Those dramatically arced front wings offer the desired Morgan reference points, having been formed via a high-tech process of heating alloy to a semi-molten state. The rear items, home to Dali-esque Lancia Thesis light clusters, are especially fantastic, while the split rear glass and central divider conjure images of design exemplars from 1963 Corvette Stingray to Bugatti T57 Atlantic. Inside, the laminated ash frame is justly flaunted, the handsome gauges being easily visible at a glance; it's an inviting, if cosy, office. Packing 325bhp of 4.4-liter BMW bent eight, it's also super-rapid, Morgan claiming 
a top speed of 160mph and 0-60mph time of just 4.5sec.

In wanting to advance the marque towards a new demographic, third-generation principal Charles Morgan could have kept the name and buried the heritage. But he didn't, instead pushing forwards with a model that bridged old and new worlds. The Aeromax isn't for everyone, but it is a standalone classic in its own right, and one that continues to spawn intriguing offshoots. Which just goes to prove that Morgan is on the right track, even if the scenery is different. 
Published Dec 7th, 2015
More Classic Car News & Article Categories:
Related Articles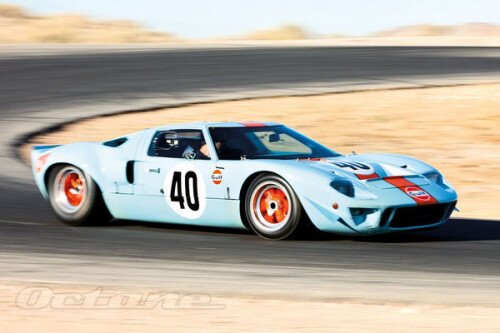 While every factory Ford GT40 is special, some are more special than others.
Advertisement
×
Morgan Aeromax