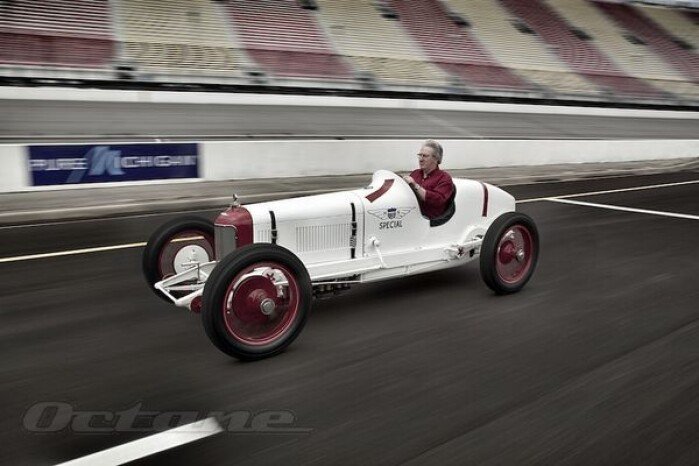 Burst of American thunder is different from any European thunder I've known. Not necessarily better, just different. It almost always arrives as a great jostling, exhilarating mass. Nine hours after a storm blasted me out of bed at 3am, I'm at Michigan International Speedway in the first Miller automobile to win the Indy 500, the 1923 HCS Special, with its straight-eight exhaust growling down the trembling pipe three inches below my right elbow and bouncing back off the straightaway wall. Thunder indeed.

The sound starts as a deep, throaty bark and builds with the revs to a ripping rumble that shreds the air, surges up your spine and squeezes you within your chest. And I'm thinking, if anyone or anything deserves the credit for giving America its own thunder, it must surely be Harry Arminius Miller and cars like the HCS Special.

You may not be familiar with Miller, or of a generation post-dating treaded racing tires.

But Harry Miller was American motor racing's creative giant, and left an indelible imprint on the nation's car culture. He was an artist and an artisan who believed the machinery inside should be as elegant as the shape outside; he was an innovator and a game-changer who pioneered technologies such as front-wheel drive and four-wheel drive in serious motor sport. He was also the first US designer to series-produce complete, bespoke racing cars; nothing on a Miller was converted road-car equipment, and virtually everything except the block casting and ignition was made in-house.

Harry Miller was in essence the North American Ettore Bugatti and Colin Chapman rolled into one – had any of their creations remained totally dominant for over half a century. A Miller engine first won the Indianapolis 500 in 1922, powering a Duesenberg, and last won it in 1976, in the form of the twin-cam four evolved by disciples Fred Offenhauser and Leo Goossen from a Miller marine engine, and they topped all but 12 of the runnings in-between. They also took all but ten of the American national championships during that timeframe too, and in both cases the bulk of missing wins were at the very end.

Two other Harrys, however, would figure prominently in the history of perhaps Miller's most historic car. The first was Harry C Stutz, himself a figure of considerable fame for the Stutz cars he produced from 1912; by 1923 he had sold off and started a new venture branded with his initials, HCS. Stutz knew well the promotional benefits of motor sport, having launched his 1911 prototype at the inaugural 500, and thinking to score HCS some reflected Indy glory, he went by Miller's Los Angeles shop to see the newest model.

It was the Miller 122 and, by the standards of the age, it must have been sex on wheels. Designed specifically for the 2.0-liter, no-riding-mechanic formula debuting at Indy that year, the 122 pushed a mere 18in-wide body through the air, and thanks to Miller's compulsive phobia of needless ballast it weighed a piddling 1350lb (612kg). It was slim, sleek and impeccably assembled; if a shaft passed through a hole on a Miller, both were machined to the same size and reamed and lapped until the fit was perfect.

Like the late examples of the preceding 183 – Millers of the period are named for their cubic-inch displacement – the 122 was a straight-eight twin-cam, but with two valves instead of four to give a hemispherical combustion chamber, and with a stronger, five-main bottom end for higher revs. Induction was through four of Miller's own best-selling dual-throat updraft carbs and output was 120 horses, only five fewer than the 183, despite giving away a full liter.

In 1924 a Miller 122 would run 141mph at Muroc Dry Lake, a world record for its class. Furthermore, Tommy Milton, national champ for 1922 and the '21 Indy winner, was so involved in the design that the 18in width was reportedly his hip measurement. Stutz agreed to sponsor two of the cars in the 500, with Milton as the lead driver, and called them the HCS Specials.

In the race itself the only real question was which Miller team – HCS or the eight-car Cliff Durant effort – would come home ahead. It turned out to be the HCS of Tommy Milton, who took pole at a track record 108mph and led 128 of the 200 laps. Besides being Harry Miller's first Indy win as a constructor, it was the first single-seater 500 victory, the second win from pole (the first being the Miller-Duesie in 1922), and it made Tommy Milton the first two-time Indy champion. Millers filled six of the top ten places, won every race of the 1923 Championship and, to cap off a banner season, a 122 finished third in the Italian GP.

As for Milton's HCS, well, it went the way of all race cars. Milton triumphed with it again in September, on dirt, but by the next season things had moved on. The car finished tenth at Indy in 1924 and 14th in '25, both with journeyman Bob McDonogh driving, but later that year it was back in the Miller 'shop, where the third Harry entered its life. Col Harry Hooker was a West-Coast dirt-track entrant well known for his highly successful Model T-based 'Hooker 99' with Miller's twin-cam conversion; when it crashed heavily in late '25, he went to Miller asking about a chassis for his left-over engine and driveline. Miller said I've got precisely what you need, my boy, and quietly swapped Hooker's bits into the Milton HCS.

Hooker campaigned the car so well through the '20s and '30s that the Hooker 99 became a legend in its own right, and when the family finally let it go in 1959 after his death much had been modified. Its exact HCS origins, never really publicized, were long forgotten. A succession of subsequent collectors were pleased to own it as the Hooker and, when Ted Thomas bought it in 1999, he was overjoyed.

Thomas, a businessman from Birmingham, Alabama, long-time racer in everything from Winston Cup to historic sports cars, and enthusiast of impressive taste, had always wanted a Miller and felt he'd done well, given their scarcity, to snag a car with at least some established Miller connections. He then commissioned leading specialist Zakira's Garage of Cincinnati to restore it to its dirt-track heyday.

Had it gone anywhere else that's undoubtedly what would have happened, too, but Jim Himmelsbach of Zakira's happens to be a Miller authority of genuine note, and Zakira's happens to have a treasure-trove of Miller's official drawings. Early in 2000 Jim noticed an odd thing about the chassis rails. They swept an inch higher at the rear axle arch than on other Millers, and the only place that configuration could be found was on the Model 122 drawing labelled 'Milton Special'. Further details checked against the original blueprints confirmed it: after 75 years, Harry's first Indy winner had resurfaced.

Restoration back to the correct, 1923 Indy specs was completed in 2011, just in time for the 500 Centennial celebrations at Indianapolis. Although unable to attend himself and to his eternal credit, Ted decided also to send his baby to Detroit with Jim for the Concours d'Elegance of America at St John's (formerly known as Meadow Brook), where the anniversary was being marked with a full Indycar display grid on the grounds and, uniquely for any major concours, an Indycar track day at MIS. 'I built this car to run,' he says, 'not to stay safe indoors. People need to be able to see these cars in action.'

Fortunately, though, people don't necessarily need to see yours truly initiating that action. Tommy Milton wasn't just narrow, he was apparently exceptionally thin and somewhat short, and while there's more or less adequate room once snuggled in, mounting up isn't the most flattering of maneuvers. Cold-starting is strictly via tow-rope and stubborn even then, but thereafter it's just a matter of hand-pumping the fuel pressure to 2psi, flipping the switch, and a little push.

Launch is surprisingly easy; a tiny clutch-slip and you're away, and the engine pulls from low revs almost like a road car's. Having been forewarned, I test the brakes immediately, and naturally Jim was right: there are none. Let me clarify that: typically when someone says 'there are no brakes', they just mean 'push hard'.

With the HCS, they're speaking almost literally. There. Are. No. Brakes. Being intended exclusively for '20s speedway use (Millers could be had with any brakes you wanted, and Harry actually later tried discs), where drivers never touched the binders outside the pitlane, the car has only front drums and those of only three-quarter-inch shoe width, plus an equally anaemic transmission brake. Planning ahead is highly advisable, to say the least.

Shifting is also an issue of some deliberation, and for similar reasons. The three-speed transmission was made for high-speed oval reliability, not shifting; the lower gears are obviously straight-cut and non-synchro, and top is actually a separate direct-drive dog-clutch sort of arrangement of its very own. Double-declutching is useless, up or down, and the accepted technique seems to be to upshift by riffing the throttle repeatedly and ignoring the gut-wrenching sounds until something grabs – and never, ever downshift at all.

Ah, but is it ever sweet at what it was built for. The steering is precise and nicely loaded, gear whine is minimal, throttle response is crisp, and the car absolutely tingles with eagerness. In its time, it was a tool that matched its task to total perfection, like no other made – with a genuine thoroughbred, that always shines through. And I'm glad to see as I pull away that the pitlane is lined with people who have drifted in from all around the paddock to watch. And, of course, to listen. American thunder isn't necessarily better, and it's certainly not worse. But it is different, and people who haven't heard it just don't know what they're missing.

Thanks to owner Ted Thomas, Brian Joseph and Hank Gabbert of the Concours of America at St John's, Michael Barry of The Stutz Club, and Zakira's Garage.
Published Dec 7th, 2015
More Classic Car News & Article Categories:
Related Articles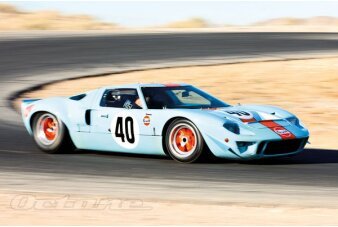 While every factory Ford GT40 is special, some are more special than others.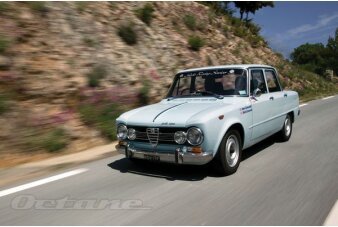 For the Linwoods historic rallying seems to come naturally.
×
Miller Indycar: Driving The Legend