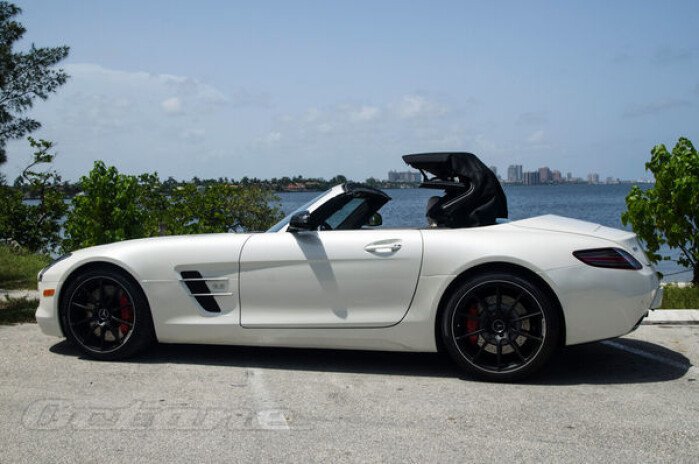 Hanging the three-pointed star on any sports car means it needs to up hold certain gentlemanly expectations, and we're happy to report the Mercedes SLS AMG Roadster fails miserably. The 563bhp 6.3-liter V8 fires up ferociously. The exhaust note would scare the average Mercedes owner, except for the very few who have experienced the SLR McLaren or SL65 AMG Black Series. It has the kind of throaty gurgle at idle that you would expect if Maranello ever built a muscle car.
Unlike the current engine in the SL63 AMG, the SLS's V8 is naturally aspirated. Tip in the throttle and the roadster roars like it was in a Formula race series, and its 479lb ft of torque pulls instantly. Although there's a launch control function, there's no need to spool up revs in this one. Just aim straight, plant your right foot, and clench your buttocks. And this is in 'Comfort' mode - there's also a selector to choose 'Sport' and 'Sport+'.
Selecting Sport+ triggers the car's information system to issue a warning to use only on racetracks, which is like telling a child not to eat candy. Under this setting it doesn't take much for the rear end to break loose in the corners. Note that this is about breaking loose, not breaking away. On a racetrack the best cars have a great understanding of inertia so there can be some sliding through the corners at high speed, but control is kept through being able to feel the limit where the car hooks up again. Sport+ understands this driver telepathy perfectly.
Those who do not have the sixth-sense to be able to feel these limits can find themselves in trouble quite quickly. So for everyday back road use, regular Sport may be the best idea for amateurs. The engine still gives off the same untamed roar, barks, and bangs, but some of the Mercedes brain is still keeping watch on the family jewels.
The Comfort setting is a relative term in this car. It will always give off some of the sweetest exhaust tunes no matter the speed, but in this tamest selection, the SLS AMG can double as a commuter machine. The speed-sensitive steering doesn't require too much effort in traffic and the throttle doesn't jump unless pegged to the floor.
All three driving modes work directly with the dual-clutch seven-speed automated manual transmission. The car knows the best place to shift, and can do it quicker than you could with a stick. But, for those who want the tingle from extra control, the SLS AMG can instantly send into 'Manual' mode by touching the wheel-mounted paddle shifters at any time. Since this is a true sports car, drivers can peg the SLS to its 7500rpm redline before up shifting, but there is no real need to do so since the car peaked in its power band a few thousand revs ago.
As with the SLR, the SLS is not particularly pretty in its details. On the whole, the SLS takes the Mercedes design language and gives it a squatter more aggressive stance. Panels are flattened to give this car a wide gaze, and no edge is ever rounded enough to be called soft. Like an eastern European supermodel, characteristics that may appear odd individually have a striking and lasting impression when appreciating the whole face.
The ducktail rear end hides 6.1 cubic feet of boot space. This isn't large enough to fit a set a golf clubs, but since this is a Mercedes, we'll assume it was on purpose. Its crack-team of engineers can figure out how to make room for anything they want, so having to leave the clubs at home is their way of sending a message.
Getting behind the wheel, there's a step-in, step-down kind of motion that is reminiscent of the original 300 SL roadster. It doesn't make drivers groan, and remember how old they really are, but it's just enough to remind you that this is a real sports car. The power heated seats are endlessly adjustable for everything
Published Dec 7th, 2015
More Classic Car News & Article Categories:
Related Articles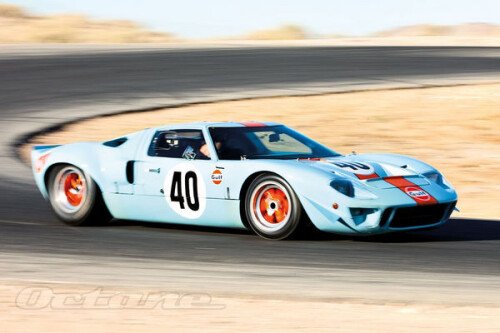 While every factory Ford GT40 is special, some are more special than others. The dazzling example featured here, chassis GT40P/1074, earns bonus points for at least three reasons..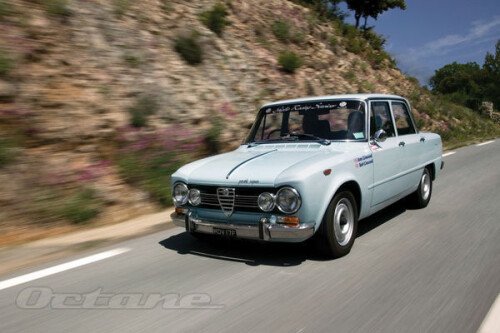 Not long after their first event together, Bob bought a standard road-going 1968 Alfa Romeo Giulia Super, and had it restored by Classicarco in Manchester. We spend a pleasant afternoon tossing it around the French countryside for Martyn
Advertisement
×
Mercedes-Benz SLS AMG Roadster