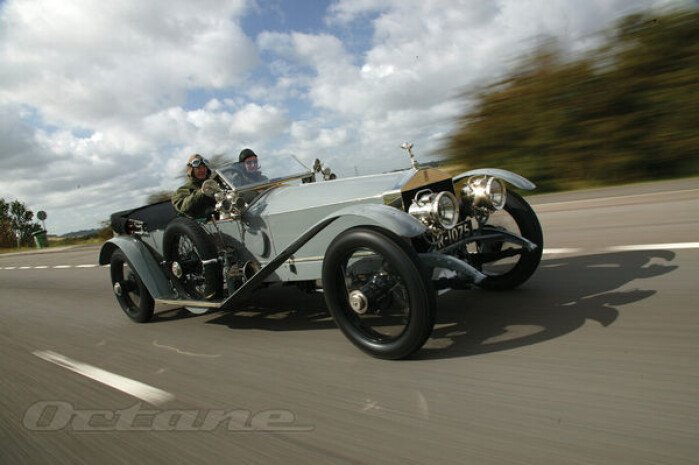 It's surprising how many people are up and about at 6.30
on a rainy Sunday morning in London. In fact, most of them seem to have been up and about for rather a long time. Girls
are straggling home from nightclubs in twos and threes, their glad-rags now looking tawdry in the cold light of dawn. On a street corner, a group of young men are squaring up for a fight, quite possibly over one of those same girls.
We observe this Hogarthian portrait of modern London from the whispering wraith of a 1911 Rolls-Royce Silver Ghost, which slides past virtually un-noticed on the wet tarmac. On this September Sunday morning, members of the 20-Ghost Club are attempting to recreate a very special achievement in Rolls-Royce history: the day almost exactly 100 years ago when a 48.6hp Rolls-Royce Silver Ghost was driven from the centre of London to the middle of Edinburgh using top gear only. Surely a feat that would be impossible now – or would it?
It's the night before the beginning of the Top Gear Centenary Trial, as it has been dubbed, and the crews of 14 Ghosts have assembled in the Royal Automobile Club, Pall Mall, for a pre-run briefing by organiser Nick Naismith. Nick, his wife Jo and club historian Tim Forrest have gone to enormous lengths – literally – to research the route that Rolls-Royce chassis 1701 would have travelled back in 1911. Tomorrow we will head out of London and strike north while most of the country is still a-bed. Passing through many of the towns that 1701 would have visited (rather than simply using the modern A1), we will overnight in Yorkshire, and arrive triumphantly in Edinburgh the following afternoon. That, at least, is the plan.
In fact, there are 15 Ghost crews gathered together in the RAC's Club Room, but only 14 Ghosts parked up in nearby St James's Square. Ashley Carmichael and Richard Spray had to jump ship soon after leaving home, when Ashley's 1920 Ghost ran a bearing. Determined to stay with the event, they have hot-footed it down to London in Ashley's modern Jaguar. It's a reminder that the very youngest of these cars is now nearly 90 years old, and we're about to subject them to a test that was considered a real achievement a full century ago, when traffic was negligible and roads uncongested.
Next morning, at a few minutes before 6am, a line of Ghosts sparkles under the streetlights outside the RAC, ready to be flagged away by 
Rolls-Royce's Andrew Ball. The company has been hugely supportive of the 2011 Trial and has lent Octane a new Ghost in which to follow it. But I'm keen to sample as much of the Trial as I can from the exposed reality of an original Ghost, and Nick and Jo Naismith are only too willing to oblige; Jo kindly gives up her place in their 1911 car and slips behind the wheel of its 2011 counterpart. She seems quite happy to stretch out in its ultra-luxurious interior, heater on and radio murmuring softly… Funny, that.
Most, but not all, of the 14 cars on the Trial will be attempting it in top gear alone. To discourage, ahem, inadvertent selection of a lower ratio, vintage Rolls-Royce specialists P&A Wood – who will be accompanying the Trial with their support lorry, en famille – have crafted beautiful little brass plates that are wired into the open gearchange gates to block off the redundant slots. In an emergency, these blanking plates can be dislodged to allow a lower gear to be grabbed, for no-one is quite sure what will happen if, say, a car has to restart in top on a hill.
The wisdom of this is proven within a mile of the start, when the 1912 Ghost of visiting American enthusiasts William E 'Chip' Connor and Bruce Meyer is caught out by the traffic lights on the way up St James Street. Chip decides discretion is the better part of valour, and takes the low-gear option. One down, 13 to go.
Meanwhile, Nick and I are running somewhere at the front of the pack, second-guessing when the lights will change and slowing to a dead crawl well beforehand if they're against us. Occasionally we'll be unlucky and will have to stop on an upward gradient, but as long as it's a fairly easy one the car seems able to cope. We get a whiff of hot lining 
from time to time, but the Ghost is performing magnificently, lugging its considerable bulk away from rest with the dogged determination – and the leisurely pace – of an ox pulling a plough.
There are surprisingly few steep hills on the route between London and Edinburgh, but one of them is in North London: the Archway Road, which climbs through a cutting dug in 1812 to help stagecoaches surmount the 400ft-high Highgate Hill. Nick is worried that if we get baulked by a light-controlled crossing here, we won't be able to restart. But there's no-one around at this time in the morning to perversely push any crossing buttons, and we crest the hill with ease.
By 8.30am, despite dire weather forecasts of high winds and driving rain brought in on the coat-tails of Hurricane Katia, the morning has turned glorious, with bright autumnal sunshine backlighting the trees as our convoy of Ghosts hums along at 40mph or so on the old Great North Road to Potters Bar. That's not fast enough, it seems: word filters through from certain crews behind us that we're going too slowly for comfort, and could we please get a move on? So we up the speed to 50-plus, which is a Ghost's natural cruising gait. On anything less than a dead straight road, that's as fast as you want to go; Rolls-Royce was a late adopter of front-wheel brakes, and the speed you drive a Ghost almost entirely depends on how much anticipation you have in hand. There's a foot-operated transmission brake, and an outside lever for the brakes on the rear wheels, but however much braking effort you exert, it's still being transmitted to the road surface through two tire contact patches approximately the size of a 1950s motorbike's.
In the light of this, it's all the more generous of Nick that he invites me to take the wheel of chassis 1606, somewhere south of Welwyn Garden City. Idling away in a lay-by, its 7.5-litre straight-six is almost inaudible. That's no surprise, but what is unexpected is how progressive and gentle the clutch is. 'Give it quite a few revs and slip the clutch a bit,' instructs Nick, and soon we're easing away without any drama. In top gear, from rest.
Without any gearchanging to worry about, all I need to do is steer the car and make sure I slow down enough for corners and roundabouts. The former is a piece of cake, thanks to beautifully accurate steering with hardly any 'slop' about the straightahead. You don't need to let the wheel float in your hands, as with many vintage cars. Technique for the latter is to add a bit of retardation with the handbrake lever and keep the transmission brake in reserve for when you really need it – when, say, a modern car darts onto a roundabout just in front of you. Then you'll need both hands on the tiller, for the steering that is so light at speed on the open road really loads up in a tight corner. But the car is not at all difficult if you drive it appropriately.
Having stopped for morning coffee at The Bell in Stilton, Cambridgeshire – the very pub where Octane was founded – our lunch halt is at another bell, Ye Olde Bell Inn, at Barnby Moor, north-west of Retford in Nottinghamshire. It's a proper old 17th-century coaching inn, with more recent historical links to the road's colorful past, having been the only British control point for the 1960 Monte Carlo Rally. The soon-to-be Queen Victoria stayed here in 1835, and it was used as a location for the film of JB Priestley's The Good Companions in 1932. That's what you call a varied history.
For the afternoon leg of the journey, Sir Michael Kadoorie – chairman of the Peninsula Hotel Group, which rather stylishly uses Rolls-Royce Phantoms to ferry its guests about; Sir Michael has just ordered another 14 of them – invites me to ride in his gorgeous 1912 Ghost, one of just five surviving underslung-chassised cars. Delivered new to India, it spent most of its life in Australia and now wears a replica of its original Holmes body, beautifully restored and detailed by P&A Wood.
Sir Michael is fastidious about getting things just right and tells me how he spent ages trying to find the shade of brown leather he wanted for the car's interior: 'I was having dinner with an old friend in Hong Kong and noticed that his shoes were the perfect colour! So I persuaded him to take one off and lend it to me. He had to walk shoeless across the lobby of the Peninsula…'
Sir Michael's Ghost is acknowledged to be one of the sweetest and fastest-running cars on the Trial, easily capable of 70-80mph, as his portable sat-nav (standard equipment on a 1912 Ghost, of course…) proves. We reach our overnight stop in Yorkshire with hours of daylight to spare, and arrive stirred but not shaken. It occurs to me, not for the first time, that in a Ghost you could easily cover the whole London-Edinburgh route in a day. Sticking to the original roads. In top gear.
Mindful that I need to shoot some pictures, I hop into the modern Ghost in the morning, in the company of Ashley Carmichael (of Carmichael fire tender and Range Rover conversion fame). I fell in love with a similar car that I drove out to Italy for the Villa d'Este Concours in May (Octane issue 99), and I'm keen to see if Ashley is as impressed – he's never driven a new Ghost, but did consider buying a Phantom recently. As I suspected, he too comes to love the Ghost, not least for its effortless and quite staggering performance. At one point we give chase to a modern Alfa GT, which is obviously surprised to see the Peterbilt-like Rolls front end filling his rear-view mirror as he embarks on a rapid overtake. Great fun.
I can't claim to be a proper old car person if I'm swanning around in a modern car all day, however, so Nick Naismith welcomes me back into chassis 1606 for the long last stage into Edinburgh. We've broken the journey at Alnwick in Northumberland, lunching in the White Swan Hotel on the High Street – a place well worth visiting just to see a dining room that's outfitted with wood panelling and windows from the Titanic's sister ship, the Olympic. They were bought by the hotel when the Olympic was scrapped in 1937; and when James Cameron's Titanic film was being made, the set-makers came to measure it up.
The weather is still sunny as we rumble out of Alnwick, but those crew members in touch with modern communication devices have heard dire warnings about changes to come. And, sure enough, as we join the modern A1 for the final stretch into Edinburgh, the dot-matrix signs are displaying messages warning of heavy rain and severe gales. For once, they're not lying. The wind starts gusting in at 90 degrees to the car, making a mockery of the windscreen's minimal protection. High-sided lorries are running with their side screens open for safety, and caravans are snaking dangerously behind their tow cars. I've never been in a car before where opposite lock is needed to keep it running in a straight line.
But through the sturm und drang, the Ghost holds its course, surprisingly unaffected by the gales that batter it. On a downhill stretch, Nick yells that the speedometer has just touched 65mph. I have gained such a lot of respect for this car. It's a full century old and we've shown it no mercy, yet it just keeps running, without complaint. It is a wonderful machine.
The rain is still falling as 14 Ghosts line up in the car park behind Holyrood House in Edinburgh, below the looming mass of Arthur's Seat. But nothing can dampen the sense of achievement: every car has made it without a significant problem, and seven of them have driven the entire route in top gear. Jo Naismith passes round paper cups of Champagne, transported in the new Ghost from the local Sainsbury's (I'll later drive the car to our hotel, the front seat and footwell awash with empty Champagne bottles, which must provide adjacent bus passengers with a memorable image). Tomorrow the Ghosts will set off south again, heading for Goodwood and the Revival meeting – and this time they'll have a full complement of gears available. Not that they really need them, of course.
Thanks to the 20-Ghost Club, www.20-Ghost.org; and to Rolls-Royce Motor Cars, www.rolls-roycemotorcars.com.




The original 1911 trial...
Rolls-Royce's decision to stage its London to Edinburgh Trial in 1911 was a response to Napier's success on a similar exploit the previous year. In June 1910, SF Edge had driven a new 65hp Napier, The Silver Bullet, to Edinburgh and back in top gear only, at an average fuel consumption of 19.35mpg. It was then taken to Brooklands, where it recorded 76.042mph over the flying half-mile.
These were the benchmarks Rolls-Royce had to beat, with a less powerful car. To manage it they knew they'd have to tweak the Ghost engine to give it enough torque to pull away from rest in top gear, yet also sufficient power to go on to a top speed of 80mph. A new chassis, no 1701, was fitted with an improved engine featuring a new crankshaft damper, a bigger-bore inlet manifold and a higher compression ratio, which raised power from a standard car's 45bhp to 58bhp, and during 6-13 September 1911 the car was driven from London to Edinburgh and back in top gear. It consumed petrol at a rate of 24.32mpg, and at Brooklands it achieved a maximum speed of 78.26mph. Job done.
The astonishingly good fuel economy remains an enigma, because today's Ghost owners rarely escape the low teens of mpg – indeed, on the 2011 Trial, the best recorded figure was 14.57mpg. The 1911 figure may have been helped by the UK's national speed limit at the time of 20mph; 1701's average speed was stated to be 19.59mph overall, which sounds very convenient!
This wasn't the end of 1701's triumphs, however, for after a considerable number of mechanical changes had been made, and a new semi-streamlined body fitted, it went on to record 101.816mph over the flying half-mile at Brooklands on 14 November 1911. In so doing it became the first Rolls-Royce to top 100mph.
Amazingly, this famous car was discovered as a battered, derelict chassis on a Hampshire farm in 1963. It is now restored to its 1911 London to Edinburgh specification, and took part in the 2011 Trial.
...and the 2011 re-run
London -  14 Ghosts owned by members of the 20-Ghost Club are flagged away from the RAC, Pall Mall, at 6am on Sunday 11 September.
Stilton -  After clearing the sprawl of London and its commuter belt, the Ghost crews enjoy a late breakfast at The Bell Inn.
Retford -  Lunch is taken at Ye Olde Bell, a former coaching inn on the Great North Road at Barnby Moor, just outside Retford, Notts.
Wetherby - All the Ghosts make it without trouble to Sunday's overnight stop at the Wood Hall Hotel, near Wetherby in Yorkshire.
Alnwick - One of the prettiest halts on the route, the Northumberland town of Alnwick is Monday's lunch stop. Next – Edinburgh!
Edinburgh - It may be raining and blowing a gale, but all 14 Ghosts arrive safely and on time at Holyrood House in Scotland's capital.
Specifications
1911 Rolls-Royce silver ghost '1701'
Engine 7428cc straight-six, separate crankcase and two inverted L-shaped three-cylinder blocks with integral heads, single Royce two-jet carburettor, dual ignition by magneto and trembler 
Power 45bhp @ 1200rpm (standard); this car 58bhp @ 2000rpm
Transmission Three-speed manual, rear-wheel drive
Steering Worm and nut
Suspension Front: beam axle, semi-elliptic leaf springs. Rear: live axle, torque tube, underslung and cantilevered semi-elliptic leaf springs
Brakes Drum brakes on rear wheels, mechanically operated by handbrake lever; foot-pedal operated transmission brake
Weight 1685kg; laden for Trial to 2385kg
Performance Top speed 78mph
Published Dec 7th, 2015
More Classic Car News & Article Categories:
Related Articles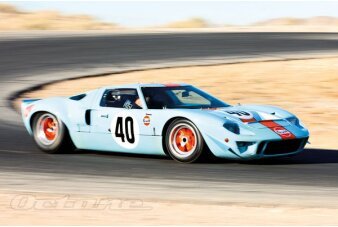 While every factory Ford GT40 is special, some are more special than others.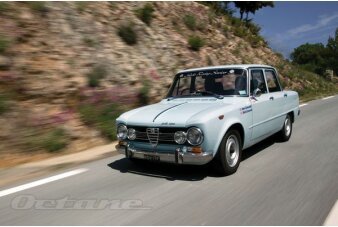 For the Linwoods historic rallying seems to come naturally.
×
London To Edinburgh In High Gear