Photography Courtesy of Ford Motor Company


In the late-'60s, it's well documented that America's automakers were embroiled in an all-out performance war. And while most of that focused primarily on going fast in a straight line, from either the stoplight or Christmas Tree, there was also a certain element that was more about carving through corners and screaming small-block V-8s revving to 7,000 rpm.

We are talking about the Sports Car Club of America's Trans American sedan championship, or simply Trans Am for short. And here, a fierce war was waged, between the likes of Chevrolet and Ford. Both the Penske and Bud Moore prepped track cars proved to be formidable weapons in the hands of drivers like Mark Donohue and Rufus "Parnelli" Jones, so much so that Donahue and Penske (Chevrolet) clinched the Group 2 championship in 1969, while Bud Moore (Ford) and Jones took the honor the following year. On the street, Chevrolet had been first to the party with a production Trans Am homologation car – the Camaro Z/28, but once former GM executives Semon E. "Bunkie" Knudsen and Larry Shinoda were installed in the Glass House at Dearborn, Ford made up for lost time. Despite a late introduction during the '69 model year, the Mustang Boss 302 was quite simply, one of the coolest machines you could buy in the muscle era. Its high winding solid lifter 302 engine along with massive heads, big carburetor and steep axle gearing, proved to be a bit of a handful on the street, but a handling suspension with some of the biggest tires yet seen on an American car, made it corner better than just about anything on the road at the time. It also looked fantastic, thanks to aerodynamic aides conceived by Shinoda, plus a sick graphic package and loud paint colors. High price and specialized content meant that few were built during the two model years the car was offered, but for those that came in contact with one, the Boss 302 left a lasting impression.

In fact, those original 1969-1970 model year survivors are among the most highly prized and collectible of all Detroit muscle era machines. However, for those that haven't been able or fortunate enough to acquire one of these originals, Ford is now ready to offer a solution.


BACK FOR 2012

Given that the 21st century has seen a sort of return to the roots aspect for the Mustang, it was probably only a matter of time before the Boss 302 made a return. Indeed, over the last few years there's been steady and growing interest in the concept of a new-age Trans Am Special. In 2006 Ford Racing Performance parts introduced a Boss 302 block, a reinforced lump based on its evergreen Windsor V-8 and aimed at do-it-yourself road racers. Not long afterwards FRPP dished up a complete Boss 302 crate engine, stashed full of high performance goodies aimed at both high horsepower street use and the racetrack. And perhaps not surprisingly, it wasn't long before it found its way into a number of late-model Mustangs, including some done up as a modern version of the old Boss 302. As a crate engine it allowed enthusiasts to build their own modern day take on the original Trans Am classic, but as the heart of a new generation, production ready Boss Mustang, one that needed to meet the latest in fuel economy and emissions requirements, it had no future.

In order to make that possible, a new state-of-the-art powerplant was needed. Enter Ford's next generation high-performance OE V-8, the 5.0-liter "Coyote." Despite boasting a similar displacement to the old 302 H.O. and Boss pushrod engines, this was an entirely different kettle of fish. An-all aluminum engine, boasting an incredibly sturdy bottom end with six main bearing caps, reinforced oil pan rails, plus oil jets to cool the pistons and dual overhead cam free-breathing heads with Twin independent variable timing on both the intake and exhaust grinds, it was designed as a screamer, able to rev all the way to 7,000 rpm, one characteristic shared with the original Boss engine.

Installed in the 2011 Mustang GT, this new "302" churns out 412 horsepower and 390 lb-ft of torque, making it a stellar performer right out of the box – the hottest mainstream Ford pony car ever – yet, if Ford was going to build a proper modern day Boss 302, the Coyote would still need a few enhancements.


FROM CIRCUIT TO STREET

It all began with Boss 302R road race program and like the original Boss cars, has now filtered down to street level. To help deliver even more horsepower and torque on the "new" production Boss 302, engineers looked at several key aspects of the Coyote – namely the intake, reciprocating assembly, heads and ECU calibration. The shortblock shares many parts with the regular 5.0 engine, but sports unique forged pistons and stronger, sinter-forged connecting rods.

Atop the Boss 302 version of the new 5.0-liter V-8 is a unique, manifold design with a box-type plenum housing shorter runners to help generate higher rpm horsepower and individual velocity stacks, a variation on those used in old multiple carburetor setups, so beloved of road racers back in the '60s and '70s.

The heads are actually newly cast aluminum pieces, CNC machined to improve flow thorough the intake and exhaust ports and incorporating sodium filled exhaust valves, lightened valvetrain hardware and more aggressive camshafts with increased lift and duration to support the higher levels of volumetric efficiency. The "new" production Boss 302 is able to redline at a staggering 7,500 rpm – aided by those heavy-duty pistons and rods, along with race derived crankshaft and main bearings, plus a revised oil pan design with improved baffling to promote adequate lubing of the moving parts at all times.

As a further nod to durability, Ford upgraded the cooling system for this engine and fills the crankcase on each one with fully synthetic 5W50 oil. An external oil cooler has also been plumbed in to help keep temperatures down and help maximize internal motor lubrication.

On the exhaust side, the 2011 5.0 engine already boasted one of the most efficient systems around, however that still didn't stop the boffins from playing around with it further, mainly in the name of sound. "Since the 2011 Mustang GT exhaust system is already free flowing, it came in way under our backpressure targets," states Shawn Carney, Mustang's NVH engineer. Not bad for a performance-oriented system and one with headers no less. Yet Carney and his team were able to tune the system to deliver a signature sound, one more authoritative than the GT.

They were able to accomplish this by using quad pipes, with an extra set of tubes located at the car's rear behind the crossover tube. However, thanks to incorporating metallic discs, the purpose of these additional pipes isn't really to efficiently expel spent gasses but to alter resonance, resulting in a unique signature sound on the Boss engine.

Perhaps what is surprising, is that with primarily a little induction, cam and exhaust work, the Boss engine is able to crank out 440 horsepower (likely at around 6,000 rpm – Ford is still being shy on revealing the official revs max power will be generated).

However, the emphasis on top end breathing, combined with the revised engine mapping, alters torque delivery and output – peak grunt drops to 380 lb-ft (which likely occurs at the same 4,400 revs as the regular Coyote).

According to Mustang Chief Nameplate Engineer, Dave Pericak, despite the emphasis on high-winding horsepower and track prowess, the new Boss remains a decidedly tractable engine in everyday driving (unlike its 1969-1970 namesake). "It's a beautifully balanced race car you can still drive on the street," he says.


BEEFY CLUTCH, STEEP GEARING

Further upping the performance stakes in the driveline department is an upgraded clutch with stouter friction material on the surface of the disc, specified to better handle frequent higher rpm shifts. The only gearbox available on the 2012 Boss 302 is a version of the GT's MT82 six-speed manual, a true to form close-ratio unit with a short throw shift to help facilitate rapid gear changes befitting a road racer. (Interestingly enough, the original 1969-1970 Boss 302 was available with both close and wide-ratio four-speed manual Toploader transmissions).

In the new Boss, driveline upgrades also extend to the rear end. As with the standard Mustang GT, out back is a tried and true solid 8.8-inch rear axle, but with a standard 3.73:1 ring and pinion gear to better help the free-revving Boss engine maximize torque multiplication plus a standard limited slip differential (a Torque-Sensing unit is available as an option).


HOLDING THE LINE

But like any true road racer; especially one designed to follow in the footsteps of a Trans Am great like the original Boss 302, Pericak and his team knew that a successor would have to rely on more than just driveline upgrades to get the job done. The S197 chassis is already a solid platform and the current Mustang GT the most capable of the breed even through the corners, but in order to provide a package that was as comfortable on the street as the race circuit, required some improvements, one of them being adjustable shocks, a bit like those found on the original Boss as well as the Mustang SVO from the mid-'80s.

Brent Clark, supervisor of the vehicle dynamics team on the new Boss program, gives us a little insight. "We've given drivers five different settings when it comes to the shocks," he says. "One is softest, two is the factory setting the car comes with, while five is the firmest." But what's perhaps surprising, especially in this day and age, is the way in which the damping can be adjusted. "It's right at the top of the shock tower, built into the rod part of the damper," says Clark. "All you need is a small flat-blade screwdriver to move the adjustment screw between settings one and five – it's that easy. You can drive to the local track day on setting two, adjust the screw to five for some time out on the course and then turn it back to one for the drive home again."

To help these adjustable shocks fully exploit the limits of the car's handling capability, each 2012 Boss 302 also comes with shorter, higher rate coil springs to provide better wheel control, plus firmer bushings and a larger diameter rear sway bar to promote more neutral cornering. Visually the changes in suspension result in a very subtle drop in ride height over the GT – 11 mm in front (0.43-inches), and a mere 1 mm (0.04-inches) in the rear.

The steering has also been retuned. It's still a variation of Ford's EPAS (Electric Power Assist) as found on the 2011 GT, but recalibrated for higher effort and greater responsiveness, particularly at higher speeds. Via a setting in the instrument cluster, the driver is also able to actually adjust the steering calibration to suit their particular driving style or road conditions. A menu screen allows the setting to be tuned for comfort, normal and sport modes.

However, as with just about every modern car, there are still standard electronic driver aids, namely a Traction Control System and Electronic Stability Control. Yet, for the 2012 Boss 302 the calibrations are unique and drivers can essentially choose the amount of interference they like. There's full mode – primarily for street driving and lesser experienced helmsman – where the traction and stability control are actively engaged and help keep this rear-wheel drive monster on its intended path – (readers will no doubt be aware how much of a handful older V-8 Mustangs can be in the wet or on slippery surfaces). The second, aimed at more experience drivers, keeps the TCS and ESC active, but dials back their level of aggression. Ford says it's primarily for track use, especially those just getting used to lapping with their new Boss. The third mode, which disengages the driver aids completely (most modern setups cannot be totally turned off), is aimed primarily at experienced pilots, particularly those that spend a lot of time hot lapping. It's nice to see that a modern day manufacturer can still dish up a serious dual/purpose street/track performance car when they want to.

Along with some hardcore suspension and chassis improvements, the Boss 302 also gets upgraded braking hardware. Standard, is a variation of the monster 14-inch front discs and Brembo four-piston calipers available on 2011 Mustang GTs, however, for Boss duty, special high performance pads, utilizing a more heat resistant compound are used, while the brake backing shields are actually vented to further aid cooling. Back brakes are standard Mustang GT fare, but the Boss gets special low-expansion brake lines, which are more rigid than the stock GT pieces. Because they expand less under heat (some 30 percent according to Ford), they allow the maximum amount of hydraulic pressure to reach the brake pedal in the shortest amount of time – which, according to Ford also results in better pedal feel, especially under panic stops. In addition, the Mustang's ABS system has been specifically dialed in for the Boss, in lieu of more aggressive braking, which many drivers of these cars are likely to perform on a regular basis. In testing, Ford says that the new Boss, in a controlled 60 mph to 0 braking test, stops three feet shorter than a GT – three feet!

Rolling stock consists of standard lightweight, black finished 19-inch diameter wheels and tires, but staggered fitments. The fronts are 9 inches wide, while the tires that wrap around them – Pirelli P-Zeros – are P255/40ZR19s. The rear rims are 9.5-inches in width, shod in Pirellis with a cross-section of 285 mm and a lower 35 mm profile.


COSMETIC ENHANCEMENTS

Given the current Mustang's "retro inspired" styling, any new-age Boss 302 simply has to wear a bunch of signature features on the coachwork and cabin. The 2012 version, true to the original, is available in a range of high impact exterior hues - Competition Orange, Kona Blue, Performance White, Race Red and Yellow Blaze (no Grabber Green or Grabber Gold folks).

True to the '69 version, the 2012 Boss 302 sports a contrasting color center section on the hood and C-stripes on its flanks - available in either black or white depending on the exterior color of the car (the roof panel is also color coordinated with the stripes – being finished in black or white). And like any proper Boss should, the 2012 version sports aerodynamic aids, in the shape of functional front and rear spoilers. The front splitter is designed to push air around the sides of the car and keep the front end planted at higher speeds, while also helping increase the flow of the air into the car's cooling system. The rear deck mounted wing adds downforce to the back of the car as well as reduces aerodynamic drag. Other exterior touches include a unique grille design, with a Pony logo that's the dead ringer for the one used on the '70 Boss 302. Plus, to further aide cooling and reduce weight, the grille mounted driving lights have been removed, lending the nose a more purposeful look than the regular Mustang GT.

Inside, the 2012 Boss 302 sports a uniquely trimmed steering wheel, finished in Alcantara suede and cloth trimmed bucket seats with Alcantara inserts, designed to keep the driver and front passenger in place during "enthusiastic" driving. In addition, 2012 Boss buyers will have the option of SVT designed Recaro bucket seats, which are shared with the Shelby GT500, though, as genuine Recaros, don't expect them to be a cheap option. Other interior features unique to the 2012 Boss include dark metallic finish on the dash and door panels, plus a retro style cue-ball shifter for the six-speed manual gearbox and special "Powered by Ford" scuff plates instead of the standard "Mustang" ones found on regular V-6 and GT cars.

There's also been approximately 11 pounds of sound deadening removed from the cabin, to give this car a more definable performance personality. Although Mustang Milestones has yet to sample to a 2012 Boss 302 for a full out test (see our regular 2011 5.0 GT versus 1986 GT 5.0 comparison in this issue), Ford says that the 2012 Boss 302 will generate more than 1.0 lateral g on the skidpad (the first non SVT product to reach that magic mark), accelerate from 0-60 mph in the four-second range and reach a top speed of 155 mph. That's some serious performance, the question is, how much will be the entry fee and more importantly will you actually be able to get your hands on one?

Ford has yet to release any official numbers regarding pricing and production, though some sources report the street 2012 Boss 302 will sticker in the $30,000 range before options and taxes. In terms of how many will be actually produced, expect volumes to be limited to around 10,000 units. That will mean plenty of opportunity for dealers to charge a premium on what is anticipated to be one of the most hyped cars of the coming year, but for those who are fortunate enough to get their hands on one, the 2012 Boss will likely rank as one of the most collectible Mustangs of all time.

"When we were conceiving this car, we knew we had to do it right or not at all," says Mustang Chief Engineer Pericak. "Boss is a hallowed word around here and if we were going to offer a worthy successor to the original, we knew it had to be a lot more than just a sticker and wheel package." No doubt Larry Shinoda would agree with that statement.



---


LAGUNA SECA

The Laguna Seca version of the Boss 302 is essentially a street-legal race car, a bit like the old 1995 and 2000 Mustang Cobra Rs. It's designed to further push the performance envelope without sacrificing too much in the way of driveability, primarily by optimizing handling and saving weight. "When we built the Boss, we wanted to look at areas where we could improve it still further in the name of more optimized performance for hardcore track enthusiasts – a package that went beyond the capabilities of the regular Boss 302, but stopped short (though only just) of being an-all out race car," said Dave Pericak.

To aid chassis stiffening and help improve handling and grip, Laguna Seca Boss 302s, incorporate an X-brace in place of the back seat. It's designed to tie the rear suspension assembly together on each side and is said to improve torsional stiffness by some 10 percent.

Combined with a unique rear sway bar as well as specific spring and shock rates it allows for more finely optimized suspension tuning when it comes to improving lateral grip and cornering ability – especially important on the track where maximum tire contact is critical.

"We've installed the biggest diameter rear sway bar ever seen on a Mustang," says Pericak. "Combined with specific rate springs, we wanted to ensure that the Boss 302 Laguna Seca could fully exploit the large contact patch offered by the big rear tires, something that's not always easy to do when you're working with a live axle suspension." A 3.73:1 rear axle ratio and standard Torsen differential are also fitted to the Laguna Seca as standard to aid traction and grip.

Alongside specific springs, the track optimized Boss also sports uniquely calibrated "Laguna Seca" shocks, though, like the street car they can be manually adjusted for optimal damping depending on the track surface and configuration.

Wheels are lightweight racing alloy units, but though the fronts are the same diameter as those on the street Boss, the rears on the Laguna Seca car are wider by half an inch. And in keeping with the more all out road racing theme, Soft, high grip R-compound tires are also standard – though in the same size as the street car's P-Zeros –P255/40ZR19 front, P285/35/ZR19 rear.

Although most of the braking system is unchanged, the Laguna Seca Boss 302 incorporates functional front brake cooling ducts to help dissipate heat and improve stopping performance, especially under extended, hard use that's part and parcel of track driving.

Inside, the Laguna Seca Boss 302 comes standard with the Recaro seats and an Alcantara covered race steering wheel. On the outside, it's offered in only two exterior colors – Black or Ingot Silver, with bright red C-stripes and roof panel. Red is also found on the grille surround, the door mirrors and prominent rear deck spoiler. The 19-inch wheels are also finished in red with silver accents on the spokes.

The rear spoiler is designed to work in conjunction with the functional front splitter, derived from that used on Koni Challenge racers and between the two of them, these aerodynamic aids are able to provide as much as 90 lbs of downforce at speeds close to 140 mph. "It's not for everyone," says Pericak, in reference to the Laguna Seca, "but for hardcore racers that want something they can occasionally drive on the street or take to shows, it's the car they've been waiting for. They aren't going to be disappointed."



---


2012 FORD MUSTANG BOSS 302 SPECIFICATIONS


DIMENSIONS
Length: 188.2-in
Width: 73.9-in
Wheelbase: 107.1-in
Track (front): 61.9-in
Track (rear): 62.5-in
Weight 3,631 lbs**

ENGINE
Type: V-8
Construction: Aluminum block and cylinder heads
Valvetrain: DOHC, four valves per cylinder with ViVCT
Fuel system: Sequential Electronic fuel injection
Bore & Stroke: 3.63 x 3.65-in
Displacement: 302 ci (4957 cc)
Compression ratio: 11.0:1**
Ignition system: Coil on plug
Max Power: 440 hp @ 6,000 rpm**
Max Torque: 380 lb-ft @ 4,400 rpm**

TRANSMISSION
MT 82 Six-speed manual

Gear ratios
1st 3.66:1
2nd 2.43:1
3rd 1.69:1
4th 1.32:1
5th 1.00:1
6th 0.65:1

Rear axle ratio
3.73:1

BODY/CHASSIS
Steel two-door coupe unibody

SUSPENSION
Front: Independent with Reverse-L lower control arms MacPherson struts, coil springs 34.6 mm (1.36-in) tubular anti-roll bar and manually adjustable strut damping
Rear: Live axle with coil springs, manually adjustable tube shocks, three link control arms, 25.0 mm (0.98-in) sway bar and Panhard rod.

WHEELS
19x9-in painted aluminum (front)
19x9.5-in painted aluminum (rear)

TIRES
P255/40ZR19 (front)
P285/35ZR19 (rear)

PERFORMANCE
0-60 mph (4.4 sec)**
SS ¼-mile (12.8 sec)**
Top speed: 155 mph
Lateral g (cornering) 1.00

PRICE
$38,000**
**Estimate
Published Dec 7th, 2015
More Classic Car News & Article Categories:
Related Articles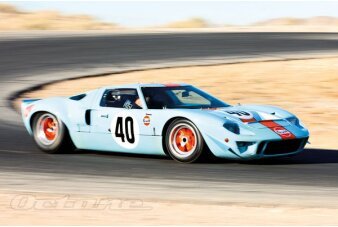 While every factory Ford GT40 is special, some are more special than others.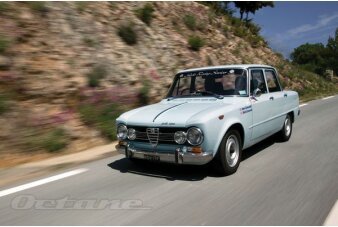 For the Linwoods historic rallying seems to come naturally.
×
Larry's Legend Lives