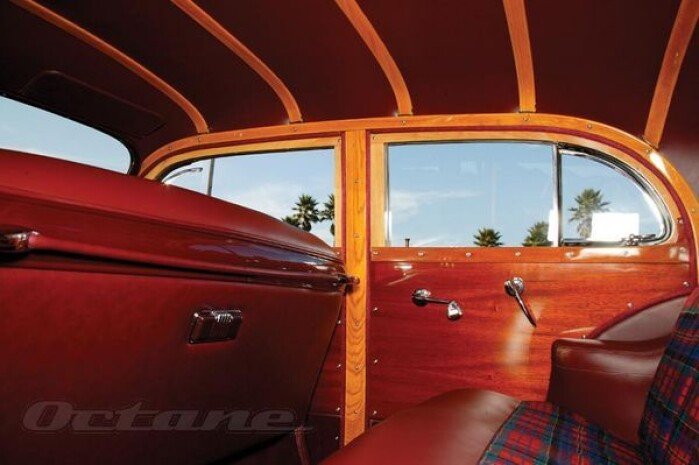 In the early days of motor vehicle manufacturing, as cars started to become a little more sophisticated and a convenient place was needed to put switches, knobs and instruments, manufacturers chose wood simply because it was the easiest material in which to drill all the odd-sized holes required and to screw things into. With time, the idea of making the interior, especially of a closed car, look more attractive by adding wooden trims around the inside of the doors and rear window – like the 1940s Chrysler, pictured above right – became popular.

Before the Second World War and even into the 1950s, most wood used in cars was solid and finished with cellulose varnish. Provided it isn't rotten or severely stained by damp, it's relatively easy to refinish, simply by taking off the varnish with an appropriate paint/varnish stripper, rubbing down with fine sandpaper and re-varnishing.

Rot and deep damp staining, unfortunately, is terminal: you will have to have a new piece of wood made up to match or, if it's a very complex piece, you might prefer to get a joiner to let in a new section of wood. This can be done fairly unobtrusively but it will never be invisible – think of it as a sign of patina, a sign that you have taken care to preserve as much of the original material as possible.

As wood trim inside cars became more sophisticated and more a sign of quality, British manufacturers in particular began to seek more attractive and expensive woods. Veneering – gluing a thin layer of expensive wood onto a cheaper thick substrate – was a very well-established process in furniture making, so it was natural to adopt this for cars. The wood chosen by most car makers, for its attractive colour and grain patterns, was walnut, and especially burr walnut.

Burr (or burl) woods are specially cultivated; they can occur naturally but for the quantity needed must be artificially induced. Burrs are large knots of wood, resulting from dozens (or hundreds) of dormant buds for branches concentrated in a small area; it takes many decades to grow to harvestable size and is very expensive, which is why it is used in veneer sheets usually just 0.6mm thick.

Once glued onto the substrate, the veneer must be protected and made glossy to show it off, and cellulose varnishes quickly gave way in the 1960s to polyester lacquer, often applied up to 1mm thick, thicker than the veneer itself. Each car set of wood was carefully matched, and one piece from another car may look completely out of place in yours.

Wood is a natural product (of course) and even under lacquer it does not stay the same forever when you put it in a car. Just as your brand new pine furniture arrives light and bright, gradually darkening to a much warmer colour in daylight and particularly sunlight, so light affects the wood in your car. In the case of walnut veneers, the most common choice in British cars of the 1960s onwards, it lightens, fades and goes slightly orangey in the sun. Just look at the colour of the wood in an area that doesn't see the light, such as inside the glovebox, and you will see how it came out of the factory.

So now, after many years of use, your dashboard is covered in cracks, the door cappings have chunks of lacquer missing and dark marks where water has stained them, maybe the veneer is chipped: what can you do? There are a fair number of specialists in the UK (and some, though more widely spread, overseas), who can take your grotty woodwork and transform it miraculously into stunning, as-new or better-than-new gleaming panels that will be the envy of your fellow enthusiasts. And it's not always as expensive as you might think: leading specialist Chapman & Cliff will take all 26 pieces from your Mk2 Jaguar, strip the lacquer, sand off the old veneer and restore them with all new veneer and lacquer for just £1250, including VAT.

'You usually do have to re-veneer with Mk2s,' explains Rob Chapman. 'Water staining goes right through the veneer and cannot be sanded out, and the veneer is often paper-thin. In fact it's common for it to come out of the factory having already been sanded through, especially on curved parts – they would touch it in with paint and you don't see it until you take the lacquer off. If you re-veneer the full set you know that you will have a perfectly matching set of wood, in colour and pattern.'

Rolls-Royce and Bentley woodwork, however, rarely needs re-veneering: 'They had a very good veneering process,' explains Rob. 'It generally just fades gently and responds well to re-lacquering.'

A Silver Shadow door capping can be
re-lacquered for £60; Triumph Vitesse door cappings cost just £80 the pair to re-lacquer or £100 to re-veneer as well. If your original veneers are mostly good, it's possible for a specialist to find similar colours and styles to match those bits that do need total or partial re-veneering, even adding an orangey stain to replicate the ageing that takes place over time.

Many owners take the opportunity of restoring their wood to personalise the car, as Chapman explains: 'Burr walnut is a dark wood and with a black interior you cannot see the wood properly, so some owners like to go for a lighter wood such as a burr oak. In Triumphs they used mostly straight grain walnut, so owners tend to choose a straight oak, to keep the style. We offer burr madrona and vavona too. Other projects have included putting cross-banding, as seen on Jaguars, on a TR6, and we are making a complete wooden dashboard from scratch for an MGB.'

Modern glues enable specialists to veneer any metal or hard plastic panel. Many of the 'wood trim' kits available, though, use a veneer film, like a transfer, which doesn't have the depth and will not look as good.

Restoring wood trim is well within the capabilities of the DIY restorer, though it takes time and practice to achieve a finish comparable with the professionals', not least because of the materials available. Specialists buy veneer in large quantities and therefore have a wide choice for matching. They are also able to buy polyester lacquer that is 95% solid and goes on much more thickly; the best lacquer available retail is Rustins Plastic Coating, but it is only 33% solid so you will need 12-16 coats, applied over several days, rubbed down and polished, to achieve a professional finish.

When gluing veneers, any PVA glue will do (blue waterproof PVA is best), but you must apply considerable pressure evenly over the panel using G-clamps or a press – a pile of books is not sufficient and will result in the veneer lifting off when you park in the sun… As for stripping, you need a heat gun, not paint stripper, to remove polyester lacquer, but be careful not to burn the veneer. Avoid sanding at all costs, as veneer is much softer than lacquer/varnish and you will inevitably go through it; save the sanding for the gentlest action once you have removed the old lacquer and are ready to apply new.
Published Dec 7th, 2015
More Classic Car News & Article Categories:
Related Articles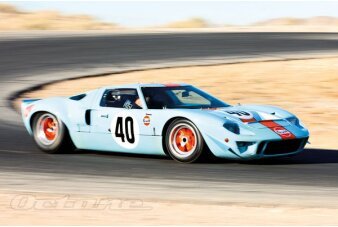 While every factory Ford GT40 is special, some are more special than others.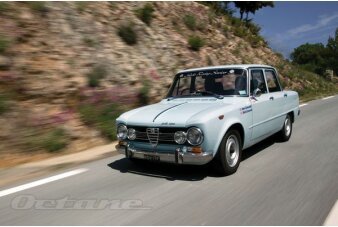 For the Linwoods historic rallying seems to come naturally.
×
Interior Woodwork Restoraton 101