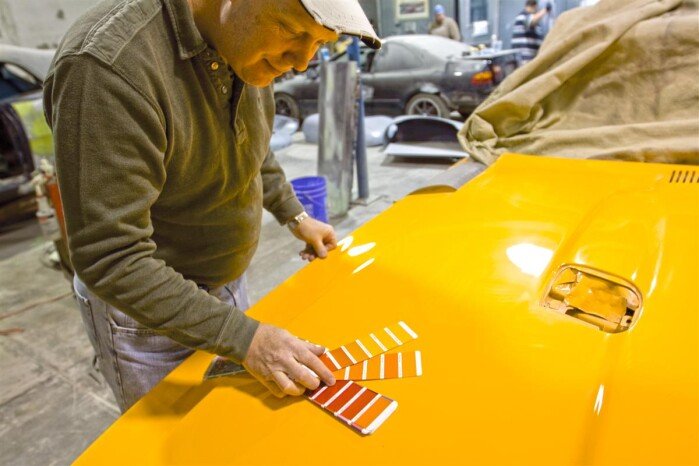 Sorting though old photos of your prized classic is normally an enjoyable experience that brings back fond memories of past adventures. That is, until the day you notice something about your classic today that is different from a decade or two ago. At first you can't quite put your finger on it, however the dreadful reason soon becomes clear–the paint's color has faded, and the finish is much duller than it was in the glory days. It's now inescapable: you need a paint job.

This can be a tough time in any classic owner's life, and can be a pivotal point in the life of the classic. The steps taken here can make the difference between a well-painted classic keeping–or even increasing–its value, and a poor paint job ruining an otherwise great example.

To help those thinking about (or in the midst of) painting a classic, we talked to a man who bravely navigates this crucible every day: Melvin Benzaquen from Classic Restorations in Pine Island, NY. Mel had some excellent advice, so follow along and learn all the right moves.


AutoTrader Classics: Where do owners look to find their car's paint code?

Melvin Benzaquen: It depends on the automobile. For instance, General Motors often affixed a plate to the firewall or to the top of the cowl, called a Cowl Data Tag. On the tag next to the letters PNT there is a numeric, alpha, or alphanumeric code that tells you what color it was painted from the factory. Generally on a Ford, a plate riveted to the driver-side door will have a code next to the word PAINT. With Chryslers, they are generally under the hood on a fender data tag; however, they may lack any indication of a paint code preceding it–you just need to know your Mopars to recognize the paint code.


ATC: How do they go about decoding the information they find?

M.B.: They can then go to autocolorlibrary.com, where it lists nearly all paint colors produced for all makes and models–unless it's a real oddball. There's also a book called The American Automotive Paint Code Interchange Manual 1945-1995. It's a book that lists every [factory] paint code, along with what they call an interchange that's used to match up factory codes to modern paint colors currently available from a company called PPG.


ATC: How can one find which paint companies make these colors?

M.B.: PPG, in my opinion, has one of the best interchange libraries for matching factory paint codes. For instance, I just opened the book to a random page in the AMC section and looked up a 1963 Rambler with the paint code P1 Classic Black, then to the right of it is PPG code 9000. Any reputable shop can then color match to that code, then you have to make sure it matches the vehicle or what it originally looked like if you are doing a total overhaul. 


ATC: Are these interchange codes only for PPG paints, or are they universal?

M.B.: Primarily it's set up for PPG products, but the nice thing is if want to use any other painting systems this is a good baseline. Most other manufacturer's colors, such as DuPont, Global, or Sickens, can generally be interchanged off the PPG code.


ATC: How can one find which companies reproduce period-correct paint?

M.B.: If you mean the "original" look, then it's more in the skill of replication of sheen than [using] "period-correct" paint. Considering changing environmental laws and EPA mandates, most of the paints, lacquers, and enamels used decades ago are no longer manufactured. So it not only becomes a color match, but about the shop/painter having the skill to replicate whatever look it is you're after. Like creating an orange-peel or low-luster sheen, as none of the really old paints had a real high gloss to them. That's the kind of stuff most people do either for NCRS, or as a standard replication of the original paint. Also, remember even with a vehicle that still has its original paint, it has faded after being subjected to years of environmental abuse and probably won't be as it was 30-40 years ago–so matching that may not be somebody's idea of "original."


ATC: So is paint/color matching subjective?

M.B.: Absolutely! For instance, the factory could paint [a series of] cars the same color but have them come out differently, based purely on paint runs. There are many variables that affect the way a color appears on a vehicle, such as nozzle size and ambient temperatures. We have a yellow 1973 Cougar in here–when we look up the paint code the factory lists two different yellows with two different mixtures. So even back then, they realized they had issues. However, the most subjective factor in all of this are people's memories, which can diverge wildly from even the most faithful representation of the original color and finish. The key is to communicate what you intend to put on their vehicle, and make sure it matches their memory.

 
ATC: So in essence, you're using modern tools and materials to replicate original paint finishes.

M.B.: Yes, because even if you could find it you just can't use 30-year-old paint. Just look at house paint that's been stored for just a few years, it turns into a gelatinous mess. It is the same with automotive paints: even unmixed they still have a very finite shelf life. The trick is to first match the color, and second–especially on a concourse restoration–is to use the technique that best replicates the original sheen/finish of that car.


ATC: What should they discuss with their body shop to ensure that the paint job is done correctly?

M.B.: They should know what they want, and what they're looking for in the finished product. Come with examples of what you want the finished product to look like. If their intention is to make it a concourse-level car that will be judged by set standards, they need to commutate that. An example would be Corvettes, where NCRS has set up specific judging standards in their manuals. As a shop, I have to make sure I'm doing it to a standard set by a national association, and then make sure the customer see a respective sample and approves it. Now that's only if the customer wants that level of paint restoration; If they want just a driver-grade paint job, that needs to be communicated as well. It's always best to walk into a shop knowing what you want; if you don't, let your painter know that. They can guide you through the various options, and perhaps show you some vehicles in the shop as examples. The last thing we both want is a job to come out different than the customer imagined it.

 
ATC: How does a new paint job affect the value of a classic auto?

M.B.: If the car still has its original paint and it's in good shape, leave it alone if that is what you're after. If you have to repaint the vehicle, obviously going back to the original color is the most desirable to maintain value. However, there are some exceptions: For instance, if it's painted an undesirable color such as some browns and murky greens that people run screaming from. In the end it's a judgment call whether to change it from the factory color, but if maintaining value is a priority then choose another factory color from that make/model's year. Custom paint is a whole other story as the value becomes very subjective to the buyer. Now, if that buyer is a serious collector looking at this car as an investment then he's thinking, "How much is this going to cost me to paint it back to an original color?" Otherwise, if you could never fathom selling your car do what you want; Even so, you may consider the overall value of the car. Paint dramatically affects the value of the car, so if you have a big-block 1969 Camaro SS convertible you might think twice about repainting it anything other than the original color–no matter how much you don't like it.

Special thanks to Melvin Benzaquen for his assistance with this article.

 
SOURCE
CLASSIC RESTORATIONS
39 TRANSPORT LANE
PINE ISLAND, NY 10969
845-258-2050
www.classicresto.com

 


Although the location of a factory paint code tag varies from make to make, generally it can be found by looking on the door, under the hood, or on the firewall. Here's an example of a tag that shows the factory paint code on an AMC.

 

The "bible" of body shops: The American Automotive Paint Code Interchange Manual 1945-1995. A must-have for restoration shops or any serious enthusiast considering painting their classic.

 

Patrick Rickle mixes paint immediately before application. Paint that sits around even for a few hours can change in appearance once applied. This is due to the changing viscosity of the paint mixture affecting the way the paint travels and sprays from the paint gun's nozzle.



An extremely time-consuming process is stripping off all the previous layers of paint and primer. This ensures that once the new paint is applied it will have a pristine finish with the durability of modern paint. 



Body panels are coated with primer. The body panels were completely stripped down to the metal for a complete paint restoration.

 

Rickle applies a two-tone paint job to this 1949 Ford in Classic Restoration's spray booth. Proper airflow and filtering are crucial for both safety and for maintaining a dust free environment–the key to producing a quality finish.
Published Dec 7th, 2015
More Classic Car News & Article Categories:
Related Articles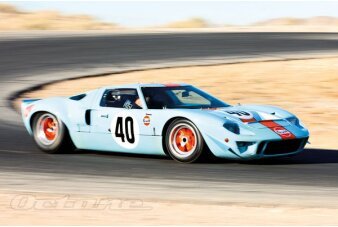 While every factory Ford GT40 is special, some are more special than others.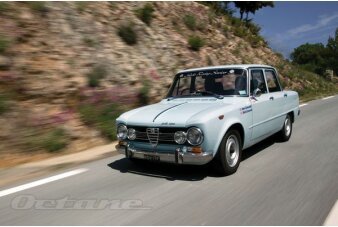 For the Linwoods historic rallying seems to come naturally.
×
How To Match Your Factory Paint