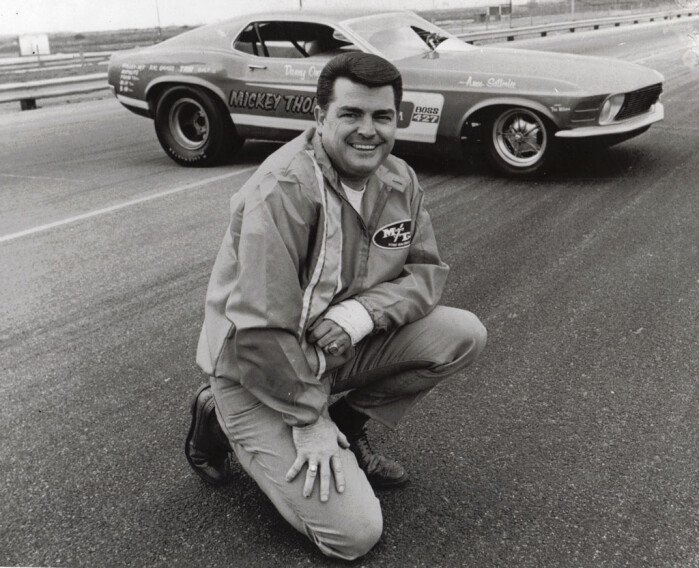 We started off trying to pick the 10 all-time greats in the sport of hot rodding, but we kind of wimped out. There were just too many great possibilities, so we picked 10 names for the top of the list, and we're going to go with those.
Six of these people we've met, and the others we wish we had. To be honest, at least one selection wouldn't get picked on the basis of personality. Some, we were told by others, did not belong on the list, so we had to reconsider them very carefully and go with what we thought was a balanced approach. Everyone is welcome to their opinions, but facts and accomplishments speak loudly. Anyone can say that so-and-so wasn't their favorite person, but no one can deny that each of these personalities made great contributions to hot rodding.
With that said, here are our "10 For the Top of the List" picks, strictly in alphabetical order:
Boyd Coddington


Boyd Coddington was born in Idaho. He once worked as a machinist at Disneyland on the graveyard shift. He built hot rods during the day, and eventually became a well-known hot rodder and car designer. He was the president of Hot Rods by Boyd in Stanton and LaHabra, California, and among his major contributions to hot rodding is the exposure he generated for the hobby. From Hot Rod to the Smithsonian Magazine, Coddington's four-wheeled creations were featured in print everywhere. His notoriety vaulted him to cable television, where a series about his dysfunctional hot rod shop had enthusiasts drooling over his projects and laughing at his operating methods at the same time.
Coddington created more than 100 outstanding hot rods that focused special attention on unique engineering, creative styling and unusual paint schemes. His most famous creations included "CadZZilla," the "Aluma-Coupe," and the "CheZoom." His expertise was frequently called on to construct special show cars for both domestic and foreign automakers.
On an important note, Coddington introduced design and build quality improvements that benefited do-it-yourself enthusiasts. His cars became known for their clean look and smooth lines. His wheels are still seen on many hot rods and resto-mods. The cars that he built over a 20-25 year period took countless awards, including at least six "America's Most Beautiful Roadster" awards at the Oakland Roadster Show.
Coddington died on February 27, 2008. His official cause of death was complications of diabeties, which he had suffered from for a long time. His complications were brought on by a surgical procedure, together with liver and kidney involvements.
Don Garlits


"Big Daddy" Donald Garlits was born in Tampa, Florida in 1932. He has been called the father of organized drag racing. Garlits was an early participant in the sport, and several of his cars used the nickname "Swamp Rat" because of his Florida roots.
Garlits traveled to Bakersfield, California for the 1959 US Fuel & Gas Championship. His involvement helped expand drag racing into a national competition. In 1964, he, Tommy Ivo and Dante Duce went to England to promote drag racing there. It was probably the sport's first real international exposure.
After he lost part of a foot in a 1970 drag racing accident, Garlits teamed up with T.C. Lemons to perfect the design of a top-fuel dragster called Swamp Rat XIV, which had a rear-mounted engine. This design was an important step in increasing the safety of drag racing and is believed to have saved many lives.
Garlits was also a pioneer in the use of fire-resistant full-body racing suits. He was the first drag racer to officially surpass 170, 180, 200, 240, 250, 260, and 270 mph and was also first to top 200 mph on a 1/8-mile track.
Garlits took three National Hot Rod Association national titles and three World Championships, the latest when he was 54 years old. In total, he won 144 national events. In 1987, his Swamp Rat XXX streamliner was placed in the National Museum of American History at The Smithsonian in Washington, D.C.
Garlitz currently operates a collector car and racing car museum in Ocala, Florida. He also does some televised drag racing commentary.
Ed Iskenderian


During his last year in high school, around 1940, Ed Iskenderian turned his attention from his family's winery to hot rods. He built a car with Essex frame rails, a 1924 Model T Ford roadster body and a 1932 Ford V-8 with a Maxi overhead valve conversion. He also added a custom ground cam.
Iskenderian got a job as a tool and die maker and honed his engine-building skills. After a stint as a supply pilot in World War II, he did dry lakes racing with his car. He purchased an old cylindrical grinder and used it for custom cam grinding. This opened the door for "Isky" to enter the automotive aftermarket as a supplier of hot cams.
Ed Iskenderian Racing Cams in Gardena, California was first to use computers to assist in camshaft design. The firm also introduced the first hydraulic competition cam. Isky created rev-kits, anti-walk kits and offset cam keys. For home builders, Isky developed the bundled cam and valve spring kit that eliminated parts incompatibility problems.
Iskenderian's backing of Don Garlits was the beginning of corporate sponsorships for drag racers. In 1963, Isky was one of the original founders of the Specialty Equipment Market Association and became its first president. In 1973, he dusted off the old 1924 roadster languishing in his shop, and Hot Rod featured it in a special issue honoring "25 Years of Hot Rodding." In 1985, Iskenderian was voted into the SEMA Hall of Fame.
 Today, Ed's sons Ron and Richard employ more than 100 people to assist automotive performance buffs worldwide.
Wally Parks


In January 1948, the first hot rod show was held at the Los Angeles Armory Exposition. It was a success and helped Wally Parks organize the first National Speed Trials at the Bonneville Salt Flats, in Southern Utah, in 1949.
About the same time, editor Walt Woron left Hot Rod Magazine, and Wally Parks took his job. Wally ran drag racing results, how-to articles, car features and promoted hot rodding safety. Out of his efforts, local, organized drag racing grew. When drag strips spread throughout the country in 1951, Wally Parks founded the National Hot Rod Association (NHRA). He became NHRA's president, but kept his "day job" at HRM. While that reflected the embryonic state of organized hot rodding at the time, Parks eventually gave his full-time efforts to the NHRA.
In 1953, the NHRA produced the Southern California Championship Drags at the Pomona Fairgrounds. Plans had been made to seat 200 people, and 15,000 fans showed up. From that day forward, drag racing became the sole official activity and main source of revenue for the NHRA.
Between 1954 and 1956, Parks helped put together nationwide tours of hot rodders called "Safety Safaris" that crisscrossed the country to teach hot rodders, civic leaders and the general public about drag racing. A year later, he was instrumental in organizing the first NHRA Nationals.
Prior to his death in the fall of 2007, Parks was Chairman of the Board of the Wally Parks NHRA Motorsports Museum in Pomona, California.
Robert E. Petersen


Robert E. Petersen and Bob Lindsay launched Hot Rod Magazine after the war. After a stint in the Army Air Corps, Petersen lost his public relations job at MGM and became an independent publicist. He established Hot Rod Magazine and personally hawked copies at local speedways for 25 cents each. Walt Woron was the magazine's first editor. Legendary figures like Racer Brown, Don Francisco, Tom Medley, Ray Brock, Bob Greene, John Christy and Eric Rickman were the writers and photographers who put the content together.
In January 1948, Petersen helped promote the first hot rod show at Los Angeles Armory Exposition Park. His initial aim was to build a drag strip with television retailer and automaker Earl "Madman" Muntz. The drag strip never materialized, but the show was a success and led to the creation of the National Speed Trials at the Bonneville Salt Flats, in Southern Utah, in 1949.
In his career, Petersen was responsible for the birth of more than 60 special interest publications. In 1963, he was one of the founding members of the Specialty Equipment Manufacturers Association (SEMA) and helped nurture the annual SEMA show.
In 1994, Petersen and his wife Margie donated $5 million to the Los Angeles Natural History Museum to get the Petersen Automotive Museum off the ground. They later gifted an additional $24,800,000 to pay off the bond debt and establish the Petersen Automotive Museum as an independent non-profit foundation. In March 2007, Petersen died of complications from neuroendocrine cancer.
"Speedy" Bill Smith


At 79 years old, "Speedy" Bill Smith of Lincoln, Nebraska has raced cars and sold speed equipment for 50+ years. In the 1940s, he raced roadsters on ½-mile county fair tracks. In the 1950s and 1960s, he raced dragsters, stock cars, NASCAR, modifieds and sprint cars. In the 1970s, Smith campaigned Champ dirt cars and sprint cars with drivers known as the original "Outlaw" racers. During the 1980s and 1990s, Bill raced AIS Indy cars, Pikes Peak's cars and Bonneville Streamliners.
Bill and Joyce Smith founded Speedway Motors – "America's Oldest Speed Shop" – in 1952. It is still a family business, with Bill's sons running it.
In addition to success in racing and business, "Speedy" Bill Smith also introduced many innovative hot rodding products, including some of the first fiberglass bodies and Ford T-bucket body-and-frame packages. He developed the Signature Series 1932 roadster, a fully assembled all-steel hot rod.
"Cowboy" Bob Norris of Fond du Lac, Wisconsin builds Model T dragsters. "Not to push a point, but you don't start building a hot rod without the Speedway magazine," he says. "You get their catalog. I give my extras to guys who come here, look at my Ts and want me to build one for them. When they leave here, they've got a Speedway catalog with them and I just tell them, don't do anything until you memorize everything in this book because it will build your car."
LeRoi "Tex" Smith


As a kid, I read a library book called How to Fix Up Old Cars countless times to get the advice of "Tex" Smith. In 1980, Tex came to work where I worked, and I provided the cover photo for a new edition of that book. It was a dream come true!
Tex worked for Petersen, putting in stints at Hot Rod and Motor Trend in the early 1960s. He did how-to stories for many Petersen "bookazines." Later, he worked at Rod & Custom, Street Rodder, Rod Action, Old Cars Weekly, Car Exchange, the Great Race and his own Hot Rod Mechanix. His Tex Smith Publishing Company did some books with fabulous content, which every rodder should read.
Tex claimed he played baseball in Oklahoma before becoming a hot rod legend. He also claimed to be part Cherokee Indian, which didn't go with his nickname. I found out how much people liked Tex when he got us back into the Street Rod Nats at the Minneapolis Fairgrounds, even after we were photographed doing bleach burnouts with the Old Cars truck! One writer touched on his likeability, saying that Tex was a great person to share a beer with, but actually, he never drank.
Tex's 1963 XR-7 project car was one of his favorites, but usually he was working on a rod, rather than driving it. After his lovely wife Peggy passed away, Tex remarried and moved to Australia, where he drives a right-hand-drive Dodge Charger today. He is still involved with Tex Smith Publishing in Driggs, Idaho.
Mickey Thompson


Mickey Thompson was a pressman for the Los Angeles Times when he developed an interest in drag racing. He became a drag racing champion who set more speed and endurance records than any driver in history. Thompson designed and built many cars, including the first slingshot dragster and the Challenger world land speed record car.
By 1955, drag racing became a career, when Thompson took over as the first manager of Lions Drag Strip near Long Beach, California. Five years later, his Challenger became the first American car to break 400 mph at Bonneville. The Challenger used four Pontiac V-8 engines, and in the early 1960s, Thompson successfully campaigned a fleet of Super-Duty Pontiacs and Tempests.
By the late 1960s, former Pontiac chief "Bunkie" Knudsen had jumped to Ford, and Thompson followed him. The car builder campaigned a number of famous Mustang funny cars. In 1969, Thompson won the NHRA Spring Nationals and Nationals with Danny Ongais driving his cars.
Thompson also entered the aftermarket industry. In 1963, he produced Mickey Thompson Performance Tires for a variety of racing cars. Thompson's SCORE International was founded in 1973 as a sanctioning body for off-road racing. Mickey and his wife Trudy formed the Mickey Thompson Entertainment Group to put on indoor motocross and off-road racing events.
On March 16, 1988, Mickey and Trudy were assassinated by two gunmen at their home in the foothills of the San Gabriel Mountains. In 2007, a former business partner was convicted of the brutal murders.
Ed Winfield


Ed Winfield is known as "the father of hot rodding." In 1914, Winfield started working for race car builder Harry A. Miller. While he was there, he built his own carburetor. This was the beginning of the Winfield Carburetor Company. Winfield was also talented in camshaft design, although he never undertook the mass production of camshafts.
Winfield began his racing career at 15 years of age. He began as a riding mechanic, but had his own racing car by the time he was 19. Within eight years, he was a champion at California's famed Ascot Speedway. In 1928, after he got married, his wife convinced Winfield to stop racing.
When drag racing took off, Winfield became well-known for the development of "cheater" cams, which met the National Hot Rod Association's lift and duration specifications, but had a better profile. Winfield designed these cams in a partnership with Bill "Grumpy" Jenkins, Jere Stahl and George Linton.
Gene Winfield


Gene Winfield was born in Missouri but grew up in California. He built his first hot rod, a Ford roadster, after World War II. Winfield is probably best known for his customized James Dean Mercurys. He opened Winfield's Custom Shop in Modesto in 1947. Gene has also done all kinds of hot rodding and has built cars to race at the Bonneville Salt Flats and in drag races. In 2001, the National Hot Rod Association honored his racing contributions with an NHRA Life Achievement award.
 Famous Winfield cars include a 1956 Merc known as the "Jade Idol." By the late 1950s, Winfield's shop had gained national exposure in car magazines. After being inducted in the Grand National Roadster Hall of Fame in 1961, Gene was part of the Ford Custom Car Caravan and made appearances at rod and custom shows nationwide. In the 1960s, Winfield ran a car-building arm of the AMT model company in Phoenix, Arizona and built several prototype sports cars with mid-mounted engines in plastic bodies.
The Legendary Custom Cars and Hot Rods of Gene Winfield by David Grant was published in 2008 by MBI Publishing. This fascinating book traces Winfield's history as a hot rodder, a racer and a custom car builder.
Published Dec 7th, 2015
More Classic Car News & Article Categories:
Related Articles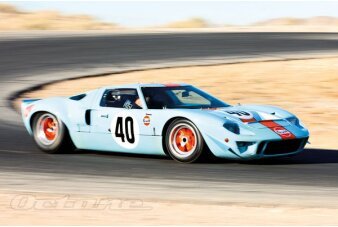 While every factory Ford GT40 is special, some are more special than others.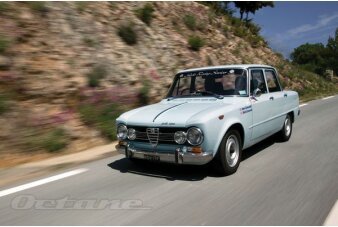 For the Linwoods historic rallying seems to come naturally.
×
Hot Rodding Legends