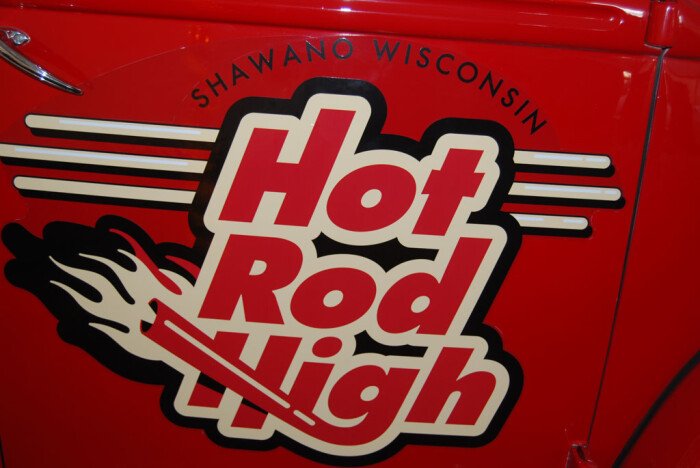 Fred Beyer was the automotive shop, machine shop and welding instructor at Shawano High School in Shawano, Wisconsin for 36 years. Over the last 10 years, Beyer realized that his shop students were walking away from entering the trades. They were getting more and more involved in hands-off, computer-simulated types of instruction. Beyer felt his school needed to do something that would get students motivated. Because of his love of cars, he created what's now known as Hot Rod High.
Beyer feels that Hot Rod High is very unique in several respects. First of all, students who take part in the program actually build cars. In fact, they've built six cars in the last eight years. Those cars were built for paying customers, which meant that no school money went into the program — no taxpayer money was involved. But because those people were paying for the parts, the students got an opportunity to work with materials they could never normally have in the classroom. They brought in chrome and other custom parts specifically made for the cars they were doing.
Because the students were building cars for customers, the level of pride and craftsmanship that went into each project had to be very high, and they really got engaged in the work. Because of this, it was a very successful program and was able to continue at Shawano High for 10 years
It was always Beyer's dream, from the moment that the Hot Rod High idea came about, that he would roll it to other schools after he retired. Beyer had the foresight to actually copyright the name and take out a registered trademark on Hot Rod High. That way, after retirement, he could take the idea and get other instructors involved. Beyer was not looking to make money as much as he was looking for a concept that schools could buy into for motivating kids and teaching them something based on field about which they're really passionate.
This summer, Beyer had his first roll out of the Hot Rod High concept to students in the auto technology program at a high school in Freedom, Wisconsin. Those students restored the Mohs Ostentation Opera Sedan, a one-of-a-kind automobile made by inventor Bruce Mohs of Madison, Wisconsin.
As Beyer sees it, kids were getting away from hands-on work, and Hot Rod High was a way to motivate them back toward programs that taught such skills. He felt that, despite the downturn in the economy, there was a real need for people in the job market who were highly trained mechanics. "But from a student standpoint, you know as well as I do that there's a student out there who doesn't like school," Beyer notes. "I don't care if it's today or back in 1940, there were always kids who really weren't excited about academic classes, but who shined when they got involved in something where they could use their hands. That doesn't mean that they used only their hands and not their heads. It just means that they needed an opportunity to build things. I thought that we could motivate kids by having them build cars, and I turned out to be correct on that."
Beyer believes that students who build things become problem solvers. So, with Hot Rod High and the current economy, he sees such students as being extremely resourceful. The Hot Rod High program was successful in Shawano because Beyer drummed up good support from local industry in the area. The students were pretty much doing everything, from taking in, following around and going to different programs, to working on old cars. They gained a new interest, more motivation and an opportunity to learn new skills.
Since Shawano High School didn't have a body shop, Beyer went to a local shop and worked in conjunction with the owner. Students who were interested in just bodywork went to that shop and worked with the tradespeople. After the students graduated, the majority were hired to work in the same shop. Beyer feels that such partnerships between business, industry and schools are win-win deals. Not only do businesses win, but the students get a good career.
Beyer promotes Hot Rod High with a Ford pickup, a woodie wagon hot rod and a go kart. These vehicles are representative of what would be built in the Hot Rod High program. The woodie wagon is a 1929 Ford Model A, and was the last car the students did, delivered just last spring. The students did a 1930 Model A five years ago, and a person who saw it said, "Boy, I'd sure like to have one like that." So he was told that if he found one, the students would do it.
The goal was not necessarily to restore a car, but to build it the way the owner wanted it. This car's owner wanted a surf rod – a surf woodie. So rather than doing the typical two-tone, black- fendered and tan Model A, the class used bright colors like Sunflower or Banana Yellow. The car has a surfboard mounted on top and some really neat wheels. However, it still has its original four-cylinder Ford flathead. Beyer feels, "This makes it cool because it's not butchered – just modified."
An important factor behind the success of the Hot Rod High program is that Fred Beyer is a good promoter. He is a professional performer and has an act he takes on the road called the Piano Beach Party. His props include a piano on wheels, a surfboard, a beach umbrella and, sometimes, old cars and trucks. Fred is also the Green Bay Packers' official banjo player and has a Dixieland group called the Bourbon Street Firehouse Jazz Band.
 Music has always been incorporated into Hot Rod High and is an integral part of the program. "I always had a piano in the shop," Beyer says. "I integrated rock and roll and 1950s music with the stuff that I was teaching. I always tell the story that the kids would see that piano and wanted to know what I could play. They would ask if I could play them a tune that day and my answer was always the same. I said, 'You get the shop cleaned up in time and I'll play.' Well, you never saw kids clean so fast as when they wanted to hear you do that. We wrote songs and we did songs in class, and we did some engine identification songs and we used to have the oil change song, and we had lots of fun with it."
Although Hot Rod High is focused on hot rods, Beyer's involvement with vintage cars started with Corvettes. He was a product of the postwar era and was from the big city. He went to high school in a suburb of Chicago. Corvettes were pretty prevalent there, since it was an affluent suburban area. The rich kids had Corvettes. Fred didn't have that kind of money, but the Corvettes owned by the rich kids always needed work done on them. It became Beyer's passion to work on Corvettes, rather than owning one. When he went off to college in the late 1960s, straight-axle Corvettes were really not as popular as they are today, but they still needed repair work because they were more than 10 years old. Beyer discovered that he could still get all the needed parts from Chevy dealers, and he built up a good part-time business restoring Corvettes.
Fred restored three cars during his college career, and all of those were straight-axle Corvettes. When he finished a car, the owner typically gave him a set of keys and said he could use the car if he wanted to. So he drove Corvettes on his college dates and to fraternity reunions and things like that, and this created a desire in him to someday own a straight axle Corvette of his own.
Eventually, Beyer did buy an original 1959 Corvette, which is a Survivor. It's a red and white roadster with 41,000 miles on the odometer. It's not a restored car, but it's in A-1 condition. The Corvette actually sat in a 1950s restaurant for nine years and was just the right car for Fred to buy.
Beyer also owns a C5 Corvette and still does some Corvette repair work for others. He loves doing things the old way. He says you can go to just about any service garage and they can do computer diagnostics for you, but finding a shop that does good carburetor work or good points and condenser work is more difficult, since such shops are few and far between these days. As a result, Beyer does really well fixing older Corvettes – people actually hunt him down for it.
The Hot Rod High program at Shawano High School was designed around the school's regular high-tech automotive education program. Beyer already taught things like fuel injection and computer ignition systems and had all the scan tools that professional shops utilize today. He also taught things like anti-lock brakes. But every time a hot rod project car came into the shop, the students really wanted to work on it. Such work was done only after regular school hours and was above and beyond students' normal class work. These projects were only for students who really wanted to do extra and learn more. No one was forced to work on the street rods.
"The students worked on the high-tech stuff every day," Beyer notes. "But, the neat thing is that whenever we had a car that we were taking from the ground up, and we were bending brake lines and doing all that kind of stuff, the students saw the hot rod as an integral part of what's going on right from the grassroots."
For Beyer, this added another level to his teaching experience. He feels it was a great teaching tool when the students could see the car evolve from the frame up. "I always thought that was the excellent thing about it," he admits. "But the other, flip thing about it was that my machine shop program, which was geared towards CNC machining, and the welding program which had all the high-tech stuff (heli-arc welder, plasma cutter and all the MIG welding you ever wanted to see of both aluminum and steel), also benefited. This was due to the fact that we now had projects for which the students could design, fabricate and make things, and then build what they made into a car. The students always liked — I think everyone does — looking for an application of what they had learned."
According to Beyer, a student can study in school all day long, but he or she won't really feel good about it until they can apply it. "You can learn to read recipes for the rest of your life," he opines. "But it isn't until you cook that favorite cake or favorite meal and you get a chance to taste it that you enjoy the success of what you learned. And that's what I think Hot Rod High did. It gave the students a chance to taste success. And the cool part about the students tasting success was that other people saw it, recognized it and said, 'This is good stuff.' When the students — not me — got that recognition, it was clear that the program was built for students to be recognized for what they had done. It worked out really slick."
While the students were fascinated by the old school technology, Beyer had to be careful to avoid giving the impression that he was teaching "antique" skills. He wanted to incorporate both old and new technology into his projects. On the first T Bucket rods the students built, they purposely avoided using a typical prewar straight axle setup like you would find on the front of a Model A Ford – the kind of arrangement where a beam axle is supported with a bow-type spring.
Beyer happened to be working with a man who was designing chassis for Sprint racing cars at that time. The man told him, "If you're going to race it or have it on the road, you need something that really performs well, too." He designed the complete front suspension setup. It was similar to that of a racing car with all tubular construction, all independent front suspension, rack-and-pinion steering, coilover shock absorbers, disc brakes and all kinds of cool stuff.
It turned out that Beyer's students not only worked on an "old school" car, but wound up building one that drove like a new car. That was a key part of the teaching experience. Beyer knew he would be criticized for teaching only old technology that wasn't really appropriate today. But he knew that if he created a blend of the old with the new, he could have a win-win deal.
Beyer says that anyone interested in Hot Rod High can contact him directly. He doesn't have a website, but it's simple to email him at Fred.Beyer@Hotmail.com. Any requests he gets, he tries to answer. "I'll even sign up for band jobs or piano playing gigs or stuff like that," he laughs. "But my real goal is to tell other people what we have done, especially other instructors or even parents who might go back to their schools and ask, 'How come you're not doing something like this?'"
When Beyer started Hot Rod High, his buddies used to ask, "How do you get away with this stuff, because it seems always you're pretty far out of the box with what you do." But Fred says he knew the program would work. "Nothing helps prove that more than success," he feels. "We have now done TV segments on Hot Rod High, and we were written up in a national publication. Some other good things have happened, too. We get lots of calls and some good publicity."
 Beyer's real goal is to get the Hot Rod High concept integrated into many different schools' programs. He thinks that maybe someday there will be a little independent school out there all by itself — the ultimate Hot Rod High restoration program. "Maybe, just maybe, I'll have something to do with it," he says. No one who's met Fred doubts that he will.





After he retired, Fred Beyer took his Hot Rod High program to Freedom High School, where the students restored the one-of-a-kind Mohs Ostentation Opera Sedan.



Bruce Baldwin Mohs designed his Ostentation Opera Sedan with a rear-opening hatch and an aisle up the middle of the interior.



The Hot Rod High sign perched on an exhaust system reflects founder Fred Beyer's sense of humor.


 
Fred Beyer takes his piano, surfboard and beach umbrella wherever he goes to promote Hot Rod High.


 
A hot rod go-cart is another of Fred Meyer's props. It also advertises his Beach Piano Party.


 
In addition to the red Ford pickup truck and the yellow Model A woodie wagon, Beyer restored the Nitro gas pump.


 
Vehicles like this Ford truck were restored by students working after school, and no taxpayer money was used.


 
The Hot Rod High logo on the door of the Ford pickup is an eye catcher.


 
The illuminated gas pump globe also advertises the Hot Rod High program.


 
This surf woodie built by the Hot Rod High students has many modern upgrades but retains its 1929 Model A flathead four-cylinder engine.


 
Hot Rod High gave the students a taste of success when they saw the vehicles that they had built.


 
After building these cars, students could be proud of what they'd accomplished, and when other people saw it, they also said, "This is good stuff."


 
The 1929 Model A Ford woodie wagon was the last car the students did, and it was delivered just last spring.


 
Fred Beyer with his trademark captain's hat and his C5 Corvette convertible.
Published Dec 7th, 2015
More Classic Car News & Article Categories:
Related Articles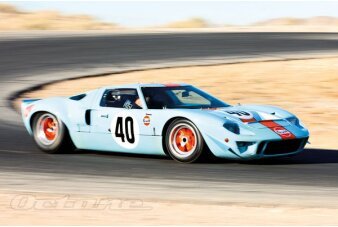 While every factory Ford GT40 is special, some are more special than others.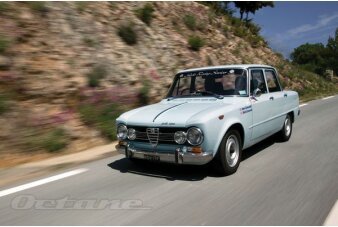 For the Linwoods historic rallying seems to come naturally.
×
Hot Rod High