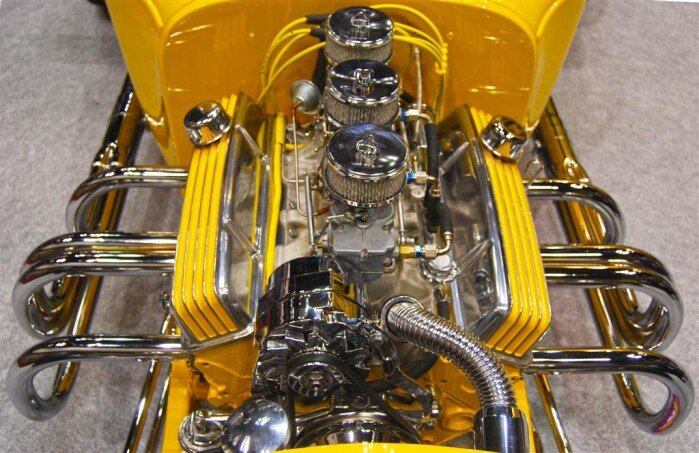 Hot rod exhaust systems are hot – and not just when you accidentally touch them. Damon Lee of Speedway Motors recently told us that "America's Oldest Speed Shop" is expanding its line of street rod exhaust parts. According to Damon, "We've got more exhaust pipes in the pipeline." New Fenton flathead and Tru-Ram Y-block headers are examples of Speedway's Ford-specific offerings. Other engines, old and new, are covered too.

Del Austin, Director of Sales for Egge Machine and Speed Shop sees a growing trend – especially among West Coast builders – toward vintage engines like the Olds Rocket V-8 or Buick "Nailhead" in hot rods. Del defines a vintage engine as a post-World War II to the 1970s, pre-catalytic converter mill.

Egge Product Manager, Neil Matranga, believes such engines are "cool at a car show." Neil says building a vintage motor isn't expensive, but notes such power plants require exhaust parts with the right look and sound. Egge sells split manifolds for Chevy and GMC sixes, Fenton cast iron headers for flathead Fords, Smithy's, glasspacks, tips, dump tubes and lake pipes. Its current catalog offers Patriot and Fenton exhaust parts.

Clark and Teresa Babler have their own answer for vintage exhaust buyers. They manufacture Porter Mufflers, originally developed by the Porter Brothers of Los Angeles in 1931. When they retired, the Porters sold the rights to Gene Fechter of Minneapolis. After he retired in 1989, the Bablers took over and started making improved Porter mufflers.

Clark handcrafts each of the classic mufflers from 14-gauge tubing with 12-gauge end caps. They have coil spring cores and stainless steel packing. The premium Porter Mufflers come in a distinctive ceramic blue color or stainless steel. They have the unique, throaty rumble that made them popular long ago.

Of course, Chevy small- and big-block V-8s, various Ford engines and many Mopar "mills" also fit into the trend of using vintage engines in hot rods. One of the most talked about "old timers" is actually a new 348/409ci Chevy big-block that Lamar Walden and World Products teamed up to build. It combines a Merlin X BBC bottom end with the 409 top end.

Vic Wood of Hedman Hedders says he has new Tight Tube headers available for the 348/409 V-8 with 1-5/8-inch tubes and a 2.5-inch collector. In addition to standard chrome-metallic finish, the BBC (Big Block Chevy) headers are available with an HTC thermal coating that won't "blue" like chrome does. Chevy 348/409 builders can opt for Hedman's Lakes Style Weld Up kit complete with all hardware, flanges and gaskets.

Many "traditional" hot rodders use the H.A.M.B. message board to post comments on products like those in the Speedway Motors Catalog. You hear feedback both ways, but "Cowboy" Bob Norris – who was building nostalgic rods before they became popular again – sums up, "Without Speedway Motors, a lot of hot rodders would be doing things the hard way." When we wrote up Bob's Track T, he told us, "Speedway helps you build a car over the phone and has tech reps who spew good advice."

Exhaust-wise, Speedway sells everything from small-block Ford classic roadster headers to straight-thru mufflers, exhaust tips and lakes pipes. The Speedway Catalog has three pages filled with hardware like cut-out hook-up kits, header flange plates and copper exhaust gaskets. You can also get high-heat coatings, manifold dressings and exhaust wraps.

Edelbrock is another name famous in racing and hot rodding. Vic Sr.'s first product was the "Slingshot" intake for mounting dual Strombergs on flathead Fords. Today's exhaust products include accessories, Block-Hugger headers, tips, LS Series retro-fit kits, mufflers, shorties and Tubular Exhaust System (TES) headers. While most are aimed at late-model cars and trucks, Edelbrock does offer shorty headers for the 1958-1964 Chevy 348/409 big blocks and for "sort of vintage" 1983-1988 Monte Carlos and El Caminos.

Not all popular hot rod exhaust system suppliers are big mail order houses. Patrick's Antique Cars & Trucks is a place where enthusiasts get great products and one-on-one service. The company's flathead 1932-1953 Ford/Mercury catalog offers Mellow-Tone mufflers and cast iron Fenton headers, as well as steel tube headers for F-1 pickups. A second catalog aimed at 1937-1962 Chevrolet/GMC 6-cylinder trucks includes Fenton headers for the "Stovebolt" six.

Patrick's is famous among owners of 1947-1955 first series Chevy pickups for its stainless steel exhaust system with exclusive 2-in/2-out stainless steel muffler and shotgun-style stainless steel tailpipes. The system bolts up to Fenton six-cylinder cast iron headers and includes header pipes, a muffler, tail pipes, hangers and clamps made of stainless steel.

Doug Thorley was one of hot rodding's pioneer header manufacturers, and today his Doug's Headers brand is part of the Pertronix Performance family that also includes Patriot and JBA exhaust parts. The company markets a wide range of headers, including Model D665 for 1964-1973 Mustangs with 260 to 302ci small-blocks, Model D402 for street rods with 354 or 394ci Hemis and Model D104 for 1968-1974 AMC Javelin/AMX cars with 1-7/8-inch diameter exhausts.

Hooker Headers – another pioneer – is now part of the Holley family and offers exciting products like its Super Competition engine swap headers for retro fitting a new 5.7-liter Hemi into 1968-1974 B-body and 1970-1974 E-body Mopars. They utilize lightweight 16-gauge, 32-inch tuned length 1-5/8-inch primaries merging into a 9-inch long 3-inch outside diameter smooth transition collectors with a three-bolt flanges. The "Tight Tuck" collectors provide maximum ground clearance for low vehicles. Thick 3/8-inch machined flanges give a leak-free seal against cylinder heads. All fittings remain for vehicles with emission controls. The headers fit most manual and automatic Mopar trannies and use motor mounts that keep the tranny in its original location. All hardware and gaskets are included. Baked-on high-heat-resistant black paint and Metallic Ceramic Thermal Barrier Coating finishes are available.

Red's Headers makes headers for Fords from Model A four bangers to flathead and Y-block V-8s. They replace the stock exhaust manifolds and increase performance over dual exhausts on stock manifolds. The headers reduce backpressure and make "old-time" sounds. They are built in small batches from Red's own jigs and patterns. Red says, "There's no shortcut or 'fits-all' solution to installing Ford headers, so we painstaking pattern to ensure a good bolt-on fit."

Complete header exhaust systems are offered and include correct bolts, premium exhaust gaskets and 16-gauge steel tube headers with sturdy 3/8-inch flanges (1/4-inch plus flanges on flathead V-8s). All gasket areas are surfaced, and each header is trial fit so it will easily bolt on. Straight nickel, polished chrome or metallic-ceramic finishes are offered. 16-gauge aluminized steel extension pipes that fit inside the chassis between the header and muffler are available for Ford flathead and T-Bird V-8s.

Red's also sells mufflers with vintage looks and sounds. These include round glass packs and Smithy's in three different lengths. Tailpipes for most flathead Ford V-8s, chrome tips, pencil tips, baloney cuts, downturns and echo cans are available, plus the clamps and hangers needed to install entire systems from header pipes to tips.

Ray T. Flugger founded Flowmaster, Inc., in 1983, and the company's exhaust applications range from the late-model Chrysler 300 to a 1959-1964 Chevy kit. The Hushpower II is perfectly suited to street rods and show cars requiring limited-space installs, and measures four inches thick, 5.5 inches wide and 23 inches overall, with an 18 inch case length. Built in finished T409 steel and ready-to-polish T304 stainless, Hushpower II mufflers take up limited space, and several can be fitted in one exhaust system. The "Flowmaster Magic" design with stainless steel internals and Cool Shell technology controls heat and sound. The Hushpower II can be used on engines with up to 400 hp.


What Is A Hot Rod Exhaust System?

Exhaust systems aid the smooth flow of spent gases out of an engine and reduce noise. There are three ways to muffle engine sounds: restriction, reflection and absorption.

Restriction means the flow of exhaust gas is restricted. This makes for a really quiet exhaust but chokes off engine power.

Reflection involves splitting the flow path of the exhaust gases within the muffler and using wave-cancellation techniques to create a pressure drop that reduces sound pressure and, therefore, the noise level at the muffler's exit. Reflective-type mufflers use a series of baffles and reflectors that the exhaust winds around to set up wave reflection.

Straight-through "glass-pack" mufflers with one straight tube inside another absorb sound. The inner tube is perforated with louvers. Between the tubes is a packing material – usually fiberglass. As the exhaust flows through, the packing material absorbs sound. However, the louvers restrict flow and rob power. While the pipe may have a 2-1/2-inch inlet and outlet, the smaller inner tube and protruding louvers make the diameter as tight as 1-3/8-inches.

The first custom performance exhaust systems were designed for the Ford flathead V-8. When hot rodding took off after World War, the overhead valve V-8 arrived and it became the focus of the performance and racing industries. Early manufacturers didn't think about tuned-length headers, materials other than thin wall tubing, collector boxes or varying the number of tubes in a header. Drag racing and "Stoplight Grand Prix" prompted early rodders to build performance mufflers and exhaust pipes. They found that good headers use exhaust gases – that normally pass out the exhaust as heat – to improve induction efficiency.

There was a boom in header popularity in the 1960s, when factory muscle cars arrived. Performance type factory cast iron manifolds were the hot ticket. Tube headers of the day tended to flex a lot as they expanded and contracted, causing small cracks around welds. Today, you'll find mild steel and stainless steel tube headers that never crack due to improved metallurgy and technology.

There were differences between early competition headers and street headers. The former often included a collector box and collector block-off plate. Street headers must comply with a wide variety of regulations and noise codes.

One thing that hasn't changed from the old days is the fact that the wrong headers – no matter how cool they look – can make a hot rod run slower. Since the hot rod's engine is basically an air pump, headers have to be "tuned" to a motor's induction system to make the pump function right. If the carb is set too lean, the headers will try to collect more spent gases than the cold air intake system provides. The engine will start to gasp or choke. When headers are properly tuned for a specific engine, power gains up to 40 percent are possible.

In good headers, the shape and diameter of the tubing has to match the size and shape of the cylinder head openings. You can't bolt a 3-inch diameter tube to a larger or smaller opening and expect a smooth flow of spent gases. Likewise, you can't bolt a round tube to a D-shaped port and get good performance or sound. This is important to keep in mind when fabricating homemade exhaust systems.

Header pioneer Gary Hooker always insisted that no single exhaust system combination was right for every application. He found that Chrysler wedge and Hemi V-8s ran best with a 12-inch long x 3-inch diameter collector behind a 6-inch transition pipe. However, smaller-displacement Mopar V-8s worked better with a 12 x 2.5-inch collector. He also found that 4-tube headers worked best with perfectly tuned engines, but Tri-Y designs were best for other engines.

Through racing, experiments, feedback and tests, early manufacturers like Hooker, Doug Thorley, Ed Iskendarian, Jardine, Clifford, Cyclone, Mickey Thompson and Howard Douglass learned about headers. Douglass, for instance, discovered that any time an equal-length header design was developed, he had underhood clearance issues. His answer was to use special programmed mandrel tubing benders to get compound curves of extremely short radius.


SOURCES

Edelbrock Corp.
310-781-2222
www.edelbrock.com

Egge Machine
866-996-3443
www.egge.com

Flowmaster, Inc.
800-544-4761
www.flowmastermuffler.com

Hedman Hedders
562-921-0404
www.hedmanperformancegroup.com

Hooker Headers (Holley Tech Service)
270-781-9741
www.ilovemyhookerheaders.com

Patrick's Antique Cars & Trucks
530-836-1117
www.patricksantiquecars.com

Pertronix Performance
909-599-5955
www.pertronix.com

Porter Mufflers Manufacturing, Inc.
952-472-5700
www.portermuffler.com

Red's Headers
760-343-2590
www.reds-headers.com

Speedway Motors
800-979-0122
www.speedwaymotors.com




S/B Chevy Classic T-Bucket headers from Speedway Motors feature a smooth, graceful design with a unique appearance.



Egge's flathead Ford exhaust manifold works perfectly with the company's Offy aluminum head for 1939-1948 Ford V-8s.



According to Egge's Del Austin, Buick "Nailhead" V-8s like this one reflect a trend towards vintage engines and exhausts.



Based on a 1931 design, the Porter muffler offers a stainless steel or Ceramic Blue finish and is gaining a following.




Vic Wood of Hedman Performance Group says the Chevy LS6 is popular with hot rodders today. He holds an LS Series "Tight Tube" street rod header.




Hedman's lakes style weld up kit is available for small-block, big-block and 409 Chevys, plus big-block Fords, and black finish is optional.



Speedway Motors' new products include these Tru-Ram headers for Ford Y-Block V-8s.



Shorty headers from Edelbrock fit the 1958-1964 Biscayne, Bel Air or Impala with 348 or 409ci V-8s.



Fenton cast iron headers and Fenton dual intake manifold look cool on a six-cylinder truck engine built by Patrick's.



Patrick's stainless steel exhaust for Advance-Design Chevy pickups features a special muffler with two inlets and two outlets.



Pertronix Performance markets Patriot, Doug's and JBA Performance Exhausts.



Today's rod builders like the Chevy LS1 V-8, and Hooker's headers for this motor come in a complete set with all gaskets and hardware.



This unrestored OHV Merc-powered Model A Tudor that "Cowboy" Bob Norris unearthed last year has lakes style exhausts fabricated back in the 1970s.



Who says rodders have an exclusive on cool exhausts? This radically customized Olds seen at SEMA sported unique headers on its Rocket V-8.
Published Dec 7th, 2015
More Classic Car News & Article Categories:
Related Articles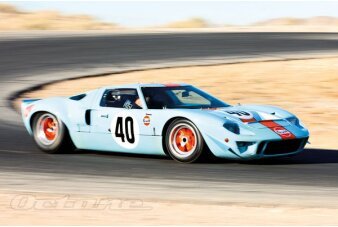 While every factory Ford GT40 is special, some are more special than others.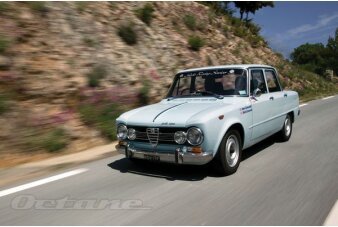 For the Linwoods historic rallying seems to come naturally.
×
Hot Rod Exhaust Offerings