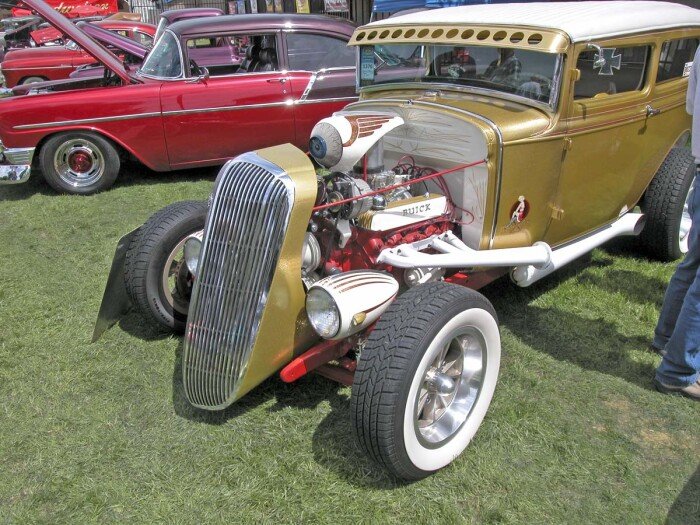 A vehicle's grille is a key styling element, as it's one of the first things others notice when a car approaches. Designers go to great lengths to make their grilles distinctive. Many grilles (e.g. Rolls Royce, Model A Ford, 1932 Ford, 1955-1957 Chevy, etc.) have become automotive icons.

Custom car builders have always been big on altering grilles. Street rod builders have been more inclined to stick with the factory grille, but the new generation of old school and rat rods have embraced the idea of unique grilles. Many of these cars and trucks are hybrids anyway, so grilles from other brands fit in nicely.

The popularity of rat rods has been both good news and bad news for fans of unique grilles. Innovative builders went after the oddball grilles that few people wanted. They picked up on old tractor grilles, commercial truck grilles, and grilles from orphan makes such as Hudson Terraplane, Studebaker, DeSoto, LaSalle, International, and even Ford grilles that were once considered ugly like the oval 1938/1939 Ford truck grilles. When other builders saw the results, demand and prices rose.


Grilles for Rods

During the height of the billet street rod era, the trick was to pay a couple thousand dollars for a custom-crafted grille that looked like the original but much sleeker. Rat rods are the antithesis of billet rods, so the idea is to make the most out of the least. Creativity is more important than the ability to write big checks.

Building cars from cast-offs means using what you can find in the scrap pile or out behind grandpa's barn. Rust and patina became the new chrome and mirror-like finish. Since perfection wasn't necessary, grilles could be rusty or pitted. What used to be considered poor condition has become character. That opened up a huge market for formerly unwanted parts.

In keeping with the budget rod approach, many low-dollar rods eschew fenders. The fenderless look puts added emphasis on grilles. Many of these rudimentary street rods are severely chopped, channeled and even sectioned. That means grilles must be cut down to match.

A very simple trick, regardless of which grille is being used, is to mount the grille at a slant. That gives a feeling of speed and works well with a lowered profile.

Inexpensive grilles often have bent or broken grille bars. Such a grille may be OK as-is, or repairs may be attempted. Pot metal grille bars are difficult to repair. Grille condition is especially important when considering uncommon ones.

Paint is a good way to hide rusty or tarnished grille bars. A brightly-colored grille makes an attractive contrast to a primered or faded paint job.


Grilles for Customs

Classic customs were very big on using parts from dissimilar cars. That approach was used extensively on grilles. Sometimes a whole grille was used, but often it was just parts. If you can find copies of old custom car magazines, they're filled with grille ideas.

Besides using grilles from other brands, many builders favored aftermarket tube grilles. Some tube grilles are still available, and others can be found at swap meets. The very nature of a tube grille means that they're not overly difficult to fabricate. A versatile metal fabrication shop should be able to bend a grille to your specifications if you can provide the exact dimensions.

A popular custom trick from back in the day was to mount kitchen hardware on a mesh background. Aftermarket companies sold bullets for this purpose, and those parts are still available.

Some very popular custom grille components have become quite scarce. The split bumpers that were part of 1955 Pontiac grilles have become hard to find because so many of these heavy cars were scrapped. The same fate befell various fifties DeSotos and their grilles. 1954 Pontiac grille bars are another example of a popular, but hard to find grille.

Chevy grilles from 1953 and 1954 are still very popular, both as manufactured and with additional teeth. Fortunately, these teeth have been reproduced.


Where to Find Good Grilles

Swap meets and the internet are the best sources for hot rod and kustom grilles. The biggest problem is that the rapid spread of information means that once valueless parts have suddenly become much more valuable. It's harder to find bargains now that so many people are aware of how popular old school hot rods have become.

If you can find old rural wrecking yards, they can be a good source of affordable grilles and grille shells. Dented grille shells can be repaired to rat rod quality without too much effort.

Farm tractors from the Thirties, Forties, and Fifties mostly had sheet metal grilles without chrome. They're perfect for hot rods, because they tend to be tall and narrow. The cowling/hoods of these old tractors also have a lot of street rod potential. The biggest problem with old tractors is that they have a strong following of tractor restorers. You need to find a parts tractor or one that is mechanically wasted to find the best deals.

Even old walk-behind garden tractors can have neat engine covers with potential. The biggest problem here is that many of these units are too narrow for a V-8 radiator.

The accompanying photos and captions should provide insight as to what can be accomplished with a little creativity.




Using a grille from another make is a great way to individualize an old school hot rod. This 1930 Model A Ford uses a 1936 Buick grille, which is very fitting since the engine is a 1957 Buick "nailhead." The unique air cleaner was made out of a 1941 Buick headlight pod.



Swap meets are prime grille hunting grounds. This 1937/1938 Dodge grille is loaded with art deco styling. Note the super neat "wings" at the bottom of the shell. The condition of the grille bars is very important, because they're difficult to repair.



DeSoto grille "teeth" are a traditional kustom 1949-1951 Merc favorite. The teeth have a base that allows them to be attached to the lower grille pan while varying the spacing between teeth.



The grille on this 1953 DeSoto looks a little dingy, but it's actually in good shape. The teeth have minor pitting, but not so bad that they can't be restored. Excessive pitting effectively ruins old grilles. This grille was on a four-door sedan parts car that cost less than the value of the grille.



Adding grille teeth is a classic custom trick. This 1954 Chevy now has eleven teeth, but originally it only had five. The 1953/1954 Chevy grille is very popular for use on non-Chevys. Reproduction versions of these teeth are available.



This "shoebox" Ford has a custom molded grille bar and surround with nine 1954 Chevy grille teeth. The pointed shape of the Chevy teeth work well with the creases on the hood and rolled pan.



When it comes to rat rod grilles, the more unique they are, the more people seem to like them. This incredibly art deco grille and louvered grille shell are from a 1937 Hudson Terraplane. Unique grilles like this can be difficult to find.



Model A Ford grille shells are among the most ubiquitous and affordable, which makes them perfect for budget hot rods. Grilles with rust or other imperfections are shunned by restorers but perfect for rat rods.



This cut down Model A grille received a unique louvered insert panel that matches the rest of the hyperventilated Model A Tudor sedan. The trick radiator cap was made from a Cragar S/S mag wheel spinner center cap.



An incredibly easy/affordable way to "save" a badly rusted grille is to paint it. This primered 1935 Ford sedan matched the grille bars to the apple green wheels.



A 1935 Ford grille and hood were adapted to this 1932 Ford roadster. The front fenders are a blend of 1932 and 1935 elements. The headlights are newer. The components were so smoothly integrated that it looks like a factory installation.



A lot of creativity and very little cash were used to make this unique grille insert on a Model T roadster. Common barbed wire was fashioned into a spider web.



Rat rods tend to be super low, so their grilles need to be cut down to match the proportions of the bodies. This wild 1947 Dodge pickup has a stretched frame with "suicide" front suspension. Set back from the dropped I-beam axle is a 1947 Dodge grille shell that has had much of the lower section removed.



This 1948 Ford F-1 is another example of modifying the original grille to fit the lower profile of the truck. Just the center part of the original grille was used, and the bottom bar was omitted. The clean, simple 1948-1950 F-1 grille bars would work well on non-Ford applications.



Mixing and matching grille components was very popular on classic Fifties/Sixties mild customs like this Ford F-100. The grille surround is from a 1955 Chevy, and the grille teeth are from a 1958/1959 Buick. The headlights are 1959 Chevy units turned 90-degrees from their Chevy orientation. The whitewall tires and chrome reverse wheels with "spider" center caps are period perfect.



Unique custom grilles can be made without welding or metal fabrication. A popular classic custom trick was to make bolt-together grilles out of cabinet knobs or aftermarket bullets. These medium size bullets are bolted to a mesh screen that has been painted black.



This full custom 1957 Chevy uses a 1957 DeSoto grille to great effect. DeSoto grilles were very popular back in the day, but they can be difficult to find today. Depending on the application, the wide DeSoto grille may need to be narrowed and then re-chromed.



Buick called their unique 1950 front end treatment a bumper-grille due to the size of the vertical bars. The big grille bars nicely fill the big opening on this 1954 GMC pickup.



The center section of a 1950 Studebaker grille was used to help make the nose of this stretched Ford pickup look like a World War II fighter plane.



Vintage farm tractors are prime sources for hot rod grilles. The trick is to find a useable grille before a tractor restorer beats you to it. Many people restore classic tractors.



The 1933/1934 Ford commercial series grilles look a lot like the iconic 1932 Ford passenger car grille, only larger. This one was shortened to fit the lower profile of this severely channeled 1942/1947 series Ford pickup.



Mercedes sedans had retro-style grilles well into the sixties. Even the lowly diesel models had classic grilles that can add a unique twist to Twenties and Thirties hot rods.



Tube grilles were a big aftermarket item in the sixties. Individual tubes can be used with OEM grilles to make unique combos. This F-100 Ford uses tubes with a grille bar/headlight unit from a 1960-1964 GMC pickup.



Wedge-shaped grilles like this 1937 Ford passenger car unit work well on fenderless rods. This one was shortened. The front section of the 1937 hood was hinged to provide radiator access.
Published Dec 7th, 2015
More Classic Car News & Article Categories:
Related Articles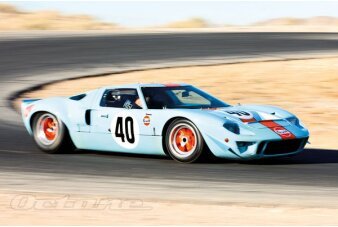 While every factory Ford GT40 is special, some are more special than others.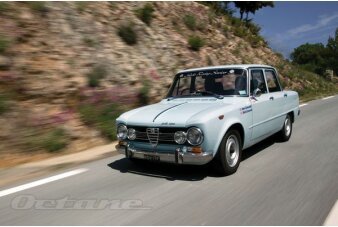 For the Linwoods historic rallying seems to come naturally.
×
Hot Rod And Custom Grille Guide