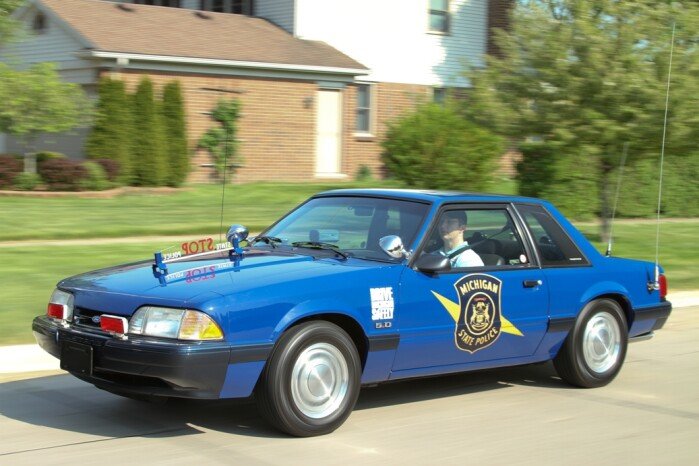 During the "CHiPs" era of patrolling California's endless ribbons of Interstate asphalt, the highway patrollers were saddled with overweight and underpowered cars like the Dodge Monaco and St. Regis, which couldn't even muster 200 horsepower to support their full-size architecture. When saddled with a trunk's worth of road equipment, as well as the typical complement of radio and radar equipment, these cars were no match for some of the quicker sports cars on the highway – and not even a pair of gleaming-toothed, motorcycle-straddling hunks could keep up.

As the 1980s dawned, the California Highway Patrol (CHP) approached Ford about producing a pursuit-special Mustang: A lightweight, compact and – for the time – powerful alternative to the laggard full-size Mopars. (The agency experimented with a few 1979 Camaro Z28-based pursuit cars, but their engines didn't hold up under strain.) As performance enthusiasts would soon discover, a potent 5.0-liter engine in the lightweight, rigid Fox-body "notchback" body delivered terrific performance. The CHP ordered about 400 in 1982 and the Mustang SSP (Special Service Package) was born.

Ford made the Mustang SSP available to other North American police agencies and it became a popular complement to many agencies' full-size cruisers, particularly in states such as Florida and Texas. Even the FBI, ATF and the U.S. Postal Service used them, as well as the RCMP in Canada. Production lasted from 1982 through the end of the Fox's run in 1993.

Used examples are not difficult to find, but most have been modified. Original-condition examples, whether un-restored or restored to in-service condition are difficult to find, but hold the promise for greater collector value in the future. A couple of dedicated sites, www.sspmustang.org and www.specialservicemustang.net have more details about the cars, which agencies used them and, through forums, leads on cars for sale.


SSP FAST FACTS
All 1982-93 SSPs were notchbacks, except for five hatchbacks ordered by the CHP in 1982.
In 1988, Oregon ordered 34 SSPs for the highway patrol, but canceled the order. Saleen bought 17 of them and gave them the full performance makeover treatment, making them ultra-rare Saleen-SSPs.
The U.S. Air Force used several Mustang SSPs as runway chase vehicles to support the U-2 spy plane's landing procedure.
SSPs were built with "buck tags" attached to the front-end structure behind the driver-side headlights, which helps confirm their authenticity – or whether a car has been in a severe accident requiring extensive repairs. The tags typical say POLICE, SPECIAL SERVICE or indicate special equipment or paint.
In the 1986 movie "8 Million Ways to Die," Jeff Bridges plays a detective who drives a retired and worn-looking 1982 CHP Mustang.
The Mustang SSP was born out of a request by the California Highway Patrol, after the agency had a negative experience with Camaros. Ford developed the package and the CHP ordered 400 of them in 1982. This image is from a 1983 issue of Ford Times – a Ford-produced magazine sent to customers.
Prior to 1987, Mustang SSPs steel wheels instead of the aluminum rims on the GT and other 5.0-liter-equipped models. Today, original steel SSP wheels and especially their hub caps are very difficult to locate.
The Florida Highway Patrol employed more than 1,600 Mustang SSPs, starting in 1983. The state was second only to California's more-than 2,500 cars.
Third on the list of most Mustangs used by a highway patrol agency was Texas, which pressed nearly 1,100 into service.
Ford built several fully equipped SSP demonstrators and allowed police agencies to test-drive them.
The Michigan State Police's distinctive blue color is historic on their vehicles, which required special painting for the small number of Mustangs they used – only 34 of them.
Another unique feature of the Michigan State Police Mustangs is the hood-mounted pull-over sign, affectionately called the "shark fin." It originated as a lighted sign in the days before flashing lights and is still used on the latest cars.
Mustang SSPs restored to in-service condition are relatively rare to find, such as this Missouri State Highway Patrol example. It's one of only 71 cars used by the agency.
Locating an un-restored SSP is not difficult. Finding one that hasn't been modified is. Many out-of-service cars were purchased by racers precisely because they were lightweight notchbacks.
Before making the investment in an SSP, it's a good idea to familiarize yourself with the cars, especially if you're looking to purchase an authentically restored example. Go to shows – particularly emergency vehicle events – and join the forum at sspmustang.org to learn as much as possible.
Build tags – also known as buck tags – are attached to each SSP Mustang in the structure behind the driver-side headlamp. With data that the car as an authentic SSP, checking and not finding the tags could indicate the car was in a severe crash that required replacement of the front-end sheet metal.
All SSPs came with a certified speedometer – and it was a 160-mph speedometer several years before they were standard in LX 5.0 and GT models.
Locating authentic service equipment is typically the toughest and most time-consuming aspect of restoring an SSP to its in-service condition. That's where homework and linking with fellow SSP enthusiasts proves invaluable.
The other thing to keep in mind about a restored police car is local and state laws regarding the equipment on them. Typically, owners will have to drive their car to a show with the lights and agency insignia covered. They may also have to disconnect, cover or hide some of the other equipment.
Another no-no on the street is letting loose the siren. Parades and car shows are pretty much the only places an owner is allowed to demonstrate the emergency equipment on his or her SSP.
Many SSPs were unmarked units. They make excellent alternatives for those who want the SSP ownership experience without the flash of a fully marked car.
The 5.0-liter engine is pretty much bulletproof, of course, but many SSPs were equipped with the AOD four-speed automatic. That puts the car into one of two categories: One that has had the AOD rebuilt or one that will need it to be rebuilt
Lighting is another important aspect of an authentically restored SSP, as any old flashing lights won't do. The car needs to have the correct makes/models of the lights to be considered an authentic restoration.
Mustang SSP values are strong, compared to other Fox-body Mustangs and should continue to strengthen in the coming years.
Published Dec 7th, 2015
More Classic Car News & Article Categories:
Related Articles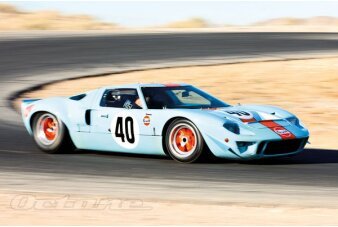 While every factory Ford GT40 is special, some are more special than others.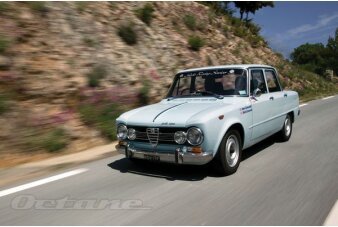 For the Linwoods historic rallying seems to come naturally.
×
High-Pursuit Ponys