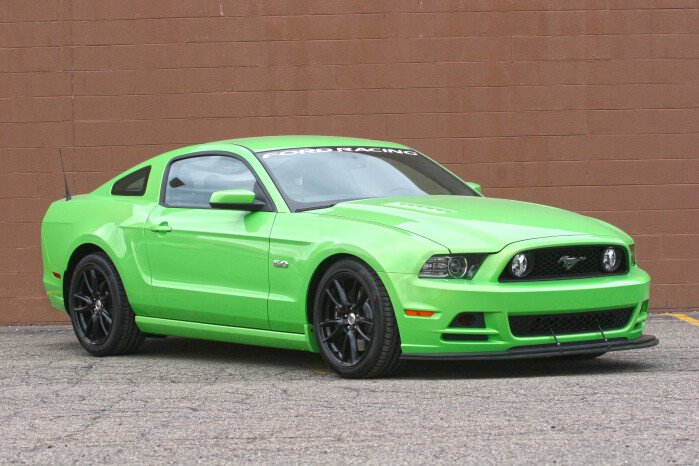 Text and Photos Courtesy of Ford Racing Performance Parts
To kick off Ford Racing's "Fifty for 5.0L" marketing campaign, the crew at Dearborn, Michigan based Ford Racing Performance Parts put a head turning "Gotta Have It Green" 2013 Mustang GT coupe together to showcase its late-model Mustang parts offering.
Powering the tricked out Mustang is FRPP's 9-psi, twin-screw 624 horsepower blower kit specially engineered for the 5.0L Coyote engine. The 624hp kit (Part #: M-6066-MGT624D), produces 536 lb-ft of torque at 4,700 revs), The unit is a highly efficient 2.3-liter twin-screw Whipple assembly with intercooler that can be had in either wrinkled black or polished finish. For customers that want to keep their Mustang powertrain warranty intact, Ford Racing also offers a 525 horsepower variant (M-6066-MGT525D) good for 525 hp at 6,400 rpm and 470 lb-ft of torque at 4,200 rpm. The base system also brings a 12-month/12,000-mile warranty if installed by a Ford or Lincoln dealer. In addition to more power, Ford Racing's 5.0L Ti-VCT supercharger kit is 50 state legal (it includes an EO number) and the supercharger calibration is honed to factory-civilized perfection.
To maximize the superchargers breathability, Ford Racing freed up the exhaust flow with a hybrid Ford Racing system made up of a Boss 302 quad exhaust set-up combined with a Sport Muffler kit that is 49 state legal for sound. Topping off the engine is a billet engine cap kit and Boss 302 blue coil pack covers.
Ford Racing's Green GT coupe is not just about "dollar off the dash" acceleration. It's also upgraded in the turning and braking departments. A Ford Racing adjustable handling pack (M-FR3-MGTAA) provides a practical 1-inch ride height drop, along with revised front and rear coil springs, dampers, and beefier sway bars. For rear suspension adjustability and track tuning, lower control arm relocation brackets were installed along with an adjustable panhard bar.
Stopping power is also upgraded with a Brembo 14-inch rotor front brake upgrade (M-2300-S). This brake upgrade kit utilizes four piston Brembo calipers from the 2007-2010 Shelby GT500 program and stainless steel Goodridge brake lines.
Ford Racing 2013 "Gotta Have It Green" Mustang Project Car Features:
Engine and Drivetrain
Engine: Coyote 5.0L Ti-VCT aluminum block and heads
Ford Racing Billet Aluminum Cap Set, M-6766-M54
Boss 302 Coil Pack Covers, M-6P067-M50B
Power Adder
Supercharger: FRPP/Whipple 2.3-liter supercharger, intercooled twin-screw, M-6066-MGT624D
Fuel System: Sequential mechanical returnless with 47 lb./hr. injectors
Exhaust
Ford Racing Mustang GT Side Exhaust System, M-5220-MB, w/ Sport muffler kit,
M-5230-MGTLA
Transmission/Driveline
Getrag MT82 six-speed manual w/ Boss 302 Trans Cooler Scoop, M-5025-MBR
8.8-inch Rearend with Ford Racing 8.8-inch axle girdle/cover, M- 4033-G2
Electronics
Engine Management: Copperhead PCM w/Prototype FRPP Supercharger tune
Ignition High-output coil-on-plug
Front Suspension
Struts: FRPP Dynamic dampers
Springs: FRPP, 1-inch drop
Front Brakes: Brembo 4-piston caliper, 14-inch front brake kit, M-2300-S
2013 Mustang Laguna Seca Brake Duct Kit, M-2004-MBA
Rear Suspension
Shocks FRPP Dynamic dampers
Springs FRPP, 1-in drop
Tubular Rear Lower Control Arms M-5649-S
Lower Control Arm Relocation Brackets M-5650-A
Wheels/Tires
Wheels: Mustang Track Pack Black 19
Published Oct 10th, 2017
More Classic Car News & Article Categories:
Related Articles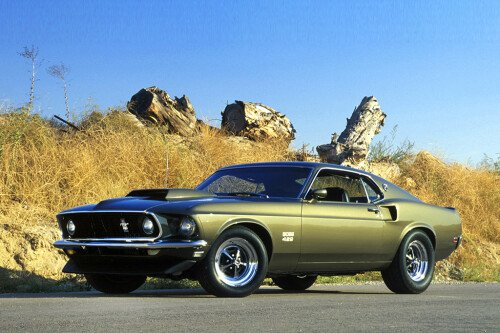 We've compiled a list of the greatest muscle cars of all time. Did your favorite make the list? Ask 20 muscle-car aficionados to identify the "best" muscle car of all time and you'll get 20 different answers.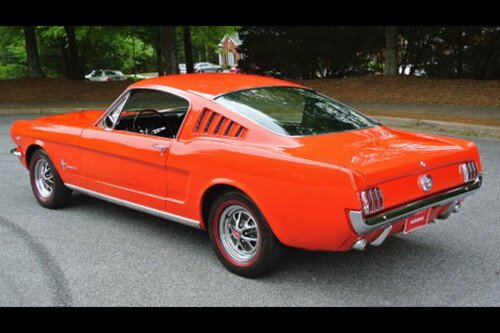 The Shelby GT350 wasn't the only high-performance Mustang available if you wanted a fast pony.
Advertisement
×
Green With Envy