‹ Go back
Future Collectible: 1993-2002 Camaro B4C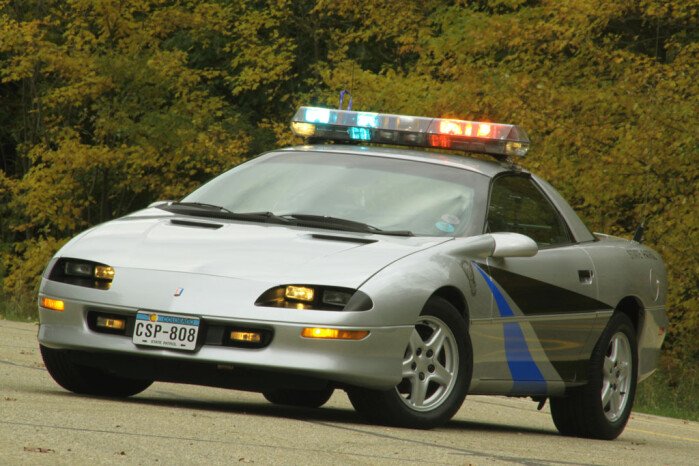 Nothing gives the heart a jolt quite like a set of red and blue strobes lighting up your rearview mirror like an angry Christmas tree. Many enthusiasts have developed a sixth sense for spotting the ubiquitous Crown Victoria cruisers, but cops in Camaros caught almost everyone off guard.

The factory-offered Camaro police cars are known by their B4C order code, and got their start in 1991. They were a response to police agencies that found the Caprice and other full-size sedans didn't have the beans to keep up with the growing number of higher-powered production cars. To put it simply, there was a resurgence in performance, and a suitable pursuit car was needed.

With the fourth-generation of the Camaro came a powerful, 275-horse version of the small-block. When the LS1-powered Camaros were pressed into service, they were the fastest police cars on the highway–capable of more than 160 mph and super-quick acceleration. 

The original, third-gen B4C cars were basically Z28s wrapped in plainer RS packaging. That aesthetic carried over to the fourth-generation models, which comprise the vast majority of B4C production. At their core, B4C Camaros feature the Z28 powertrain, but with police-specific alternators, batteries, and other extended-service components. The fourth-generation cars differ only slightly in mechanical equipment from the production Z28s, because the Zs already featured high-performance cooling and suspension parts. The B4C cars also featured much of the 1LE handling equipment.

In the interior, the B4C cars are identified by speedometers denoting certified calibration and, mostly, bare-bones cloth upholstery. Because interior room is at a premium in the fourth-gen cars, some agencies removed the passenger-side seat to make room for computers and other necessary equipment.

Some police agencies used their Camaros as stealthy highway patrol cars: little external identification and no light bars on the roof. Others, such as the Colorado State Patrol car seen in our story, were outfitted with the full regalia of a standard cruiser. Spotting an unmarked fourth-gen B4C is difficult, because they look just like Z28s, but the 1993-97 cars are distinguished by a lack of factory fog lamps–but that's also a clue to 1LE cars of the same model years.

Despite the fact that police cars generally lead hard lives and rack up way more than standard mileage, there's a fascination that makes them inherently collectable–especially Camaros and Mustangs. Beyond the aura of driving something designed for official police duty, there's also the rarity factor. B4C Camaros were built in small numbers– sometimes less than 200 per year–so surviving examples are rare finds. Curiously, more than 700 were built in 2002, as word got out that the super-quick pursuit car would be going out of production.

When considering the purchase of a fourth-gen B4C, you can be mostly assured of the drivetrain, but check carefully for chassis damage and interior wear. The car is bound to have holes in the dash and possibly plugged holes in the roof from removed police equipment, but that's the price of admission for a former police car. However, the unibody chassis didn't stand up well to the occasional off-highway excursions experienced by many police cars. A repaired body might be covering more severe chassis damage, so check all available records for accident and/or repair reports.

With comparatively few produced and a relatively large pool of police car enthusiasts, prices for B4C cars are unusually high, given their general condition. But you're not just buying a used Camaro, you're buying into a cult of the collector car religion. Cue the Blues Brothers soundtrack.

Special thanks to Michigan resident Pat Lewis, who allowed us to photograph his authentically outfitted 1997 Camaro B4C that was in service with the Colorado State Patrol. 


SPECIFICATIONS
Number Built – 1993 – 135, 1994 – 668, 1995 – 310, 1996 – 228, 1997 – 253, 1998 – 239, 1999 – 196, 2000 – 254, 2001 – 288, 2002 – 708
Construction – Unitized body and chassis
Engine – 350 cubic-inch (5.7L) LT1 V-8(1993-97), 346 cubic-inch (5.7L) LS1 V-8 (1998-2002)
Power/Torque – 275 horsepower, 325 lb-ft torque (1993-95 LT1); 285 horsepower, 325 lb-ft torque (1996-97 LT1); 305 horsepower, 335 lb-ft torque (1998-2000 LS1); 310 horsepower, 340 lb-ft torque (2001-02 LS1)
Transmissions – Tremec T56 six-speed manual, Hydra-Matic 4L60-E four-speed automatic
Suspension front – Independent, unequal control arms with shocks and coil springs, stabilizer bar
Suspension rear – Live axle with torque arm; shocks, coil springs, and stabilizer bar
Brakes – Front/rear disc
Length/width/height – 193.2/74.1/51.3 inches
Wheelbase – 101.1 inches
Weight – 3,465 lbs. (approx.)
0-60/quarter mile – 5.7 seconds, 14.2 seconds at 99 mph (LT1)*; 5.2 seconds, 13.6 at 106 mph (LS1)* (Motor Trend)
Top speed – 155 (LT1); 163 (LS1)
MPG – 15 - 22 (LT1 auto), 16 - 24 (LS1 auto)


STRONG POINTS
Official police car aura
Extensive paper trail on each
Low production numbers
Bulletproof, powerful engines


WEAK POINTS
Typically high mileage
Interior wear and holes
Prices higher
Unless dressed as a police car, blends with other Z28s


PARTS PRICES
Remanufactured 140-amp B4C alternator $166.95*
Brake discs and pads $43.79 (rotors, each); $44.79 (pads, set)**
Crankshaft position sensor $47.79**
Carpet kit $308.79**
Based on information from *1aauto.com and **Rockauto.com


WEBSITES
www.camaro-registry.com
www.policecarowners.com
www.policecararchives.org 


WHAT TO PAY
1997 Camaro B4C
Low: $3,250
Average: $3,925
High: $6,000
*Based on information from www.nadaguides.com


INSURANCE COST
Insurance cost is $172/year for a $3,925 1997 Camaro B4C. This is based on 3,000 miles per year of pleasure driving.
*Based on a quote from Heacock Classic Car Insurance, www.heacockclassic.com


WHEN TO BUY
There's probably not going to be a big run up on prices on B4C cars for a while. But with so few produced, finding the right one for you will take time. Search carefully and diligently–and scan through all available maintenance/repair orders–to find the best car for the money. Be wary of modified cars, too. Collector cars have their value in originality. A B4C with aftermarket appearance and performance parts becomes little more than a modified Z28.
Published Dec 7th, 2015
More Classic Car News & Article Categories:
Related Articles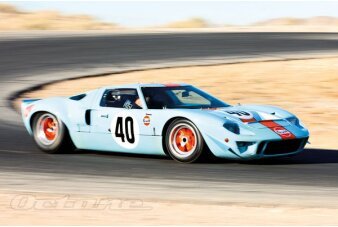 While every factory Ford GT40 is special, some are more special than others.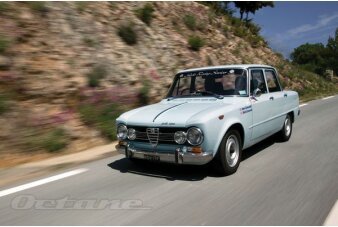 For the Linwoods historic rallying seems to come naturally.
×
Future Collectible: 1993-2002 Camaro B4C