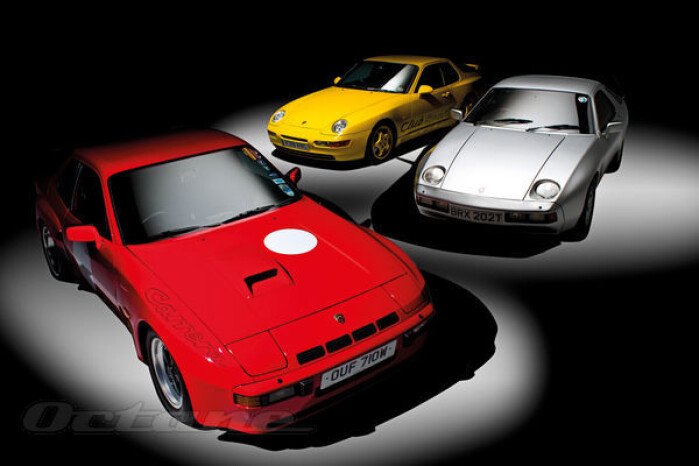 The Porsche 911 casts one of the longest shadows the automotive industry has ever seen. Almost from the moment the iconic sports car was launched in 1963, it seemingly set in aspic what it was that made a Porsche a Porsche – flat-six power, air-cooling, and a chainsaw wail under acceleration that just had to come from behind the driver's head. These were the ingredients that went into a Porsche, pure and simple – and anything else to come from Porsche was going to struggle to emerge from those 911-shaped shadows.
So what of the cars Porsche built that didn't follow the 911's template? Just what should we think of the cars that were designed to complement – and potentially replace – the icon by treading a different evolutionary path? We know that the branch of the family tree that encompasses the 924, 944, 928 and 968 came to an end in 1995 but, during its 20-year tangential adventure, it gifted us some of the most exciting cars ever to emerge from the Stuttgart factory gates.
And that's why, some 35 years since the launch of the 924, it's time to celebrate this car and its successors – and allow them finally to emerge into the limelight.
The seeds of the Porsche 924's creation were sown in 1970, when Rudolf Leiding replaced Kurt Lotz as general manager of struggling Volkswagen. VW needed a new, front-engined, water-cooled product line and Leidling wanted the new order to be headed by a suitable replacement for the mid-engined VW-Porsche 914.
And so project EA425 – a new car designed by Porsche for sale by VW – was born after a troubled gestation, mainly due to the need to use as many VW-Audi parts as possible. Suitable engine options were limited: the 1984cc unit chosen was effectively an overhead-camshaft version of the old Mercedes-Benz-developed DKW/Audi engine that would find its way into both the VW LT van and the Audi 100 saloon. However, EA425 was the only version to feature fuel injection.
After a VW change of heart in 1973, Porsche bought the production rights to the car and, two years later, the 924 went on sale. It looked good, having been conceived with aerodynamics in mind by Harm Lagaay. Integrated bumpers and a wrap-around rear window gave the 924 a timeless look and a low 0.35 drag coefficient. With just 125bhp, it would top 120mph. The 125bhp slant-four might have been unexotic for a Porsche, but the decision to use a rear transaxle was a stroke of genius, allowing near-50:50 weight distribution.
Driving impressions are dominated by a feeling that it could do so much better. The handling – thanks to well thought out suspension that borrowed heavily from the Golf and Beetle – is nicely balanced, but the engine's noisy, and lacking in real power. Its 0-60mph time of 9.5sec tells you all you need to know. But it was a great starting point for what was to come. In 1979 the 924 Turbo (Type 931/932) was launched, putting right many of the original car's faults and marking the arrival of the 'proper' entry-level Porsche.
But it was Porsche's decision to take the 924 to Le Mans that would give us the greatest of them all. To satisfy Group 4 homologation regulations, at least 400 road-going examples had to be built – and the 924 Carrera GT (Type 937/938) was the result. When the production version arrived in early 1980 (following the concept's unveiling at the Frankfurt motor show the previous year), it caught the mood of the moment, arriving alongside the Audi Quattro and midengined Renault 5 Turbo. The three cars pointed to a turbocharged future for motor sport, besides being amazing in themselves as road cars. The Porsche was the most special of the trailblazing threesome – and not just because it was faster than a 911.
The styling changes over a standard 924 Turbo weren't excessive, but they transformed the car – with wide arches, bonnet scoop and larger spoilers, it looked tougher and more purposeful. The alterations were in the name of airflow management, so it was more slippery (drag coefficient dropped to 0.33), and generated more downforce. Weight was also reduced to 1180kg (a 150kg saving).
Modifications to the engine made the 924 Carrera GT easier to drive. Compression ratio was raised to 8.5:1 (from 7.5:1), and digital timing control was incorporated with the sole intention of smoothing out the transition from off- to on-boost. Power increased to 210bhp, and that, combined with the weight reduction programme and improved aerodynamics, meant the 924 Carrera GT achieved supercar performance. It could hit 0-60mph in 6.5sec and go on to a top speed of 150mph, a remarkable performance from just 2.0 litres.
But it's not merely the pace of the 924 Carrera GT that makes it so special. With only 75 examples – out of a total run of 406 – imported into the UK, it's a rare car, and values are on the rise, too. Good examples now fetch well over $60,000, assuming you can find one. And while that rarity and high value are important in many ways, what's really special about the Carrera GT is the way in which it fulfils the original 924's promise: its roadholding is transformed by the additional lateral grip generated by the wider wheels and tyres, while the weight loss programme leaves it with even more responsive steering and alert handling with even better balance. That word again.
Porsche's baby was now challenging the 911 – a sure sign that the company's management was seriously looking at the prospect of life beyond air-cooling. And under the lights of the photo studio, it's the one of this threesome that commands the most attention on the day. Difficult to believe that such a beast evolved from a car designed to be sold from your local Volkswagen dealership for little more than the price of an MGB.
Even the earliest 924 holds appeal today, and you can buy the best for $4,700 (less than MGB money). Yes, many of those left are $750 bangers and that engine's a bit, well, ordinary compared with an air-cooled flat-six, but there's sophistication to the way it moves along the road, and its looks have aged well. There's a Porsche badge on this car because it was designed and built by Porsche, after all.
That makes it uncommonly tough too, and if you really can't stomach the VW-based engine, go for a 924S. Built between 1985 and 1988, it's the very last of the 924 line and powered by a detuned Porsche-designed 944 engine. Its 160bhp makes for 0-60mph in 7.9sec (it's lighter than the slightly more powerful 944) and a top speed of 136mph. The best will cost you $6,000. Bargain.
Developing the 924 for VW had been a fortuitous move for Porsche, but actually replacing the 911 was increasingly occupying the minds at Zuffenhausen. It wasn't as if the 911's popularity was waning as it moved into the 1970s – but there was a nagging worry that it could go out of fashion very quickly, especially in the light of new rivals hitting the market, typified by Ferrari's Dino 246GT and the Lamborghini Urraco.
Work on what would become the 928 began in October 1971, a decision taken by Porsche's new technical director Dr Ernst Fuhrmann. It was a logical step (in those preenergy crisis days) to devise a car that would sit upmarket of the one it was meant to replace, as well as appeal to the US market. So the engineering team led by Helmuth Bott rapidly conceived a brand new car powered by an all-new, front-mounted, water-cooled V8, driving the rear wheels through a transaxle. It reflected the work that was being undertaken on the EA425, and was seen as being sufficiently future-proofed against whatever emissions and safety regulations were thrown at it. More importantly, it was seen as something infinitely more modern and progressive than the anachronistic 911.
The 928 took shape quickly, with a timeless, organic style overseen by design chief Tony Lapine, following a brief that demanded both shock at launch and resistance to ageing – inside and out. Its integrated bumpers, lay-flat headlamps and curvaceous flanks were at odds with the vogueish origami design of its rivals, yet it wasn't as aerodynamic as the 924, managing a drag factor of 0.41.
The energy crisis brought a halt while alternative options – six-cylinders, a four-seater, even redesigning the 911 to use some of the 928's running gear – were investigated. But by 1975 the 928 programme was back on track, its engine capacity set at 4.5 liters for 240bhp.The 924 hit the market first, allowing customers to become familiar with the notion of a water-cooled Porsche before the 928 was launched at the 1977 Geneva motor show.
It impressed immediately with its handling. Autocar said: 'It is easy to dismiss the 928 as almost dull in corners… and then you think about how fast you are going through the corner.' The so-called Weissach rear axle (named after Porsche's technical centre) had been the subject of painstaking development and featured passive rear steering. But the 928 wasn't quick compared with the similarly priced 911 Turbo. Despite aluminium doors and bonnet, its 0-60mph time of 7.8sec and maximum speed of 140mph did not compare well even with the cheaper Jaguar XJ-S's 7sec and 150mph. It might have been conceived as a GT with an environmentally sound engine – the V8 would happily run on two-star fuel – but many owners were left wanting more.
The answer came in 1979, with the arrival of the 928S. Its 4664cc V8 had dual exhausts, a raised compression ratio and 300bhp, signified by subtle new front and rear spoilers. That was more like it. 0-60mph was down to 6.2sec, top speed up to 152mph, within spitting distance of the 911 Turbo, and what Autocar described as 'real raw performance which the 911 Series had taught us to expect'. Porsche was moving the 928 away from its original GT role, carefully positioning it yet further above the 911 – which, ironically, had yet to show any sign of going out of fashion.
As the 1980s progressed, the 928 continued to receive further boosts in power, and hikes in price – and although it never sold anywhere near as well as the 911, it remained a mainstay of the range. The swansong came in 1993, when the Porsche 928GTS was rolled out. With 345bhp and 369lb ft, it was a scintillatingly quick car. Styling was subtly altered once again, but not enough to spoil the genius of the original, and now the car could crack 170mph. It might have been a dinosaur, but it was a glorious one.
Today, the 928 has never looked better. The early car, like the one we have in our studio, has a design purity and rarity that makes it seem almost delicate and timeless. But it's also an appealing long-distance tourer, with a nearcosseting ride and a melodious exhaust note that's impossible to tire of. And while Porsche now builds the Cayenne SUV and the Panamera saloon, there isn't a car in its range that replicates the true GT nature of the 928.
As it became harder and faster throughout its life, the 928 lost that engaging easy-going character which makes it seem so special today. Keen drivers, though, might have a different take on the situation – and for anyone who wants a fast Porsche, but who doesn't like the idea of playing Russian Roulette with a rear-engined car, a 928S is almost impossible to resist, especially at today's prices. Just $9,000 will secure an excellent 928 or 928S for the purist: you can live out your most depraved 1970s-man-of-mystery fantasies in this car, surrounded as you are with that eyeboggling Pascha velour trim and awakening a deeply satisfying V8 rumble with every prod of your right foot. It's even a realistic DIY challenge, with little in the way of electronics. Just make sure all the plumbing works.
Another $3,000 will secure you an excellent S4, not so old in the grand scheme of things and still capable of being a great regular driver: think Merc efficacy with just enough Porsche soul to make life interesting too. But you might have missed the boat for the best GTS which, with prices now commanding north of $40,000, has already moved by 25% in the last few years. Forget Mercedes comparisons; you could shame Ferraris in one of these yet worry far less about breaking down.
The popular perception of a bargain Porsche remains very much a four-cylinder. And it's typically the 944 that appeals most, mainly because it's powered by an engine that owes nothing to VW. It might have looked like a 924 Carrera GT when it rolled onto the scene in 1981, but under its bonnet beat the heart of a 'real' Porsche.
The 944's raison d'Ϊtre was simple. VW was bound to stop building the 924's engine sooner rather than later, and Porsche needed to replace it quickly if it was to take its entry-level car upmarket. That process was facilitated by the fact that the original installation was a slant-four, and the impressive all-aluminium 928 V8 could, in effect, be halved to fit into the same space. Which is exactly what Porsche did – even if what emerged shared no parts with the engine on which it was based. The 944's four-cylinder carried over the V8's aluminium construction and opendeck design, as well as its 78.9mm bore, but the stroke was longer, taking engine capacity to 2479cc. Full engine management and balance shafts were further innovations.
The best bits of the 924's design – its transaxle and suspension set-up – were left alone, while the styling was a gentle evolution of the well-received 924 Carrera GT's. In short, it was a massive step forward.
But as the 1980s became the '90s, 944 sales started to wane and the company's fortunes were fading fast. Porsche continued to evolve the 944, the base car being expanded to 2.7 liters, while the new 3.0-liter 944S2 and uprated Turbo added more performance to match the sweet handling. There were even convertible versions, complete with small rear seats but slightly awkward speedster-of-Notre Dame styling. All were superb cars, but the 944's time was running out. So Porsche simply repeated what it did to turn the 924 into the 944, and launched the 968 in 1992.
The 968, which was originally going to be called the 944S3, was given a big facelift by Harm Lagaay, who sprinkled the 16-year-old body with 928S4 styling cues. The 3.0-liter 16-valve was given a revised cylinder head and VarioCam computer-controlled timing system for 236bhp and 225lb ft. And the 968 emerged as the greatest front-engined driver's Porsche of them all.
The real gem of the 968 range was the super-rare 968 Turbo S, the first of its (roadgoing) kind to push 300bhp, and top 170mph. Yet still sales didn't take off. So in December 1992, Porsche had a last throw of the dice, launching the lightweight, cut-price 968 Club Sport. Weight was reduced by 50kg over the standard car, it wore lairy graphics down the sides and, most importantly, it cost $8,000 less – and road-testers and buyers alike loved it.
With non-essential items such as rear seats and airbag removed as well as a 10mm drop in ride height, this was an unashamed driver's car – and it did a great deal to keep its maker on the boil in the run-up to its next generation of cars, all of which would be water-cooled. The Club Sport won plaudits for its handling and track ability and these are qualities that continue to shine through to this day.
Jump into a 968 Club Sport and, once you've got used to the optional fixed-back Recaro seats, the overriding impression is one of docility, a well-damped ride and ease of use on the road. Great: despite the dramatic looks it's a Porsche you can use. But push just a little harder and its character really starts to shine through. That ample performance (0-60mph in 6.1sec, top speed 158mph) and sublimely poised handling and communicative steering begin to dominate the senses, ramming home the point that the Club Sport has been honed to deliver the maximum of sensations to its driver – a rare quality in a car sold during the 1990s.
Its sheer dynamic brilliance also proves once and for all that Porsche's policy of evolution, rather than revolution, works beyond compare. Because it was the last of the line, the 968 remains the most accomplished 944 of them all, a fact that's reflected in market values. The best Club Sports (and the even rarer UK-only Sports, that kept a few of the luxuries the Club Sport did without) have shifted up from the $24,000 point of just three years ago to sit above $30,000 and even $40,000. Just as they have with BMW's E30 M3, people have clearly been voting with their wallets.
Sure, if you've got that kind of money and you want to buy an icon – and the 968 Club Sport is certainly that – go ahead. Octane's choice might be the Turbo S, though with only 13 built over a short period in 1993, the market is hardly flooded with them. But the genesis of the 968's greatness goes all the way back to that early, slimlinebodied 924. And the 944 offers fabulous hunting territory.
Your starting date is 1981 so you'll be looking for a car that's either been cherished or restored – and period charm means that cars of this era will certainly start climbing the value charts before long. Starting price for excellent cars is $8,000; add $4,700 for the extremely quick Turbos from 1985. We're talking 2.5- and 2.7-liter cars here.
The 3.0-liter 944S2 from 1989 offers much more 911-like performance (149mph and 0-60mph from its 208bhp fourcylinder) and there are still plenty of cars around in good, original, unmolested order, looked after by specialists for enthusiasts who appreciate the cars' designed-in toughness. Just $10,000 buys an S2 with performance and handling that approaches that of the 968 Club Sport; and that's a bargain in comparison with the minimum $23,000 you'd need to buy any decent kind of 911. By which we mean a hardtop with manual transmission, not some dodgy 1970s Sportomatic. In brown.
Sacrilege? Hardly. Not when we've been talking about 968 Club Sports whose values eclipse those of certain aircooled Porsches. Proof, if any were needed, that it's time we recognised these front-engined, water-cooled Porsches for what they really are: fantastic cars in their own right that sit alongside the 911 with acutely different appeal.
It seems astonishing now that Porsche developed, honed and perfected the 924, 928, 944 and 968 to achieve dynamic perfection, only to let the front-engined sub-species die in 1995 – yes, we're deliberately ignoring today's Cayenne and Panamera. Drive a late 928 or 968 and it's clear that there were probably years of development left in them – they're both outstanding in a way that few of their contemporaries (either from the mid- '70s or the mid-'90s) could ever dream of.
But die they did, in order to make way for the equally fabulous (yet very different) Boxster – leaving us with a front-engined legacy that many enthusiasts still fail to appreciate fully. The truth is that all of these cars are brilliant in one way or another, and whether it's the laggy thrust of a 924 Turbo you crave, the relaxed woofle of an early 928 that does it for you, or the sheer dynamic achievement of a 968 that lights your fire, you can buy safe in the knowledge that you're signed-up to an extended period with some of Porsche's finest-ever products.
Forget the notion that these cars are still shaded by the 911. The front-engined Porsches have emerged as classics in their own right, and are more than capable of casting some very long shadows of their own.
Thanks to owners Graham Guinn, Phil and Claire Hughes, Richard Salmons; The Independent Porsche Enthusiasts Club, www.tipec.net.



The 924 family

The value choice
Porsche 924 (1975-1985)
If you fancied a practical, purpose-built four-cylinder sports coupe in the 1970s, this was your best bet. And if today you fancy a practical, purpose-built four-cylinder sports coupe, it's probably still your best bet. Porsche's recipe mixes Audi power with VAG parts bin bits to better effect than that Austin A60 coupe with Morris Marina power…

The practical choice
Porsche 924S (1986-1988)
Youngest of the 924s, and so much better to drive than the original thanks to its smoother, more potent engine. And – at last – it's 100% Porsche following the exorcism of that old Audi lump. Just think, if the 924 had had a Porsche engine from the start, would there ever have been such a debate over whether it was a real Porsche or not?

The performance choice
924 Turbo (1979-1982)
By the late '70s Porsche was experienced in turbocharging – and adding a turbo realised the 924's potential. With close to 170bhp, it is a genuinely quick sports coupe, so long as you can put up with the lag. Performance? Try 140mph-plus. It's a more convincing all-rounder than the standard 924.

The investment choice
Porsche 924 Carrera GT/GTR/GTS (1980)
Developed to take the 924 into Group 4 racing, the Carrera GT emerged as one of the industry's finest-ever homologation specials. GTR offered 280bhp, while the GTS was honed for rallying. Fast, fantastically desirable, and only 406 built in total, making that '73 911 Carrera RS look common.


The 928 family

The value choice
Porsche 928S (1980-1986)
Traded the styling purity of the original 928 for an extra 300cc and 60bhp, plus firmer suspension. Result? Much more of a sporting driver's choice. A 5.0-liter 32-valve version arrived in the USA in 1985, with European models following a year later – and it was the arrival of the new cylinder head that unlocked the potential of Porsche's fine aluminium V8.

The practical choice
Porsche 928S4 (1987-1991)
Porsche had more than a decade's experience of building the 928 when it evolved into the S4 – and suddenly the recipe was right. Near-supercar performance, improved aerodynamics and a thuggish V8 soundtrack allied to rugged build quality and almost Mercedes levels of refinement. Plenty around in superb condition; the 928 for the owner/driver.

The performance choice
Porsche 928GT/GTS (1991-1995)
The GT arrived as a tweaked (manual gearbox only) 928S4, but it was the sister GTS that would emerge as the ultimate driver's option. The GTS had 350bhp and a 5.4-liter V8 for a top speed of 175mph. Stiffened suspension and damping and wider tyres on 17in Cup alloys mean it's easily the most sporting of the bunch.

The investment choice
Porsche 928 (1978-1982)
With its unadorned styling, tele-dial alloy wheels, Pascha trim and easy-going 240bhp V8, it was a characterful GT and offers the most period charm of any 928 today. Yes, the GTS will always be more expensive – but there's far more room for appreciation here. The purist's choice.


The 944-968 family

The value choice
Porsche 944 (1982-1991)
A well-judged move, effectively combining Porsche's smooth new engine with a pumped-up body. The original 2.5-liter eight-valve engine was uprated to 2.7 liters in 1989 for additional torque and power – and even more fun. Amazing performance, handling and – yes – pedigree for the money. Early cars are now starting to gain a period charm, too.

The practical choice
Porsche 944S/S2 (1987-1991)
A 16-valve head released more power and revs from what was already a brilliant engine. Uprated suspension and wider wheels meant more absolute grip, to make the most of the extra performance. Cabrio arrived in 1989, as did 3.0-liter S2 with 211bhp – and the world's largest production four-cylinder. Tough, usable, plentiful.

The performance choice
Porsche 944 Turbo/Turbo S (1985-1991)
With 220bhp from launch, the 2.5-liter 944 Turbo was well on the way to outgunning the 911 Carrera – especially given its benign and balanced handling. Limited volume Turbo S followed in 1988, upping the stakes to 250bhp and over 155mph. Fast and pretty much irresistible.

The investment choice
Porsche 968/Turbo/Turbo S (1992-1995)
New designation for Porsche's last-of-line 944 was as much about sales as it was signifying the upgrades from the 944. Offered in coupe and cabriolet form. Coupe-only 1992 Club Sport and 1993 Turbo S (with 305bhp) remain the most hardcore – and the most likely to appreciate further.
Published Dec 7th, 2015
More Classic Car News & Article Categories:
Related Articles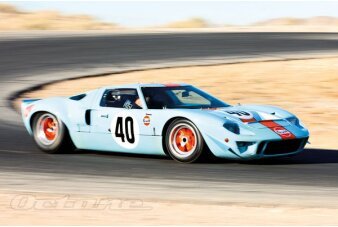 While every factory Ford GT40 is special, some are more special than others.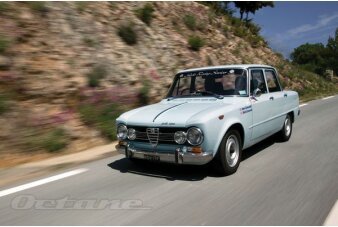 For the Linwoods historic rallying seems to come naturally.
×
Front Engine Porsche Guide