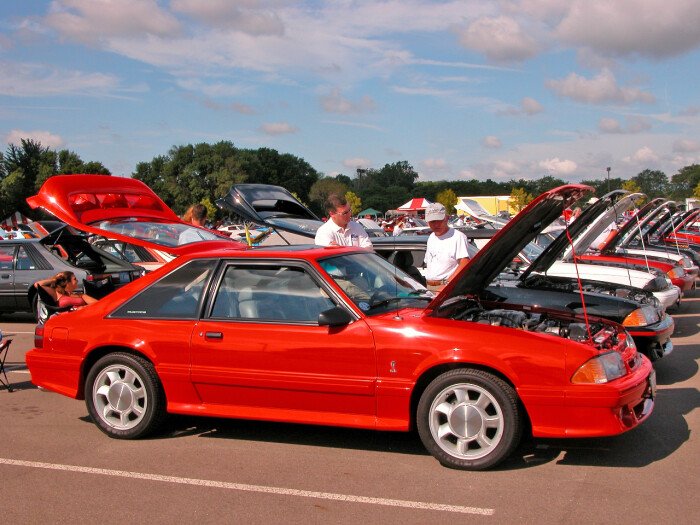 Photos by the author and Ford Motor Co.


Whether it is baseball cards, early Star Wars toys or old cars, a collectable by its very definition is difficult to recognize until everybody starts collecting it. Dig a little deeper and you'll find shared cultural experiences and comparative rarity – or a low survival rate – as the elements of collectable, with nostalgia typically the catalyst that ignites the market.

For the past 20 years or so, vintage muscle cars have ruled the collectability roost, driven by Baby Boomers who had the sheer numbers and financial wherewithal to fundamentally shift the size, scope and direction of the collector car market. It's debatable whether the muscle car market has peaked, but there are certainly signs that other niches are taking a stronghold in the market, including vintage 4x4s and even cars from the later-1970s and 1980s.

That's the thing about nostalgia: You had to experience it firsthand to feel it, and a couple of generations have grown up long after the heyday of the muscle car. Anthropologically speaking, the 40-somethings that compose the bulk of Generation X these days are likely more inclined to start seeking out those cars that held a personal connection, like the Fox-body Mustang, and the relatively high attrition rate of those 5.0-liter Mustangs means the value of the relatively few remaining examples in original condition is poised to rise.

Does that mean Fox-bodies are the next big thing? Not necessarily. There are other market forces at work and regardless of whether the muscle car thing has peaked, it's far from being played out, so you can expect Bosses and Machs to dominate the market for some time to come.

But if you're Mustang enthusiast of a certain age and you come upon one of the cars we've outlined in the accompanying photos, you might want to consider latching onto it. It probably won't get any cheaper in the years to come.



1979 MUSTANG INDY PACE CAR: Here's the thing about the '79 Mustang Indy pace car replicas: They made a lot of them – almost 10,500. They're not particularly rare, but they are pretty rare to find in excellent, original condition. Hold out for the best-condition example you can find. You'll pay a little more, but you'll never elevate a marginal car with needs to the status of an unrestored original for the price difference.



You could get a V-8 or a turbocharged four-cylinder in the Indy Pace Car. The V-8 cars, especially with the four-speed manual, are rarer and definitely more desirable. Less than a quarter of all the pace car replicas featured the 5.0-liter/4-speed manual combination.



1982 MUSTANG GT: It's the car often credited with establishing the performance renaissance in Detroit and many Mustang enthusiasts duly credit it as just about the best-looking Fox-body produced. Like the pace cars, production was relatively high – nearly 25,000 – but few remain in original condition.



That the '82 GT's two-barrel-fed, 157-horsepower 5.0-liter engine set the performance world alight upon its debut says a lot about the state of the sports car market in its day. But, it was a torque engine in a relatively lightweight body. The car came in only three colors: Black, maroon and silver.



If a pre-1985 Fox-body car, such as the 1982 (or 1983-84) GT is wearing later-style 10-hole or "pony" wheels, it's likely it originally came with metric TRX wheels that a previous owner ditched because of the expensive replacement tires. Ask the seller if the original TRX wheels are available – they're usually stacked up in a corner of the garage.



1985 MUSTANG GT (5-Speed): It was the last of the carbureted 5.0-liter engines and the most powerful, jumping from 175 horsepower in 1984 to 201 horses, thanks to a hydraulic roller camshaft, forged pistons with a higher 8.4:1 compression ratio and stainless steel tubular exhaust headers in place of conventional manifolds. It breathed through a 600-cfm Holley four-barrel. Only 5-speed models received the carbureted engine, while automatic models received a less-powerful 5.0-liter with throttle-body-type fuel injection.



Like the '82 GT, enthusiasts adore the clean yet distinctive styling of the 1985 Mustang GT. Similar styling makes the '86 GT nearly as desirable, although it's first-year port-injected engine definitely lacked the zing of the '85 carbureted engine. You can tell the difference between 1985 and '86 GTs at a glance by looking at the rear spoiler. If it has an integrated brake light (like this one), it's a 1986 model. The '85 GTs did not have the brake light.



1985-93 MUSTANG LX "NOTCHBACK": While the Mustang GT was the high-volume performer of the Fox-body lineup, enthusiasts quickly realized the lighter, more stripped-down LX 5.0 sedan "notchback" models were even quicker. It was the quintessential muscle car recipe.



The two biggest things going for LX notchbacks are rarity and attrition. In other words, few were made and far fewer have survived – especially in original condition. Five-speed models are by far the most desirable.



1982-93 MUSTANG SSP POLICE CARS: The official "SSP" police-car package for the Mustang is an official cult car with many Mustang and emergency vehicle enthusiasts. Finding an authentic SSP isn't difficult, but finding one that hasn't been significantly modified in its retirement years is.



A buyer needs to do his or her research when it comes to purchasing a restored SSP Mustang. Don't necessarily take the seller's word for the authenticity. Checking a dedicated forum, such as sspmustang.org, which can provide valuable insight before you cut a check.



LOW-MILEAGE ORIGINALS – ALL YEARS: The popularity of the 5.0-liter Mustang in all forms meant most were driven hard and personalized and/or modified. Low-mileage, unaltered examples are getting tougher to find, so if you find one – especially if it has a 5-speed transmission – consider adding it to your garage. A Mustang is only original once.



The classic 5.0-liter Windsor roller motor is the engine that launched a performance industry, so good luck finding one that hasn't had a camshaft upgrade, headers, intake or even a basic cold-air induction added to it. Even if the seller says the engine is stock, ask a dozen different ways if anything has been done to it.



THE FEATURE CARS: A number of "feature car" models were produced in 1990, 1992 and '93, starting with the green "7-Up" model in 1990. Each is an LX-based convertible distinguished by specific color/trim combination. This '93 Chrome Yellow feature car is one of 1,503 built.



With all feature cars, like this '92 Vibrant Red "Summer Edition," the 5-speed models are the rarest and most desirable. Check the condition of the leather seats, too. Ford didn't use the highest-quality hides and cracks and splits are common, even on lower-mileage cars.  



RARE COLORS, COMBINATIONS AND OPTIONS: Like other popular collector cars, rarity breeds desirability, so keep an eye out for rare exterior colors and options, such as T-Tops or low-optioned cars. This '88 LX 5.0 hatchback, for example, is one of only 127 painted Tropical Yellow that year, out of 16,331 built.



SALEEN MUSTANGS: Steve Saleen's ambitious and effective motorsports program, which supported racing with street-going modified Mustangs, emulated the Shelby model. The street cars started in 1984, when only three were built, and continued through the end of the Fox-body generation.



1993 MUSTANG COBRA: The Fox-body went out on a high note in 1993 with the SVT Cobra, which used GT-40 engine components to boost horsepower and a number of other enhancements – including rear disc brakes – to make it arguably the most refined and best-driving Mustang of the generation.



There were 5,100 '93 Cobras built, in black, red and teal, and 108 of them were racing-spec "R" models (all red), which incorporated a host of track-ready features. They're easily identifiable because they wear black 17-inch/5-lug wheels that were pulled ahead from the next-generation 1994 Mustang program. All-original examples typically command around $75,000 these days.
Published Dec 7th, 2015
More Classic Car News & Article Categories:
Related Articles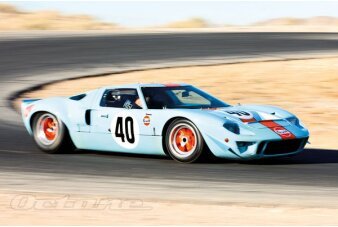 While every factory Ford GT40 is special, some are more special than others.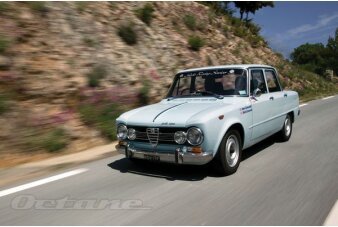 For the Linwoods historic rallying seems to come naturally.
×
Fox-Body Finds