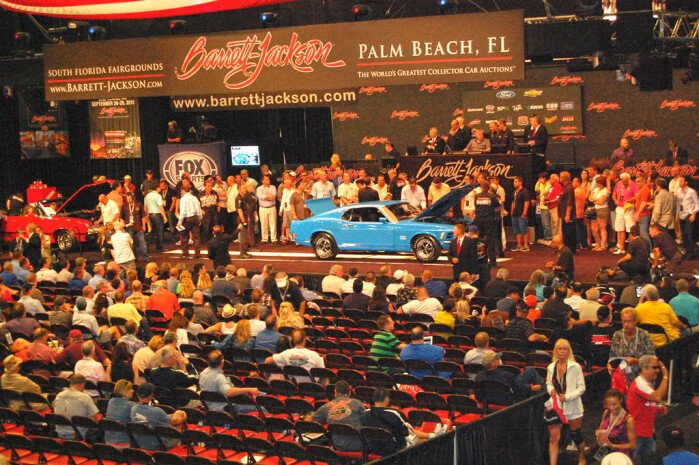 Sponsored by Ford Motor Company.


Ever since the Ford Barrett-Jackson Partnership began, one of the Ford Motor Company main objectives was to provide special experiences for enthusiasts at each venue. This spring, the Ford SVT "Raptor Experience" made its first East Coast appearance at the Barrett-Jackson Palm Beach Auction. On closed- circuit courses at the South Florida Fairgrounds, the Raptor Experience utilized professional drivers to take Barrett-Jackson ticketholders through a rocky, rough terrain. A special camera set up enabled passengers to see the course as they rode in a Raptor.

Ford Car North America Car Marketing Manager, Steve Ling was pleased with the results of the three day event. "Working with our Ford South Florida dealers we were able to put people in the passenger seat of the world's most exciting muscle truck on an off-road course that definitely gave everyone a thrill. The Barrett-Jackson auction in Palm Beach gave the public the opportunity to experience adventures that most had only dreamed about." Ling concluded.

In addition to the Raptor Experience, Ford provides enthusiasts with the opportunity to drive a Shelby GT500 or Boss 302 on a closed course as part of the Ride and Drive Experience. For those people interested in luxury vehicles, the Lincoln MKS sedan and MKX crossover were available to drive. I was impressed with the product specialists who in addition to being very friendly were extremely knowledgeable and were happy to explain all the latest features of all the Ford and Lincoln vehicles. I thought the new Lincoln Blind Spot Information System (BLIS) that warns drivers if a vehicle is detected in their blind spot was something I need for my Mustang!

The Raptor Experience is the latest example of the special experience strategy Ford developed when the company teamed up with Barrett-Jackson. During the Palm Beach Auction I had the opportunity the talk with Robert Parker, currently General Manager of the Ford Southeast Market Area. Prior to heading up the Southeast, Robert was Ford Small and Midsize Vehicles Group Marketing Manager and was one of the key team members who created the Barrett-Jackson partnership.

Tim Stoehr, Ford Phoenix Regional Manager in 2005 and like Parker a real "car guy" as well as an astute marketer, was the first to spot the opportunity for Ford with Barrett-Jackson. "Tim brought us the idea of partnering with Barrett-Jackson. From the start we did not want to just show up and have a "cars and carpet" exhibit. We wanted to offer enthusiasts more in the way of what they could touch, see, hear and experience." Parker stated. "Tim and I talked on a constant basis and Tim worked with Gary Bennett, Barrett-Jackson Vice President of Consignment on taking our participation to the next level. We wanted enthusiasts to participate and to that end we developed the drag race simulator, located in the Ford exhibit, where two people could test their reaction times in Mustangs. The folks with the fastest reaction times won host of prizes including Mustang GT models. We also added the Ride and Drive where people could test drive and experience the latest Ford products and the Drifting exhibitions." Robert concluded.

Tim Stoehr came up with the Auction for Charity program and to date over four million dollars have been donated to various charities from the proceeds generated by the sale of unique Ford vehicles.

Today, Stoehr has moved back to Dearborn and a marketing position in Commercial Vehicles, but the Barrett- Jackson Ford partnership, with talented marketing "car guys" like Steve Ling and Enthusiast Marketing Manager Jim Owens continues to provide enthusiasts with a variety of fun experiences. In Palm Beach Ford continued to provide major eye candy with a wonderful display of 50 years of Mustang history, showcasing various models at the main entrance. The display was made possible in part by area Mustang Club of America members who loaned their cars for the presentation. A highlight of the exhibit was the 2008 Ford Cobra Jet Prototype.

There is always more than a just a "cars and carpet" display at every Barrett-Jackson Auction, thanks to their partnership with Ford Motor Company.


Want more Ford content? Check out our Ford Enthusiast Headquarters!
Published Dec 7th, 2015
More Classic Car News & Article Categories:
Related Articles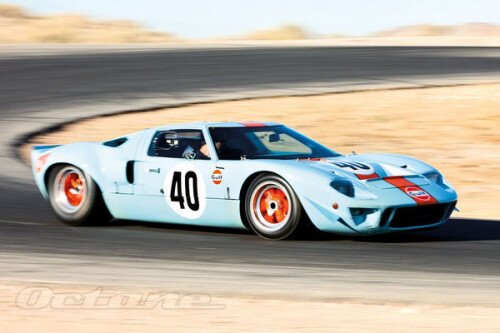 While every factory Ford GT40 is special, some are more special than others.
Advertisement
×
Ford Storms Barrett-Jackson's Palm Beach Auction