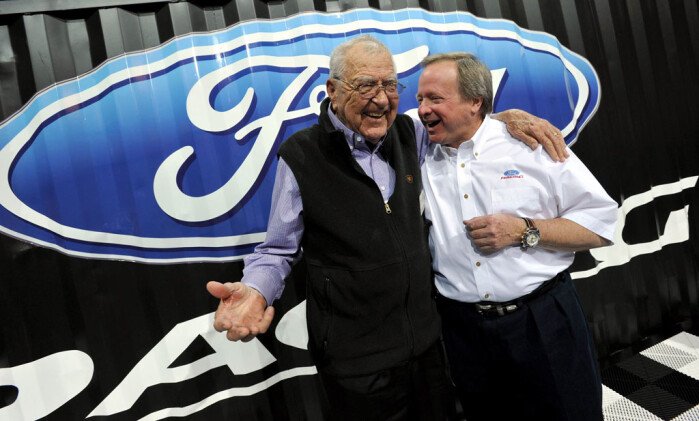 Text and images courtesy of Ford Motor Company.


Carroll Shelby was a member of the Ford family for the better part of 60 years, producing stunning performance vehicles from concepts to production models.
He once said his energy and passion for performance products were always strongest when he was working with Ford.
Shelby most recently collaborated with the company on the 2013 Ford Shelby GT500 Mustang, the most powerful production V8 in the world. Working with SVT engineers at Sebring and the Arizona Proving Grounds, at times he drove for more than eight hours – at the ripe old age of 88. He was having so much fun, he didn't want to stop.

In this 110th Anniversary of Ford Racing video, Shelby talks about his career working with Ford and winning Le Mans: http://www.youtube.com/watch?v=rqQ6LGpiGY4&feature=player_embedded
The legend begins
Carroll Shelby was nearly 30 years old before he entered his first car race – a quarter-mile drag meet in 1952. The hot rod he drove to the finish line that day was powered by a Ford V8
Shelby's first Ford derivatives were the legendary Cobras and Shelby Mustangs of the 1960s. He was heavily involved in the design and engineering of the Ford Shelby Cobra Concept car unveiled in 2004, and was a key member of the dream team that built the 2005 Ford GT.
Carroll Shelby may have gotten a late start, but he was a winner from the beginning. Just two years into his driving career, Aston Martin racing manager John Wyer recruited him to co-drive a DB3 at Sebring. Within months, the chicken farmer from Texas was bumping elbows and trading paint with the likes of Juan Manuel Fangio, Phil Hill and Paul Frère. Driving an Aston Martin DBR1 with Roy Salvadori, he won Europe's prestigious 24 Hours of Le Mans in 1959.
Early in 1962 Shelby drove his second Ford-powered race car. It was the first mockup for the Cobra, Shelby's now-legendary marriage of a lightweight British roadster body with a small-block Ford V8. By January 1963 he had homologated the car under the FIA's GT Group III class, and that month a Cobra won its first race, beating a field of Corvette Stingrays at Riverside in California.
In January 1965 Ford hired Shelby to lend his expertise to the GT40 campaign. Three cars had run the 1964 24 Hours of Le Mans, but none finished. Shelby began installing the more reliable 7-liter stock car engine in what would come to be known as the GT40 Mark II. It proved considerably faster than the Mark I, and in just two seasons became a strong contender.In 1966 the GT40 began a domination of endurance car racing that would last for four years.
While Ford and Shelby took on Ferrari at Le Mans, at home they fought Corvette. The first effort was the legendary Shelby Cobra, a Ford-powered, Shelby-engineered derivative of the AC Ace. The car had a one-ton weight advantage over the Corvette.


Shelby Mustang
In August 1964 Ford had asked Carroll Shelby to develop a street-legal, high-performance Mustang to compete against Corvette in SCCA B-production road racing. By September, California-based Shelby-American had completed the first Mustang GT350.
The 1965 Shelby Mustang GT350 was a fastback production model with a functional scoop in its fiberglass hood and 306 horsepower from its 289-cubic-inch V8 – an increase of 35 horsepower over the stock engine. Suspension upgrades included a larger front stabilizer bar, Koni shocks and rear traction bars, along with race-ready features. It sold for $4,000, and was instantly recognizable by its Wimbledon White paint and blue GT350 side stripes.
For 1966 the GT350 came in white, red, black, green and blue, and Hertz purchased nearly 1,000 special GT350H weekend "rent-a-racers." In 1967 Shelby Mustangs sported unique fiberglass bodywork that extended the front end with an aggressive dual scoop and finished the trunk lid with an integrated spoiler.
But most important in 1967 was the new GT500, a big-block with 355 horsepower. More than 2,000 of those 428-cubic-inch Mustangs were delivered that first model year.
1968 was when the name "Cobra" was first officially used on a Shelby Mustang, and that year a convertible bodystyle became available as well. Although the Shelby Cobra GT350 was essentially unchanged, later GT500s were powered by the new Cobra Jet 428 engine and thus became GT500KR – for King of the Road.
For 1969, the penultimate year of the Shelby Mustang, engine choices included the optional 351 Ram Air, and the bodywork incorporated a total of nine scoops – five on the hood, one at the front of each fender and one on each quarter panel. In 1970, with sales slowing, the final Shelby Mustangs built for 1969 were updated to 1970 spec and sold. The famed run had come to an end.
It would be more than 30 years before Ford and Shelby worked together again, and in March 2001 they reunited, with Shelby coming on board to consult on a new GT40 Concept. In March 2002 Ford green-lighted production of the Ford GT. Then, in April 2003 Shelby collaborated on a concept car that would pay homage to the original Shelby Cobra. The car stole the show the following year at NAIAS.
Ford stoked the passions of enthusiasts again in 2004 with the unveiling of the modern Ford Shelby GR-1 Concept at Pebble Beach. J Mays, Ford group vice president for Design, said Shelby'sinput was reflected in the car's performance underpinnings.
In 2008, Carroll Shelby's 85th birthday was marked by the first 2008 Ford Shelby GT500KR to roll off the production line. An exclusive run of only 1,000 units, this King of the Road was a 540-horsepower muscle car. Shelby, who was actively involved in developing it, said, "I'm always looking to up the ante when it comes to performance, and bringing back the King of the Road Mustang is just what we need."
Carroll Shelby's last collaboration with Ford was on the 2013 Ford Shelby GT500, which produces 662 horsepower and 631 lb.-ft. of torque, making it the most powerful production V8 engine in the world. In January, Shelby's one-of-one racetrack durability car was auctioned at Barrett-Jackson in Scottsdale, Ariz., for $350,000.

More on Carroll Shelby's career, in his own words, can be found in this series of videos: http://www.oninnovation.com/videos.aspx.
Key moments in the history of Carroll Shelby and Ford Motor Company
1952: Shelby enters first race at the wheel of a Ford-powered hot rod

1962: Shelby tests his first Ford-powered AC 260 Roadster –the car that would become the Shelby Cobra. Shelby-American begins operations in Venice, Calif. Cobra production begins

1964: Ford asks Shelby to develop a high-performance Mustang derivative. First Shelby prototypes are built

1965: Shelby GT350 is introduced. Ford hires Shelby-American to oversee GT40 program. Hertz begins buying GT350H versions for its "rent-a-racer" program

1966: Ford GT40 Mark II wins Le Mans. First 1967 Shelby GT500s delivered

1967: Ford and Shelby-American win Le Mans, again. 1968 Shelby Mustang convertibles debut

1968: 1969 model year production begins

1969: Shelby Mustang production ends

1970: Ford and Shelby end their long-term racing agreement

2001: Carroll Shelby is invited by Ford to consult on GT40 Concept

2002: Ford green-lights production of Ford GT

2003: Ford invites Shelby to collaborate on a concept car that pays homage to original Shelby Cobra

2004: Ford Shelby Cobra Concept steals the show at NAIAS. Ford asks Shelby to consult on a follow-up concept. Shelby announces it will build limited-edition Shelby Ford Expedition. Ford unveils Shelby GR-1 Concept

2006: Shelby GTH debuts at New York Auto Show

2008: First 2008 Ford Shelby GT500KR rolls off the line on Carroll Shelby's 85th birthday. Partnering with Ford Racing, Shelby fields factory race team for the first time since 1969

2011: Debut of 662-horsepower, 631-lb.-ft. 2013 Ford Shelby GT500, the most powerful production V8 engine in the world

2012: 2013 Ford Shelby GT500 sells at Barrett-Jackson for $350,000
Want more Ford content? Check out our Ford Enthusiast Headquarters!
Published Dec 7th, 2015
More Classic Car News & Article Categories:
Related Articles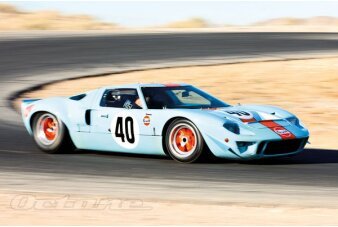 While every factory Ford GT40 is special, some are more special than others.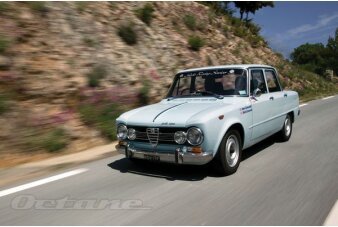 For the Linwoods historic rallying seems to come naturally.
×
Ford Remembers Carroll Shelby